Mediterranean Quinoa Mushroom Burgers with Black Beans have so much flavor you'll never miss the meat! Stuffed with garlic, sundried tomatoes, and tons of herbs, these will be your go-to bean burgers in no time. The addition of quinoa gives them a pleasant crunch, and the mushrooms help keep them juicy in the middle. They've got everything!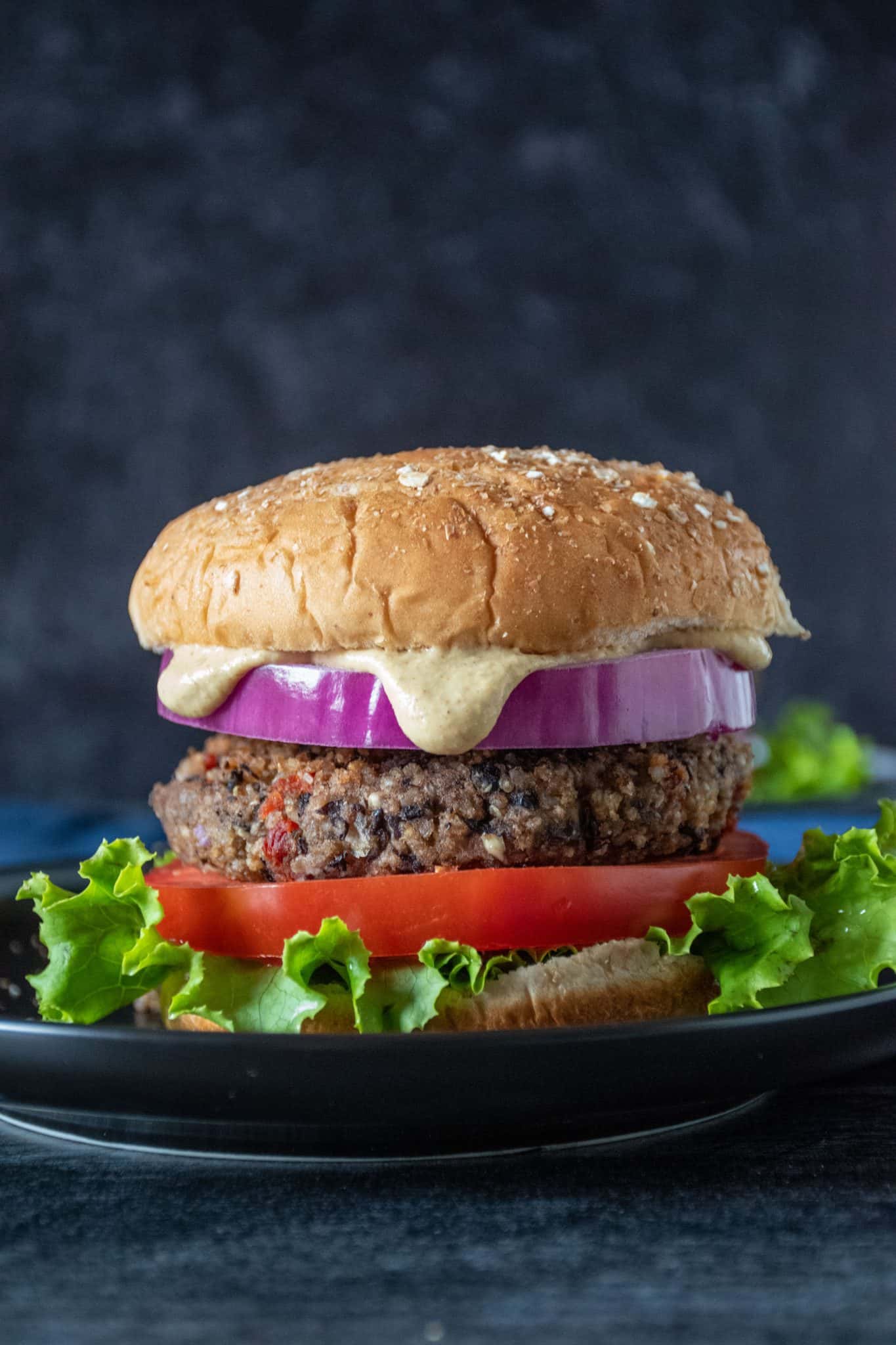 Are Black Bean Burgers Healthy
Of course flavor is number one, but these quinoa black bean burgers are also heart healthy, so you can enjoy all summer long! These babies are high in fiber, protein rich, and contain heart healthy polyunsaturated and monounsaturated fats, instead of artery clogging saturated fat and cholesterol in typical burgers. They're also high in iron and magnesium. Not to mention all the antioxidants you'll get from the beans and herbs! Keep your taste buds and your heart happy!
Healthy Black Bean Burger Toppings
I love a good tomato and onion on my black bean quinoa burgers, but here are some other great options to mix it up!
FAQs and Substitutions
Can I use any kind of bean to make bean burgers?
Yes, any type of cooked "dry bean" will work. Dry beans are black beans, pinto beans, chickpeas, lentils, etc. Green beans and wax beans are not dry beans, and won't work in burgers. I chose black beans for these burgers mainly because of their color, and the fact that they are so easy to find in stores. Feel free to experiment with different varieties, though!
How do I cook quinoa?
For this recipe, you might want to overcook your quinoa a bit. It will help the burgers hold together better. In any case, you want to bring a pot with 1 cup of water, and ½ cup dry quinoa to a boil. Reduce the heat to a simmer, and continue simmering until all the liquid is gone; about 20 minutes. Remove the pot from the heat, and put on the lid. Let it sit for at least 10 minutes before fluffing with a fork and using.

Some quinoa brands require a quick rinse before you start cooking, and some don't. Read the package beforehand, or just rinse it anyway to be on the safe side.
I can't find whole wheat bread crumbs. What can I do?
If you want to use whole grain bread crumbs, you can make your own breadcrumbs with my recipe. Alternatively, you can use regular bread crumbs or panko breadcrumbs. Just know they'll be lower in fiber and nutrients.
How can I make my bean burger stay together even better?
In this quinoa mushroom burger recipe, we use ground flax to mimic an egg to keep the burger together along with the quinoa. Another option is to use one whole egg instead of the flax. If you are someone who doesn't consume high cholesterol foods usually, this could be a good option. Make sure to cook the burgers well so the egg isn't raw on the inside of the burger.
How to bind burgers without eggs
The secret to binding burgers without eggs is to use an ingredient that will both absorb extra liquid and become somewhat sticky to hold things together. There are several options for this. I like using either ground flax or ground chia the best. Both of these can be used at about 1 tablespoon per 1 egg the recipe calls for.

Using ground seeds will help reduce potential grittiness you may notice, and help them absorb liquid better. Most people combine the seeds with water before adding them to the burgers, making a "flax egg" or "chia egg." But I find I get better results by sprinkling the dry ground seeds directly into the burger mixture, and allowing the them to absorb extra liquid from the mix to bind it.
Do you need some advice on the healthiest burgers for your summer BBQ? Make sure to check out my Burgers 101 article, for a nifty chart comparing some of the most popular burgers!
And you will also want to try these recipes to complete your summer picnic: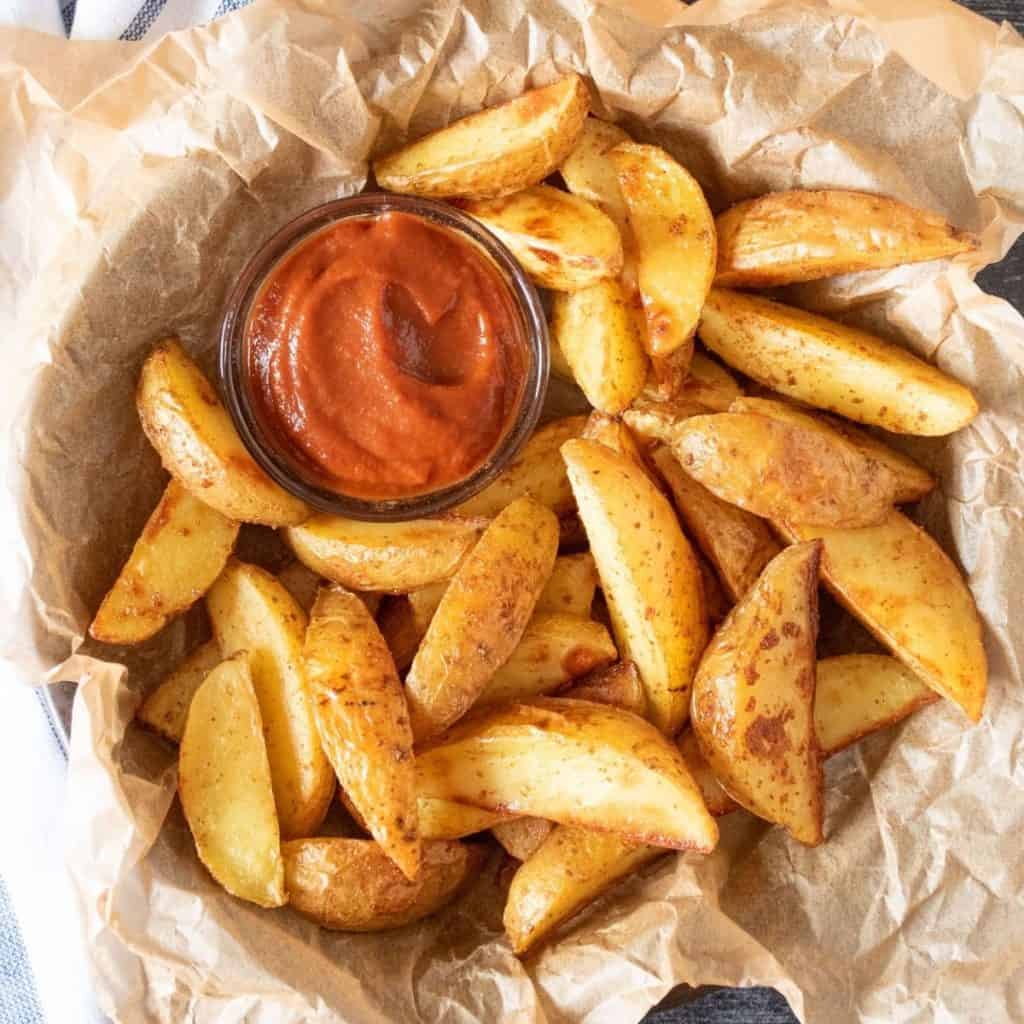 If you try Quinoa Mushroom Burgers with Black Beans, tell me in the comments!
📖 Recipe
Quinoa Mushroom Burgers with Black Beans
The Mediterranean Quinoa Mushroom Burger with Black Beans has so much flavor you'll never miss the meat! Stuffed with garlic, sundried tomatoes, and tons of herbs, it will be your go-to bean burger in no time. The addition of quinoa gives the burger a pleasant crunch, and the mushrooms help keep it juicy in the middle. It's got everything!
Ingredients
1 ½

cups

(1 can) No Added Salt Black Beans

¾

cup

cooked Quinoa

(slightly overcooked is better)

½

cup

Whole Wheat Bread Crumbs

(or gluten free option)

¼

cup

minced Mushrooms

2

tablespoon

minced Red Onion

2

tablespoon

minced Sundried Tomatoes

(not in oil)

2

tablespoon

Olive Oil

1

tablespoon

Ground Flax

½

teaspoon

dried Basil

½

teaspoon

Paprika

¼

teaspoon

dried Oregano

(Optional) ⅛ teaspoon each Salt and Pepper

1

tablespoon

Olive Oil,

for pan frying
For serving:
Whole grain buns or large lettuce leaves for wraps

Sliced red onion

Sliced tomato

Leafy lettuce

Mustard, ketchup, etc.
Instructions
Combine all the burger ingredients in a food processor, and pulse until everything is chopped small. You don't want it to turn into a paste. The mixture should be sticky enough to hold together easily.

Heat 1 tablespoon oil in a large skillet over medium heat.

Meanwhile, divide the bean mixture into 4 equal portions, and form them into patties, about ½ inch thick, or whatever size is reasonable for your bun size.

Pan fry the patties over medium heat, about 5 minutes on each side, being careful not to burn them. Flip carefully to avoid smashing the patties.

Serve hot, on whole grain buns or in lettuce wraps, with condiments, and veggies as desired.
Nutrition
Serving:
1
burger
|
Calories:
325
kcal
|
Carbohydrates:
45
g
|
Protein:
8.2
g
|
Fat:
11.3
g
|
Saturated Fat:
1.9
g
|
Polyunsaturated Fat:
3.1
g
|
Monounsaturated Fat:
5.8
g
|
Sodium:
156.4
mg
|
Potassium:
398.3
mg
|
Fiber:
11.1
g
|
Sugar:
4.6
g
|
Vitamin A:
7.9
IU
|
Vitamin C:
1.6
mg
|
Calcium:
75.8
mg
|
Iron:
3.5
mg