Arugula Avocado Salad is an incredibly quick and simple side salad, great for weeknight enjoyment or unexpected company. Even the pineapple vinaigrette whips up in no time and pairs perfectly with the peppery arugula and creamy avocado. Side salads needn't be either boring or complicated; this one proves it!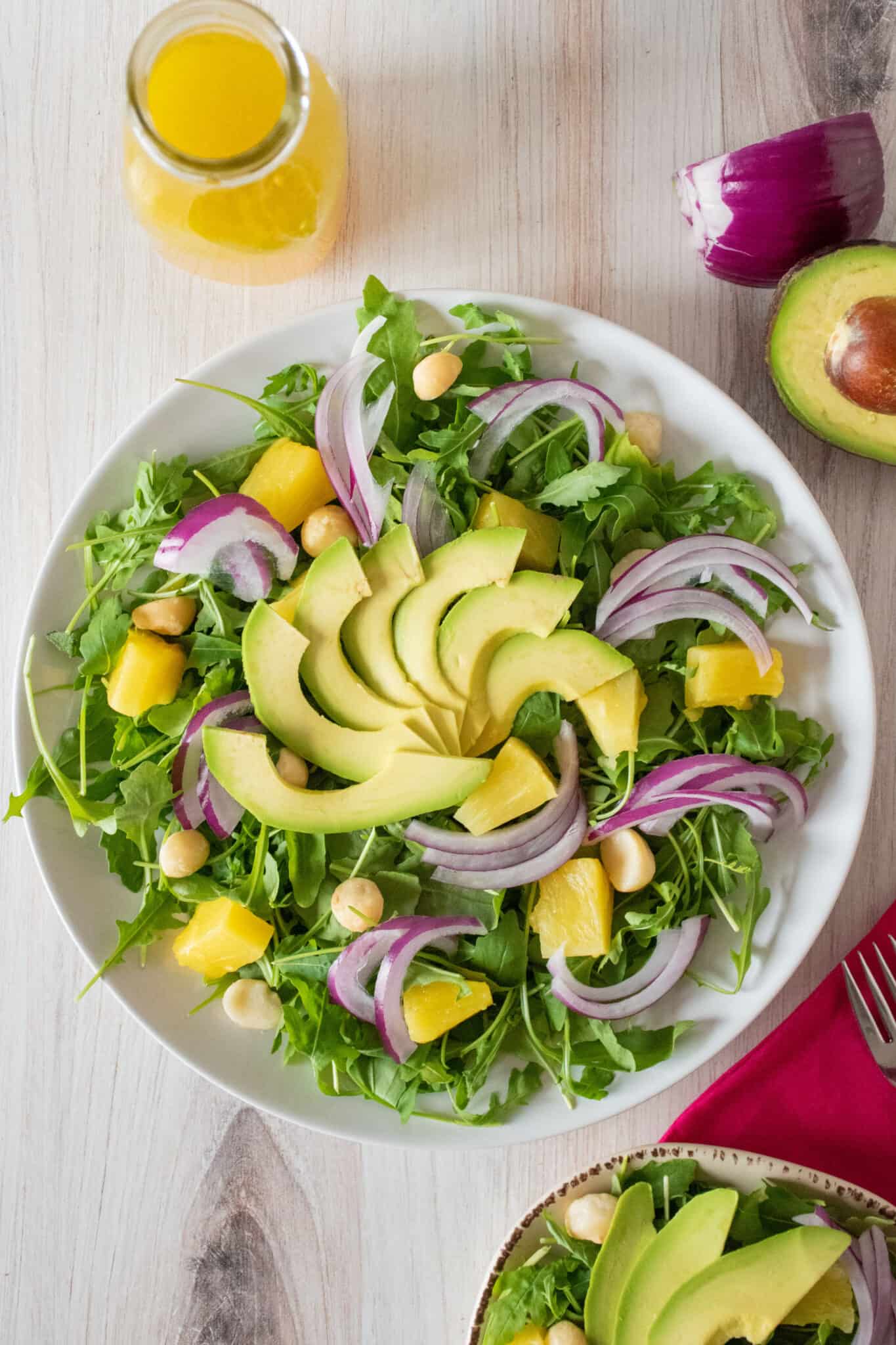 What to serve with arugula salad
The flavors of Arugula Avocado Salad are a bit on the tropical side, thanks to the pineapple chunks and pineapple salad dressing. So it could be served alongside anything with a tropical or Caribbean vibe. It's also fabulous with BBQ dinners, blackened fish, and mid-winter roast. Here are some of my favorite ideas to serve alongside this avocado arugula salad:
Blackened Salmon
BBQ Chicken
Jerk Chicken (or Tofu, or Salmon)
Make it a meal by adding your favorite protein (the recipe will serve 2 people as a main entrée)!
Heart Health Benefits of this Salad
While there's a lot to say about what makes this salad heart healthy, notably, it's packed with heart healthy monounsaturated fats (MUFAs). The salad with the dressing is a little higher in total fat that what I usually make, but the amount of monounsaturated fat is out of this world! That makes this recipe perfect for meals that might be a little lower in calories and/or fat otherwise. MUFA rock stars here are avocados, macadamias, and olive oil!
Arugula is also quite high in vitamin K, which is important and necessary for the proper clotting of your blood (read more about vitamin K and heart health). The salad will also get you close to 20% of you daily fiber recommendations, which is pretty awesome for a side!
Now let's talk about macadamia nuts, because I don't think we've covered the heart health benefits of macadamia nuts on the site yet! Macadamia nuts are high in monounsaturated fat - which is the primary fatty acid of which they are comprised. A diet that is moderate-low in total fat, mostly of monounsaturated fat, is known to help lower blood cholesterol levels, and lower the risk for heart events. Further, substituting high saturated fat foods with foods of a healthier fat profile - in this case macadamia nuts - can lower total cholesterol and LDL cholesterol (the unhealthy kind) levels (1, 2). In addition, they also have both protein and fiber, so they make a great little snack! Just watch portions and add-ons. Because they are high in (healthy) fat, they are high in calories, so ¼ cup of macadamias has around 200 calories. They can be high in sodium, too, if it's added.
FAQs and Substitutions
Can I use another lettuce besides arugula?
You can use any other lettuce you want! Butter lettuce is excellent in this pineapple avocado salad, as is spinach, baby kale, and romaine.
How can I lower the calories in the salad?
There are several high calorie (high fat) ingredients to target here: the olive oil in the dressing, the avocado, and the macadamia nuts. You can simply leave the oil out of the dressing if you wish - it won't impact the taste much. You could try substituting chickpeas for the macadamia nuts, or just leaving them out.
What is a substitute for macadamia nuts?
Any tree nut you like will do. Pecans would be particularly tasty in this salad. Or make it nut free by using sunflower seeds or pepitas.
Try Arugula Avocado Salad with Pineapple Vinaigrette alongside my Low Sodium Black Bean and Sweet Potato Enchiladas!
If you make this recipe, don't forget to let me know how you like it in the comments!
📖 Recipe
Arugula Avocado Salad with Pineapple Vinaigrette
Arugula Avocado Salad is an incredibly quick and simple side salad for weeknight enjoyment or unexpected company. Even the pineapple vinaigrette whips up in no time and pair perfectly with the peppery arugula and creamy avocado.
Ingredients
Salad:
1 5-7

oz

bag Arugula

1

ripe Avocado

1

cup

Pineapple chunks canned in 100% juice

drained, juice reserved

¼

medium red onion

thinly sliced

½

cup

rough chopped Macadamia nuts
Dressing:
¼

cup

reserved pineapple juice

¼

cup

lime juice

¼

cup

Olive oil

2

tablespoon

Honey
Instructions
For the Salad:
Pour the arugula into a large salad bowl.

Cut avocado in half, and remove the pit. Scoop out the flesh with a large spoon, and chop the avocado into large chunks, or slices if prefered. Put into bowl with arugula

Drain the pineapple, and put the chunks into the salad bowl.

Slice the onion, and add to the bowl, along with the chopped nuts.

Toss everything together before serving.
For the dressing:
Whisk the reserved pineapple juice, lime juice, olive oil, and honey together until well combined. Serve alongside the salad.
Nutrition
Serving:
0.25
Salad with 2 tablespoon dressing
|
Calories:
312
kcal
|
Carbohydrates:
21.5
g
|
Protein:
3.6
g
|
Fat:
26.2
g
|
Saturated Fat:
3.8
g
|
Polyunsaturated Fat:
1.9
g
|
Monounsaturated Fat:
18.8
g
|
Sodium:
18.1
mg
|
Potassium:
42.4
mg
|
Fiber:
5.2
g
|
Sugar:
14.5
g
|
Vitamin A:
62.8
IU
|
Vitamin C:
18.8
mg
|
Calcium:
106.7
mg
|
Iron:
1.6
mg