Healthy carrot waffles are a fun and unique way to eat veggies for breakfast. We use crushed pineapple to sweeten the batter instead of sugar, for a slightly tropical note, and top with yogurt, orange slices, raisins, and walnuts. All the delicious flavors of carrot cake without the sugar coma! These are low sodium waffles, too!
How to make healthy waffles
So many people ask: are frozen waffles healthy? I think most people have a hunch, deep down, that they're not. But how do you know for sure if you don't ask!
Frozen waffles - and commercial waffle mix and restaurant waffles for that matter - are usually made with your garden variety white flour. That's the first stop in healthy waffle recipes. We opted for whole wheat pastry flour instead, which bumps up the fiber content considerably.
Whole wheat flour is great, but can yield tough and chewy products. That's fine for some things, but using whole wheat pastry flour will give our carrot waffles the texture we want.
Next is the added sugar in most waffles. We like sweet breakfasts here in America, and our waffles reflect that. We cut the overwhelming sweetness a little, and use fruit to sweeten these sugar free waffles.
Pineapple is a perfect pairing to carrots, so that was our choice. You could use a wide range of other fruits too, like applesauce, dates, mango puree, mashed bananas, etc.
Lastly, salt. This is a surprise. Waffles don't taste salty! But consider one popular frozen waffle brand contains 410mg sodium in 2 waffles. While that isn't off the charts, it's going to add up over the day. We don't add any salt to our waffles, keeping it a low sodium waffle recipe too!
The bonus points for making healthy waffles, are choosing healthy waffle toppings.
Healthy Waffle Toppings
Butter and syrup are so yesterday! Okay, they're a classic, and delicious, but if you are looking for some healthy waffle toppings, try some of these instead:
Plain or vanilla yogurt (regular or Greek style are great)
Fresh berries, mashed
Frozen berries, thawed and mashed
Homemade jam (try blueberry thyme jam or strawberry jam)
Sliced bananas with cinnamon
Nut butter
Any fresh fruit, chopped small
Grilled pineapple or peaches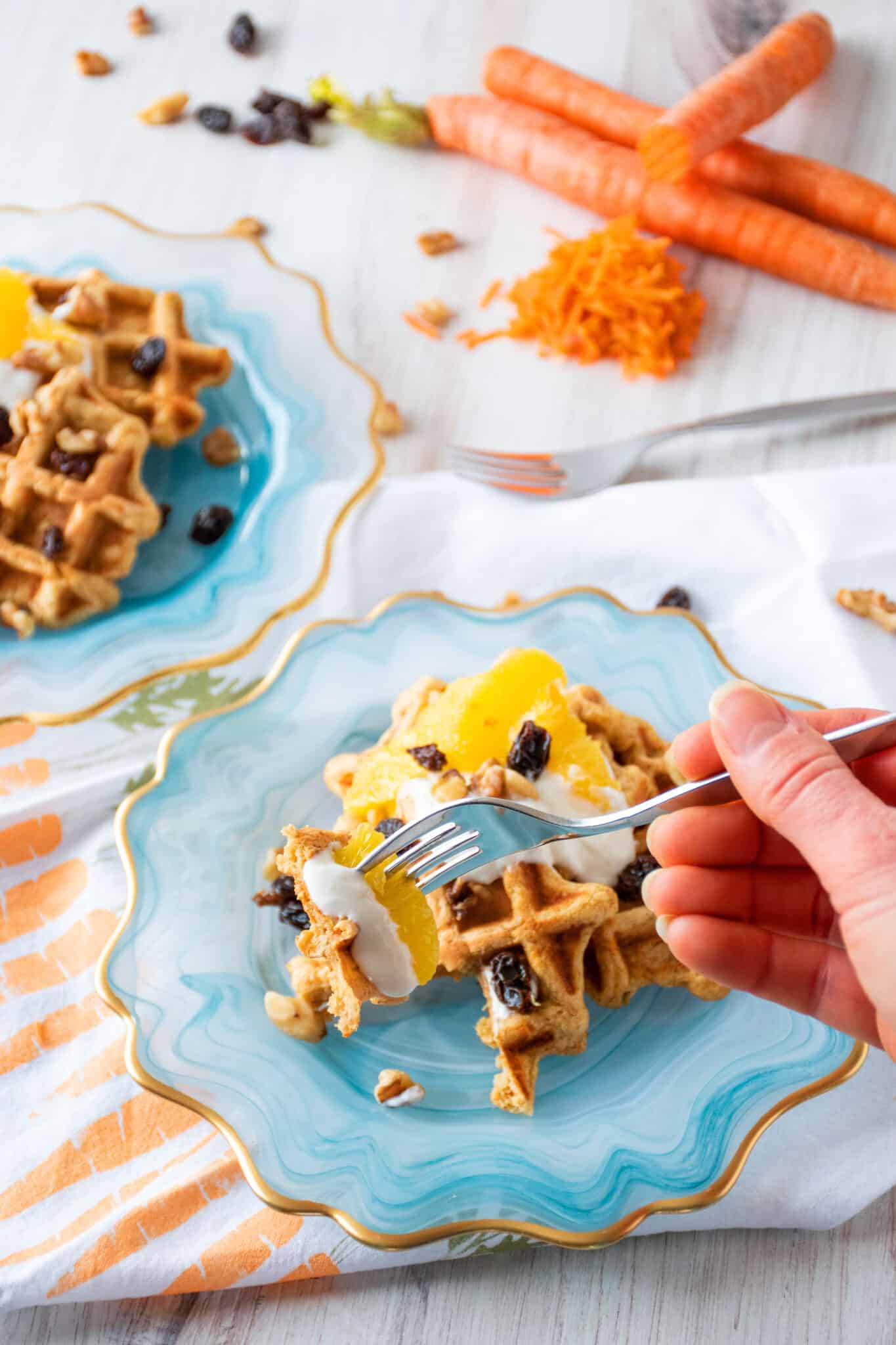 FAQs and Tips for Carrot Waffles
How finely should I shred the carrots?
I opt for the finest shred my shredder will do. This is because the carrot pieces will still be crunchy inside the cooked waffle if they are too big. It does take a bit of elbow grease, so it's ok to use a food processor attachment, or just buy shredded carrots if you like!
Can I use another flour?
For this particular recipe, stick with whole wheat pastry flour if you can. It is ground much more finely, and allows for a fluffy, soft waffle. I used Bob's Red Mill brand. If you can only find whole wheat flour, cut it half and half with regular white flour.

I haven't tried any gluten free flours in this recipe, so I can't recommend any. If you try one, let me know how it turns out!
Why are my waffles not crisp?
This batter is thick, and wetter than typical waffle batter. That's because of the carrots and pineapple in it. For this recipe, you should try adding a little less batter to the waffle maker than you usually would. This will give you a thinner waffle that will cook more thoroughly, and be crispier on the outside.
For more healthy breakfasts, try Chai Latte Waffles, Heart Healthy Pancakes, Brownie Batter filled Crepes, or Breakfast Chickpeas with Collard Greens.
Or peruse the Heart Healthy Breakfast Ideas Archives!
Let me know in the comments in you try Carrot Waffles!
📖 Recipe
Carrot Waffles
Healthy carrot waffles are a fun and unique way to eat veggies for breakfast. We use crushed pineapple to sweeten the batter instead of sugar, for a slightly tropical note, and top with yogurt, orange slices, raisins, and walnuts.
Ingredients
2

cups

Whole Wheat Pastry Flour

1

tablespoon

Ground Flax

2

teaspoon

Baking Powder

½

teaspoon

Cinnamon

¼

teaspoon

Ground Ginger

⅛

teaspoon

Nutmeg

1

cup

Unsweetened soymilk

or choice dairy or alternative beverage

1

cup

Crushed Pineapple in 100% juice

1

cup

Grated Carrots

1

teaspoon

Vanilla Extract
Recommended Toppings
½

cup

Plain Greek Yogurt mixed with 2 teaspoon 100% Pure Maple Syrup

Orange slices

Raisins

soak in orange or pineapple juice for a few minutes to soften

Chopped Walnuts
Instructions
In a large mixing bowl, combine all the dry ingredients.

In a smaller bowl or large liquid measuring cup, combine the soymilk, pineapple/juice, carrots, and vanilla.

Pour the wet ingredients into the dry ingredients, and stir until just combined. The batter will be thick.

Allow the batter to rest while you preheat the waffle iron.

Once the waffle maker is hot, spray with cooking spray if needed, and pour an appropriate amount of batter into it for your waffle maker size.

Cook until the waffles are browned and crispy on the outside. Hint: They may take just a little longer than traditional waffles to cook because of the pineapple in them.

Remove from the waffle maker and repeat until all the batter is used.

Top as desired.
Nutrition Facts
Carrot Waffles
Amount Per Serving (3 waffles)
Calories 300
Calories from Fat 16
% Daily Value*
Fat 1.8g3%
Sodium 45mg2%
Potassium 86mg2%
Carbohydrates 60g20%
Protein 9g18%
Vitamin A 125IU3%
Vitamin C 6mg7%
Calcium 79mg8%
Iron 2mg11%
* Percent Daily Values are based on a 2000 calorie diet.