If you're wondering what to do with radish greens, this is the recipe for you! Most people throw away the tops, but there's no need to waste that amazingly delicious and healthy part of the radish any longer! Radish Greens Hummus is simple, and a great way to use even the spikiest of radish leaves!
In this radish green recipe, we start with a basic hummus, and blend radish leaves into the mix, along with some parsley to keep it tasting fresh. The result is a light and peppery hummus that is perfect for dipping or spreading.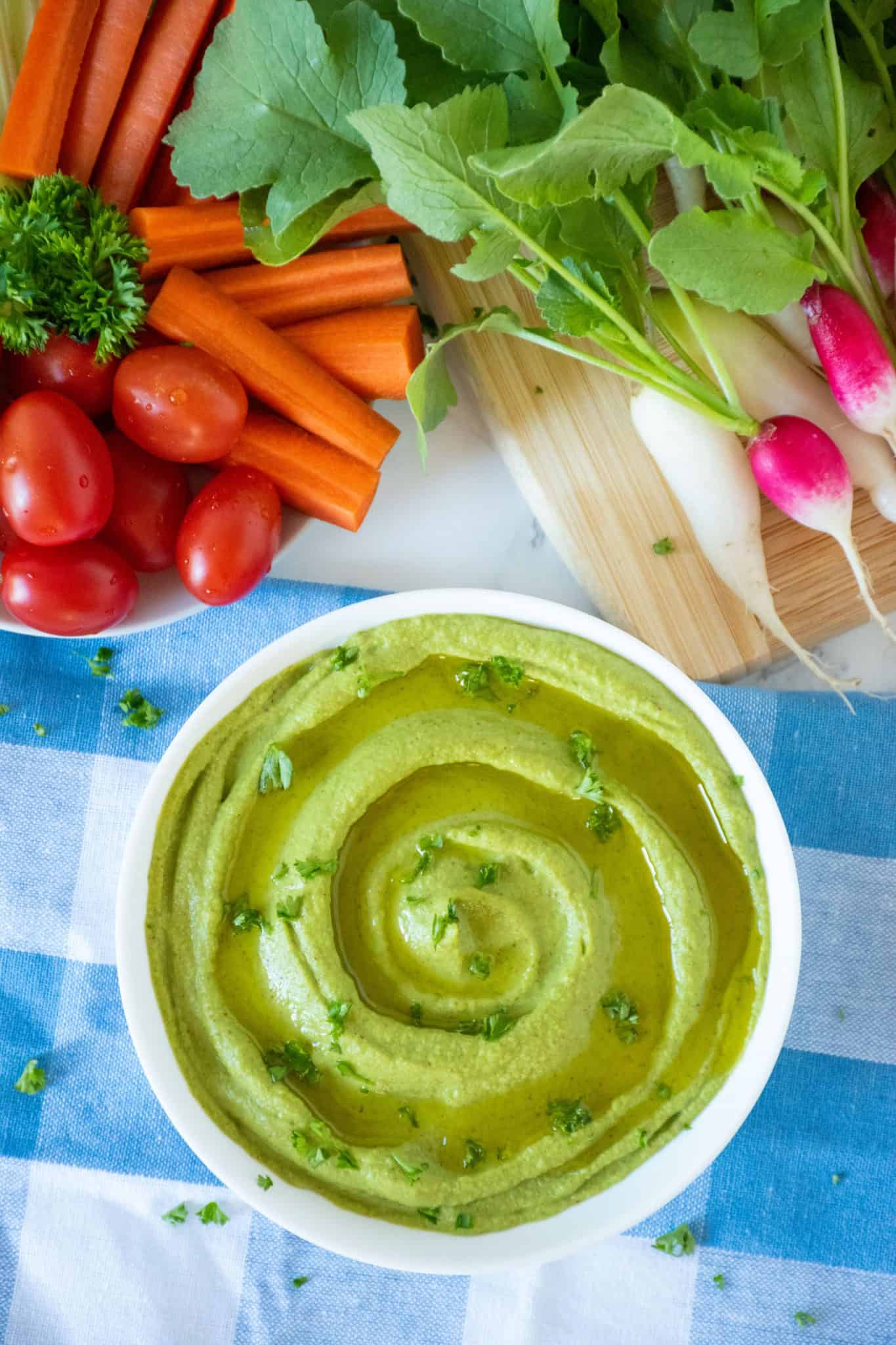 Are radish greens good for you?
Yes! Radish leaves are very low in calories, making them a great addition to about anything to increase the flavor without undoing your day. Radish greens nutrition is off the charts, too! They are a good source of potassium - important for heart health! Not to mention, they are great sources of vitamins A and C, and calcium. Greens across the board are good sources of iron, and radish greens are no exception. Wow! Why are we not eating these more?! (1)
What do radish greens taste like? Like their underground counterparts, radish leaves have a slight peppery flavor, much like arugula. In fact, radish greens are a great substitute for arugula in recipes that call for it. Get creative and see what you come up with!
What to do with radish greens
Radish greens are really versatile, and can be used raw or cooked in most recipes that call for other types of leafy greens. Here are some of my favorite ways to use radish greens:
How to store radish greens
You want to keep your greens fresh to use, and here's how. First, cut the leaves from the radish root. You'll want to store them separately.
Wash the leaves with cool, running water, or dunk into a bowl filled with cold water, to remove any dirt and debris. Pick out any leaves that are wilted or starting to turn yellow and discard.
Use a salad spinner to remove excess water, or lay on a clean towel and blot dry with another. Getting the leaves as dry as possible will prolong their shelf life.
Use either a large airtight container or a large zipper bag for storage. Line the container or bag with a paper towel. I find this to be essential so the greens don't sit in water and start to deteriorate.
Store in the refrigerator for up to about 5 days. Leafy greens are highly perishable, so keep an eye on them. If your paper towel becomes saturated, replace it.
FAQs and Substitutions
What can be used in place of the radish greens?
If you don't grow your own radishes, and yours don't come from the store with the greens on - or if you just don't want to use radish tops - you can use most any green instead. I would recommend arugula because the taste is similar, but you could also use kale, spinach, Swiss chard, mustard greens, or even dandelion greens. Any mix of those would work, too.
How should I use this hummus?
Besides the obvious dip for veggies and crackers, radish greens hummus can also be used as a sandwich spread instead of mayo, as a pasta sauce, or even in potato salad instead of the mayo dressing. Add a scoop to your tossed salad for lunch or if you make the Breakfast Hash, scoop a little on top for added deliciousness!
If you make Radish Greens Hummus, tell me in the comments below!
Do you use the radish tops? If you do, how do you use them? I'd love to know!
📖 Recipe
Radish Green Hummus
A delicious, spunky dip that helps you decrease your food waste, using in-season produce! Pass the "yum-mus" please!
Ingredients
1

can

(1 ½ cups) Chickpeas,

drain and rinse, but reserve liquid from the can

1

cup

packed Radish Greens,

rinsed and dried

½

cup

fresh Parsley

3

tablespoon

Olive Oil

3

Garlic cloves, minced

3

tablespoon

Tahini

2

tablespoon

Lemon Juice

1

teaspoon

Cumin

1-3

tablespoon

Chickpea Liquid
Instructions
Add all ingredients, except chickpea liquid, to your food processor. Process on high for several minutes, until smooth and creamy.

While the food processor is running, add chickpea liquid, 1 tablespoon at a time until desired consistency is reached.
Nutrition Facts
Radish Green Hummus
Amount Per Serving (0.25 cup)
Calories 136
Calories from Fat 82
% Daily Value*
Fat 9.1g14%
Sodium 11.7mg1%
Potassium 171.8mg5%
Carbohydrates 11.1g4%
Protein 4.1g8%
Vitamin A 51.2IU1%
Vitamin C 9.9mg12%
Calcium 43.3mg4%
Iron 1.6mg9%
* Percent Daily Values are based on a 2000 calorie diet.