Healthy, salt free ketchup recipe is an easy way to healthify your condiment selection. This low sodium ketchup, that's also sugar free, helps you feel good about pouring it and dipping it! We use dates for a touch of sweetness without refined sugar, and we use a delicious mix of vinegars and spices so we don't need salt. It's easy too, so there's no reason not to make homemade ketchup anymore!
Is ketchup bad for you?
I rarely say any food is "bad" for you. But ketchup does have very little nutritional value. And that's mostly because the serving size is so small (a serving size of ketchup is just one or two tablespoons). Commercial ketchup is usually high in sodium and added sugar. Those are the reasons ketchup may not be the healthiest option. Just one tablespoon of one popular ketchup brand contains 180mg sodium, and 4g added sugar. If you're concerned with heart health, you should generally try to stay under 1500mg sodium per day, and under 25-36 grams added sugar per day. To that end, ketchup may not be a great option, especially if you tend to eat more than one tablespoon (who doesn't?!).
Certainly there are healthier options out there, and many brands are trying to cut back on the amount of salt and/or sugar they use. Read ingredients and make sure you know what you're getting. Oftentimes you'll see artificial sweeteners used in place of sugar or a salt substitute used instead of salt, rather than just leaving those things out. Because taste is important and ketchup won't taste the same without those ingredients. Neither of those substitutions are "bad" per se. But if you need to watch your potassium for any reason, a salt sub can be a problem. And some people just don't want to eat artificial sweeteners for a variety of reasons.
My salt free ketchup with no added sugar is just the ticket for both of those issues! Tons of flavor without all the sodium and added sugar. Perfect for your next burger!
Tips and FAQs
Can I use fresh tomatoes to make ketchup?
Yes! Fresh tomato ketchup is amazing! Simply substitute 1 pound of fresh tomatoes for the can of diced tomatoes. You can remove the peel if you wish, or leave it on. Chop the tomatoes or blitz them in your food processor before starting, and follow the directions as written. You may need to simmer everything at the end a bit longer if your tomatoes are very juicy.
Can I use other vinegars for this recipe?
Yes, but you'll want to taste as you go. Balsamic and apple cider vinegars are both a bit sweeter, so if you use another vinegar you may end up with a tangier ketchup. Start with less vinegar than the recipe calls for, and add more if you think it needs it.
What kind of dates should I use?
I like deglet noor dates (also spelled deglet nour). They are smaller and softer than some other date varieties out there. It's fine to use any kind you like though. Just make sure you get whole, pitted dates. Don't get the little pieces that are usually tossed with oat flour. And I get pitted dates, honestly because I just don't want to bother with cutting out the pit. Ha!
How long does homemade ketchup last?
This healthy homemade ketchup will last about 2-3 weeks in the refrigerator. Make sure to store it in an airtight container, and glass is best. Tomato products in general are high acid foods and can stain plastic containers, and leach the metal flavor out of metal containers.
Can you freeze ketchup?
Sure can! Ketchup that has been frozen tends to be a little more watery than it was initially, but still tastes great! I recommend portioning out the ketchup in amounts that are normal for you to use - maybe ¼ cup or ½ cup? - and then freezing those portions. That way you won't have to thaw the entire thing for a batch of homemade fries! The ketchup will last 3-6 months in a completely frozen state.

I do not recommend refreezing it if you accidentally thaw too much.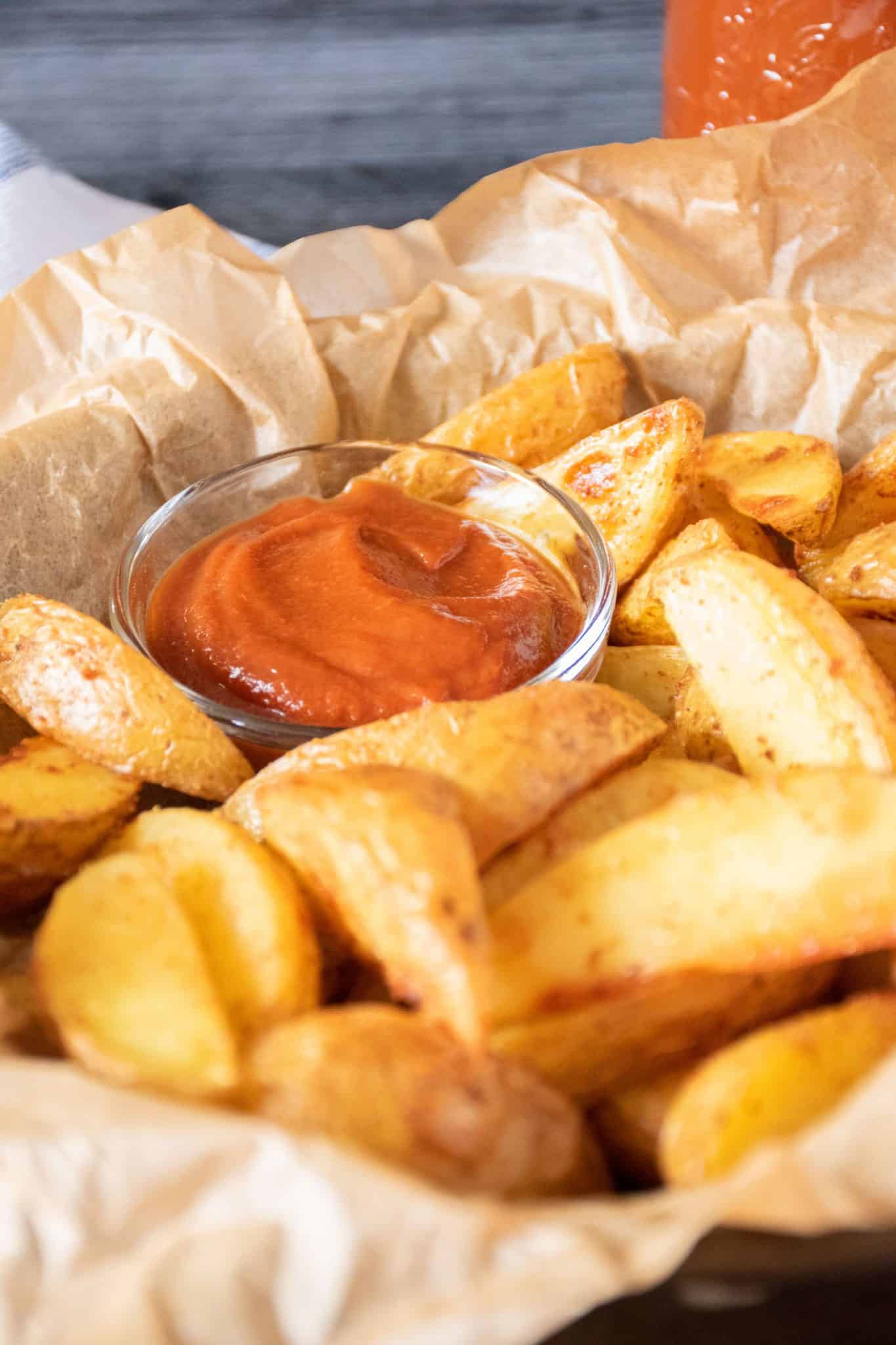 Try this delicious low sodium ketchup recipe with Mediterranean Black Bean Quinoa Burgers, Garlic Potato Wedges, Crispy Oven Fries, or even in my Quicker Baked Beans recipe!
If you make my no salt ketchup, tell me in the comments!
📖 Recipe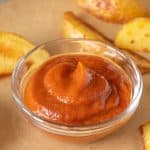 Low Sodium Ketchup Recipe (with no added sugar)
This healthy ketchup recipe is an easy way to healthify your condiment selection. It is salt free and sugar free, so you can feel better about pouring it and dipping it!
Ingredients
½

cup

Dates

pitted

15

oz

can No Added Salt Diced Tomatoes

undrained

2

teaspoon

Olive Oil

½

medium Onion

diced

2

cloves

Garlic

minced

6

oz

No Added Salt Tomato Paste

¼

cup

Balsamic Vinegar

2

tablespoon

Apple Cider Vinegar

¼

teaspoon

Ground Black Pepper

⅛

teaspoon

Allspice

Pinch

of Ground Cloves
Instructions
Combine dates and diced tomatoes in a small saucepan, and bring to a boil. Turn off heat, put the lid on the pan, and allow to soak about 15 minutes.

Meanwhile, heat olive oil in a large skillet over medium heat. Add onions and garlic, and saute 5-10 minutes, until soft and fragrant.

Add the tomato paste, the tomato/date combo, and all the remaining ingredients. Bring to a simmer, and continue cooking and stirring for 10-15 minutes, until thickened.

Remove from the heat, and carefully pour into a blender or food processor. Process on high until very smooth.

Chill, and use as desired. Will keep in the refrigerator for about 2-3 weeks. Can be frozen for up to 6 months.
Nutrition Facts
Low Sodium Ketchup Recipe (with no added sugar)
Amount Per Serving (1 Tbsp)
Calories 15
Calories from Fat 3
% Daily Value*
Fat 0.3g0%
Sodium 3.5mg0%
Potassium 71.4mg2%
Carbohydrates 3g1%
Protein 0.3g1%
Vitamin A 4.3IU0%
Vitamin C 1.7mg2%
Calcium 5.1mg1%
Iron 0.2mg1%
* Percent Daily Values are based on a 2000 calorie diet.