Whole wheat breadcrumbs are sometimes difficult to find in the store, but it's easy to make homemade bread crumbs! And a bonus: this recipe uses the heels of your bread. You know, those end pieces that no one in your house will eat anyway? That makes these breadcrumbs FREE, while also reducing food waste! I love these kinds of recipes!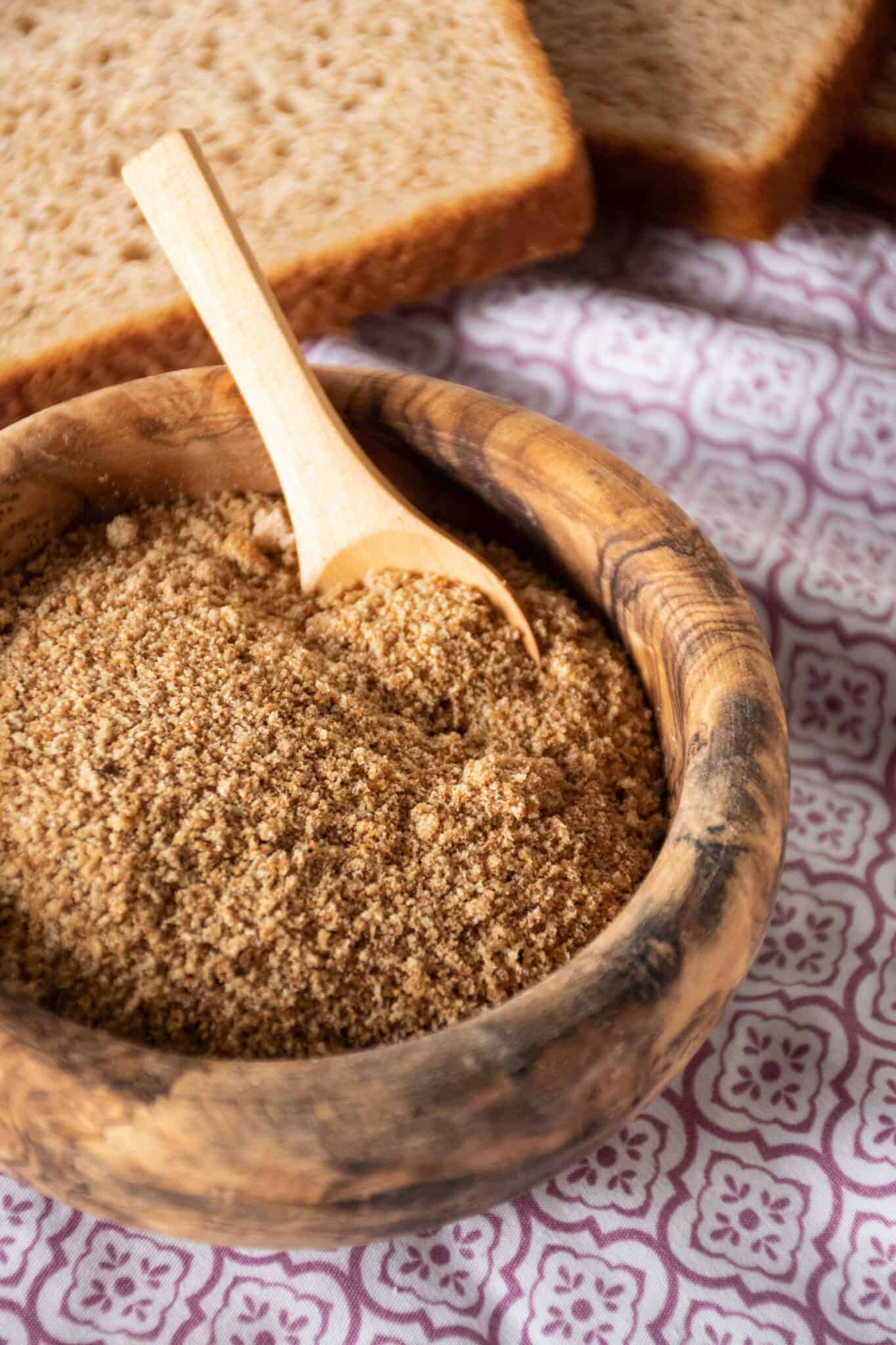 How to make breadcrumbs from bread
It's one of those things where you wonder why you didn't think of it sooner, right? If you're anything like me, breadcrumbs are one of those things you never think you buy when you're at the store. Then when you find something amazing to make for dinner, what ingredient is staring back at you from the computer screen? BREADCRUMBS! Ugh!
Never fear! It's easy to make breadcrumbs from the bread you already have in your pantry! All you need are a few slices of that bread (the heels or regular slices are fine), a baking sheet, and your oven. Bake the bread on a low oven temperature, because we're not going for toasted bread crumbs. Dry out the bread completely in the oven, then simply whiz it around in your food processor until you have breadcrumbs! Take that, random breadcrumbs in recipes!
How to make breadcrumbs FAST
I will admit, drying out the bread in the oven does take some time. Because we want to avoid toasting the bread, we have to go slowly. But there's a way to make these bread crumbs quicker! Break up the bread into small pieces before baking! As small as you can get them, honestly. If it's thick bread, you can even (gently) pull it apart horizontally. Then it can take as little as 5-10 minutes to bake. One caveat: don't cut it with a knife! If you do that, you could crush the bread, collapsing the air pockets in the bread, and cause the baking to take longer. Once your tiny pieces of bread are completely dried you can follow the recipe from there to process them into crumbs.
How to make Italian bread crumbs
Do you have a recipe that calls for Italian bread crumbs instead of regular bread crumbs? It's easy to make those, too! For every ½ cup of breadcrumbs you have, add 1 ½ teaspoons of Italian seasoning blend to it. You can mix the seasoning in with your breadcrumbs so your entire batch is Italian breadcrumbs, or you can add the seasoning directly into the recipe so your breadcrumbs remain plain for whatever you need!
How to make gluten free breadcrumbs
Gluten free breadcrumbs have been quite difficult, if not impossible, to find in the past. These days, it's far easier to get most anything with giant online retailers. But even regular grocery stores generally carry them now. But that doesn't mean you actually remember to buy them, does it? Well, you can make gluten free breadcrumbs yourself using this recipe, too! Simply use whatever gluten free bread you like and have on hand. If it's frozen, thaw it first, then proceed.
You will continue with the instructions to slowly dry the bread in a low temp oven, before processing into crumbs in a food processor. The time will be close to the same, but always keep an eye on it, in case your bread is thinner or less dense, because that will speed up the drying process.
How to store homemade bread crumbs
To store your homemade bread crumbs, you have a couple options. Before you do anything, make sure to cool them completely. If they are still warm, condensation can form on the inside of your container, which can make them soft again, but more importantly, can lessen the shelf life (moisture = more bacteria).
Once they are completely cool, your homemade bread crumbs can be kept in an airtight container in the refrigerator for a week or two. If you need to store them for longer than that, pop that same container in the freezer. They'll keep for months in there. Thaw them before using them. If they're soft, you can crisp them up in a 300° oven for a few minutes, and you'll be ready to go.
Tip: If I'm going to be using the breadcrumbs as a topping to something I'm going to bake anyway (like a casserole), I shortcut the thawing process completely and use them frozen. It doesn't even matter if they're soft because I'm crisping them up in the process of baking them on the dish!
Are bread crumbs healthy?
Any bread crumbs are only as healthy as the bread used to make them. Plain Jane breadcrumbs from the store are usually "white breadcrumbs" - equivalent to white bread. Not so healthy. Keep healthy, 100% whole grain bread on hand, and use this recipe to make breadcrumbs. Then, whether you use a tablespoon or a cup in your recipe, you know you're using the healthiest bread crumbs possible! Healthy for your bank account, too, since these are technically free!
Try your new homemade bread crumbs in these Mediterranean Black Bean Quinoa Burgers!
Make sure to tell me in to comments if you make these bread crumbs, or if you have a question I haven't answered!
📖 Recipe
How to Make Homemade Bread Crumbs
Whole wheat breadcrumbs are sometimes difficult to find in the store, but they are easy to make! And a bonus: this recipe uses the heels of your whole wheat bread! You know, those end pieces that no one in your house will eat anyway? That makes these breadcrumbs FREE, while also reducing food waste! I love these kinds of recipes!
Ingredients
2

Whole Wheat Bread Heels,

or however many you have
Instructions
Preheat oven to 300° F.

Rip the bread into smaller pieces - the smaller they are, the quicker they'll bake.

Place the bread pieces onto a parchment lined baking sheet, and bake for 20-35 minutes, until the pieces are completely dry and crispy, but not toasted.

Move the bread to a food processor, and pulse until you get a consistency that resembles large sand grains - or whatever size you want.

Store in an airtight container for up to a few days, or the freezer for up to 6 months (recrisp in the oven after thawing).
Nutrition Facts
How to Make Homemade Bread Crumbs
Amount Per Serving
Calories 54
Calories from Fat 6
% Daily Value*
Fat 0.7g1%
Sodium 97.1mg4%
Potassium 54.2mg2%
Carbohydrates 9.1g3%
Protein 2.7g5%
Iron 0.5mg3%
* Percent Daily Values are based on a 2000 calorie diet.