This simple Low Sodium Italian Dressing and Marinade is bright and delicious, with no added salt or sugar. Perfect for your heart healthy lifestyle! It's easy, too. Just toss all the ingredients in a jar and shake!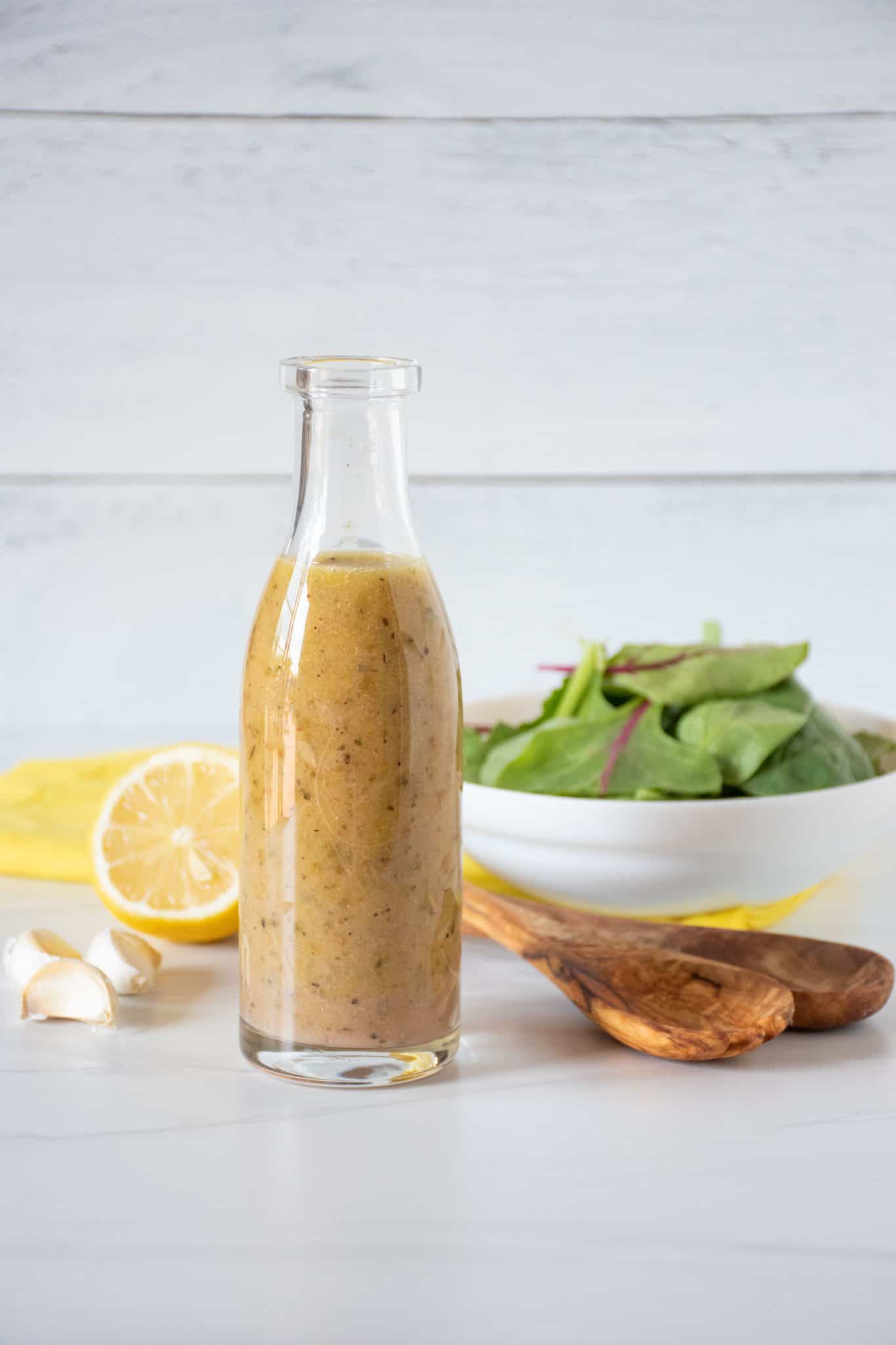 Is Italian dressing healthy?
Italian dressing is one of the healthier salad dressings out there - even store bought. Its base is oil and vinegar, instead of cream, so it's inherently healthier, with a heart healthier fat profile (low saturated fat, and higher monounsaturated and polyunsaturated fats). It can, however, be pretty high in sodium, so you'll want to look at the labels for that. Serving sizes are generally in the one to two tablespoon range, and it's easy - and common - to use much more than that, especially if you have a large meal salad! One popular brand, for example, contains 330mg sodium in 2 tablespoons.
But my heart healthy Italian dressing recipe has just 34mg sodium in 2 tablespoons, making it an excellent salad dressing choice if you have high blood pressure! The other thing this easy Italian dressing recipe leaves out is sugar (an all added sweeteners for that matter). So this also works great for people who have diabetes (which puts you at a higher risk for heart disease), or are watching added sugar/carbohydrate intake for other reasons.
What salad dressing is good for high blood pressure?
There's not just one best salad dressing for high blood pressure, but the main thing you need to be concerned with is how much sodium is in your salad dressing. The serving size of salad dressing is small - usually only one or two tablespoons - so the sodium can add up really quickly!
Beware especially of low fat or fat free dressing options. These often have more salt and sugar added to make up for the lack of fat. Other dressings that are high in salt are cheesy dressings, creamy dressings, and a double whammy - Caesar dressing.
For a healthier store-bought salad dressing, look for dressings that have:
Less than 200mg sodium per serving - ideally MUCH less, but let's work with what we have,
No added sugar, or as little as possible - I like to save my added sugar allotment for actual sweets - and,
Saturated fat levels around 1 or 2 grams at most.
Of course the best salad dressing for high blood pressure is one you make yourself, because you have complete control over the ingredients, and can leave out added salt, sugar, and other ingredients that may get in the way of your goals.
FAQs and Substitutions
What is the best oil to use for salad dressing?
Oils with low smoke points are usually the best to use for salad dressings. These oils are typically unrefined, retaining more of their healthful benefits and flavor. It's important to know the flavor your oil will impart in the salad dressing, and make sure it's complimentary.

Oils with the lowest smoke points are extra virgin olive oil, flaxseed, walnut, and pumpkin seed oils. You can also use some oils with higher smoke points with delicious results, including avocado, sesame, and grapeseed oils. I keep extra virgin olive oil on hand for dressing, because it works well with most spices, has a great heart healthy profile, and is almost neutral in flavor and color.
Can I use another vinegar instead of red wine vinegar?
Yes. White wine vinegar will also work, as well as most others. Your dressing will be on the sweeter side if you use balsamic or apple cider vinegar.
Can I leave out the mustard?
If you hate mustard, just leave it out. Your dressing will separate more quickly without it, but will still taste great! Similarly, another mustard is fine to use, just stay away from whole grain mustard. You don't want something with lots of texture here.
Does Italian Dressing go bad?
Eventually, yes. Homemade Italian salad dressing can last about 4 months or so, refrigerated. Know that olive oil is a solid under refrigeration. This doesn't affect the quality though. All you need to do is let it sit on the counter for 10 minutes or so before using, and it will liquify again. Do not store the dressing on the counter though. It needs to be refrigerated to last.
Is Italian dressing vegan?
Store bought Italian dressing probably isn't. Read the ingredients - they usually contain cheese or other milk ingredients. This easy Italian dressing recipe is vegan, though. That makes it an excellent choice for everyone at your table (and keeps it cholesterol free, too)!
This heart healthy Italian dressing is, of course, perfect for a simple tossed salad. But also consider using it to marinate tofu, chicken, or seafood. It would be great to toss on pasta salad or grilled vegetables, too!
For more Italian-inspired recipes, check out Zucchini Lasagna Rolls, Vegetarian Stuffed Peppers, and Deconstructed Pesto Herb Salad!
Try more of our low sodium salad dressing recipes:
If you try this healthy Low Sodium Italian Dressing, tell me in the comments!
📖 Recipe
Low Sodium Italian Dressing & Marinade
This easy and healthy, Low Sodium Italian Salad Dressing and Marinade is bright and delicious, with no added salt or sugar. Perfect for your heart healthy lifestyle!
Ingredients
½

cup

Extra Virgin Olive Oil

¼

cup

Red Wine Vinegar

¼

cup

Water

1

tablespoon

Lemon Juice

2

teaspoon

Italian Seasoning

2

teaspoon

Dijon Mustard

1

teaspoon

Garlic Powder

½

teaspoon

Onion Powder

½

teaspoon

Ground Pepper

(Optional)

Pinch

Salt

(IF needed)
Instructions
Add all ingredients to a bowl or jar, and whisk until well combined.

Store in the refrigerator, and shake before using.
Recipe Notes
Note: Olive oil will solidify when refrigerated - this is normal. When this happens, simply remove the dressing from the refrigerator and allow to rest on the counter for about 10 minutes before use.
If the dressing seems overly tart, you can add up to 1 tablespoon of a sweetener, like honey, sugar, or agave. Add as little as possible. Your goal is to reduce added sugar as much as possible over time.
Nutrition Facts
Low Sodium Italian Dressing & Marinade
Amount Per Serving (1 Tbsp)
Calories 63
Calories from Fat 63
% Daily Value*
Fat 7g11%
Sodium 17mg1%
Potassium 9.4mg0%
Carbohydrates 0.5g0%
Protein 0.1g0%
Vitamin A 7.5IU0%
Vitamin C 0.5mg1%
Calcium 3.8mg0%
Iron 0.2mg1%
* Percent Daily Values are based on a 2000 calorie diet.