Celebrate summer with these easy Mediterranean Marinated Vegetable Skewers on the grill. The marinade is a riff on Greek dressing, so you can use any extra on your salad! The perfect side dish for your next cook out! Your WHOLE family will love these!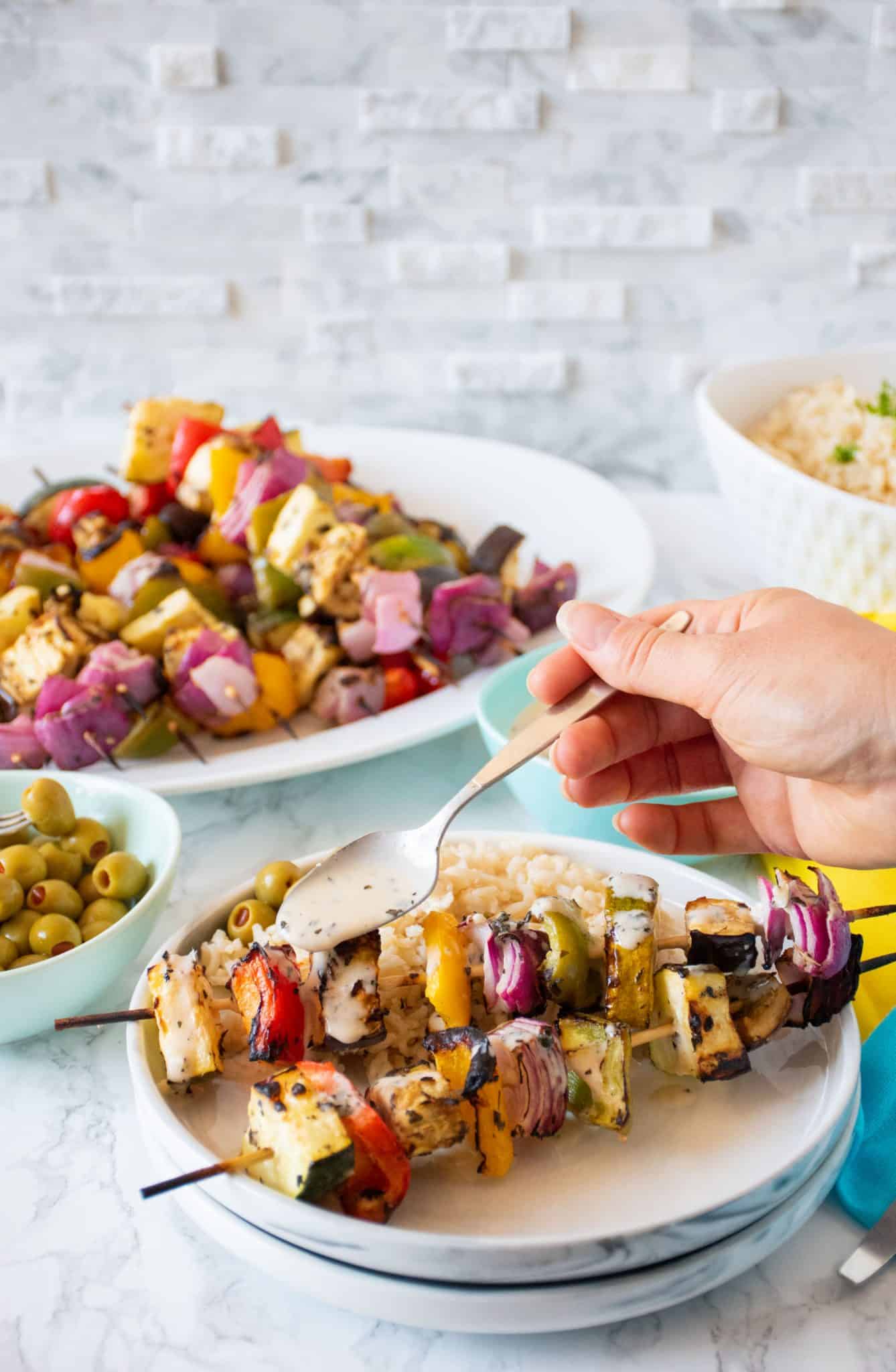 How to cut vegetables for kabobs
While largely up to your preference, there are some things to keep in mind when cutting your vegetables to go on skewers.
Make sure the pieces are all about the same size. If your pieces of vegetables are all different sizes, they won't cook in the same amount of time. That means some of your veggies could be burned, while others are still raw and crunchy.
Make sure the vegetable pieces aren't too large. If the cuts are too large, they'll have trouble cooking all the way through without burning. Also, if they are too thick, they won't be able to marinate properly in the amount of time I'd like. I find that close to 1 inch squares is a good size.
Don't cut the vegetable pieces too small. The smaller your cuts are, the quicker they'll cook! But if they're too small, you won't be able to thread them onto the skewers without them splitting apart or breaking. As I mentioned above, close to 1 inch square is a good size.
What skewers should you use for kabobs?
There are two types of skewers you might consider using for your kabobs:
Metal Skewers - Metal skewers are great because they are reusable. They don't require any prep, either. Just thread the food on them and go. They are pricier than alternatives, although it's a one time cost. You'll also have to wash them. They are typically quite a bit longer than wooden skewers, too, so you'll need fewer of them.
Wooden Skewers - Wooden skewers are not reusable. They will char up during the cooking process and sometimes even catch fire. It's good practice to soak the skewers in water for 30 or more minutes before using them to help avoid fires like this. They are relatively inexpensive compared to metal skewers, and are easy clean up because you just throw them away.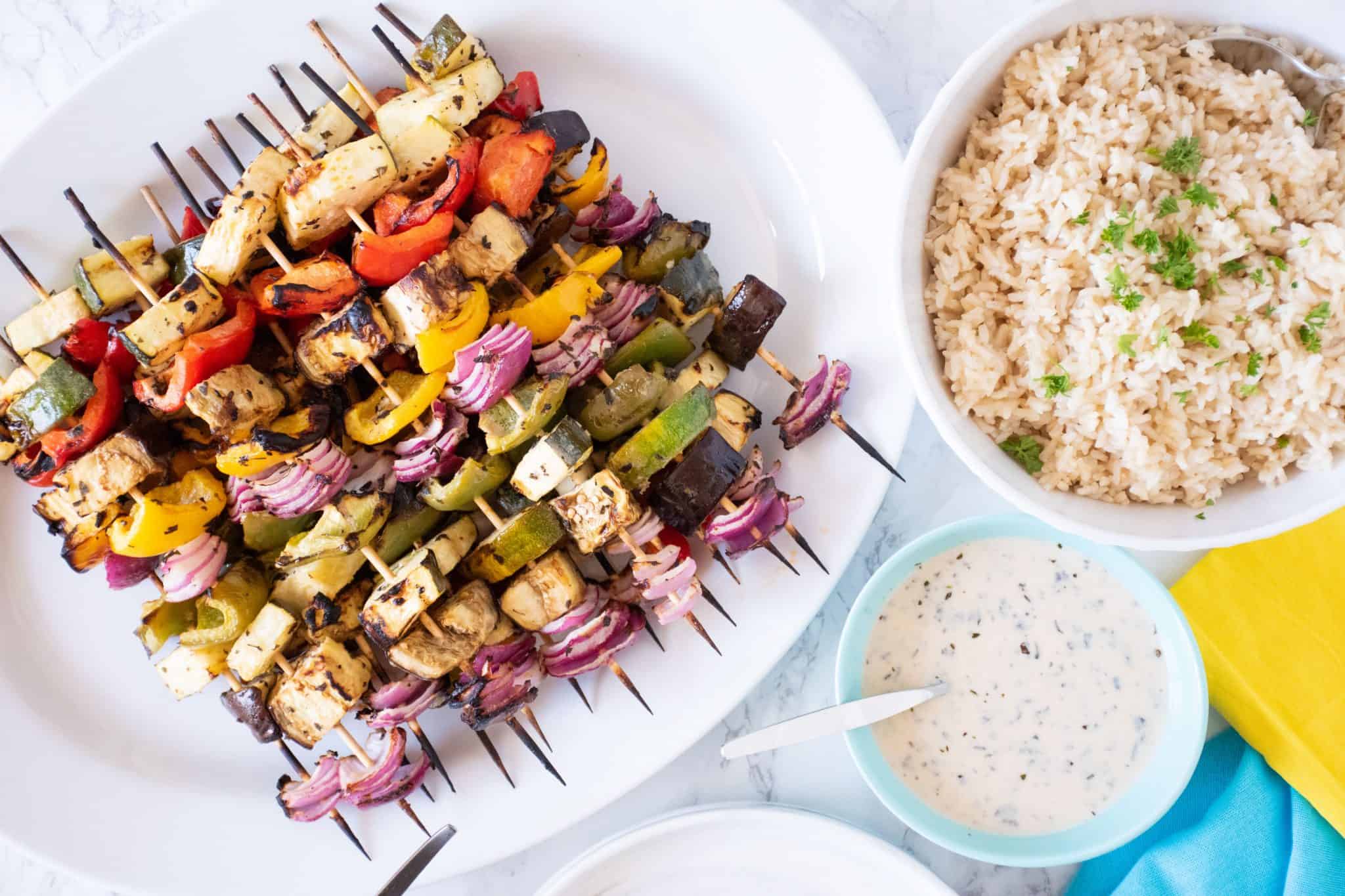 How long should you marinate the vegetables?
In this grilled vegetable skewers recipe, you'll marinate the vegetables for at least an hour. That's a good rule of thumb for most vegetables, too. You want to make sure there's enough time for the flavors to penetrate the vegetable skins and into the flesh as much as possible. Cut the vegetables first to help with this process.
You could even marinate them overnight if you wanted to. And the great thing about marinating vegetables with no meat? You don't have to throw the marinade away! Serve the extra right alongside the kabobs as a dipping sauce!
How to grill veggie kabobs
Grilling veggie kabobs is relatively straight forward, but there are some important tips to keep in mind for success!
Make sure to leave a little space between the vegetables. Not much - just don't pack them together, or the vegetables will cook nicely on the outside, but stay raw in the middle because the heat won't be able reach all parts evenly.
Always preheat the grill. This ensures the temperature is even, and the grates are nice a hot to cook on.
Oil the grates! Do this by drizzling oil onto a paper towel and, using tongs, quickly rub it over the grates. Be careful to not allow the paper towel to catch fire! You want to make sure to oil the grates so the veggies don't stick. NEVER use cooking spray on a grill that is lit!
Reduce the heat to medium or medium-low, and place the kabobs on the grill, crosswise to the grates.
Use your tongs to rotate the skewers every 5 minutes to so, so the vegetables get cooked on all sides. If you want, you can use the extra marinade to brush over the veggie kabobs as they cook.
Once the kabobs are cooked on all sides as you prefer, remove them, and serve them hot, with the extra marinade on the side (if you have also marinated meat in that same marinade, do not serve it - throw it away to avoid cross contamination. You want to serve your kabobs with a side of rice, NOT foodborne illness!
How to make kabobs in the oven
No grill? Out of propane or charcoal? Got rained out? Middle of winter? No problem! Kabobs are easily made in the oven, too! Here's how:
Chop your ingredients, and marinate just like you would for the grill, while you're soaking your wooden skewers.
Preheat your oven to 400° F.
Thread your marinated ingredients onto the soaked wooden skewers (or metal skewers if you've got those), making sure the pieces aren't touching each other to ensure even cooking.
Place your kabobs on a lined baking sheet, making sure they aren't too crowded - use two baking sheets if you need.
Bake the kabobs for about 15-20 minutes, until all the ingredients are cooked to your liking (completely cooked if you're using meat), rotating about halfway through.
If you want your kabobs to have a bit of char on them, like they would on the grill, turn on your broiler in the last few minutes of cooking, and place the baking sheet directly under it. Watch closely to avoid burning!
Enjoy with whatever side dishes you like!
What goes with kabobs?
This grilled veggie kabob recipe is so versatile! It has a Greek flair, so can easily pair with other picnic recipes with those types of flavor profiles. Other kabob recipes are similarly versatile in what you can serve with them. Here are the 10 best dishes to go with kabobs:
Rice. Of course! It's an easy pairing, and helps make your marinated vegetable skewers a hearty meal. Opt for brown, black, or red rice for more fiber and antioxidants.
Another whole grain, like quinoa, farro, couscous, or wheat berries. Even a whole grain pasta salad would be excellent.
Burgers! Quintessential summer right? Try Mediterranean Black Bean Quinoa Burgers for cookout perfection!
Baked beans. Are we having a picnic or what! Try my Lentil Baked Beans for a faster take on the classic.
A large side salad. Make it a Greek salad and use your extra marinade (again, ONLY if you didn't marinate any meat in it!) as a dressing.
Grilled marinated tofu or chicken. Complete your meal with a delicious high protein food, grilled of course!
Corn on the cob! Oh yea!
Tabbouleh would be great with any veggie kabob recipe! Try Carrot Top Tabbouleh, and if you don't have carrot tops, use parsley!
Raw veggies with hummus - make it fast with Pantry Basics Hummus using no tahini!
Potato salad. Marinated vegetable skewers are healthy enough that they leave room for a little splurge!
If you try grilled Mediterranean Marinated Vegetable Skewers, I'd love for you to come back and rate it! I love it when I hear from you!
You might also be interested in this article before your next cook out: Burgers 101: A Comparison!
📖 Recipe
Mediterranean Marinated Vegetable Skewers on the Grill
Celebrate summer with these easy kabobs on the grill. The marinade is a riff on Greek dressing, so you can use any extra on your salad! Perfect side dish for your next cook out!
Ingredients
For the Marinade
1

cup

Plain Nonfat Greek Yogurt

⅔

cup

Olive Oil

⅔

cup

Red Wine Vinegar

⅓

cup

+ 1 tablespoon Lemon Juice

6

Garlic Cloves, finely minced

1 ½

tablespoon

Dijon Mustard

1 ½

tablespoon

Dried Oregano

1 ½

tablespoon

Dried Basil

1

teaspoon

Salt

or to taste
For the Skewers
1

small Zucchini

½

medium Eggplant

1

large Green Pepper

1

large Yellow Pepper

1

large Red Pepper

1

medium Red Onion
Instructions
Make the marinade by combining all the marinade ingredients, and whisking until combined. Taste and adjust salt if needed.

Chop all the vegetables into large pieces - about 1 inch squares.

Place all the vegetables in a gallon sized zipper bag, and pour half of the marinade over the vegetables. Shake the bag to coat the vegetables.

Marinate in the refrigerator for at least an hour.

Meanwhile, soak 16-20 wooden skewers in water in a shallow container (this helps prevent the skewers from burning during grilling).

After the vegetables are done marinating, thread them onto skewers in whatever order you like.

Preheat the grill, and oil the grates.

Put the skewers on the grill, and reduce heat to medium or medium-low.

Grill the skewers, rotating every 5 minutes or so, until the vegetables reach the desired level of doneness. Because there is no meat, the skewers can be cooked however long or short you like.

Remove from the grill, and serve immediately, with the reserved marinade for dipping.
Nutrition
Serving:
2
skewers
|
Calories:
85
kcal
|
Carbohydrates:
6.2
g
|
Protein:
1.7
g
|
Fat:
6.4
g
|
Saturated Fat:
0.9
g
|
Polyunsaturated Fat:
0.7
g
|
Monounsaturated Fat:
4.4
g
|
Cholesterol:
0.4
mg
|
Sodium:
127.1
mg
|
Potassium:
191.5
mg
|
Fiber:
1.5
g
|
Sugar:
2.5
g
|
Vitamin A:
39.2
IU
|
Vitamin C:
88.9
mg
|
Calcium:
23.1
mg
|
Iron:
0.4
mg