Simply refreshing and lightly sweet! This Blackberry Iced Tea with Mint uses just 3 ingredients (excepting water and ice) to bring Summer into a beverage! So easy and perfect for BBQs and summer evening relaxing!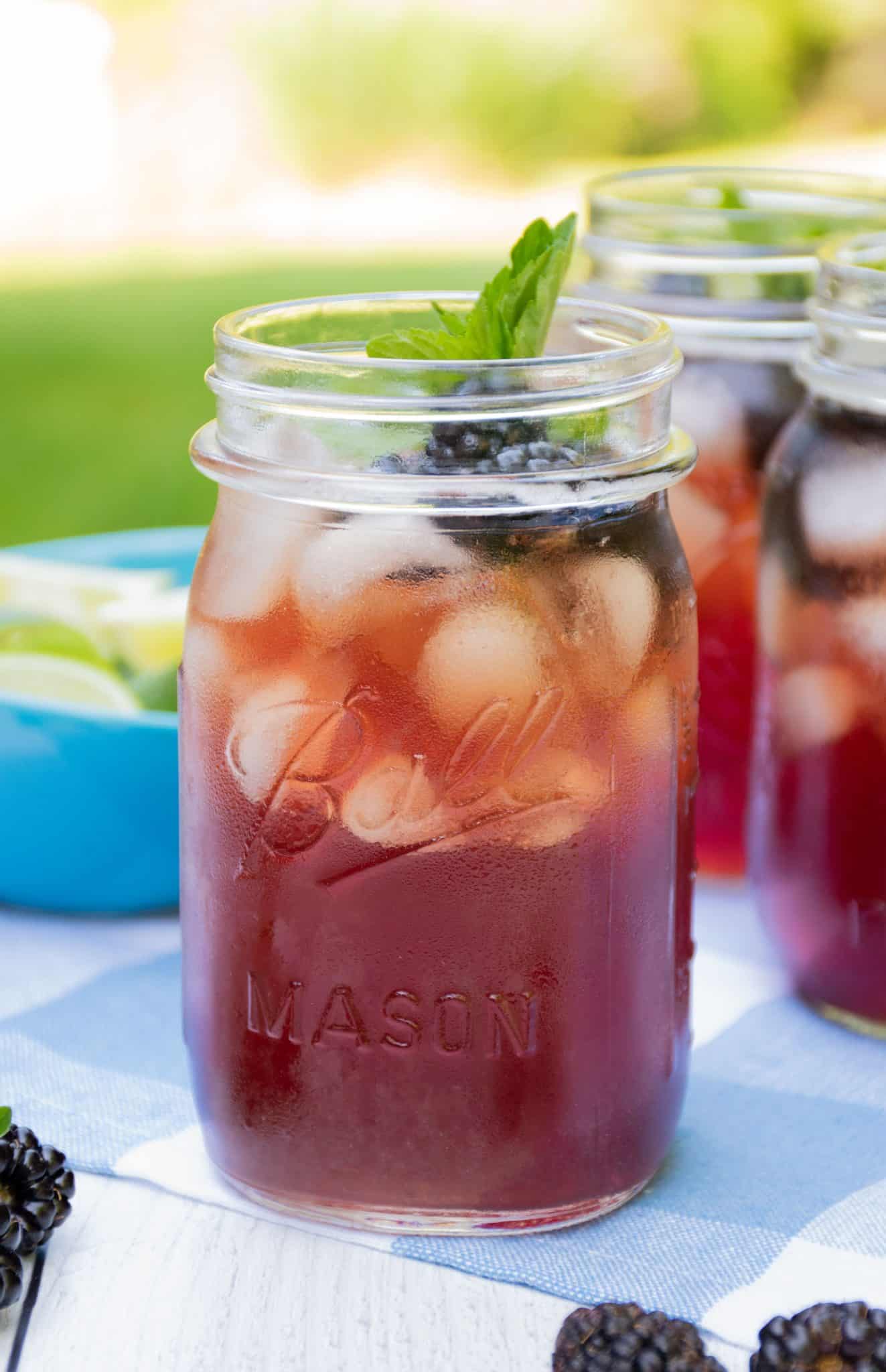 Is iced tea good for you?
Alone, iced tea is a great choice for overall health, and heart health! Black, green, or oolong, iced tea is low in calories (in fact, often calorie free!), sugar free, and high in antioxidants. Tea is actually the most widely consumed beverage besides water in the world, even besting coffee! It's been consumed for centuries in Asia, and even has many ceremonial uses. A note: "tea" is a term specific to a beverage made by steeping the leaves of the Camellia sinensis, which is an evergreen shrub native to China and East Asia. Herbal tea is not included in this definition. It also has myriad health benefits, but it varies depending on the herbs used, and isn't included in the studies I'll be referencing.
Tea is rich in polyphenols, a class of compounds found in many plant foods. Polyphenols are thought to boost brain health and digestion, and help protect against heart disease, type 2 diabetes, and some cancers (1). Types of polyphenols you've perhaps heard of before include flavonoids, phenolic acid, capsaicin, EGCG, and lignans. Other foods high in polyphenols are berries, cocoa, and other fruits and vegetables.
Studies have reports tea and its components to be beneficial in anti-inflammation, regulating the immune system response, anticancer activity, protection against diabetes, liver disorders, obesity, kidney diseases, and neurological disorders (like Alzheimer's and depression), improving digestion, and antimicrobial effects (2). Whew! Certainly a worthy addition to any heart healthy diet!
It also seems these beneficial compounds are best absorbed on an empty stomach, and by themselves. Consumption of tea paired with protein (in the form of milk or soymilk) seems to impair the body's absorption of the polyphenols (2). Also, in iced tea in particular, we tend to add lots of sugar (hello, sweet tea!). Yes, it's yummy. No, it's not healthy. Consume in limited amounts, and opt for unsweetened tea more often! Think of it as a dessert, because it basically is.
What are the risks of drinking tea?
There are a few potential safety issues to also be aware of related to tea. Mainly, concerns are pollution with heavy metals, high pesticide residue, and mycotoxin formation during fermentation (2). The World Health Organization (WHO) and the United States Pharmacopeia (USP) set permissible limits for heavy metals, and tea generally falls below those levels. Similarly, pesticide residues usually fall below the maximum residue levels (MRL) set by the Chinese and European Union. Sometimes levels do test high, though. Additional studies noted the pesticides tend not to end up in the tea in such high quantities, depending on water temperature and brewing time. Excessive exposure leading to health problems are unlikely, even with the highest residue teas, but if this is a concern, look for organic teas, which would have lower residue levels.
Mycotoxin contamination is a real possibility, since the tea fermentation process relies on a cocktail of microbes to transform the compounds. There is no way for consumers to reliably know whether their tea might be contaminated, and such contamination can lead to liver problems over time. Know that this contamination is rare. It's up to the manufacturer to monitor their processes to ensure mycotoxins aren't forming. If you have concerns about the process, contact your tea company and ask about it!
Tips and FAQs
Can I use green tea instead of black tea?
Yes! This recipe will work with any tea you like! Even some tea and fruit/herbal blends would be great.
Can I use dried mint instead of fresh?
Kind of. You wouldn't want to use it right in place of the fresh, but you could add it to the pot while you steep the tea, and then strain it out when you remove the teabags. You could even use herbal mint tea bags instead of black tea, for a caffeine free version, if you like.
Can I use another type of fruit?
Any berry will be good in this tea. A berry blend would work, too. I think most types of fruit would be okay, as long as you like their taste with mint. I haven't tried other versions to be sure, though.
Can I use powdered iced tea?
Powdered iced tea usually contains sugar or another sweetener. You technically could use it, but you'll need to be mindful of the calories and sugar in it. (The sugar tends to negate the health benefits of the tea, and most of us consume way too much anyway.)
If you try Blackberry Mint Iced Tea, let me know!
For other healthy picnic recipes, try Mediterranean Grilled Veggie Kabobs, Quicker Baked Beans, and Grilled Broccoli and Onions with Lemony Thyme Sauce.
Also, pick up my Burgers 101 Comparison Guide for burgers that meet any of your health goals!
📖 Recipe
Blackberry Iced Tea
Simply refreshing and lightly sweet! This Blackberry Mint Iced Tea uses just 3 ingredients to bring Summer into a beverage! So easy and perfect for BBQs and summer evening relaxing!
Ingredients
6

cups

water

5

Black tea bags

or tea of choice

6

oz

Fresh Blackberries

¼

cup

Fresh Mint Leaves

2

cups

Ice
Instructions
In a large sauce pan, bring the water to a boil.

Turn off the heat and steep the tea bags in the water for 5 minutes (10 minutes if you like stronger tea).

Cool for about 20 minutes.

Meanwhile, in a pitcher at least 2 quarts size, smash the blackberries and mint leaves with a potato masher or whisk.

When the tea is cooled, pour into the pitcher, along with 2 cups of ice.

Chill completely. The longer the tea sits, the more blackberry flavor it will have.

Strain the tea into glasses. Serve over ice, garnished with more fresh blackberries, mint leaves, and a twist of lime, if desired.

Lasts refrigerated about 4 days.
Nutrition
Calories:
15
kcal
|
Carbohydrates:
3.4
g
|
Protein:
0.4
g
|
Fat:
0.1
g
|
Polyunsaturated Fat:
0.1
g
|
Sodium:
10.6
mg
|
Potassium:
133.6
mg
|
Fiber:
1.5
g
|
Sugar:
1.4
g
|
Vitamin A:
3.1
IU
|
Vitamin C:
6
mg
|
Calcium:
10.6
mg
|
Iron:
0.2
mg