Oatmeal has been a well-loved breakfast staple for many years, and it's time to put a new spin on this classic with our Pecan Pie Baked Oatmeal recipe. This recipe is a unique fusion of comforting oatmeal and decadent pecan pie, offering an explosion of flavor in every spoonful. No added sugar or corn syrup here!
The base is made with whole grain oatmeal, known for its ability to keep you full and satisfied for a good part of your day. Giving this oatmeal its pecan pie essence are healthful pecans and naturally sweet dates, ingredients that blend together to mimic the classic pie taste.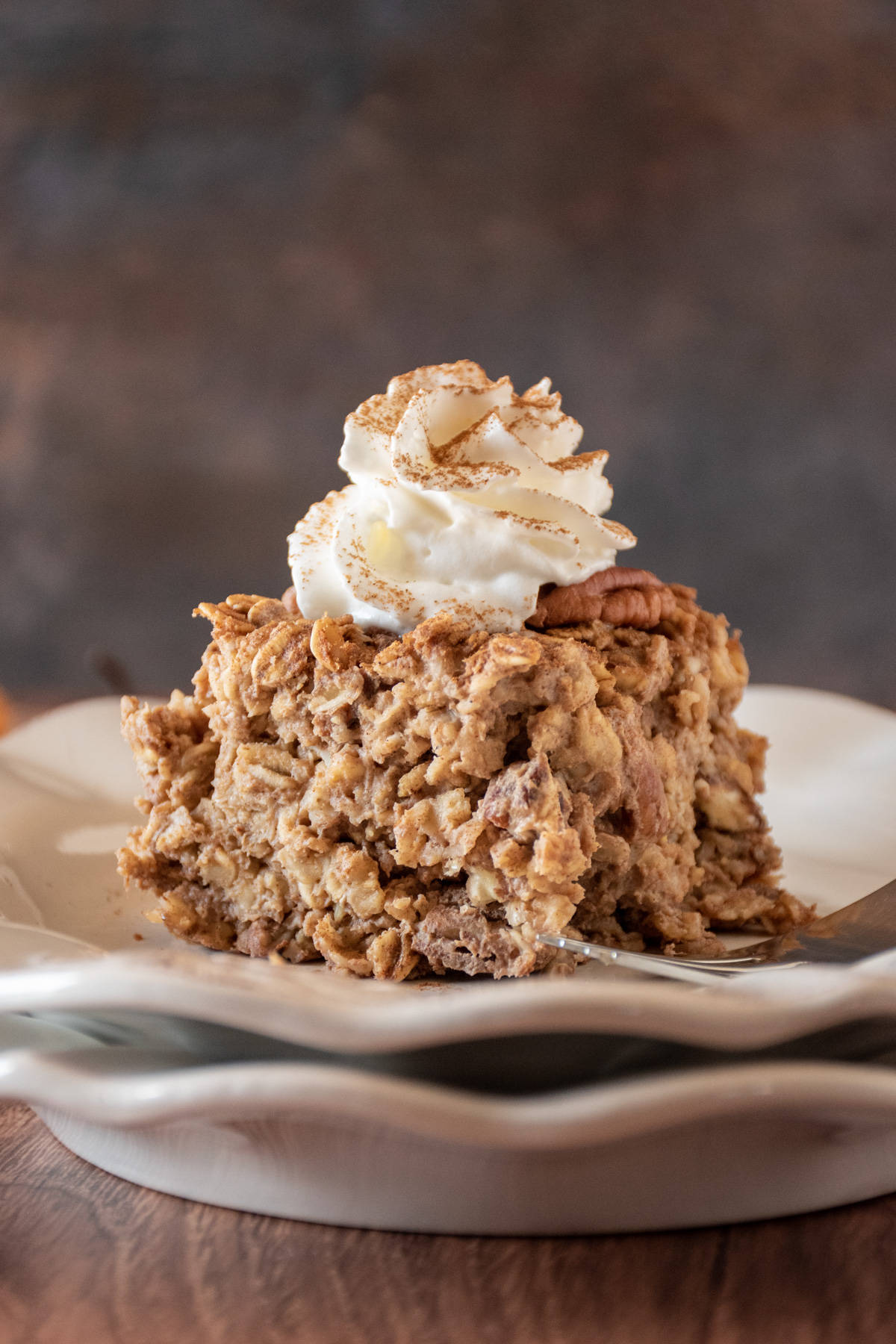 There is something reassuringly nostalgic about waking up to the smell of warm, inviting food during the holiday season. Especially on days like Thanksgiving or Christmas, comfort foods are in demand. And that's where our Pecan Pie Oatmeal steps in.
This heart-healthy recipe, emanating the aroma of sweet, buttery pecans and wholesome oats, has all the delightful flavors of a traditional pecan pie. But it comes with a far more pleasurable kick – of health and wholesomeness. It's indulgent, satisfying, and, unlike sugar-laden, corn syrup-heavy pecan pie, it's guilt-free.
You don't want to miss our other healthy holiday recipes, either! Try our Pecan Cranberry Bread, or our healthy Holiday Spiced Nuts!
Jump to:
What makes this Pecan Pie Oatmeal heart healthy?
Besides its delicious taste, the core ingredients of pecan pie oatmeal contribute to an array of beneficial properties, making it not only a delightful but also a highly nutritious meal.
Whole grain oatmeal is famously rich in dietary fiber. Including a high-fiber food like oatmeal in your diet can aid in normalizing bowel movements, controlling blood sugar levels, and achieving a healthy weight. It also gives a feeling of fullness, making it an excellent choice for individuals trying to maintain or lose weight. Besides all that, the specific type of fiber in oats, beta-glucan, is known for its cholesterol lowering ability.
Pecans are a wonderful source of magnesium – a mineral instrumental for over 300 biochemical reactions in the body. Besides playing a significant role in energy creation and protein formation, magnesium also aids in muscle movements and nervous system regulation - important for heart function!
Pecans, the shining star of this dish, are packed with healthful monounsaturated and polyunsaturated fats. These types of fats are known to improve heart health by reducing bad cholesterol levels and increasing good cholesterol levels. Furthermore, they can decrease the risk of type 2 diabetes and contribute to the overall wellbeing of your body.
Ingredients
Besides its delicious taste, the core ingredients of this pecan oatmeal contribute to an array of beneficial properties, making it a delightful and highly nutritious meal.
Unsweetened Non-dairy Milk
Dates
Vanilla Extract
Unsweetened Applesauce
Old Fashioned Oats
Pecans
Cinnamon
Salt
See recipe card for quantities.
Instructions
While the total time involved in the recipe might seem high, most of it is hands-off time. Preparing this pecan oatmeal recipe is quite simple.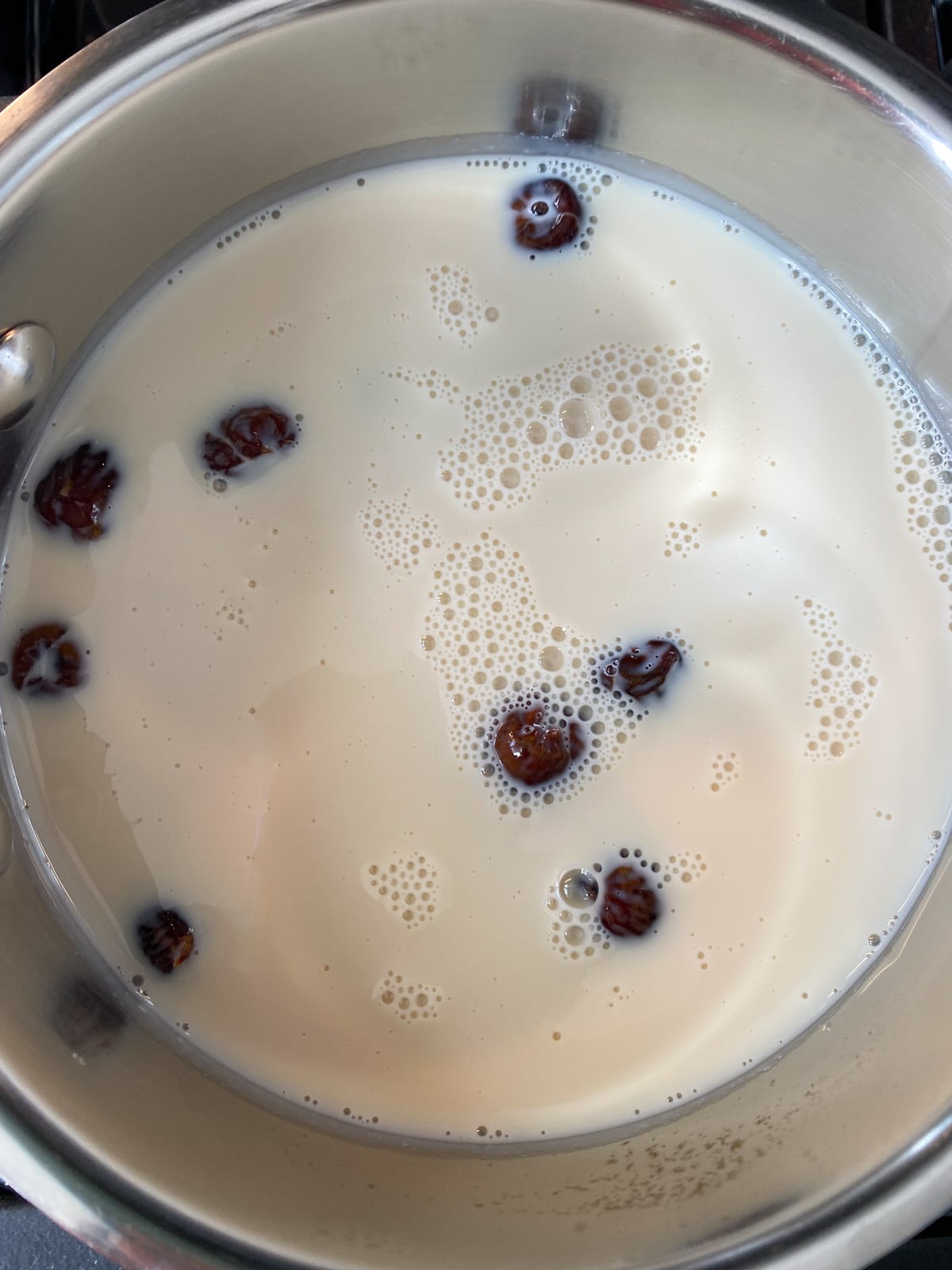 Heat the milk, dates, and vanilla in a small saucepan until just before boiling. Remove from heat, put a lid on the pot, and let it sit for about 20 minutes to soften the dates.
Pour the milk mixture into a blender and add the applesauce. Blend on high until the mixture is smooth.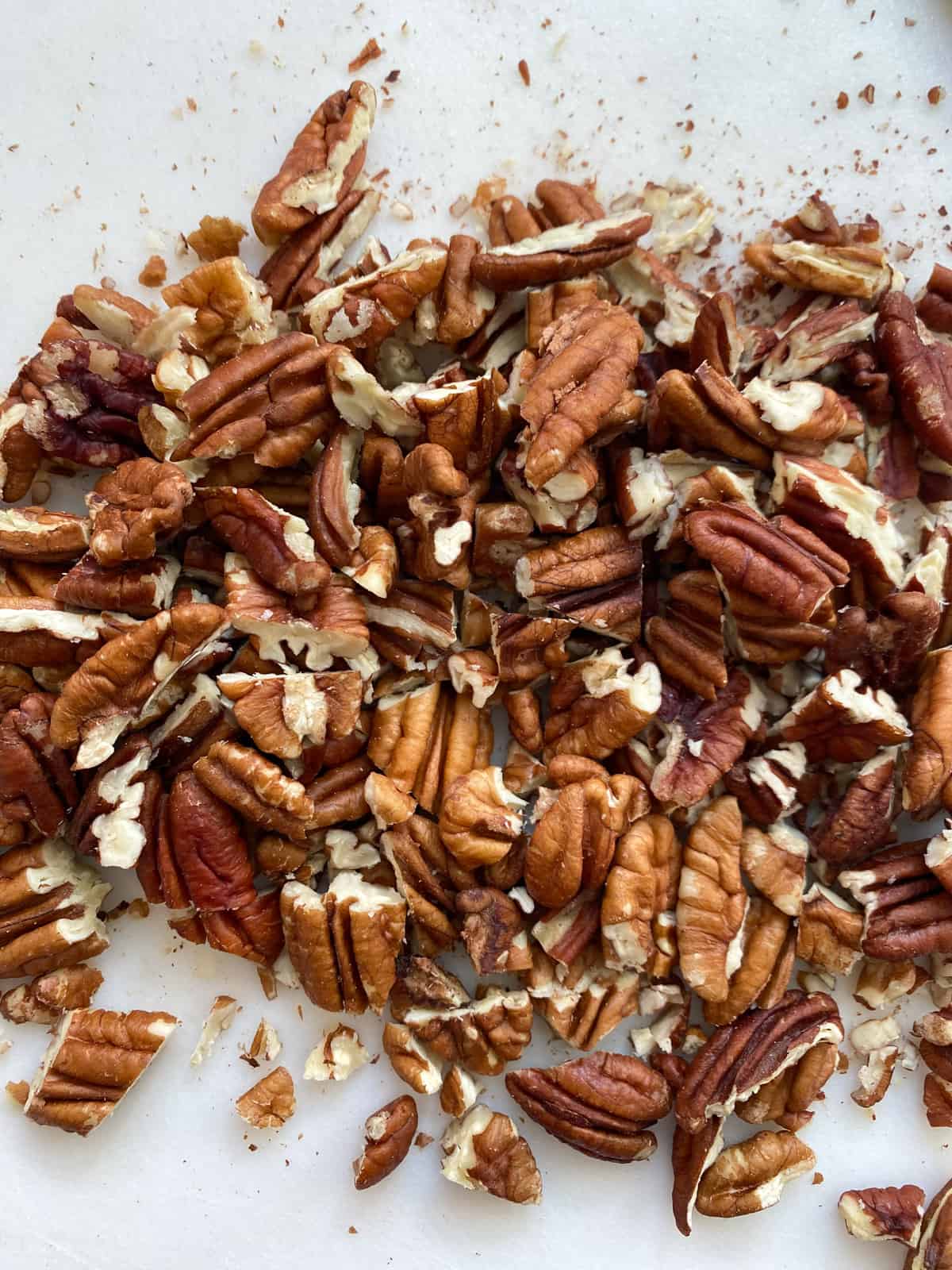 Meanwhile, chop the pecans if you haven't already.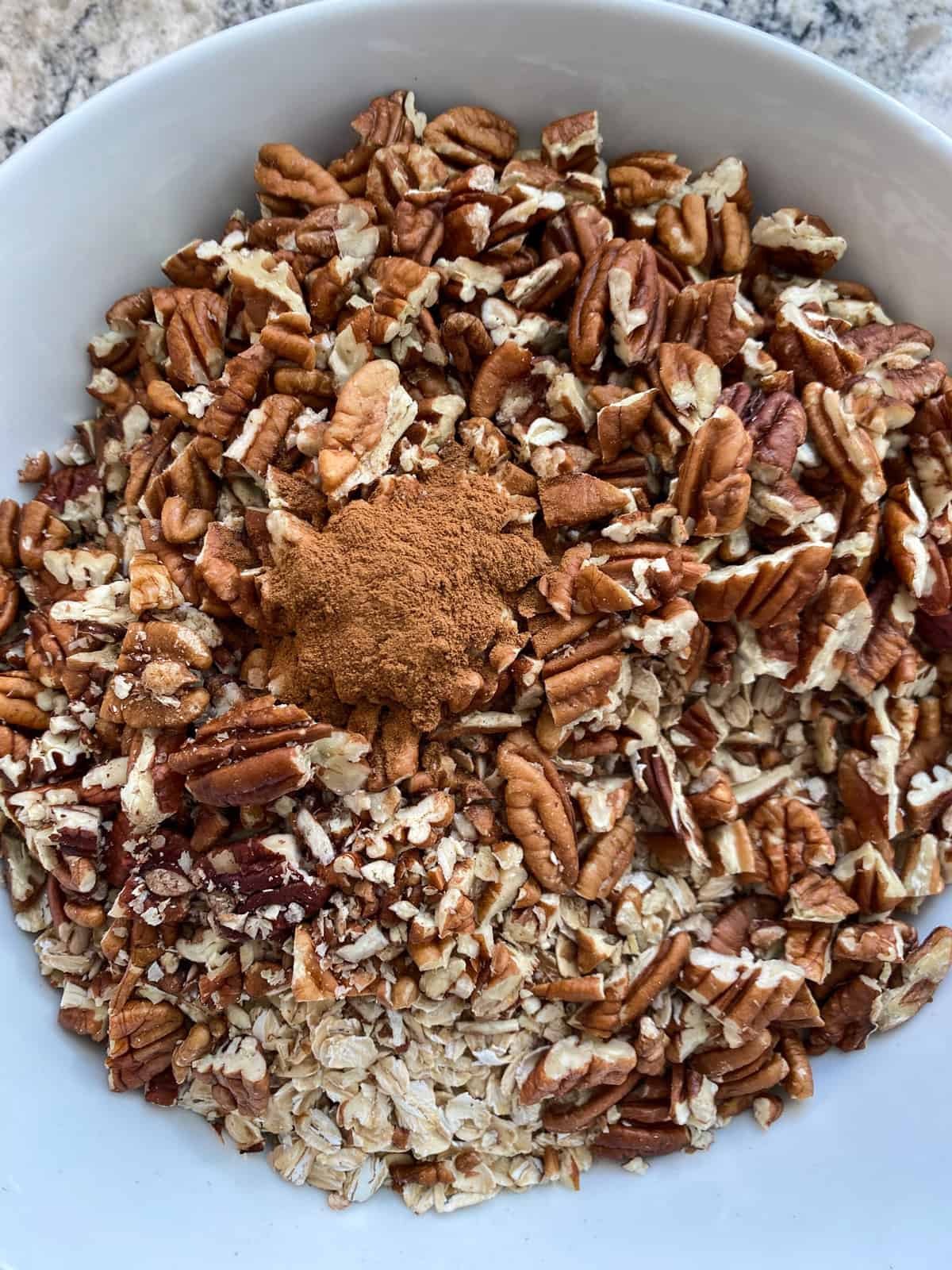 Mix the oats, pecans, and cinnamon and salt together in a large bowl.
Pour the mixture from the blender over the oat mixture.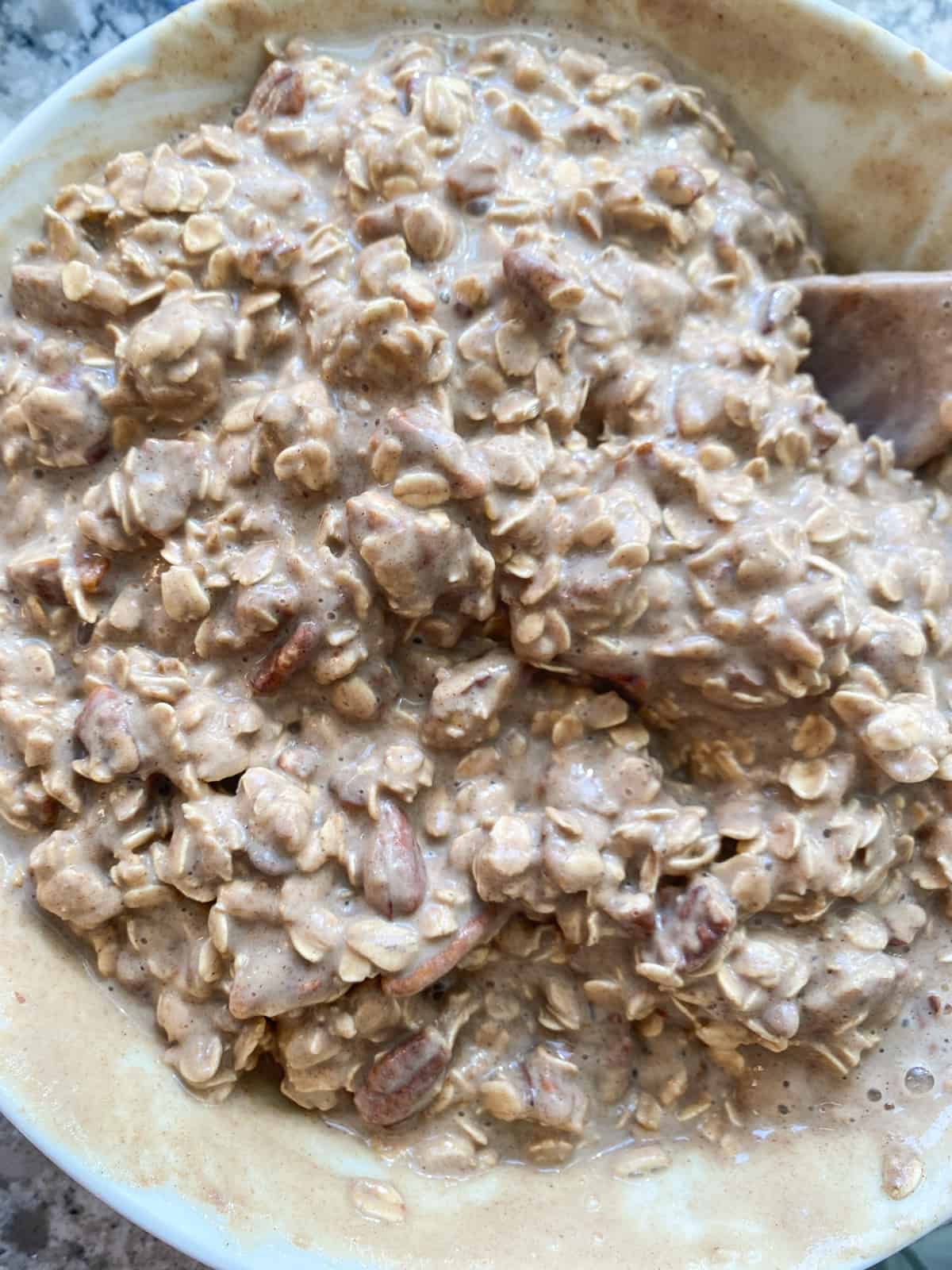 Stir to mix well.
Pour the mixture in an oiled baking pan, and arrange extra pecans decoratively on top if you wish.
Bake until the top is crispy, and the inside is no longer runny. You want to be able to slice the oatmeal.
Hint: if you have a high speed blender, like Vitamix (affiliate link), you can get away with not soaking the dates in warm milk. Just add them to the blender, and go from there.
Substitutions
A few substitutions you may be interested in:
Gluten free - make sure to use certified gluten free oats (While oats are naturally gluten free, they are often contaminated with gluten. Certified gluten free oats are always gluten free.)
Milk - use any type of dairy or non dairy milk replacement in 1:1 ratio. Choose lowfat or fat free, and unsweetened varieties.
Nuts - use any other nut you like - though that obviously will no longer be pecan pie oatmeal
Equipment
We use a lot of standard kitchen equipment for our baked pecan pie oatmeal. The only item you may not already have is a high speed blender. I prefer to use Vitamix (affiliate link), and you can sometimes get good deals around the holidays at stores like Costco. Any other high speed blender will work as well.
If you don't have a high speed blender, a regular blender can work too. Just make sure to soak your dates a good long time, until they are very soft. Even then, you may end up with some pieces that don't get blended. That won't matter too much for this recipe, though, so use what you have!
Storage
If you have leftovers, cool completely, then cover the dish and refrigerate. Warm slices in the microwave, about 20-30 seconds.
The baked oatmeal will keep in the refrigerator for about 5 days, making it excellent for meal prep!
Top tip
If you think the mixture looks a little dry before baking, add a little extra milk to it. If you add too much you can always bake it a little longer, but if there's not enough, your baked oatmeal will be too dry.
FAQ
Can I make pecan pie overnight oats?
Yes! This recipe is easily made into overnight oats. Simply follow steps 2-5 in the recipe, and then cover and refrigerate overnight!
Is pecan pie oatmeal suitable for holiday gatherings?
Indeed, pecan pie baked oatmeal can be a fantastic addition to any holiday breakfast, especially during family-oriented occasions such as Thanksgiving and Christmas. Its sweet and hearty flavor can often be a crowd-pleaser, and it's a healthy option too which can balance out the typically rich holiday fare.
Can beginners make pecan pie oatmeal?
Definitely! The pecan pie oatmeal recipe is beginner-friendly. Just follow the step-by-step guidance provided in the article, including some tips and tricks for a perfect outcome. In no time, you'll be able to prepare and serve this heart-healthy and delectable dish.
Related
Looking for other delicious oatmeal recipes? Try these:
Pairing
These are my favorite dishes to serve with pecan pie baked oatmeal:
Want to say thank you?
📖 Recipe
Pecan Pie Baked Oatmeal
A new spin on a classic! Pecan Pie Baked Oatmeal is a unique fusion of oatmeal and pecan pie with no added sugar or corn syrup! Great for holiday breakfast, too!
Ingredients
3 ¼

cups

Unsweetened Nondairy Milk

1

cup

Pitted Dates

1

teaspoon

Vanilla Extract

3

cups

Old Fashioned Oats

2

cups

Pecans

roughly chopped

½

cup

Unsweetened Applesauce

2

teaspoon

Cinnamon

Pinch

Salt
Instructions
Preheat oven to 350° F.

Add nondairy milk, dates, and vanilla extract to a saucepan, and heat to just before boiling. Remove from heat and set aside for 20-30 minutes to allow the dates to soften.

When the dates are soft, pour the contents of the saucepan into a blender, along with the applesauce, and blend on high until the mixture is smooth. Add a splash more milk if it gets too thick.

In a large bowl, mix the oats, chopped pecans, cinnamon and salt together.

Pour the date mixture into the bowl, and stir to combine well.

Pour the mixture in an oiled baking dish, 9x9 or similar size, and bake for 35-40 minutes.

Serve warm with a small dollop of whipped cream and a sprinkle of cinnamon.
Nutrition
Calories:
355
kcal
(18%)
Carbohydrates:
37
g
(12%)
Protein:
9.3
g
(19%)
Fat:
21
g
(32%)
Saturated Fat:
2.1
g
(13%)
Polyunsaturated Fat:
6.9
g
Monounsaturated Fat:
10.8
g
Sodium:
49
mg
(2%)
Potassium:
453
mg
(13%)
Fiber:
7
g
(29%)
Sugar:
13
g
(14%)
Vitamin A:
174.7
IU
(3%)
Vitamin C:
0.5
mg
(1%)
Vitamin K:
5.2
µg
(5%)
Calcium:
127
mg
(13%)
Iron:
2.4
mg
(13%)
Magnesium:
93.4
mg
(23%)
Food safety
Safety is our top priority in the kitchen! Always keep these tips in mind.
Cook to a minimum temperature of 165 °F (74 °C)
Do not use the same utensils on cooked food, that previously touched raw meat
Wash hands before touching food, and after touching raw meat, your hair, face, pets, etc.
Don't leave food sitting out at room temperature for longer than 2 hours (or 1 hour if the weather is hot)
Never leave cooking food unattended
Always have good ventilation when using a gas stove