If you ever wondered how to make pumpkin spice syrup for your coffee, I'm here to show you just how easy it is! This simple and healthy Pumpkin Spice Syrup will have you reaching for your homemade pumpkin spice latte all day long! No added sugar, made with real pumpkin, and all the deliciousness of the popular coffee drink without the sugar crash. There's even room for some whipped cream!
Here's the proof - a regular pumpkin spice latte at your favorite coffee shop will run you 390 calories and 14 grams of fat - most of which are saturated fat - plus 50 grams of sugar (mostly added sugar)! Yikes! My version is just 95 calories, 5 grams of fat - most of which are polyunsaturated fat - and only 6 grams of sugar (none are added sugar). Best of all, it's delicious!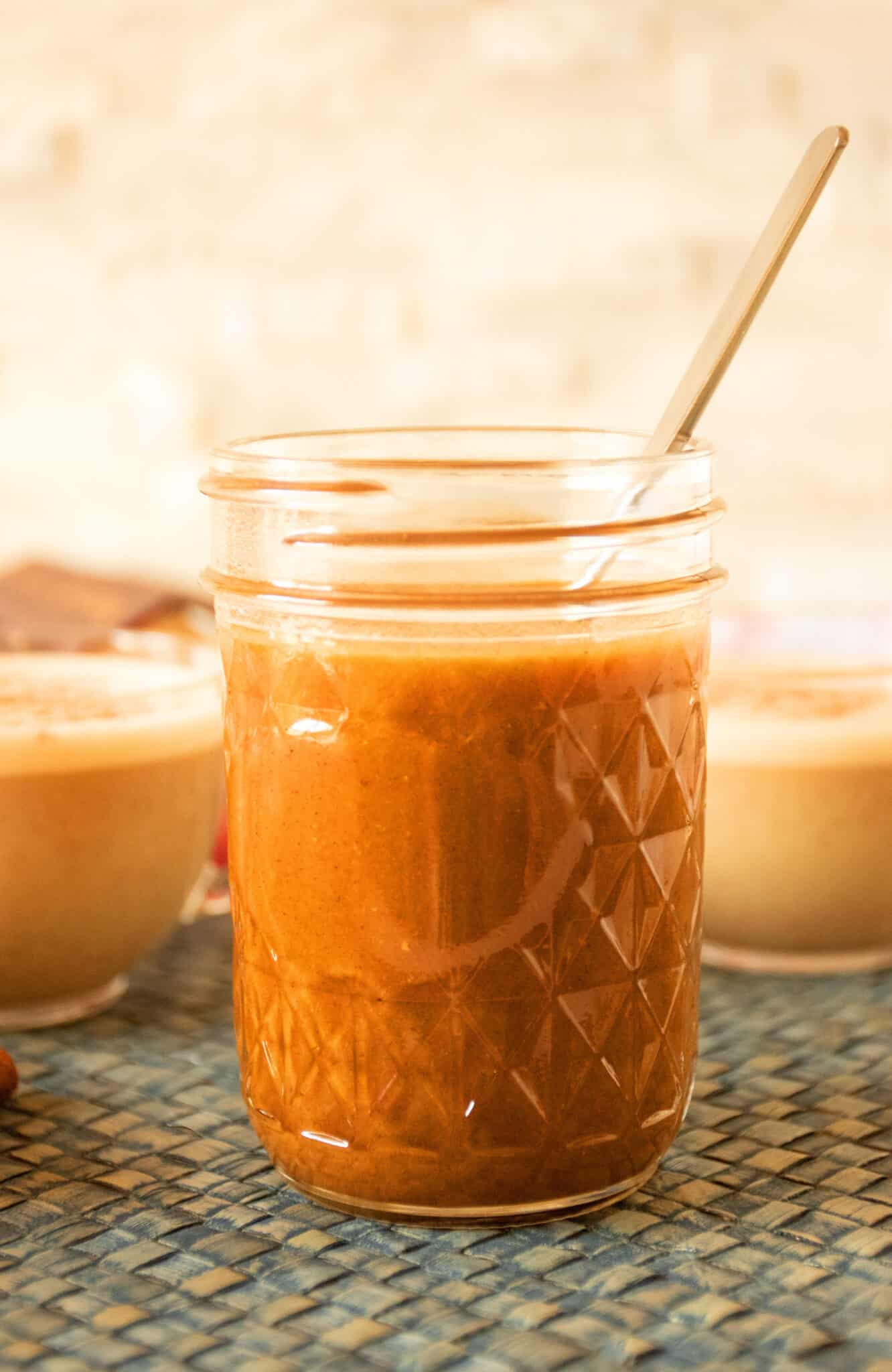 How to make Pumpkin Spice Syrup healthy
I love making recipes like this, and I can't believe I didn't do this one sooner! The typical pumpkin spice syrup used in coffee shops and that you can buy in a bottle are mostly sugar, so not heart healthy in the least. Think of them as desserts. Fine to have sometimes, but not something you should start everyday with!
I'm a big fan of using dates to sweeten my recipes without adding refined sugar. So that was the clear choice here. They are caramelly and the perfect flavor complement to pumpkin! Dates are also a great source of fiber, which is so important, because even natural sugar without the fiber is just sugar - which we know can damage the heart in too high amounts.
Once the sweet part of the syrup was decided, the rest of the ingredients were easy! Pumpkin of course. It's high in vitamin A, and also contributes some fiber. Pumpkin spice - can't have pumpkin spice syrup without pumpkin spice! Spices are high in antioxidants, which can help prevent free radical damage, and in turn helps prevent the type of inflammation that can cause heart disease.
How to make a Sugar Free Pumpkin Spice Latte
What about making a healthy pumpkin spice latte? The type of milk you use can have a huge impact on this. I recommend using an unsweetened dairy substitute, like soymilk or almond milk, or fat free dairy milk. Choose something low in added sugar (ideally with none), low in fat, and with very little to no saturated fat or cholesterol for the heart healthiest option.
We warm the milk or milk-like beverage of choice with some of the pumpkin spice syrup until almost boiling, and then whiz it around in a blender for a minute. That last part is optional, but it will create the signature foam for our latte.
Lastly, we add a shot (or more) of espresso or strong coffee. Coffee does sometimes get a bad rap, but it can actually contribute to heart health, as long as you don't overdo it! Read more about coffee and heart health if you're interested.
Make it a Cold Pumpkin Spice Latte!
At least where I live, Fall's weather is very hot and cold. So some days I want a hot coffee beverage, and some days I want it iced! For those warm Fall days when it's definitely not sweater weather, make your PSL iced.
Simply use your sugar free pumpkin spice syrup that you've refrigerated, and add the amount of milk and syrup in the recipe below to your blender and blend for a minute. Then pour a shot (or more) of your espresso or strong coffee - cooled - along with the syrup/milk combo over ice. Enjoy simply or with a little whipped topping!
FAQs and Substitutions
Can I use fresh pumpkin in this recipe?
Yes you can! I used canned pumpkin in my version, but if you've got an actual pumpkin sitting around, use that. Here's a great post on how to make pumpkin puree if you need it!
I don't have pumpkin spice. What can I use?
Making your own pumpkin spice is easy! Simply combine ½ teaspoon each cinnamon, ginger, nutmeg, and ground cloves. If you don't have one of those, just leave it out.
My latte has pieces in it, and it seems thick.
Definitely make sure to strain the syrup after you make it. There's always a few pieces of date that don't get totally pureed in the blender. Straining the syrup is vital for a smooth consistency.
My syrup seems very thin. Is that right?
Your syrup should be a thick almost applesauce (but not quite) consistency. If it seems too thin after you strain it, pour it in a small sauce pan, and simmer it until it is the consistency you want.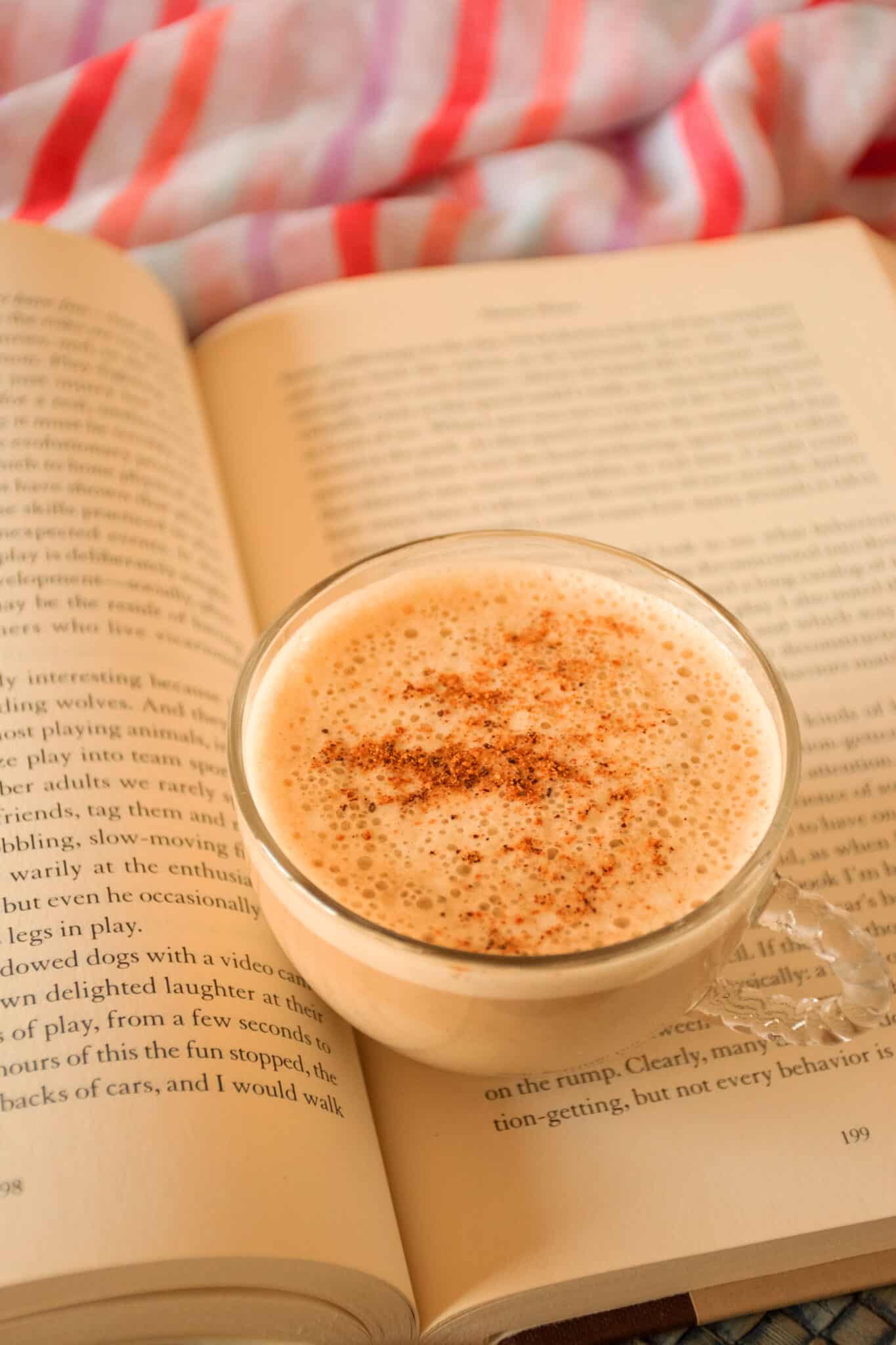 More pumpkin recipes:
More coffee recipes:
If you try Sugar Free Pumpkin Spice Syrup, let me know in the comments!
📖 Recipe
Sugar Free Pumpkin Spice Syrup (for making lattes)
This easy and healthy Pumpkin Spice Syrup will have you reaching for your homemade pumpkin spice latte all day long! No added sugar, made with real pumpkin, and all the deliciousness of the popular coffee drink without the sugar crash.
Ingredients
1 ½

cup

Hot Water

½

cup

Dates

⅓

cup

Pumpkin Puree

2

teaspoon

Pumpkin Spice

½

teaspoon

Vanilla Extract
Instructions
Combine dates and water in a saucepan, and bring to a boil. Turn off heat and soak for about 30 minutes. (If you use a Vitamix or other high speed blender, you can skip the soaking step if you want.)

Pour the dates and soaking water into a blender, and add the pumpkin puree, pumpkin spice, and vanilla.

Blend on high for a minute or two, until the mixture is very smooth.

Strain using a mesh strainer to remove any pieces of date or spices that haven't been blended. You will probably need to use a spoon to lightly stir/scrape the strainer to get all the syrup to pass through.

Refrigerate until ready to use.
To make a latte:
Combine ¾ cup milk of choice (I like unsweetened soymilk) and ¼ cup Pumpkin Spice Syrup, and heat until just before boiling.

Pour into a blender, and blend about 20 seconds, until frothy. You can also use a milk steamer for this if you have one.

Pour 1 shot (or more if you prefer) of espresso, or very strong coffee, into a mug, and top with the milk/syrup mixture. For variation, try this with black tea, green tea, or chai tea, also!

Garnish with whipped cream if desired, and a sprinkle of pumpkin spice, cinnamon, or nutmeg.
Nutrition Facts
Sugar Free Pumpkin Spice Syrup (for making lattes)
Amount Per Serving (0.25 cup)
Calories 35
Calories from Fat 1
% Daily Value*
Fat 0.1g0%
Sodium 2mg0%
Potassium 96.6mg3%
Carbohydrates 8.9g3%
Protein 0.4g1%
Vitamin A 105.9IU2%
Vitamin C 0.7mg1%
Calcium 11.9mg1%
Iron 0.4mg2%
* Percent Daily Values are based on a 2000 calorie diet.