Christmas spiced nuts are so quintessential December aren't they? Toasty nuts, loads of sugar, and cinnamon practically scream holidays. Their alluring aroma penetrates every corner of every mall in America while Christmas music fills the air. Puts you in the holiday spirit doesn't it?
But let's face it. Very few foods this month will help you stay healthy. Sugary treats abound, and those nuts are no different. I mean, it's right there in the name: Cinnamon SUGAR Spiced Nuts! Now, I've found a way to make those tasty little morsels without any added sugar, and they taste every bit as yummy as those candied mall nuts. This healthy Spiced Nuts Recipe with no sugar will be your new go-to for gifting and snacking!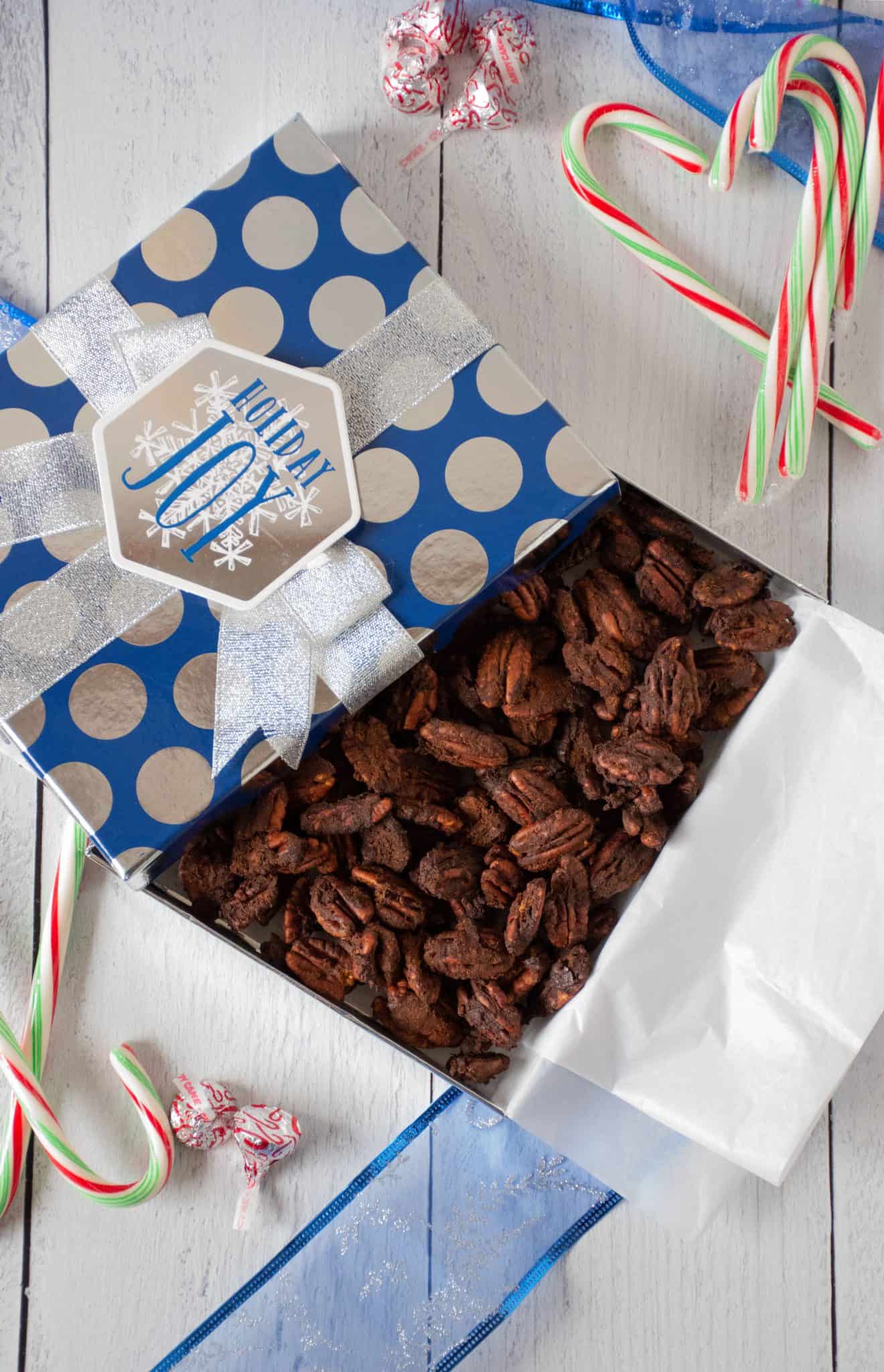 What Is the Healthiest Way to Eat Nuts?
The heart healthiest way to eat nuts is usually plain. Shocking, right? Okay, not so much. Either raw or roasted nuts have similar nutrition, so either way you like them is great. Most nuts made for snacking on the market now are high in salt, and often have oils added in the roasting process. Just check the ingredients!
Some other healthy ways to eat nuts are roasted with herbs or spices only (a bit of oil is okay to get everything to stick), or a recipe like this healthy spiced nuts recipe that doesn't use any added sugar.
Is it ok to eat nuts everyday? Yes! In fact, eating a handful of nuts daily can lower your risk of peripheral artery disease, lower your LDL cholesterol and improve elasticity in arteries and veins, and lower your overall risk of coronary artery disease. Just make sure you're opting for plain nuts that are either raw or roasted, and stay away from salted or sugared nuts most of the time.
Are Spiced Nuts Healthy?
We've already established those candied spiced nuts from the mall aren't so healthy, but this recipe is! What makes them so healthy? First, the nuts themselves. I used pecans. You've probably heard walnuts are great for heart health. But are pecans as healthy as walnuts?
While pecans are high in calories, they owe it mostly to their high fat content, most of which is Monounsaturated fat (the most heart-healthy kind!). Pecans are also an excellent source of manganese, with smaller amounts of copper, magnesium, and thiamin. Tree nuts are known to have total and LDL cholesterol lowering effects. Pecans specifically have shown the ability to lower cardiometabolic risk factors, including insulin resistance.
Most importantly though, I cut the sugar completely and use dates to sweeten these treats. Dates are one of my favorite substitutes for refined sugar. They are a great source of fiber (a serving of these nuts has 15% of your daily value!!) and other nutrients, while refined sugar has none of that. Plus, dates taste a little like caramel, so they add to what you're making! Read more about dates and why I love them so much in my Chocolate Date Sauce recipe post!
How Do You Make Seasoning Stick to Nuts
In most candied spiced nuts recipes, egg whites are used to get the cinnamon and sugar to adhere to the nuts. Baking them off creates a delightfully sweet, crispy coating. Savory healthy roasted nuts recipes generally use olive oil or another type of oil to get seasonings to stick.
In my Christmas spiced nuts recipe, I use the date sauce to do this. The date sauce is already sticky, so nothing else is really needed. We simply mix in the spices we want and bake. Using a low temperature setting on the oven allows the coating to dry out and crisp up without burning, creating that lovely, sweet, crispy coating!
FAQs and Substitutions for Spiced Nuts Recipe
What are the best nuts for spiced nuts?
Clearly, I love pecans for this. In my opinion, pecans have the perfect, snackable size, and they have just the right amount of nooks and crannies to hold onto delicious coatings!
However, you can use any nut you like for this. Walnut halves would be a close second for me. But almonds would also be good. A smaller nut like pistachios might take less baking time, so keep an eye on them. A mixed nut blend would be fun, too!
How should I store the nuts?
First, allow the nuts to cool completely. Then store them in an airtight container for up to 5 days - but I bet they won't last that long!
How should I wrap candied nuts for gifting?
Make sure the nuts are completely cool before wrapping. If they aren't completely cooled, condensation can form on the inside of the container and cause the coating on the nuts to soften. Here are some great ideas for gift wrapping nuts:
* Use a Mason jar, tie a pretty ribbon or bow around it, and cover the lid with gift wrap or holiday fabric.
* Use cellophane bags with holiday print on them. Tie them closed with ribbon.
* Fill small holiday goodie boxes or tins with the nuts. Seal the nuts in a zipper baggie for better quality and shelf life.

The key is really to make sure the nuts are in an airtight environment, especially if it will be a few days before you give them away. Humidity in the air can make the coating soft.
What can I use for these nuts instead of cinnamon and clove?
Any spice blend you like would be good, as long as you don't use a savory blend. This recipe isn't good for savory spices because the base is sweet.

A chai spice blend would be great, as would a pumpkin pie or apple pie spice blend. Use 1 to 1 ½ teaspoons of your spice blend in this recipe.
This healthy Spiced Nuts Recipe with No Sugar is perfect for holiday gifts or as a candy dish filler. If you try them, let me know how you love them in the comments!
📖 Recipe
Spiced Nuts Recipe (No Sugar)
Spiced nuts are the perfect gift for everyone on your list. And with this version, you won't put your loved ones in a sugar coma!
Ingredients
1

cup

Dates

1

cup

Water

1

cups

raw Pecan Halves

(or another nut you like)

1

teaspoon

Cinnamon

¼

teaspoon

Cloves
Instructions
Make date sauce: Combine dates and water in a saucepan and bring to a boil. Turn off heat and pour the water and dates into a high speed blender. Blend on high until smooth and creamy. You will need 1 cup of this date sauce for this recipe. Date sauce can be stored in an airtight container in the refrigerator for about a week.

Preheat oven to 300 degrees F.

Combine 1 cup date sauce with the rest of the ingredients and stir week.

Turn out onto a parchment lined baking sheet and spread out as much as possible.

Bake at 300 degrees for about 45-60 minutes, stirring periodically. Watch closely as the end of the cooking time approaches so they don't burn. They crisp up when they cool.
Nutrition Facts
Spiced Nuts Recipe (No Sugar)
Amount Per Serving
Calories 213
Calories from Fat 161
% Daily Value*
Fat 17.9g28%
Monounsaturated Fat 10.1g
Sodium 0.5mg0%
Potassium 200mg6%
Carbohydrates 14.8g5%
Protein 2.6g5%
Vitamin A 0.8IU0%
Vitamin C 0.3mg0%
Calcium 26.7mg3%
Iron 0.8mg4%
* Percent Daily Values are based on a 2000 calorie diet.