These Peanut Butter Oatmeal Muffins have no added sugar but a hint of sweetness from the ripe bananas and raisins, provide a mouthful of goodness in each bite. While these make a hearty snack, they can also be enjoyed during breakfast or even as a dessert. Enjoy these healthy oat and banana muffins, and feel great about eating well!
What do you do with overripe bananas? If you answered banana bread, you're in the majority! It seems like the default to use up overripe bananas. But there are really so many recipes you can use them in, so there's no need to get stuck on repeat! These banana oatmeal mini muffins are a delicious case-in-point!
Being a good source of fiber, potassium, and magnesium, these wholesome muffins offer dietary benefits while being light on your calorie count. At just 60 calories per muffin, you can satisfy your sweet cravings and hunger pangs, without undoing your healthy diet.
Each bite into the soft, moist muffin offers deliciously balanced flavors, making you feel indulgent yet healthy at the same time. With oats and bananas as the core ingredients, these muffins provide you with slow-release carbohydrates, keeping your energy levels high throughout the day.
So, next time you need a quick breakfast, a light snack, or a healthy dessert, remember these glorious mini peanut butter oatmeal muffins. Nourishment has never tasted so good!
Jump to:
Ingredients
Every ingredient in these mini oatmeal banana raisin muffins plays a role in your heart health. We sourced these ingredients carefully to ensure that each muffin not only tastes heavenly but also balances nourishment effectively.
Bananas -a rich source of potassium, bananas help to control heart rate and blood pressure.
Non dairy milk - brimming with essential nutrients, non-dairy milk options like almond or soy milk are also cholesterol-free, aiding in maintaining a healthy heart.
Natural peanut butter - loaded with heart-healthy fats and fiber, peanut butter offers protein, too, and keeps you feeling full longer.
Old fashioned oatmeal - an excellent source of fiber, including the cholesterol-lowering soluble fiber known as beta-glucan.
Whole wheat flour - offers more fiber, protein, and nutrients than refined versions.
Cinnamon - offers antioxidants and aids in fighting inflammation.
Baking Soda - makes the muffins soft, fluffy and helps enhance their natural flavors.
Cloves - packed with antioxidants.
Raisins - Thigh in fiber, iron, and more antioxidants.
See recipe card for quantities.
Instructions
This is truly one of the easiest baking recipes we have. Less ingredients means less chance of mistakes!
Add the peanut butter and pieces of bananas to a large bowl.
Use a fork to mash the banana and peanut butter together.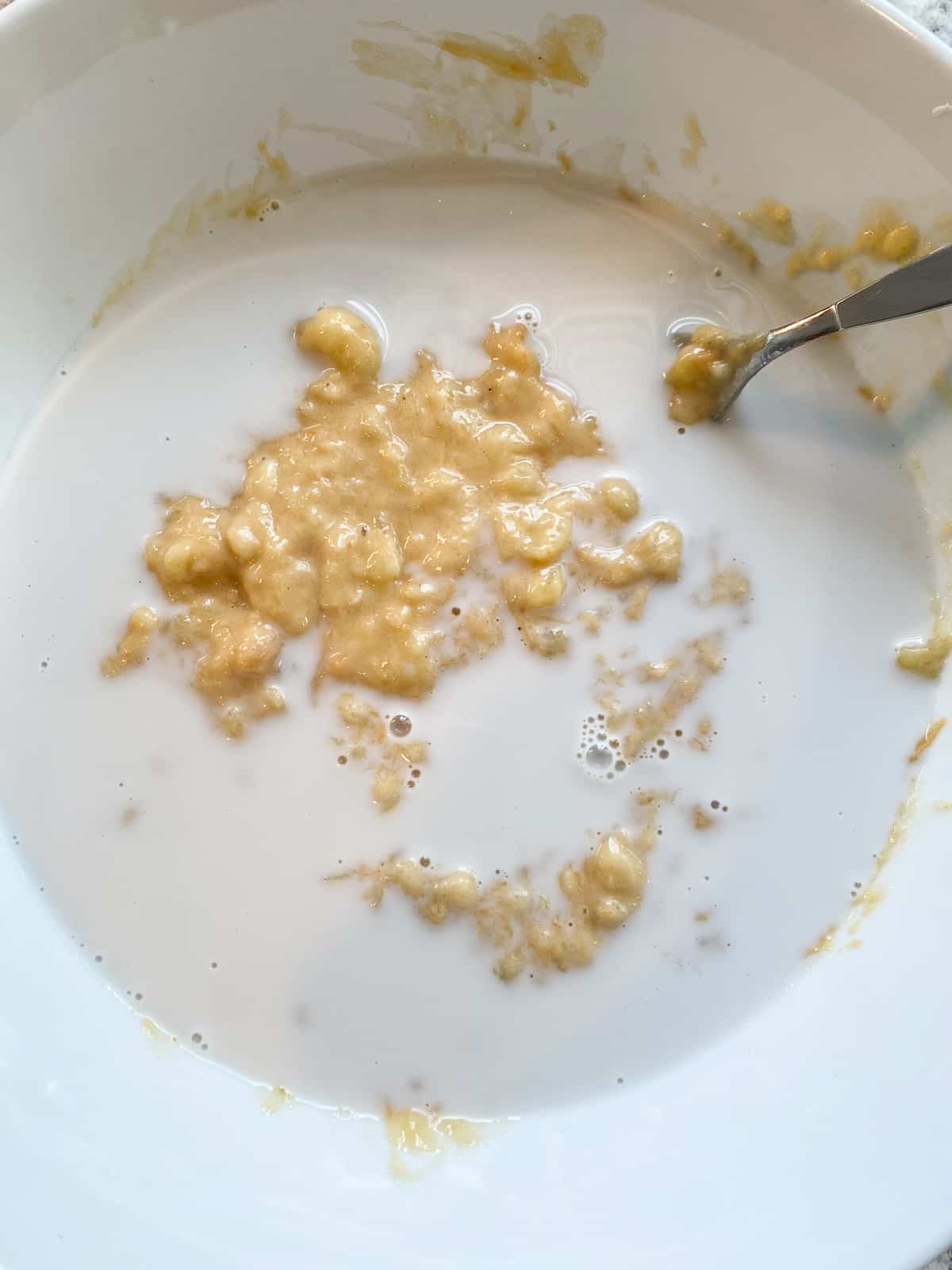 Pour the non dairy milk into the bowl.
Stir to combine.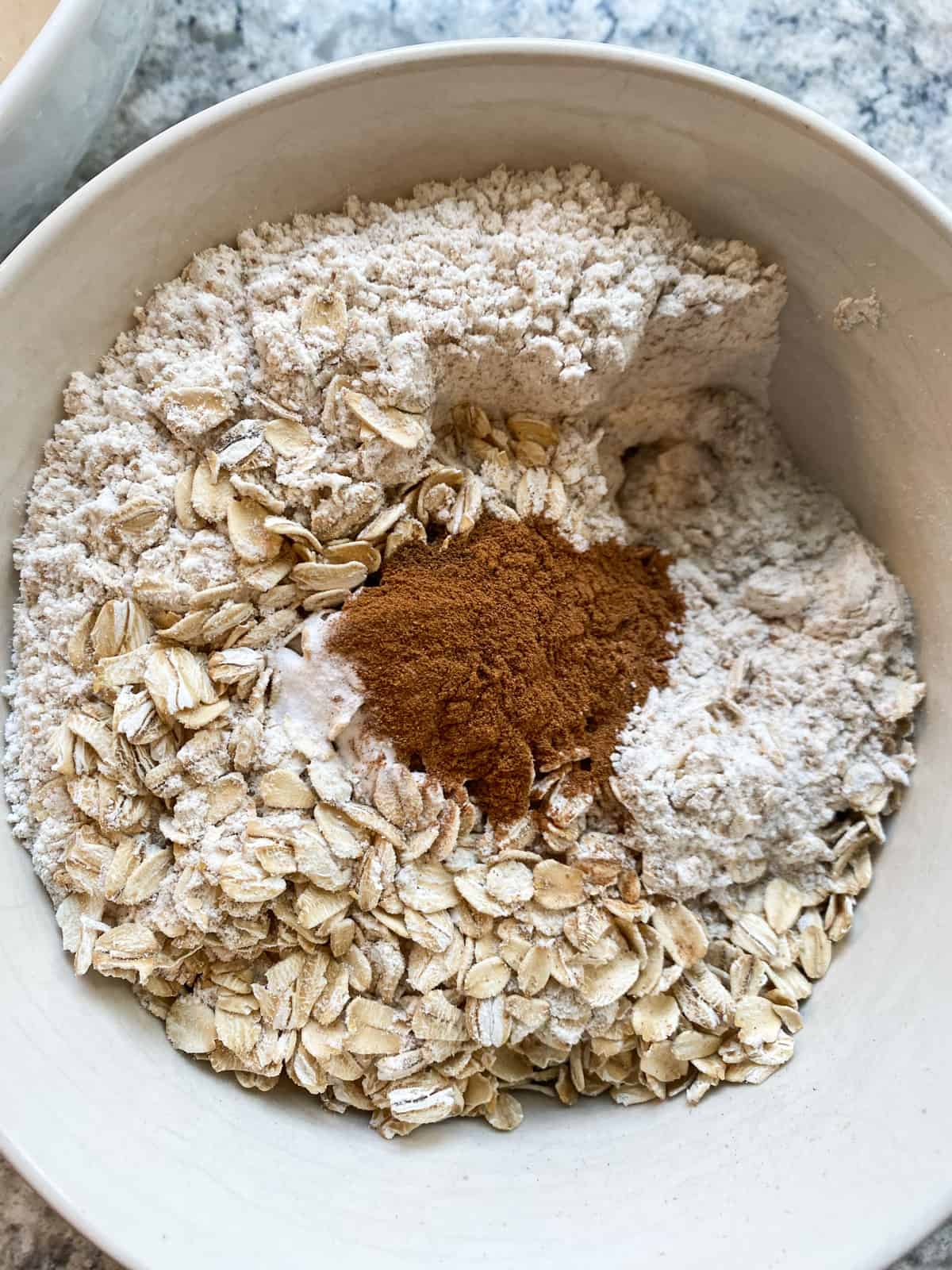 In a separate bowl, combine all the dry ingredients (except raisins).
Dump the dry ingredients into the wet ingredients.
Stir until just combined.
Now add the raisins, and carefully fold into the batter.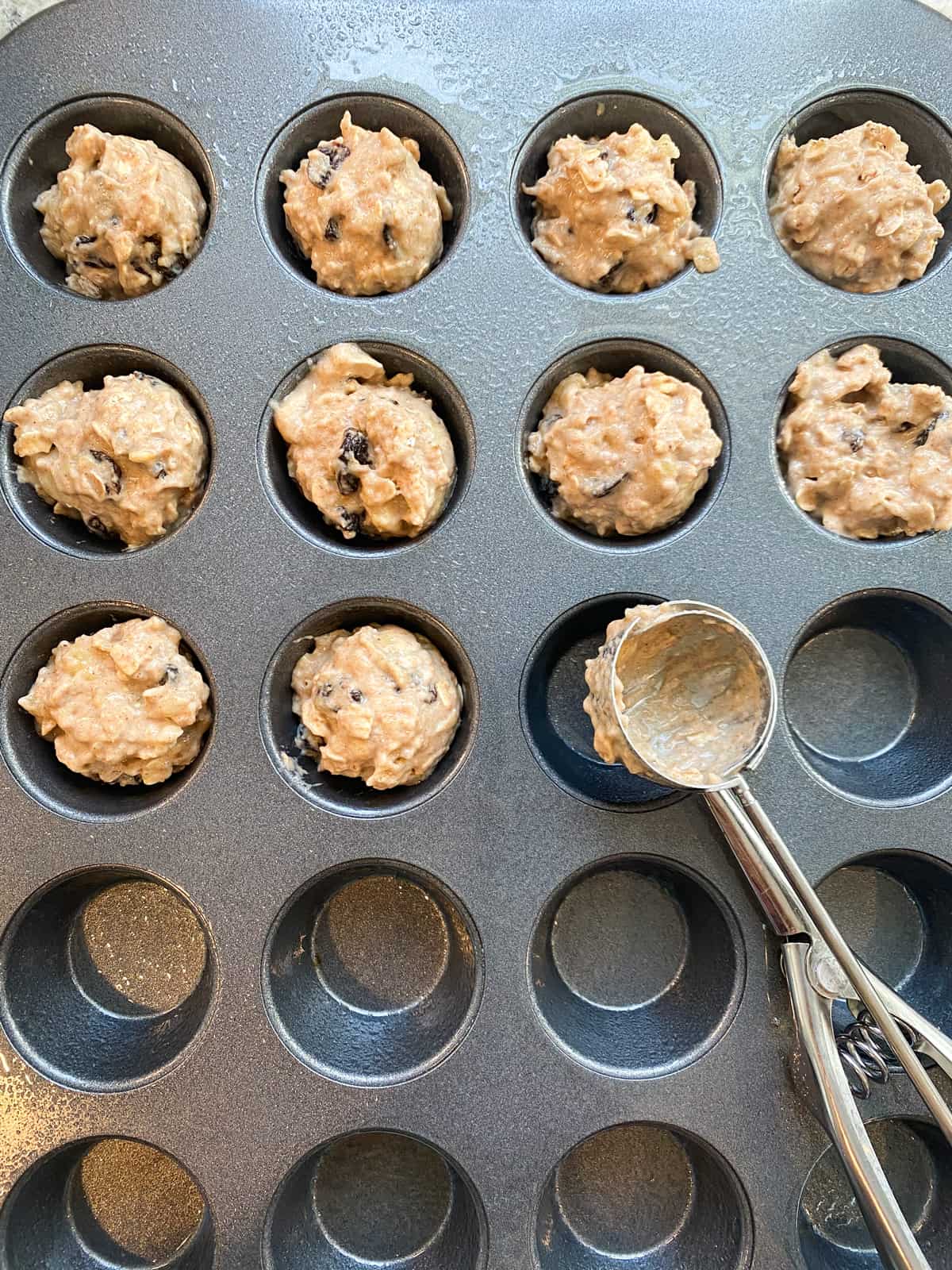 Scoop the batter, about 1 tablespoon at a time, into a greased mini muffin baking pan.
Bake until an inserted toothpick comes out clean.
Remove from the oven, and cool for 10 minutes in the pan.
Remove the muffins from the pan, and cool completely on a cooling rack.
Hint: mini muffin pans are great for making bite sized treats. I love this Wilton mini muffin pan (affiliate link) but you can use any.
Substitutions
Our recipe for mini peanut butter oatmeal muffins is not only delicious but also very flexible. By making a few adjustments, you can cater to an array of dietary needs or personal preferences without compromising the heart-healthy factor.
Peanut free - instead of peanut butter, use sunflower butter or soynut butter
Gluten free - use a gluten free flour that has a 1-to-1 substitution ratio (this may no longer be whole grain, however)
Raisins - use any dried fruit, chopping it if it's larger than raisins
Equipment
The mini muffin pan is the main piece of equipment needed here.
Otherwise, you need a couple mixing bowls and spoons, measuring cups and spoons, and a scoop. I like these cookie scoops and use them often. But you can use a simple tablespoon to portion batter, or eyeball it and use a regular spoon.
These links are affiliate links, through which I may earn a small commission at no additional cost to you. Thank you for your support!
Storage
Once cooled completely, these healthy oat and banana muffins can be stored in an airtight container for up to 5 days.
They can be frozen for up to 6 months. To do this, wrap them individually in plastic wrap. Then you can place them all in a zipper bag and freeze solid. Thaw for a few hours in the fridge before eating.
Top tip
Don't overbake the muffins! Doing that will lead to very dry muffins that are hard to eat. Bake just until a toothpick inserted in the middle of one of the muffins comes out clean. They will continue to bake a little in the pan after they're removed from the oven.
FAQ
Why are my oatmeal muffins dry?
This could be due to overbaking. Since we aren't using a lot of fat in our recipe, we are relying on the wet ingredients to keep our muffins moist. Overbaking will lead to dry muffins.
Can I use quick oats instead of old fashioned?
Technically yes. Your muffins will have less texture, but maybe you like that - or at least don't mind. The recipe will work with quick oats though. Do not use steel cut oats. That WILL NOT work.
Related
Looking for other recipes like this? Try these:
Pairing
These are my favorite dishes to serve with peanut butter oatmeal muffins:
Did you know that a mashed banana can be used in place of up to 2 eggs in baking recipes? It's true - and delicious! Get more heart healthy baking subs with our free resource below!
Want to say thank you?
📖 Recipe
Mini Peanut Butter Oatmeal Muffins
The perfect solution for a few overripe bananas, these muffins are nutritious enough for breakfast, but delicious enough for dessert!
Ingredients
2

Bananas (overripe is best)

2

tablespoon

Natural Peanut Butter

½

cup

Non Dairy Milk

1

cup

Old Fashioned Oats

1

cup

Whole Wheat Flour

1

teaspoon

Cinnamon

½

teaspoon

Baking soda

¼

teaspoon

ground Cloves

⅔

cup

Raisins or other dried fruit
Instructions
Preheat oven to 350 degrees F.

Mash the bananas and peanut butter together in a large bowl, until smooth.

Pour in the non dairy milk, and stir to combine.

In a separate bowl, mix the oats, flour, cinnamon, baking soda and cloves.

Add the dry ingredients to the wet ingredients, and stir until just mixed.

Fold in the raisins. Do not over mix.

Drop the batter by tablespoonfuls into a greased mini muffin pan.

Bake for 12-15 minutes, until a toothpick comes out clean.

Cool for 10 minutes before removing from the pan to cool on a wire rack.
Nutrition
Serving:
1
mini muffin
|
Calories:
60
kcal
|
Carbohydrates:
12.1
g
|
Protein:
1.6
g
|
Fat:
0.9
g
|
Saturated Fat:
0.2
g
|
Polyunsaturated Fat:
0.2
g
|
Monounsaturated Fat:
0.4
g
|
Sodium:
32.7
mg
|
Potassium:
139.6
mg
|
Fiber:
1.4
g
|
Sugar:
4.1
g
|
Vitamin A:
0.3
IU
|
Vitamin C:
1
mg
|
Calcium:
8
mg
|
Iron:
0.4
mg
Food safety
Safety is our top priority in the kitchen! Always keep these tips in mind.
Cook to a minimum temperature of 165 °F (74 °C)
Do not use the same utensils on cooked food, that previously touched raw meat
Wash hands before touching food, and after touching raw meat, your hair, face, pets, etc.
Don't leave food sitting out at room temperature for longer than 2 hours (or 1 hour if the weather is hot) if it should be refrigerated
Never leave cooking food unattended
Always have good ventilation when using a gas stove
See more guidelines at USDA.gov.
As an Amazon Associate I earn from qualifying purchases. Your purchase helps me keep the lights on, at no additional cost to you! I never recommend products that I don't personally use and love. Thanks for your support!