Say 'hello' to your new favorite healthy toast spread! This is the perfect way to add vegetables to breakfast (or anytime!) without hearing your family complain. Sweet potato spread is lightly sweet, peanut buttery, and full of fiber, potassium and other great healthy heart nutrition! Plus, it's lower in calories than plain peanut butter, so you can bump up the portion size. Who doesn't love that?!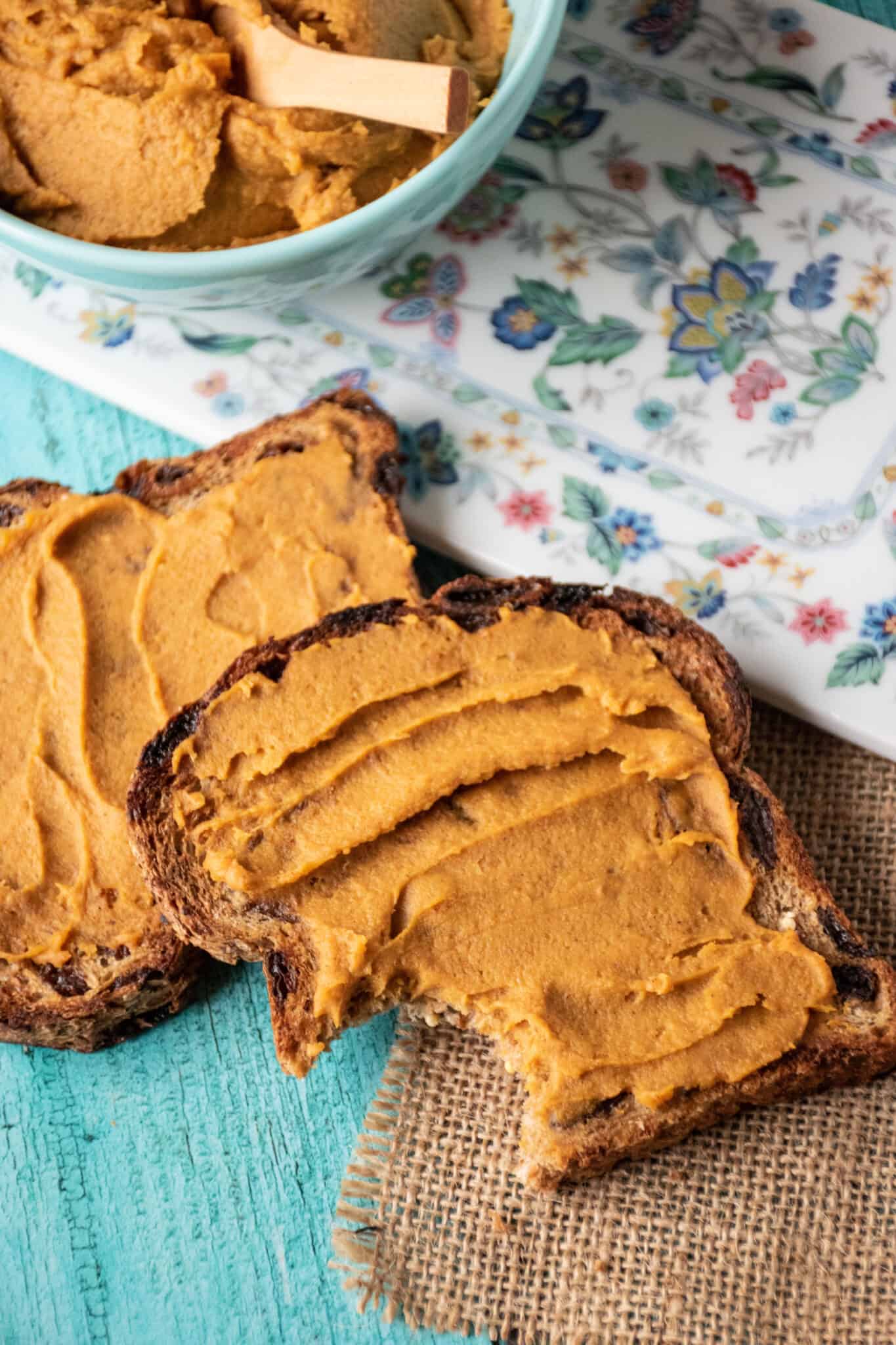 What is the healthiest spread for toast?
If you need a healthy spread for toast, we've got you covered. Look for something that's overall low in saturated fat, added sugar, and sodium. Bonus points if it's high in fiber, potassium, healthy fats, or other heart healthy nutrition. Here are some of our favorite healthy toppings for toast (besides this delicious sweet potato spread, of course!):
Mashed avocado - yes, yes I know how cliché it is, but it's also delicious. Try it with a sprinkle of Everything Bagel Seasoning, or just a little salt.
Natural peanut butter or other nut butter. Learn more about the heart healthiest peanut butter.
Blueberry Thyme Chia Jam - so good!
Fat free plain Greek yogurt with fresh berries and a drizzle of honey
Smoky Tomato Jam - try something savory!
Hummus with sliced cucumbers or tomatoes and fresh ground pepper
Sugar Free Strawberry Jam - a classic!
A smear of baba ganouj
Peanut Butter Sweet Potato Spread is heart healthy!
This Peanut Butter Sweet Potato Spread is designed to be both delicious and nutritious.
Let's talk about peanut butter nutrition for a second. We do some pretty unhealthy things to peanut butter (I'm looking at you Reese's!). And yes it's high in calories, so portion size is key. But at it's core, peanut butter is great for your health.
It's so high in fat! I hear that a lot. It is true - a serving of peanut butter has about 16 grams of fat. Half of that, however, is monounsaturated fat. That's the healthy kind that's so good for your heart! Speaking of heart health, peanut butter also has a good amount of magnesium and some potassium to keep you on beat. The fiber and protein will help keep you satisfied longer, too.
Cinnamon and sweet potatoes are a natural combo, and it comes through in the background of the spread that really makes it just perfect - plus antioxidant power!
Sweet potatoes are high in potassium, too, as well as fiber and vitamin B6. They are naturally low in fat, so they are the perfect pairing to higher fat peanut butter!
FAQs and Substitutions
Can I use almond butter instead of peanut butter?
Absolutely! Any type of nut butter will be excellent in this recipe!
How can I make this nut free?
Simply substitute a nut free seed spread like sunflower butter or soy nut butter for the peanut butter, and this will be nut free and school lunch friendly!
Can I use regular potatoes instead of sweet potatoes?
For this recipe, that substitution won't work. You could probably use cooked carrots or butternut squash if you were in a pinch, but sweet potatoes are you go-to here.
Spice variations!
Mix up your flavor combinations but trying cardamom, vanilla extract, or a pinch of ground cloves instead of (or in addition to!) the cinnamon.
Try this delicious take on peanut butter spread on toast, bagels, or in oatmeal. Sweet Potato Spread will stay good in your fridge for about 5-7 days - if you have leftovers!
Need more healthy peanut butter recipes? Try Berry Smoothie with Peanut Butter, Peanut Butter Banana Mini Muffins, Peanut Butter Cereal Bars, or Peanut Butter and Jelly Dessert Bars!
Or for some deliciously heart healthy sweet potato recipes, try High Potassium Chocolate Smoothie, Black Bean Sweet Potato Enchiladas, or Sweet Potato Cornbread.
If you try Sweet Potato Spread, let me know in the comments!
📖 Recipe
Sweet Potato Spread
A fun way to incorporate vegetables into breakfast or anytime!

Ingredients
1

medium baked sweet potato

¼

cup

creamy, natural peanut butter

1

teaspoon

ground cinnamon
Instructions
Add all ingredients to a food processor or blender. Blend on high speed until creamy, scraping down the sides as needed.

Recipe Notes
Tip: If your sweet potato is a little on the old and shrively side, you can salvage it for this recipe by peeling, dicing, and gently simmering in water until it's soft. Drain completely before using in this recipe.
To cook a sweet potato in the microwave, first scrub it clean with water and a scrub brush. Put it on a plate, and use a fork to pierce the skin on all sides, being careful not to pierce your hand. Place in the microwave on high for about 7 minutes. Be careful when removing it from the microwave, as it will be PIPING HOT! If it's not quite soft all the way through, put it back in for 1-2 minute intervals until done.
Nutrition Facts
Sweet Potato Spread
Amount Per Serving
Calories 51
Calories from Fat 30
% Daily Value*
Fat 3.3g5%
Sodium 34.8mg2%
Potassium 81.9mg2%
Carbohydrates 4.3g1%
Protein 1.7g3%
Vitamin A 94.3IU2%
Vitamin C 0.3mg0%
Calcium 9.8mg1%
Iron 0.2mg1%
* Percent Daily Values are based on a 2000 calorie diet.