Is there anything more refreshing on a scorching hot day than ripe, juicy melons soaking in a sweet and tangy dressing? This melon trio is sure to be your new go-to for healthy summer desserts and snacking. Indulge guilt-free in this Melon Salad with Ginger Lime Dressing that brightens up any picnic or cookout.
Melons are in peak ripeness in the summer, which makes this melon salad a no brainer when you start to see them in the grocery store. A must-make for your Memorial Day, Father's Day, 4th of July, or Labor Day celebrations.
Melons are generally low in calories, and high in water content, as well as fiber, and a variety of other nutrients. This makes them great for helping with hydration in the summer without going overboard on added sugar.
This mixed melon salad in particular is an excellent source of vitamin C, high in potassium, and a good source of fiber, while sporting only 132 calories for a 2 cup serving.
Jump to:
Ingredients
Juicy, in-season melons are the star of the show here, so we keep the rest of the ingredients sparse so they can shine. Here's what you'll need.
Seedless watermelon
Cantaloupe
Honeydew melon
Limes
Honey
Grated ginger (fresh)
Mint
See recipe card for quantities.
Instructions
Our melon salad with mint comes together easily. Just follow these simple steps.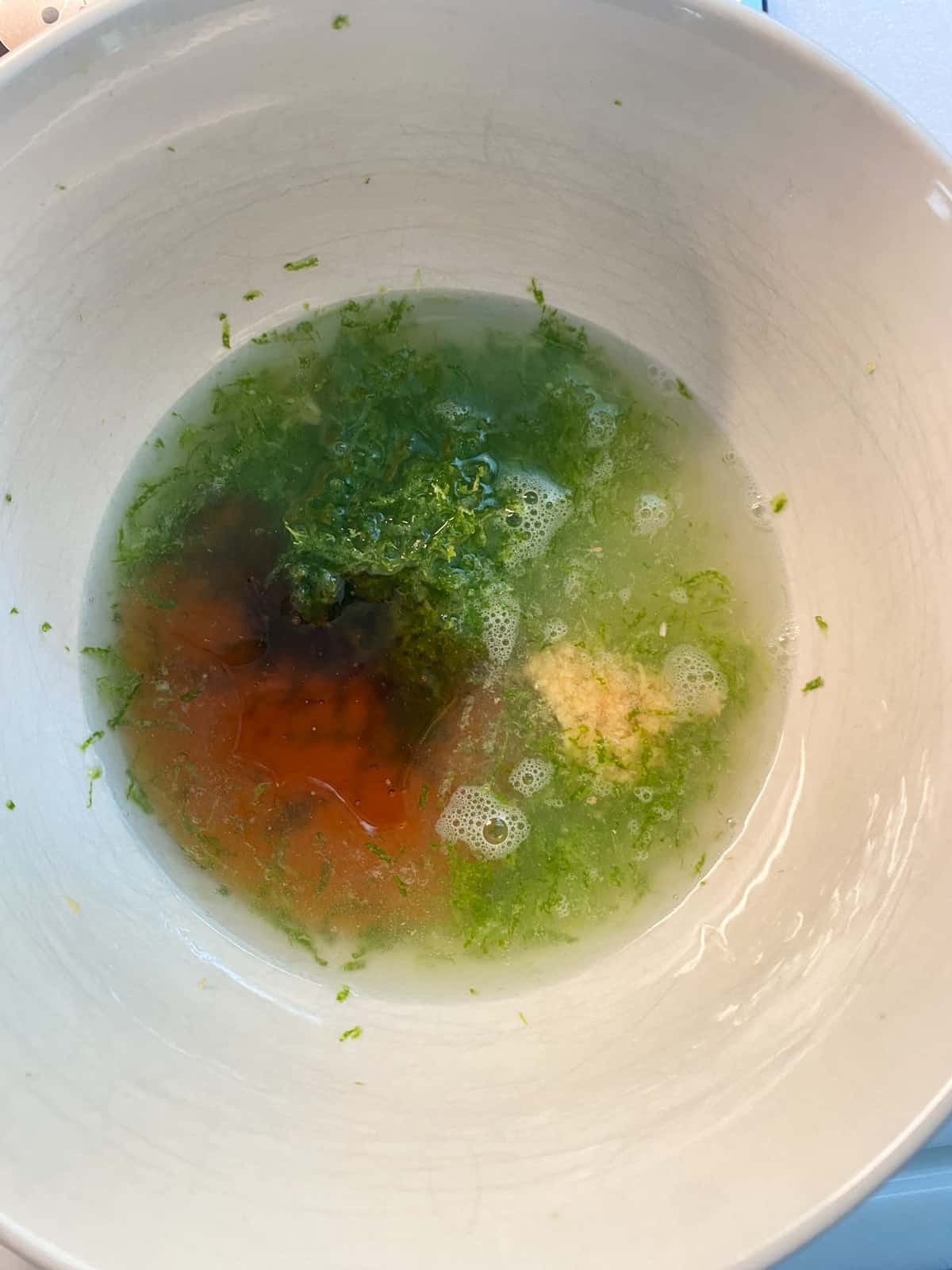 Combine all the ingredients for the dressing in a small bowl.
Whisk the dressing to thoroughly combine, and set aside.
Cut your watermelon in half, and begin scooping out spheres with a melon baller.
Don't worry if they aren't all perfect spheres! Cut down on food waste by using the entire melon, even if it makes odd shapes!
Do the same with the other melons, being sure to scoop out and discard the seeds first.
Combine all the melon balls in a large bowl.
Pour the dressing on.
Toss the melon balls with the dressing until everything is well combined.
Hint: make sure all your melons are all roughly the same size, so you have equal amounts of each in your salad!
Substitutions
Try these substitutions if you're having trouble getting ingredients, or want something a little different:
Melons - use any sweet melon or soft fleshed, scoopable fruit you can find, like other varieties of muskmelon, casaba melon, or even papaya or dragon fruit.
Citrus - use lemon juice or orange juice instead of lime juice
Vegan - make it vegan by omitting the honey, and using table sugar or another choice sweetener (maple syrup won't work in this particular recipe)
Variations
Melon salad is highly customizable based on personal preferences. You can experiment with different combinations of melons, herbs, cheeses, dressings, and other ingredients to create a melon salad that suits your taste. Don't be afraid to get creative and try new flavor pairings! Try starting here:
Mediterranean - add a sprinkle of feta cheese, along with cucumbers and/or olives (being mindful of sodium content)
Spicy - add a little chili paste in the dressing, according to your tastes
Fast prep - get this melon salad done in a flash by cutting the melons into bite sized cubes instead of balls.
See this Red White and Blue Fruit Salad you might also like!
Equipment
To make this melon ball salad, you will need:
Large cutting board and knife
Large bowl
Small bowl and whisk
Measuring cups and spoons
Microplane or citrus zester*
Citrus juicer**
Melon baller
*If you don't have a microplane, you can use the smallest holes on a box grater to zest the lime. Be careful to only grate off the peel and not the white pith under it.
**Pushing a small metal beater into half a lime and turning can be used to juice it if you don't have a juicer.
Storage
The melon salad is best eaten the day it's made. It can last in the refrigerator a few days max, because the watermelon will start to absorb the juices and break down.
Top tip
Make the melon fruit salad as close to serving time as you can. If you have to make it early, keep the melon balls and dressing separate, and toss them together just before serving.
FAQ
Is melon salad a healthy option?
Melon salad can be a heart healthy option, as melons are low in calories and packed with vitamins, minerals, and antioxidants. However, the overall healthfulness of the salad depends on the ingredients used and the dressing. Opting for fresh, whole ingredients, going light on additions like meats, cheeses, and olives, and a lighter dressing can make it a nutritious choice.
How far in advance can you make melon balls?
You can make the melon balls up to 3 days in advance if you need to. Watermelon will release a lot of its own juice, so you may want to make sure to drain it daily. Toss the melon balls with dressing just before serving for the best quality.
Can you freeze melon balls?
The short answer is yes. But once they thaw, the texture will be off. If you have to freeze them to avoid spoilage, they will be great to use in smoothies, or to blend up as "ice cream", but they won't be great to eat as melon salad again.

To freeze, drain all the liquid from the melon, and discard. Line a baking sheet with parchment or a silicone mat, and place each melon ball on it, not touching the others. Freeze solid. Once frozen, you can place the melon balls in a freezer bag or container. They can remain frozen for up to 6 months.
Related
Looking for other recipes like this? Try these:
Pairing
These are my favorite dishes to serve with Melon Salad with Ginger Lime Dressing:
📖 Recipe
Melon Salad with Ginger Lime Dressing
This melon trio is sure to be your new go-to for healthy summer desserts and snacking. Indulge guilt-free in this this Melon Salad with Ginger Lime Dressing that brightens up any picnic or cookout.
Ingredients
1

small

Seedless Watermelon

(about 4 cups of melon balls or cubes)

1

Cantaloupe

(about 4 cups of melon balls or cubes)

1

Honeydew Melon

(about 4 cups of melon balls or cubes)

2

Limes

zested, and juice of 1 lime

2

tablespoon

Honey

1

tablespoon

Grated Fresh Ginger

Mint for garnish
Instructions
Wash and dry all the melons.

Cut the watermelon in half, and use a melon baller to scoop out balls of melon, using the whole melon (you should have about 4 cups of watermelon).

Cut the cantaloupe in half, scoop out and discard the seeds, and use the melon baller to make balls out of the entire melon.

Repeat with the honeydew melon.

Combine the lime zest and juice, honey, and ginger in a bowl, and whisk to combine.

Pour the dressing over the melon, and toss to combine.

Use fresh mint leaves, or chop about 1-2 teaspoons of fresh mint to top the salad, if desired.
Recipe Notes
If you don't have a melon baller, cutting the melons into cubes will work just as well.
Nutrition Facts
Melon Salad with Ginger Lime Dressing
Amount Per Serving (2 cups)
Calories 132
% Daily Value*
Sodium 40mg2%
Potassium 692mg20%
Carbohydrates 34g11%
Protein 2g4%
Vitamin A 612.72IU12%
Vitamin C 64.25mg78%
Calcium 25.3mg3%
Iron 0.81mg5%
* Percent Daily Values are based on a 2000 calorie diet.
Food safety
Important food safety tips for this recipe!
Wash produce thoroughly, even if they have thick skins you won't eat (your knife and cutting board will still get contaminated with any dirt and germs on the skins!)
Be careful of cross contamination - wash and sanitize counters and tools before starting
Wash hands before beginning, and after touching face, hair, pets, etc. and any time they are dirty
Don't leave food sitting out at room temperature for extended periods