This High Potassium Smoothie feels more like a shake, really. It's thick and rich, sweet and chocolaty, and so decadent! No one will know it's actually healthy - including your own taste buds! It even packs 10 grams of protein per serving, PLUS 30% of your daily potassium needs! It can really be a whole meal on its own. And because it's so delicious, it's perfect for (almost) everyone, heart disease or not! (Note: If you have kidney disease or any other health concern which necessitates you control your potassium intake, this may not be for you!)
Many people with heart disease are prescribed diuretics. These medications are important because they keep fluid from accumulating around the heart and lungs, and throughout the body. But one of the side effects of some diuretics is low potassium! Potassium usually "follows" water, so if water is being flushed from the body, potassium can be too. Potassium is a vital nutrient, especially for people with heart disease (read more about potassium and your heart). Fight back against potassium wasting with this High Potassium Smoothie!
See the Video!
Are Smoothies Healthy for My Heart?
In most cases, smoothies aren't bad for heart health. They are typically made with fruits and vegetables, yogurt or milk, or some alternative, and various spices and flavors. Where it can get a little off the rails is with the addition of sweeteners, like sugar, honey, or maple syrup. Yes, even so-called "natural" sweeteners should be used in moderation. Yogurt, milk, and milk alternatives often contain sweeteners, too, so be sure to read labels. Commercial establishments sometimes use whole milk or whole milk yogurt to make smoothies, in efforts to make them creamier. This bumps up calories and saturated fat content unnecessarily.
Otherwise, smoothies tend to be healthier items. This smoothie specifically boasts 30% of your daily value of potassium for only 234 calories! Not only is it high potassium, but it's low in fat and sodium, and high in fiber, vitamin A, and magnesium! All health, and yummy enough to drink every day!
Get your heart healthy chocolate fix with High Potassium Chocolate Sweet Potato Smoothie, and let me know how you like it!
Need more recipes for potassium rich foods? Browse the High Potassium Archives!
📖 Recipe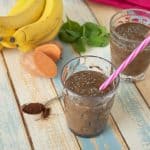 High Potassium Smoothie with Sweet Potato
This simple, healthy smoothie is rich and chocolaty, and so thick and creamy, no one will guess how good it is for you! If you struggle with low potassium because of diuretic use - or even if you don't - you will love every last drop!
Ingredients
1

medium Banana

frozen

1

medium Sweet Potato, flesh only,

cooked and cooled completely

1 ½

cup

Ice

1

cup

packed Spinach

1

cup

Nonfat Plain Yogurt

4

Dates

pitted (optional: soaked for 30 minutes in warm water)

2

tablespoon

Cocoa Powder

or more to taste
Instructions
Add all ingredients to a high speed blender, and blend on high until smooth.

Serve with chia seeds sprinkled on top, or other desired garnish.
Nutrition Facts
High Potassium Smoothie with Sweet Potato
Amount Per Serving
Calories 234
Calories from Fat 12
% Daily Value*
Fat 1.3g2%
Cholesterol 2.5mg1%
Sodium 144.6mg6%
Potassium 1059.4mg30%
Carbohydrates 50.6g17%
Protein 10.5g21%
Vitamin A 546.1IU11%
Vitamin C 12.1mg15%
Calcium 293mg29%
Iron 2.1mg12%
* Percent Daily Values are based on a 2000 calorie diet.
How to Make a High Potassium Smoothie
For this recipe, I start with a sweet potato. Sweet potatoes are one of the highest-potassium foods, and adds a thick sweetness to the smoothie. I cook mine in the microwave. Simply stab some holes in the sweet potato all over it with a fork (otherwise it will explode in your microwave!), put it on a plate, and microwave it for about 7-10 minutes. Done. Cut it in half and let it cool before scooping out the flesh with a spoon.
Next comes a banana. Just a normal, everyday banana. You know, the high-potassium super hero? A medium sized one will do. It's better if it's frozen, but doesn't need to be. For the spinach, you can use either baby spinach or regular. I love spinach in smoothies because it's so nutritious, but easy to cover up so you don't taste it.
I'm using nonfat plain yogurt in this chocolate sweet potato smoothie. Why? Regular yogurt is higher in potassium than Greek yogurt. Plus, the smoothie is thick enough without it. You could use Greek yogurt if you really want, or soy yogurt, or coconut yogurt if potassium content doesn't matter much to you. They'd all be great! If you use a thicker yogurt like Greek yogurt, you'll probably need to add some milk to thin it out a bit.
Dates are also a good source of potassium, plus they add sweetness, so in they go. If you don't have a high speed blender, you may want to soak them in warm water for about 30 minutes first. And the cocoa, well, we just need some chocolaty goodness, amiright?!
Toss some ice in, too, and you're ready to go! Blend it all up and devour!