Low sodium enchiladas with black beans and sweet potatoes, and incredible cilantro lime sauce are seriously delicious, easy, and healthy! What more could we ask for?! We whipped up the fastest low sodium enchilada sauce you can imagine, and topped these babies with delicious, tangy, and mildly spicy cilantro lime sauce that we made from scratch. But don't worry, there's nothing difficult about any of this!
Are Enchiladas Healthy?
The best part about homemade enchiladas is that you can make them as healthy as you please! But no, enchiladas that you get at restaurants are (usually) not that healthy. Surprise, right? Okay, not so much.
Enchiladas typically start with a refined flour tortilla, stuff it with cheese and meat that's been treated to a high sodium seasoning mix, and then slathered in a high sodium sauce and more cheese for a dish that is over-the-top high in sodium, fat, and cholesterol, and very low in fiber and antioxidants, albeit delicious. Probably fine to do once in a (long) while, but certainly not often if you're worried about your heart health.
My version is also delicious, but without all the heart harming stuff! My low sodium enchiladas feature whole grain tortillas - you can use whole wheat, corn, or any others you like - high fiber and anti inflammatory beans and sweet potatoes, a homemade low sodium enchilada sauce, and topped with that yummy cilantro lime sauce and tons of healthy toppings! Two of these healthy vegan enchiladas have more than half of your daily value of fiber! They are also high in vitamin A, vitamin C, iron, magnesium, and potassium, in addition to being high protein. And, if you're really wanting it, there's room for a little cheese.
Sides for Enchiladas
If you're wondering what goes with enchiladas, I've got you covered! Here are my favorite side dishes for enchiladas:
FAQs and Substitutions
Are tortillas really that high in sodium?
It depends on the brand and type, but you'll really want to read the nutrition facts label to be sure. Corn tortillas are usually made with less (and sometimes no) salt. Wheat tortillas are sometimes high in sodium to the tune of 300mg per tortilla! That may not sound like much, but consider you'll probably eat more than one, and fill it with other typically high sodium foods like olives, cheese, salsa, and some sort of protein cooked with taco seasoning. You can easily end up with a meal that exceeds your sodium allotment for the whole day!
What kind of tortillas for enchiladas?
You can use any tortilla you like, but you'll want to make sure they're about 6-8 inches in diameter. More than that, and they may not fit in your pan, and less than that and they will be teeny tiny enchiladas!

Look for tortillas that are made from a whole grain primarily - whole wheat, corn, quinoa, etc. Also, make sure you get a brand that is as low in sodium as you can find. As mentioned above, corn tortillas are often lowest in sodium.
How long do flour tortillas last? How long do corn tortillas last?
To answer this question, the first thing you should look for is the date on your tortilla package. It will likely be a "sell by" date, which is the date by which the store should have sold the product, not when you need to use it by. You should use the tortillas before 7 days after the sell by date if you keep them on your counter or in the pantry. If you keep them in the refrigerator, you can get a month or more after the sell by date.

If the date on the package is a "use by" date, then you should use the tortillas on or before that day.

Always look the tortillas over before you use them to make sure there is no unusual discoloration or mold growing on them. If you see any spots of mold, no matter how small, discard the entire package without opening it. If you open the bag, mold spores may disperse into the air and land on other food you may have on the counter.
How do you roll enchiladas?
To roll an enchilada, place the tortilla flat on the counter, or in the pan you're using. Some people wish to coat the tortilla in enchilada sauce before filling; that's up to you.

Put the enchilada filling in a straight line, about ⅓ or ¼ of the way from on of the sides. Slowly roll the tortilla over the filling, and continue rolling until you reach the end of the tortilla. Place the now-rolled enchilada with the seam-side down in the pan to prevent it from unrolling itself. It's okay if the enchilada doesn't seem like it's rolled tightly. You'll get better at it the more you do it!
How to keep corn tortillas from falling apart
Corn tortillas are less pliable than flour tortillas for sure, and if you try to roll enchiladas with them right out of the package, you're going to end up with an enchilada casserole instead of enchiladas! But it's an easy fix, and you can use one of two methods:

One way to keep corn tortillas from falling apart when you roll them is to cook them, a few minutes on each side, in a dry, hot skillet. A cast iron skillet is nice for this, but not required. Simply preheat your pan - it needs to be at least the diameter of the tortilla - until it's nice and hot. Put one tortilla in the pan with no oil, and let it cook for a minute or two, until the edges start to curl up and there are brown spots starting to form on the side against the pan. Using tongs, flip the tortilla and cook another minute or two. Remove it from the pan, wrap in a clean dish towel to keep warm, and do the same with all the remaining tortillas.

If you're not into the above method, you can use your microwave. This is for sure faster! Take your whole stack of tortillas, and wrap them completely in a clean, damp dish towel. Microwave the whole thing for about a minute or so. Test them to see if they are pliable enough. If not, continue microwaving in 15-20 second intervals until they can be rolled without breaking.
What is a good substitute for sweet potatoes?
In this recipe, you could use any white potato instead of sweet potatoes. If you still have them around, you could also use a pumpkin (not canned pumpkin), butternut squash, or any other kind of winter squash you like. If you have frozen butternut squash, you can use that to cut your prep time considerably!
Can I use any bean?
Yep. Any bean would be awesome in these enchiladas!
Can I use a jar of my favorite enchilada sauce instead of making it?
Yes, but read the label for the amount of sodium in the sauce, and look for one that's lower. You'll need about 3-4 cups of sauce.
Why don't you use any cheese?
Cheese is a usual ingredient in enchiladas. In fact, most Mexican-inspired recipes tend to be covered in cheese, don't they? Cheese is high in sodium and saturated fat, two contributors of heart disease. And while a little cheese won't cause heart problems, are we really in need of more recipes covered with it? That's why I decided to leave it out, and allow the other flavors to shine through. You can feel confident in the heart healthiness of these enchiladas! ❤
If you make these Low Sodium Enchiladas, let me know in the comments!
And don't forget to check out these related recipes!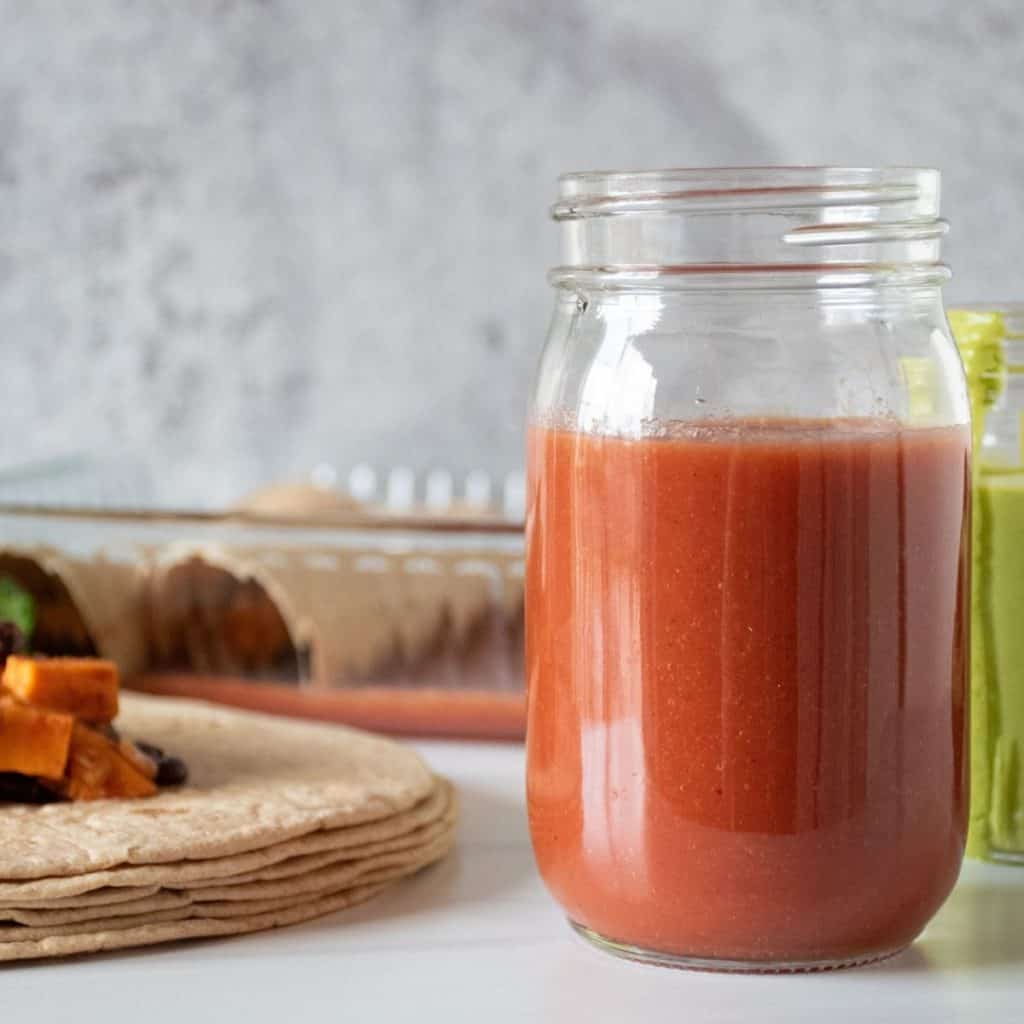 📖 Recipe
Low Sodium Enchiladas with Black Beans & Sweet Potatoes
Black bean sweet potato enchiladas with cilantro lime sauce are seriously delicious, easy, and healthy! What more could we ask for?!
Ingredients
8

Corn or Whole Grain Tortillas,

without added salt if possible (6-8 inches in diameter)

3

cups

cubed Sweet Potatoes

½

Red Onion,

minced

1

tablespoon

Olive Oil

1

teaspoon

DIY Salt Free Taco Seasoning

1

can No Added Salt Black Beans,

drained and rinsed (1 ½ cups)
To serve:
Sliced Jalapenos

Chopped Cilantro
Instructions
Preheat oven to 400° F.

Toss sweet potato cubes with the minced red onion, taco seasoning, and oil, until well combined.

Roast for 20-25 minutes, until the onions are caramelizing and sweet potatoes are starting to brown.

Scoop the sweet potato mixture into a bowl, and combine with black beans and about ¼ cup enchilada sauce. Set aside for a moment.

Reduce oven heat to 350° F.

In the bottom of a 9x13 (or similarly sized) casserole dish, pour about ⅓ of the remaining enchilada sauce.

Arrange the 8 tortillas on a flat surface, and divide the filling evenly among them.

Carefully roll each enchilada, and place in the casserole dish, seam side down.

Pour the remaining enchilada sauce over all the enchiladas.

Bake for 20 minutes, until the edges of the tortillas are starting to brown.

Remove from the oven, drizzle with desired amount of Cilantro Lime Sauce, and any other toppings as you like.

Serve immediately.
Nutrition Facts
Low Sodium Enchiladas with Black Beans & Sweet Potatoes
Amount Per Serving (2 enchiladas)
Calories 418
Calories from Fat 57
% Daily Value*
Fat 6.3g10%
Sodium 76.1mg3%
Potassium 946mg27%
Carbohydrates 81.4g27%
Protein 13.3g27%
Vitamin A 730.2IU15%
Vitamin C 22mg27%
Calcium 239.8mg24%
Iron 3.9mg22%
* Percent Daily Values are based on a 2000 calorie diet.