This roasted kale salad is perfect for Fall, boasting seasonal roasted veggies like beets, butternut squash and potatoes, and sporting a delicious, homemade Apple Maple Vinaigrette! Treating kale to a quick oil massage and roast helps cut some of its bitter qualities, as well and making it more tender. We added chickpeas roasted with cinnamon to complete this perfect Autumn meal.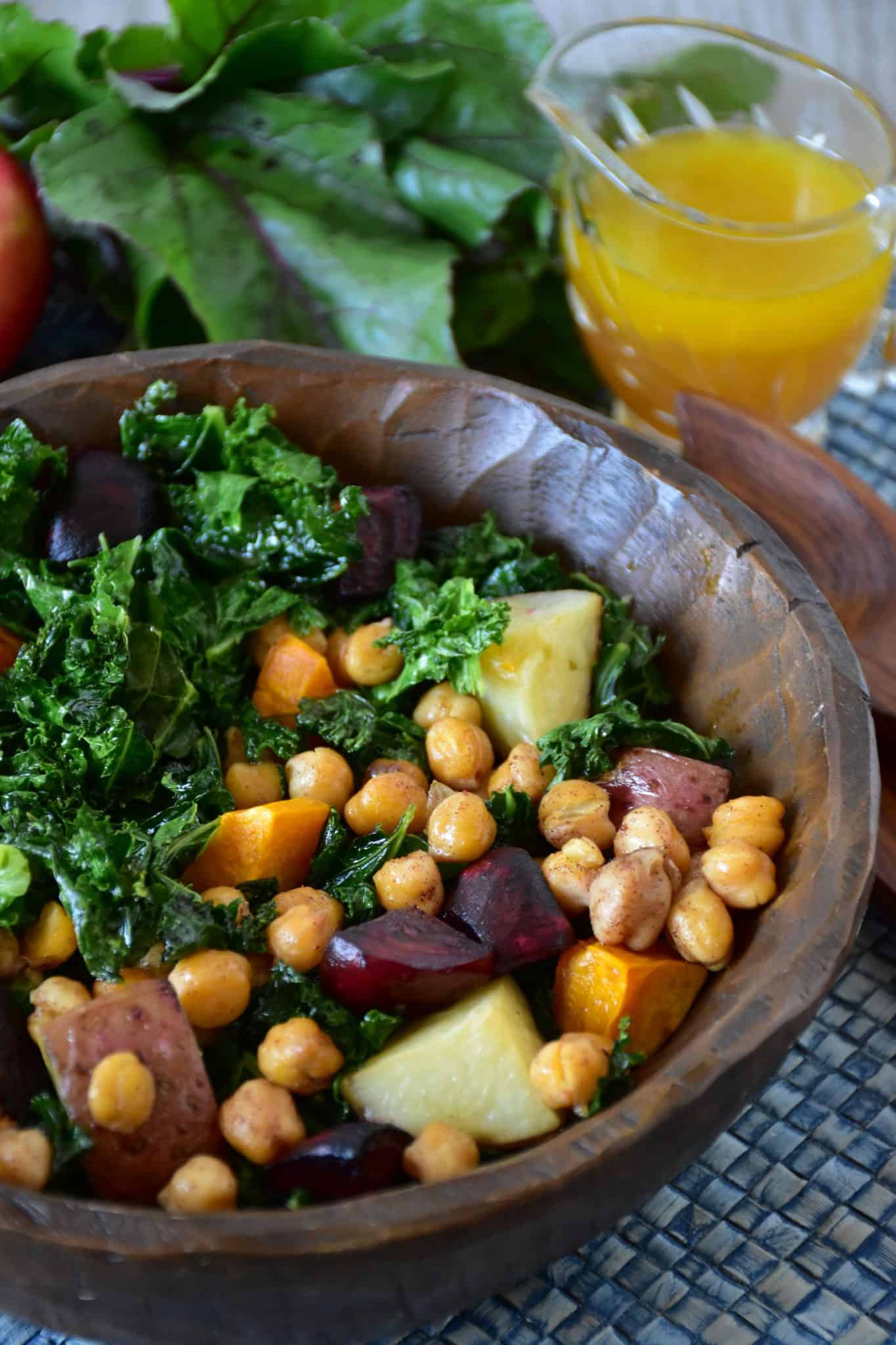 Can I eat kale if I'm on coumadin?
If you're taking the blood thinner coumadin (AKA warfarin), you are probably being careful of your vitamin K intake. The short answer is yes, you can eat kale if you're on coumadin. But the caveat is you need to maintain a relatively consistent intake of vitamin K so your medications can be properly adjusted. If you don't typically consume foods high in vitamin K and would like to, talk to your doctor about how to start including more, so your bloodwork can be closely monitored. Read more about this topic in our article, Vitamin K and Heart Health!
Can I use raw kale in salads?
In this recipe, you've no doubt noticed I'm using roasted kale. Can you use raw kale? Yep! If you want to cut out a few steps, by all means, use raw kale! I'm roasting my kale for a few reasons:
First, roasting imparts a lovely flavor that reminds me of Fall. I love that!
Second, roasting makes the kale more tender, and cuts some of its bitter qualities down.
And third, I honestly just don't love raw kale - but I do love it roasted! If you are like me, this is the way you'll want to make all your kale salads from now on!
But even if you don't roast it, you'll still want to massage it with a bit of oil before you use it.
How do you massage kale?
Massage? The kale? What kind of fluffy froo-froo is this? 😉
Ha ha. I admit it sounds weird. But this step is super important to tenderize your kale, especially if you're using it raw - but don't disregard if you're roasting. After you chop and remove the thick stems, put the kale in a big bowl and add a few teaspoons of oil. A little salt, too, if you're so inclined. Then use your hands to slowly work the oil onto every leaf. A few minutes is all it takes. The leaves will start to turn bright green and shiny.
You can also massage it with nothing but your hands, or in a little water, if you'd like to lower the amount of oil you use.
Tips and Substitutions
The sky is the limit with salad substitutions! But here are some important tips, and recommended substitutions you may want to use:
Definitely massage your kale! See above.
To reduce your roasting time, try steaming or boiling your chopped veggies until they just start to soften. Then toss with oil and roast until browned.
Use another green, like spinach, collards, mustard, or romaine lettuce. No need to roast (or massage!) these.
Don't like beets? Leave them out, or use another vegetable like carrots or parsnips.
Try sweet potatoes in place of the red potatoes - or any other potato. I used red because I like the waxy consistency vs starchy for this salad.
Use another squash instead of butternut. Consider pumpkin or acorn squash. Even delicata squash would be delicious, but wouldn't need to roast as long.
Beets tend to bleed on everything they touch. If you don't want them to turn your squash and potatoes purple, keep them separated on the baking sheet, or use separate baking sheets.
Use another bean in place of chickpeas, like black beans, lentils, or kidney beans. I love the neutral taste of chickpeas here, because there's a lot of other flavors going on, but any other bean would be great, too!
Use apple juice if you don't have apple cider for the dressing.
Use honey if you don't have pure maple syrup. It won't have the maple taste, but will still be yummy!
If you make Roasted Kale Salad with Apple Maple Vinaigrette, don't forget to let me know in the comments!
If you're concerned about your heart health, make sure to check out the 3 Best Diets for Heart Health, and browse our archives by dietary needs!
📖 Recipe
Roasted Kale Salad with Apple Maple Vinaigrette
This roasted kale salad is perfect for Fall, boasting seasonal roasted veggies like beets, butternut squash and potatoes, and sporting a delicious, homemade Apple Maple Vinaigrette!
Ingredients
2

large Red Potatoes,

roughly chopped

2

cups

chopped Butternut Squash

3

medium Beets,

peeled and roughly chopped

1 ½

cup

(or 1 can) Chickpeas, no added salt

¼

teaspoon

Cinnamon

1

lb

Kale,

chopped, large stems removed

1 ½

tablespoon

Olive oil,

divided

Salt to taste
For the Dressing
2 ½

tablespoon

Apple Cider

2 ½

tablespoon

Apple Cider Vinegar

2 ½

tablespoon

Olive Oil

1

tablespoon

Pure Maple Syrup
Instructions
Preheat oven to 350 degrees F.

Place the chopped potatoes, squash, and beets on a baking sheet lined with parchment, and toss with 2 teaspoon oil. Sprinkle lightly with salt, if desired.

Bake for about an hour (more or less depending on the size of your chop), until soft and browned.

Meanwhile, place the chickpeas on a small baking sheet or in a baking dish, and sprinkle with cinnamon and ½ teaspoon oil. Toss to coat.

Bake the chickpeas for 20 minutes.

On a second large, lined baking sheet, arrange the kale, and drizzle with 2 teaspoon oil. Massage the oil through all the kale with your hands.

When the chickpeas are done, remove them from the oven, and put the kale in. Bake the kale for about 15 minutes, until just starting to crisp.

Allow all the vegetables to cool a bit (or refrigerate until cold) after roasting.

Make the dressing by whisking all the ingredients together in a small bowl.

Make the salad by transferring the kale to a large bowl, and adding the other toppings as desired. Drizzle with half the dressing before serving, or at the table.

Will keep in the refrigerator for a few days.
Nutrition
Calories:
365
kcal
|
Carbohydrates:
60.5
g
|
Protein:
14
g
|
Fat:
10.6
g
|
Saturated Fat:
1.4
g
|
Polyunsaturated Fat:
2
g
|
Monounsaturated Fat:
5.9
g
|
Sodium:
119.6
mg
|
Potassium:
1677.9
mg
|
Fiber:
13.8
g
|
Sugar:
15
g
|
Vitamin A:
941.3
IU
|
Vitamin C:
163.9
mg
|
Calcium:
258.6
mg
|
Iron:
5.2
mg