Stuffed peppers are quintessential Fall fare, and my vegetarian version is sure to become a favorite. I took flavor notes from more traditional versions, and transformed them into a heart healthy recipe for everyone. A delicious combination of brown rice, lentils, and mushrooms lend some awesome texture, while a homemade marinara sauce, herbs, and liquid smoke add a meaty, umami feel. Even self-proclaimed "carnivores" will love these Lentil Stuffed Peppers.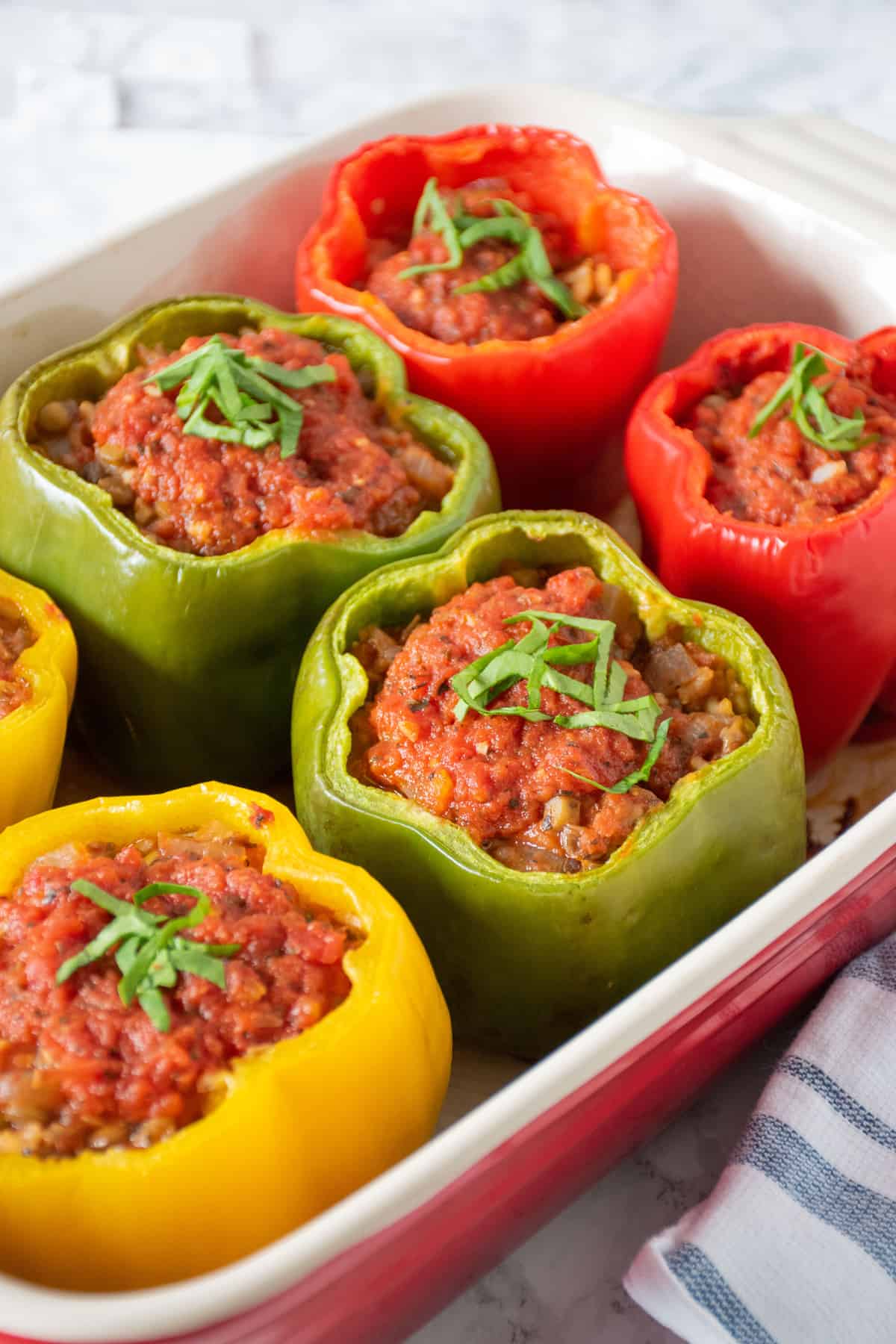 This is Fall comfort food at its finest, and it pairs well with a simple tossed salad, or this simple smoky sauteed spinach. Great for meal prep too, so there's no reason to not enjoy this healthy, delicious dish any day of the week!
Jump to:
Heart Health benefits of Lentil Stuffed Peppers
One might dismiss vegetarian dishes as less satisfying or nutritious compared to their meat-filled counterparts, but these lentil stuffed peppers prove that notion wrong. As delicious as they are, their health benefits and nutritional profile make them a worthwhile meal choice.
First and foremost, the humble lentil. Packed with nutrients, lentils are an excellent source of fiber. They help keep your cholesterol levels in check, and offer a powerful protein punch - significant for those following a vegetarian or a plant-based diet.
Bell peppers form the colorful exterior, providing more than just artistic appeal on your plate. They are an excellent source of vitamin C, with a single pepper taking care of more than 100% of your daily requirement. The onions, garlic, and white mushrooms used in the filling lend additional layers of flavor, and provide considerable quantities of essential nutrients such as B vitamins, selenium, and antioxidants.
The brown rice brings a wholesome, nutty flavor and it's also a whole grain that's high in fiber. The olive oil used supports heart health, thanks to its monounsaturated fatty acids.
Lastly, the homemade marinara sauce deserves a special shoutout. Prepared with ripe tomatoes, it is a low sodium choice that enhances the overall taste. Tomatoes are known to be a great source of lycopene, an antioxidant believed to help prevent heart disease, among other health benefits. And the sauce allows us to keep these low sodium stuffed peppers.
It is also notable what these stuffed peppers with lentils don't have. They don't have excessive calories, saturated fat, or sodium, as compared to more traditional stuffed peppers that use either beef or turkey. That makes them the perfect comfort food to take you through all winter long!
Ingredients
Our vegetarian stuffed peppers recipe uses a handful of carefully chosen components to not only please the tastebuds, but also to provide substantial health benefits.
Bell Peppers: The star of the show. Their vibrant colors and natural sweetness make them an excellent vessel for the rich stuffing.
Olive Oil: A beautiful, healthy fat that enhances the flavor of other ingredients while also aiding in cooking.
Onion and Garlic: These two classics lay the flavour foundation. They bring aromatic complexity to the stuffing.
White Mushrooms: With their meaty texture, they contribute to the heartiness of these stuffed peppers.
Liquid Smoke: An ingredient that introduces a hint of smokiness, capturing some of that traditional flavor associated with stuffed peppers.
Brown or Green Lentils: Nutritious and tasty, they bring a lovely bite and essential proteins to the dish.
Brown Rice: Another healthy ingredient, brown rice extends the stuffing while adding essential carbs and nutty flavor.
Homemade Marinara Sauce: The tangy, Italian-inspired component of the recipe that helps to bind all the ingredients together while making the dish juicier and more flavorful.
See recipe card for quantities.
Instructions
Here is a simple and straightforward step-by-step guide on how to bring this vegetarian dish to life: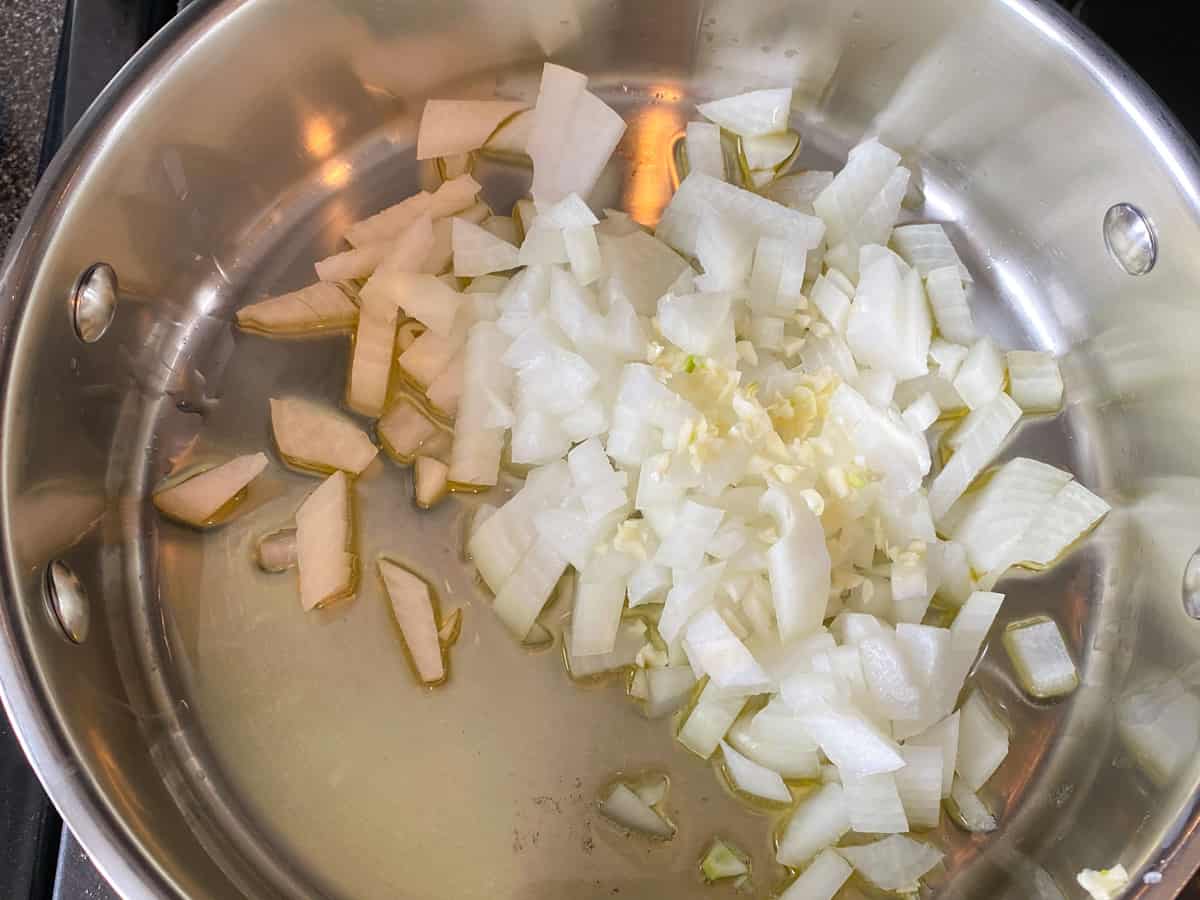 Sauté the onions and garlic.
Add the diced mushrooms.
Continue to cook the onions and mushrooms until the mushrooms release their liquid and most of it has cooked off.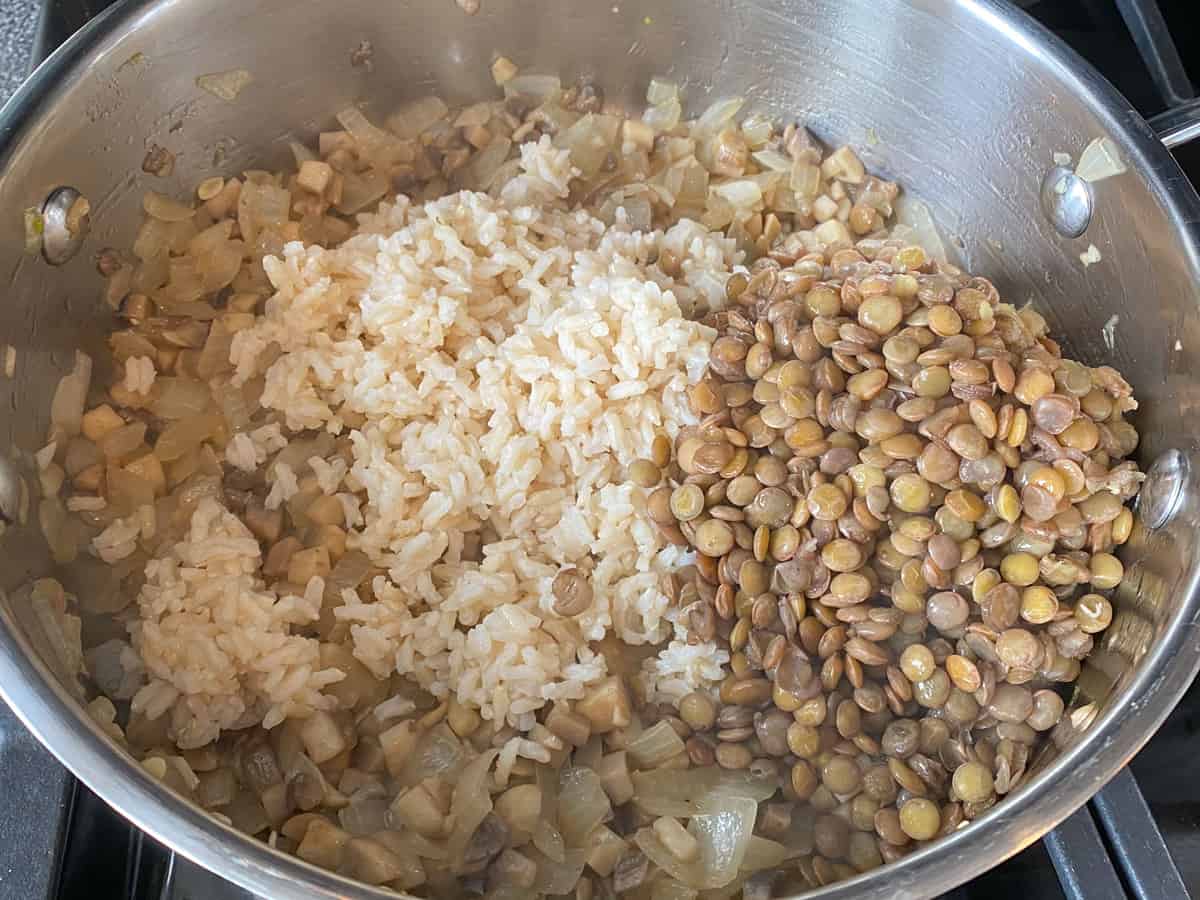 Add the cooked lentils and rice, and stir.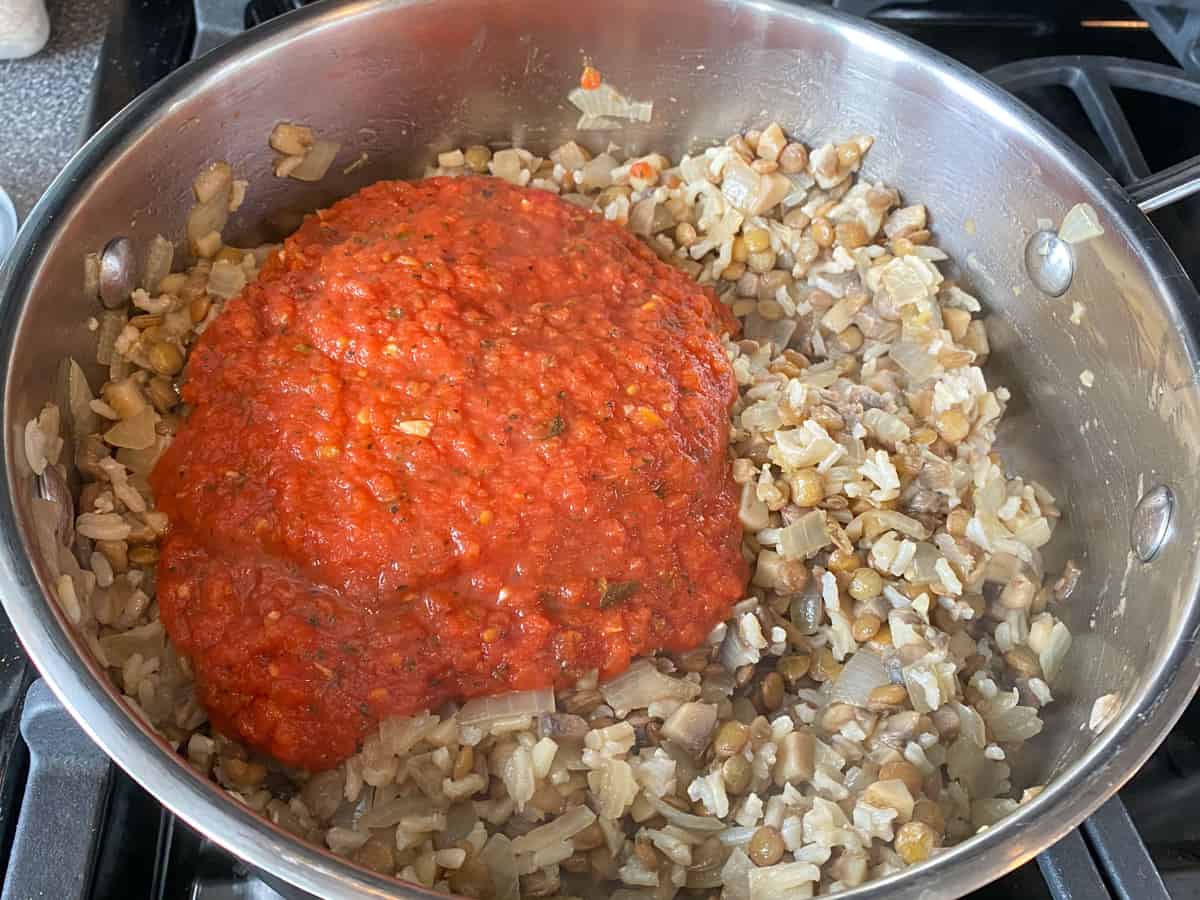 Pour in the homemade marinara sauce.
Stir to combine the filling, until the mixture is hot.
Prepare the peppers by cutting off the tops (stem end) and scooping out the seeds. Slice a bit off the bottoms if the peppers won't sit flat.
Fill the peppers with the stuffing.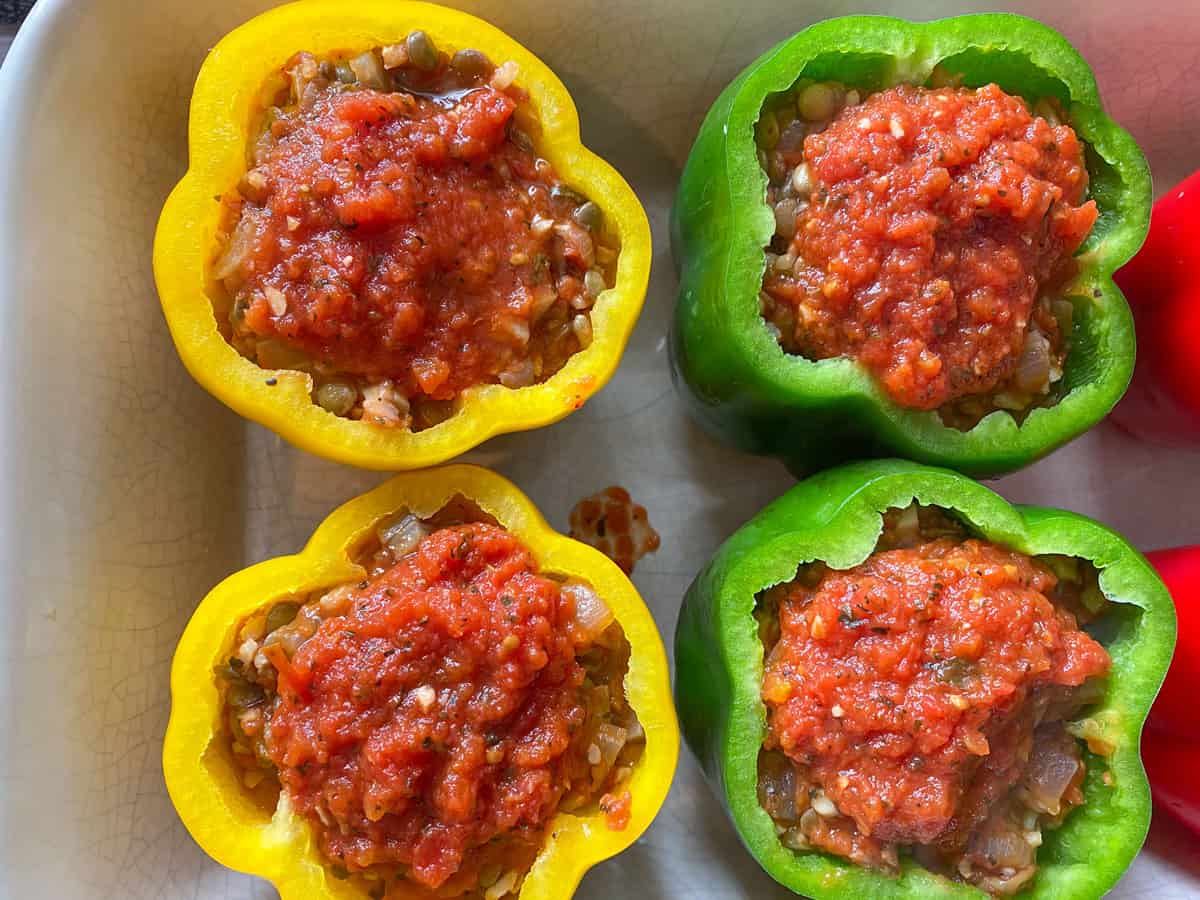 Top with extra marinara sauce.
Bake until hot and bubbly.
Hint: covering the dish with some aluminum foil for the first half of baking will prevent the sauce on top from getting hard and crusty.
Substitutions
These heart healthy stuffed peppers are easily customizable. Here are some options.
Grain - instead of rice, try quinoa, bulgur, couscous, or any variety of other grains you like
Beans - use black beans, chickpeas, beluga lentils, or any other cooked bean
Peppers - use any type of pepper you want, like poblano or banana peppers
Variations
Here are some of my favorite variations on stuffed peppers!
Mexican - use enchilada sauce instead of marinara, and top with salsa, guacamole, and sliced jalapeños
Slow cooker - put the stuffed peppers into the slow cooker, and let it do the rest - great for meal prep!
Chili stuffed peppers - make up a batch of slow cooker Cincinnati Chili, and stuff the peppers with it
Equipment
Nothing special here today! You'll need a cutting board and knife, cooking pots with lids, and a baking dish, plus the appropriate utensils.
I've been really loving these Martha Stewart baking dishes (affiliate link) lately, but use what you have. In a pinch you could even use a rimmed cookie sheet. Just cover the peppers entirely with foil for the first half of the baking.
Storage
You can store the Lentil Stuffed Peppers in an airtight container in the refrigerator for 5 to 7 days. If you want to prepare them in advance, you can refrigerate the uncooked stuffed peppers and simply bake them when you're ready to eat.
You can also freeze them before baking for up to three months. Defrost overnight in the fridge before baking.
Top tip
When you buy bell peppers for this recipe, look for nicely sized ones that are overall mostly symmetrical, and that have knobs on the bottom that will allow them to sit upright. Choose firm peppers without any mushy or discolored spots.
FAQ
I'm not a fan of mushrooms, can I exclude them?
Yes, mushrooms can be excluded if you prefer without dramatically changing the recipe. But you will want to substitute another veggie so you have enough volume of filling. Try other veggies like zucchini, carrots, or spinach, or you can simply increase the amount of lentils and rice.
Can I use store-bought marinara sauce?
While homemade marinara sauce offers a fresh and authentic taste, you can certainly use a good quality store-bought version if you're short on time. Just be sure you check out the sodium content on the nutrition label if that's a concern for you.
Can I prep this recipe ahead of time?
Yes! This recipe is great for meal prep! To make these ahead of time, simply follow the recipe up to (including) topping with the sauce, and then cover and refrigerate until you're ready to bake them off. You can do this up to 5 days in advance. To bake them, preheat oven to 350 degrees F, and bake the peppers as the recipe instructs. You may find you want to bake them a little longer since they'll be cold, but that's up to you.
Related
Looking for other healthy bean entrees? Try these:
Pairing
These are my favorite dishes to serve with low sodium stuffed peppers:
Want to say thank you?
📖 Recipe
Lentil Stuffed Peppers
These delicious peppers are stuffed with a mixture of lentils, mushrooms, and rice, for a winning combination even meat eaters will devour!
Ingredients
6

medium sized

Bell Peppers

any color

2

teaspoon

Olive Oil

1

medium

Onion

diced

2

cloved

Garlic

minced

8

oz

White Mushrooms

diced small

½

teaspoon

Liquid Smoke

1

cup

cooked Brown/Green Lentils

1

cup

cooked Brown Rice or Quinoa

2

cups

Homemade Marinara Sauce

divided (or low sodium brand of choice)
Instructions
If you have not already, cook the lentils and rice according to package directions, and make the marinara sauce.

Preheat your oven to 350 degrees F.

In a large skillet, heat 2 teaspoons of olive oil over medium heat.

Add the onions and garlic, and saute until translucent.

Add the mushrooms to the pan, and continue cooking until the mushrooms release their liquid, and most of the liquid evaporates.

Add the liquid smoke, lentils, rice and 1 cup marinara sauce, and warm through.

Prepare the peppers: Cut the tops off the peppers, and scoop out the insides. Arrange the peppers in a 9x13 (or similarly sized) baking dish. Spray a bit of oil in the bottom if you are worried about them sticking. If the peppers won't sit upright, cut a small slice off the bottom until they won't fall over.

Scoop the filling into the prepared peppers, dividing evenly. Pour a spoonful of marinara sauce onto each pepper.

Cover with a lid or aluminum foil, and bake for 30 minutes.

After 30 minutes, uncover, and bake another 15-20 minutes, until bubbly.

Serve hot with the remaining marinara sauce.
Nutrition
Serving:
1
stuffed pepper
|
Calories:
185
kcal
|
Carbohydrates:
32.4
g
|
Protein:
8.1
g
|
Fat:
3.6
g
|
Saturated Fat:
0.5
g
|
Polyunsaturated Fat:
0.7
g
|
Monounsaturated Fat:
1.9
g
|
Sodium:
122.1
mg
|
Potassium:
1009.7
mg
|
Fiber:
8.8
g
|
Sugar:
12.1
g
|
Vitamin A:
266.4
IU
|
Vitamin C:
181.1
mg
|
Calcium:
53.6
mg
|
Iron:
2.8
mg
Food safety
Safety is our top priority in the kitchen! Always keep these tips in mind.
Cook to a minimum temperature of 165 °F (74 °C)
Do not use the same utensils on cooked food, that previously touched raw meat
Wash hands before touching food, and after touching raw meat, your hair, face, pets, etc.
Don't leave food sitting out at room temperature for longer than 2 hours (or 1 hour if the weather is hot)
Never leave cooking food unattended
Always have good ventilation when using a gas stove
See more guidelines at USDA.gov.
As an Amazon Associate I earn from qualifying purchases. Your purchase helps me keep the lights on, at no additional cost to you! I never recommend products that I don't personally use and love. Thanks for your support!