Vegetable Hash with Chickpeas Skillet Dinner uses a premade frozen mixed vegetable blend with a few other common ingredients, and takes just 20 minutes from freezer to plate! Delicious and fast makes it excellent for busy weeknights! Perfect paired with mashed potatoes or whole grain pasta.
How to make frozen mixed vegetables taste good
Few things are less exciting that frozen mixed vegetables right? I know. But there are some ways to jazz them up, while still keeping them healthy! In this vegetarian hash recipe, I use one of my favorite methods: sauteed with garlic and onions. Here are some more delicious ways to make a bag of frozen mixed veggies delicious:
Sauté in a bit of olive oil with minced garlic and a chopped onion
Roast them in a hot oven (around 425°F or 450°F) in a bit of oil until they're starting to nicely brown
Sauté some garlic, and toss with lemon juice and some nuts before mixing with veggies (as in Broccoli Almondine)
Dip them in hot sauce or ketchup. That's right, I said it.
Toss steamed veggies with any herb or spice combo you want. Some good ones are Italian seasoning, Taco seasoning, or herbes de Provence.
Just add pesto! Arugula Pistachio Pesto is a winner!
How to sauté frozen vegetables
To make sautéed frozen vegetables, follow these simple steps:
Heat your oil in a pan, over medium heat
Add any fresh vegetables if using (like garlic, onions, etc.), and cook until they're mostly done
Pour the frozen vegetables to the pan, and toss to mix everything
Add any dried herbs and spices now, and toss again to mix
Put a lid on the pan, and allow the veggies to defrost a few minutes (about 5-8 minutes)
Take the lid off, and toss again. Test to see if the veggies are defrosted by sticking a fork into the largest piece. If there is a lot of resistance, they are still frozen. In this case, return the lid for another few minutes.
Once the veggies are soft, remove the lid, and allow them to sauté until there is little to no liquid left in the pan, and the vegetables are beginning to brown.
Take your pan off the heat now, or continue to sauté until the vegetables are done to your liking.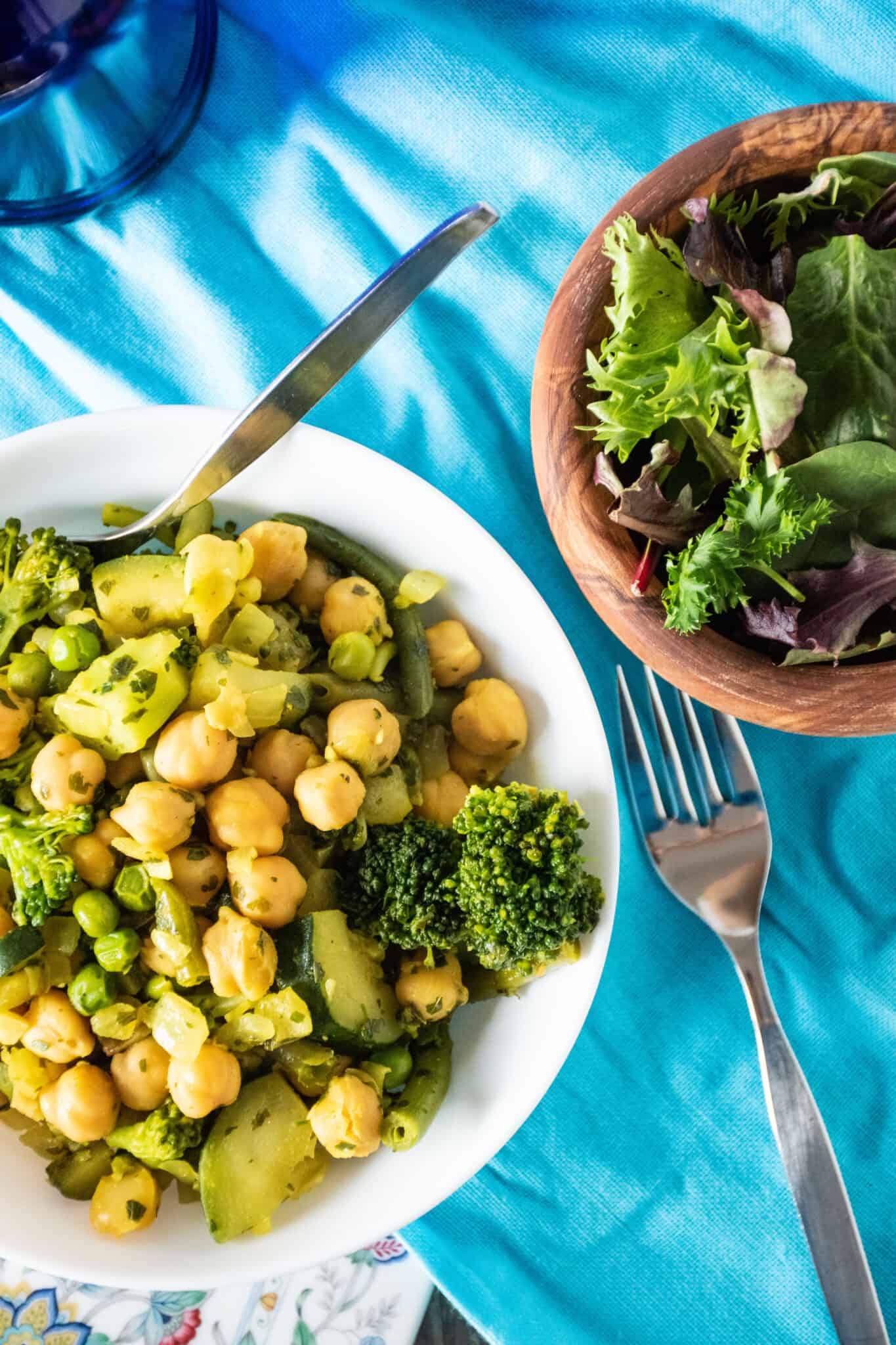 How is this Heart Healthy?
You're probably familiar with corned beef hash, and hash browns, and you know neither are heart healthy options. But "hash" really is a dish made from chopped ingredients all cooked together. Traditionally it is made from chopped meat, potatoes, and onions, but I love making a vegetable hash because it's a healthy, quick and delicious dinner option!
In my vegetarian hash, I've removed the meat (obviously haha), and I'm using chopped onions and frozen veggies as my base. In doing this, I amp up the fiber and potassium, along with heart healthy antioxidants in the dish. Then, to keep the dish high in protein, adequate for dinner, I use a can of chickpeas. Chickpeas are perfect because they are mostly neutral in flavor and contain some great healthy carbohydrates and more fiber, in addition to being high in protein. This is a fabulous way to get your daily serving of beans! You could really use any bean you like though.
This recipe is a little heavier in total fat than I typically do, but it is mostly heart healthy fat (monounsaturated and polyunsaturated fats), that can actually help lower your cholesterol levels (1). If you want this dish to be lower in fat (and thereby also lower in calories), you can reduce the amount of olive oil you use by half, or eliminate it completely and sauté in a bit of water or vegetable broth.
FAQs and Substitutions
Can I use any frozen mixed vegetable for this chickpea hash?
Yep! You'll need a total of 3 cups of frozen vegetables, but any blend will work. A few caveats though. Make sure there are no added oils/fats, salt, or excessive spice blends. Also, you will want a mix with the veggies cut smaller so the result will be easier to eat (e.g. no giant pieces of broccoli, etc.).
What can I use instead of chickpeas?
Any cooked bean or lentil will be tasty in this vegetarian hash. You could also use crumbled tofu or tempeh, which you'll want to season well and precook. Use one of my "meat treatments" similar to how I prepare the tofu in Quick Plant Based Tacos, using any seasoning you like.
If you try Vegetable Hash with Chickpeas Skillet Dinner, make sure to tell me about it in the comments!
And make sure to grab these other delicious recipes that will go great with this meal: Healthy Irish Mashed Potatoes, Heart Healthy Southern Style Cabbage.
📖 Recipe
Vegetable Hash with Chickpeas Skillet Dinner
This Vegetable Hash Dinner uses a premade frozen mixed vegetable blend, and takes just 20 minutes from freezer to plate! Delicious and fast makes it excellent for busy weeknights! Will serve 2 as a main dish, or 4 as a side!
Ingredients
1

tablespoon

Olive Oil

4

Garlic Cloves,

minced

1

medium Onion,

chopped

1

bag of Trader Joe's Frozen Green Vegetable Foursome

(about 3 cups of frozen mixed vegetables)

1 ½

cups

cooked Chickpeas

(1 can no added salt chickpeas, drained and rinsed)

Pinch

of salt (if needed), and pepper to taste
Instructions
Pour the oil in a large skillet, and warm over medium heat.

Add the garlic and onions, and saute until the onions are softened and starting to brown.

Add the frozen vegetables and chickpeas, stir to mix, cover with a lid, and continue to saute for about 10 minutes more, stirring occasionally. If there is more liquid in the pan than you'd like, simply allow it to boil out with the lid off in the last few minutes of cooking.

Taste, and season with pepper and a little salt (only if needed).
Nutrition Facts
Vegetable Hash with Chickpeas Skillet Dinner
Amount Per Serving
Calories 353
Calories from Fat 120
% Daily Value*
Fat 13.3g20%
Sodium 191.8mg8%
Potassium 838.3mg24%
Carbohydrates 46.8g16%
Protein 13.9g28%
Vitamin A 1.2IU0%
Vitamin C 7.5mg9%
Calcium 135.8mg14%
Iron 5.2mg29%
* Percent Daily Values are based on a 2000 calorie diet.