Everybody loves tacos! Even in my house, with two small children, tacos are always a winner. Today I'm bringing you this completely plant-based version to add to your weeknight rotation! Crumbled Tofu Tacos are easy, fast, heart healthy, and (best of all) 100% delicious! Taco Tuesday just got better!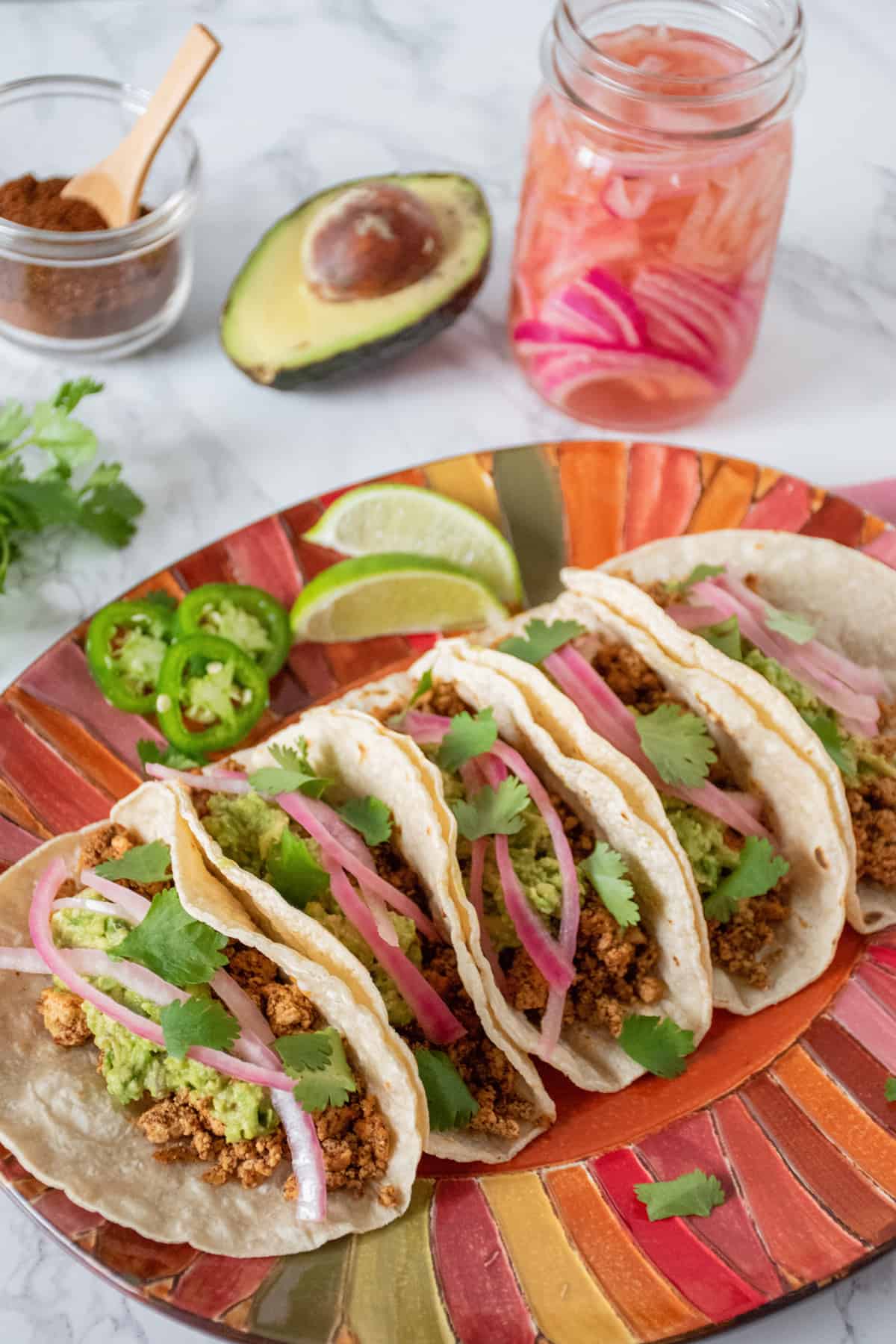 These incredible tacos come together in about 20 minutes, so no more relying on those high sodium fast food tacos with questionable ingredients. Don't be scared by the tofu - lots of people are! But in this recipe, we treat the tofu just like ground turkey, and it doesn't let us down! It turns out saucy and meaty, with just the right amount of kick.
Serve them with Charred Corn and Poblano Salad, and Salsa Verde!
These tacos come in around only 300 calories for two of them. That's with guacamole, so if you're leaving that out it will be lower still. The avocado provides some amazing monounsaturated fats (the good-for-your-heart kind!), though, so consider keeping it!
Here's where my tacos really set themselves apart, though. Two tacos come in at 180mg sodium. One basic soft taco at a certain fast food taco chain packs 500mg of sodium! ONE TACO. Yikes.
Crumbled Tofu Tacos also boast 10 grams of protein, 23% of your daily value of fiber, and 33% of your daily iron needs. Score!
Jump to:
Ingredients
For this recipe, you'll want to make sure you start by making some Salt Free Taco Seasoning. It only takes a few minutes of mixing together spices you already have. Here's what else you'll need:
Olive oil
Large onion
No Added Salt tomato paste
Water
Apple Cider Vinegar
Firm or extra firm tofu
Corn taco shells
Guacamole (or mashed avocado)
Other toppings you like
See recipe card for quantities.
Instructions
Delicious crumbled tofu tacos come together lickety split! Here's how:
Start by crumbling your tofu into a bowl. It should resemble cottage cheese a little.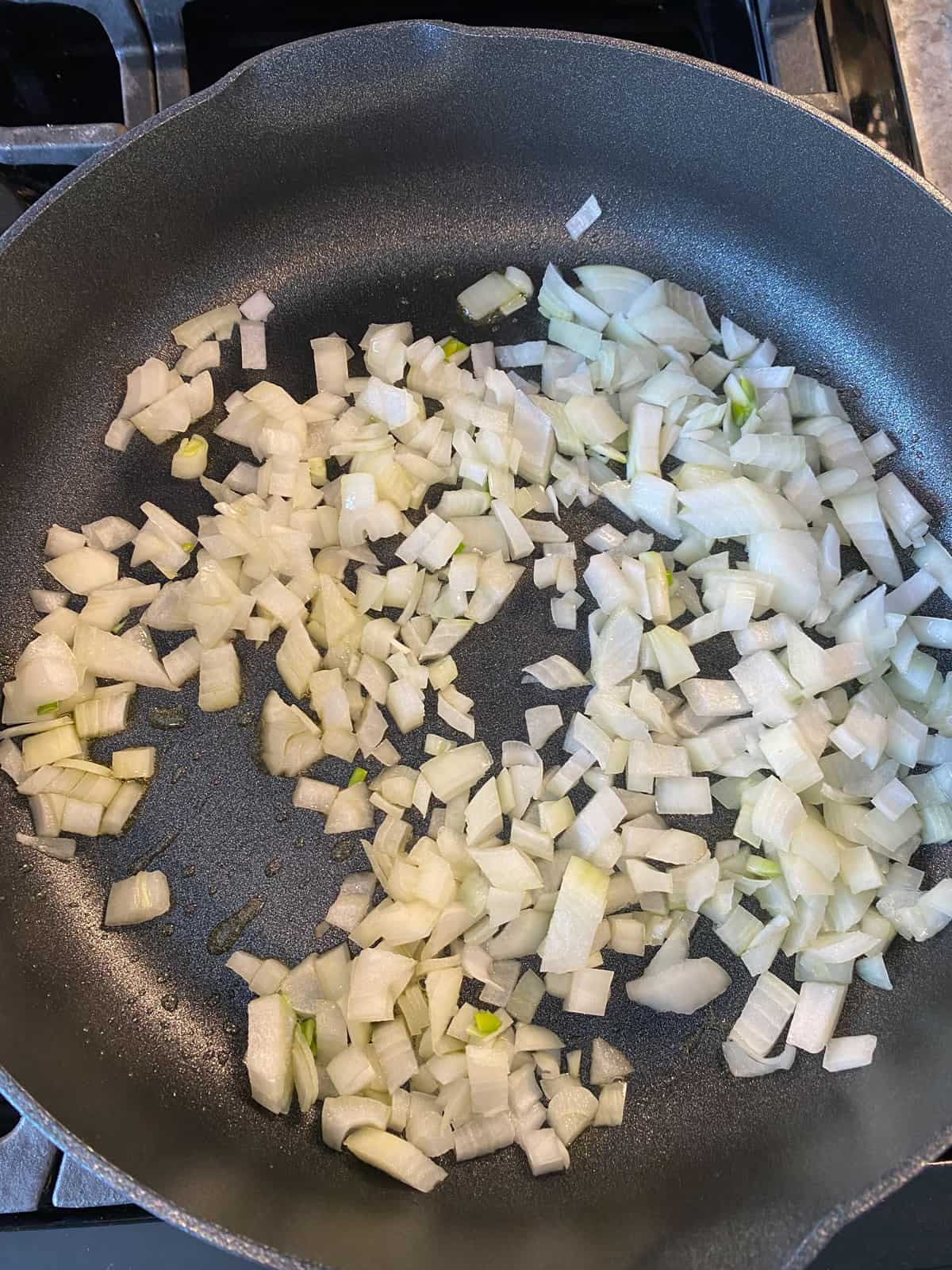 Sauté the onions.
Add the tomato paste, and stir/cook for about a minute.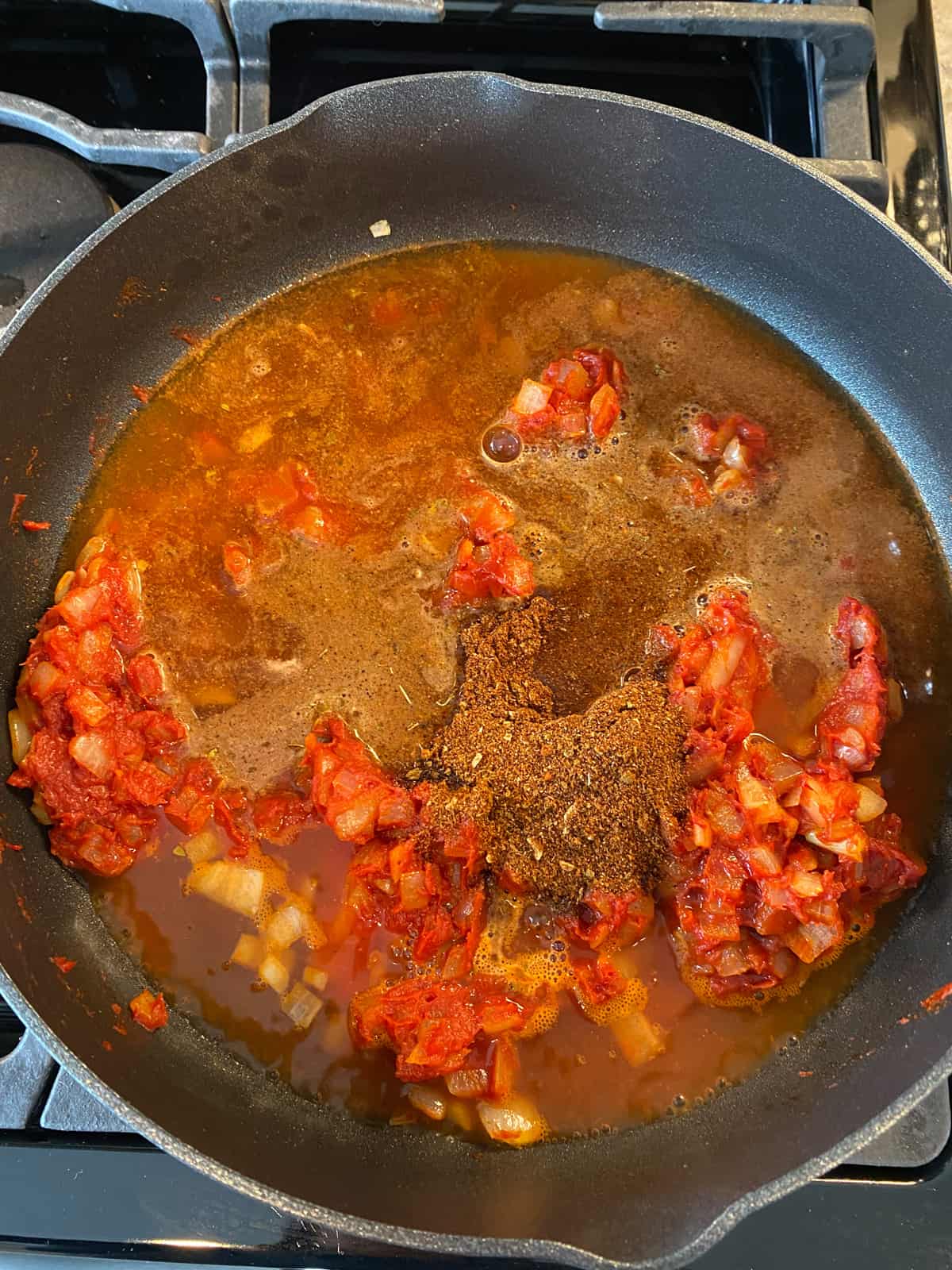 Add the water, seasonings, and vinegar, and stir.
Simmer for a minute until you have a nice thick sauce.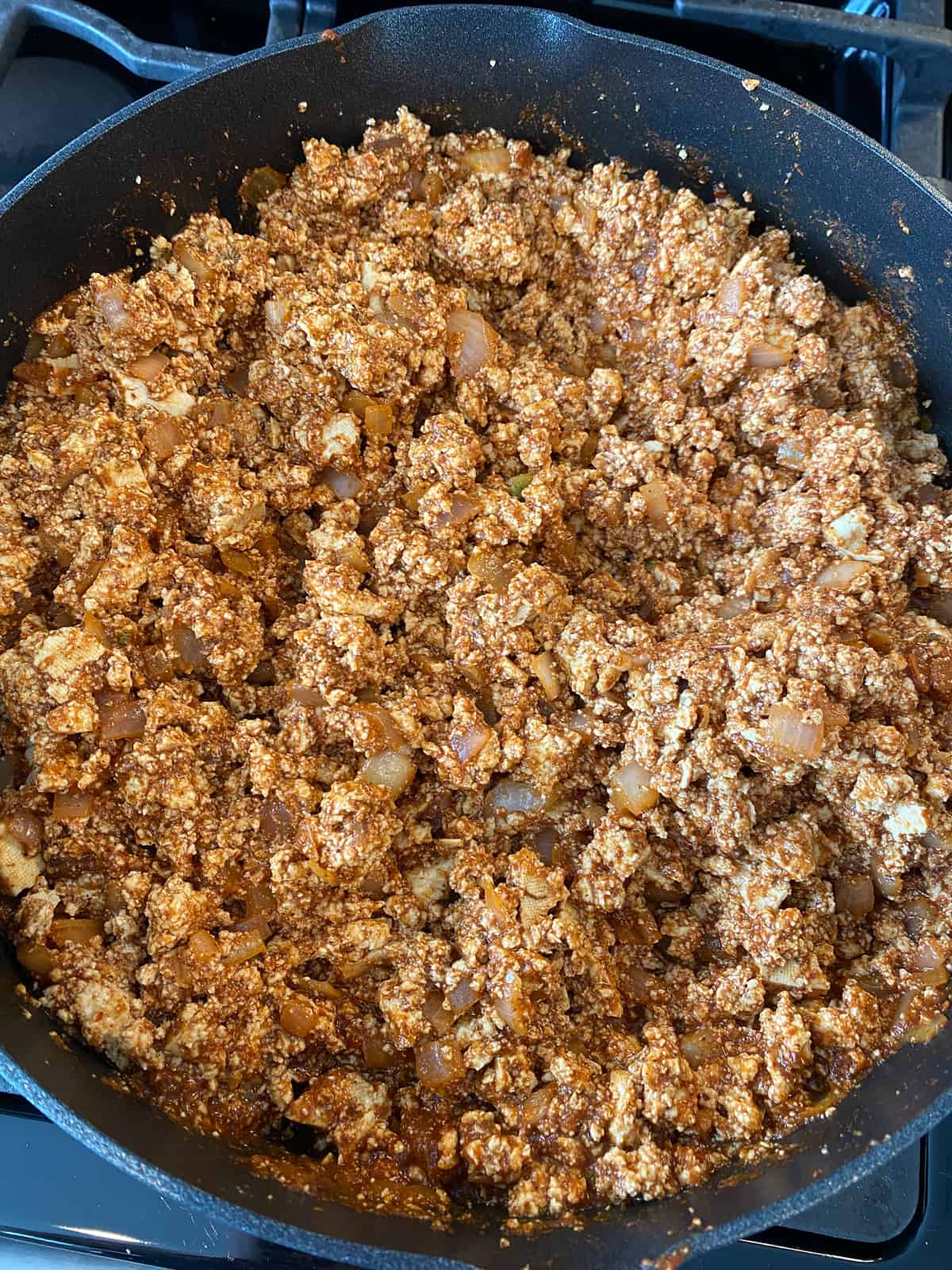 Add the tofu, and stir to combine everything. Continue to cook a few more minutes until hot throughout.
Warm your tortillas in a hot pan over medium, low heat.
Flip after a few minutes, and heat a few minutes more. Remove from heat and repeat with the rest of the tortillas.
Hint: warming the corn tortillas makes them more pliable and elastic so they won't break apart as easily. Corn tortillas are also low in sodium, and gluten free.
Substitutions
We've optimized this taco recipe for heart health. But here are some substitutions (with caveats) you might want to try!
Tortilla - if you prefer flour - or any other - tortillas, go for it; read the labels for sodium levels!
"Meat" - if you don't want to use tofu, feel free to substitute a pound of ground turkey or chicken - watch for sodium and saturated fat content, and make sure to cook raw meat completely.
Taco seasoning - use a commercial taco seasoning. Mrs. Dash has a no added salt one, and there are others on the market as well.
Variations
Our tacos are delicious, with a little kick, but not too spicy, so all your family members and guests can enjoy them. Consider trying some of these variations to suit your tastes.
Spicy - add a half teaspoon of cayenne pepper when you add the taco seasoning, or simply use a spicy salsa or hot sauce on your taco
Deluxe - assemble tacos with lettuce, tomatoes, and olives, along with the recommended toppings
Kid friendly - make a DIY taco buffet and allow kids to put their favorite filling into their tacos
Or try this even faster 5 minute Taco recipe!
Equipment
You won't need too much in the way of equipment for our tofu taco recipe. A simple cutting board and knife, a large skillet, and applicated utensils will do!
Storage
Leftover tofu taco filling can be stored in an airtight container in the refrigerator for up to 5-7 days.
You can also freeze it for up to 6 months. If it seems watery when it thaws, simply sauté it in a skillet until the extra water is cooked off.
Top tip
Choose the firmest tofu you can find for this recipe. I like Trader Joe's Super Firm tofu, because it's already pressed and it has a very meaty texture. I have used varieties of tofu more widely available, however, and they work well also, as long as they are pressed first.
FAQ
How do you press tofu?
If you purchase tofu that is packed in water, you will want to press it first. Here's how:
- Get a plate big enough so that the tofu lies completely flat.
- Line the bottom of the plate with several paper towels to soak up the water, and keep the tofu from sliding around.
- Place the tofu on the paper towels.
- Put another paper towel on top of the tofu, followed by another plate.
- Add something slightly heavy and flat to the top of the plate, making sure the stack is balanced. Note: if the item is too heavy, it will crush your tofu! Something like a skillet or a few cookbooks will work great.
- Allow the tofu to sit for at least 10 minutes. If you want to let it drain longer, put it in the refrigerator for up to overnight (or the whole day while you're at work).
Related
Looking for other recipes like this? Try these:
Pairing
These are my favorite dishes to serve with crumbled tofu tacos:
📖 Recipe
Crumbled Tofu Tacos
Everybody loves tacos! This is a quick and completely plant-based version to add to your weeknight rotation! Easy, fast, heart healthy, and (best of all) 100% delicious!
Servings
5
people (2 Tacos each)
Ingredients
Taco "Meat"
1

tablespoon

Olive Oil

½

Large Onion, chopped

4

tablespoon

No Added Salt Tomato Paste

½

cup

Water

2 ½

tablespoon

No Salt Taco Seasoning

1 ½

tablespoon

Apple Cider Vinegar

16

oz

Firm or Extra Firm Tofu
To Assemble
10

Corn Taco or Fajita Shells

1

cup

Guacamole (or avocado mashed with lime juice)

Pickled Onions

Fresh cilantro, sliced jalapeno, lime wedges, salsa, etc.
Instructions
Make the Tofu Taco Meat
Heat oil in a large skillet, over medium heat.

Add the onion, and saute until translucent.

While the onion is cooking, crumble the drained and pressed tofu. Use your hands to break it up and crumble it into a texture resembling cottage cheese.

Add the tomato paste, and cook for another minute or two, stirring continuously.

Pour water into skillet, along with taco seasoning and apple cider vinegar. Stir to combine into a thick sauce.

Add the crumbled tofu to the skillet, and stir to combine with sauce. Cook for another few minutes, until hot throughout.
Assemble the Tacos!
I recommend a few scoops of taco "meat," a couple tablespoons of guacamole, a few pickled onions, a sprinkling of fresh cilantro, jalapeno slices, and a squeeze of lime. Customize as desired!
Nutrition
Serving:
2
tacos
|
Calories:
305
kcal
|
Carbohydrates:
25.6
g
|
Protein:
10.5
g
|
Fat:
20.1
g
|
Saturated Fat:
3.7
g
|
Polyunsaturated Fat:
5.6
g
|
Monounsaturated Fat:
9.3
g
|
Sodium:
181.3
mg
|
Potassium:
561.8
mg
|
Fiber:
5.6
g
|
Sugar:
3
g
|
Vitamin A:
13.3
IU
|
Vitamin C:
8.2
mg
|
Calcium:
351.8
mg
|
Iron:
6
mg
Food safety
We HATE food poisoning! These are important tips to avoid it!
Cook foods to a minimum temperature of 165 °F (74 °C)
Do not use the same utensils on cooked food, that previously touched raw meat
Wash hands often, before beginning, between tasks, and after touching hair, face, raw meat, etc.
Don't leave food sitting out at room temperature for extended periods
Never leave cooking food unattended