This Autumn-inspired dish is sure to become a crowd favorite, perfect for holiday entertaining or quiet nights in! Sage Pesto with Pepitas brings all the Fall flavors that compliment a holiday feast, and what could be more seasonal than acorn squash, roasted to nutty, caramelly perfection?!
This recipe is all about Fall. The pesto sauce is a fun and unique take on seasonal flavors, and using the pepitas (AKA pumpkin seeds!) allows us to make a nut free pesto. And it elevates simple roasted acorn squash to new heights.
And if you love pesto as much as I do, be sure to try Arugula Pistachio Pesto, too! It's perfect with roasted parsnips.
Jump to:
Ingredients
Each ingredient in this pumpkin seed pesto plays a unique role, contributing to the final taste and texture. They work together to create a sauce that's dynamic and rich – a flavor-enhancer that can take your everyday dishes to a new level.
Sage: A pungent herb that lends a savory depth.
Parsley: Adds a vibrant color and balances out sage's strong flavor.
Garlic: For that pungent and spicy kick.
Pepitas: Pumpkin seeds which bring a unique nutty flavor and crunchy texture.
Lemon Juice: Brightens the flavors lending a touch of acidity.
Miso Paste: Intensifies the umami flavor in the pesto.
Olive Oil: Binds the ingredients together and boosts the pesto's creaminess.
Acorn Squash: The perfect, creamy, nutty accompaniment for our delicious pesto
See recipe card for quantities.
Instructions
Creating sage pesto with pepitas is a straightforward process; even novices in the kitchen can perfect this recipe with a little practice. Here's what you need to do:
Prepare your acorn squash. Wash it first to remove any dirt or debris. Carefully slice a bit off the top (stem end) of the squash. This creates a nice flat surface for safe cutting.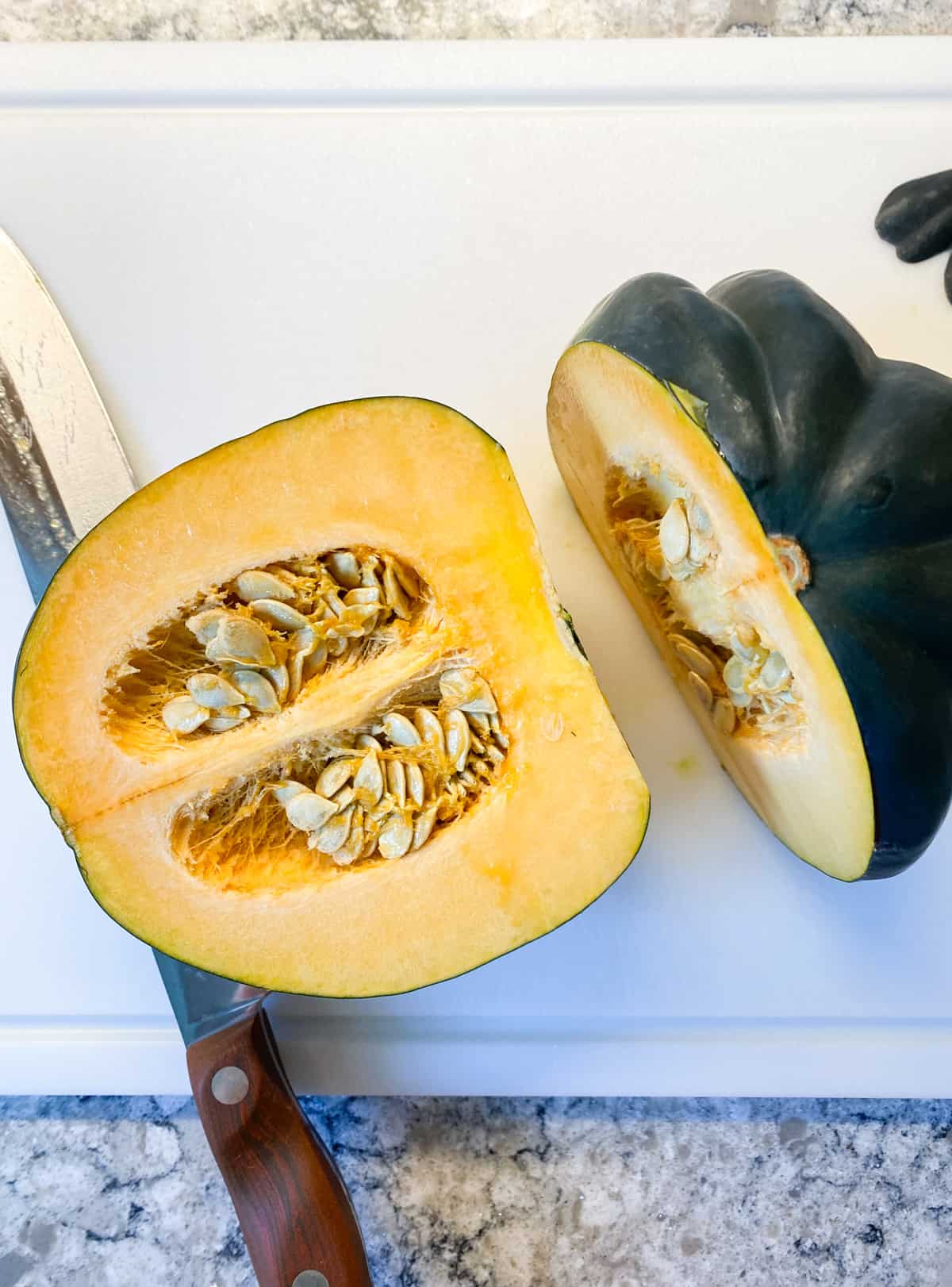 Turn the squash upside down, with the flat side on the cutting board, and use a large knife to cut in half.
Scoop out the seeds with a spoon. Either discard them, or save for later roasting.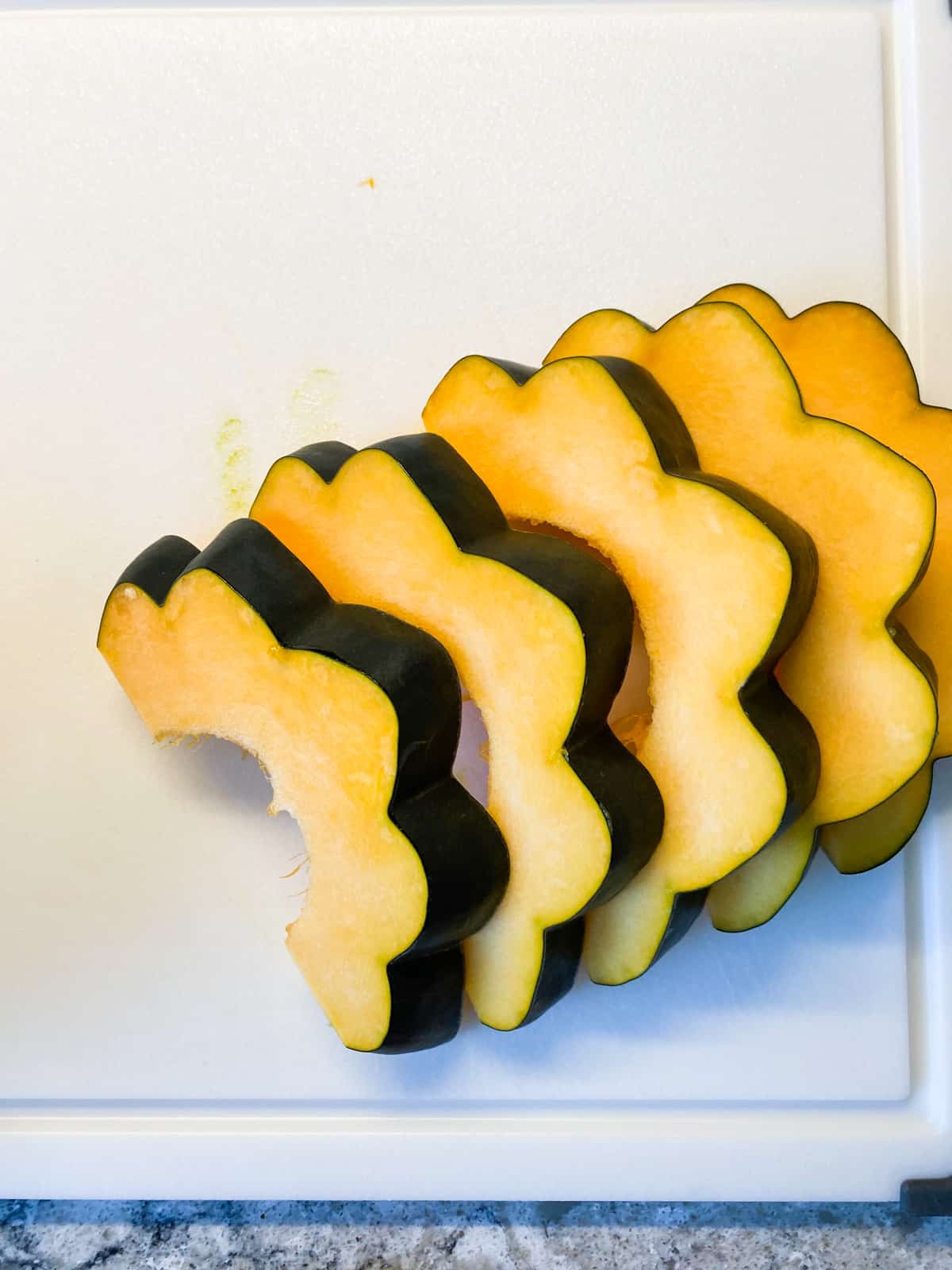 Lay the squash halves on the cutting board so the skin side is up, and slice the squash into ¼ - ½ inch slices.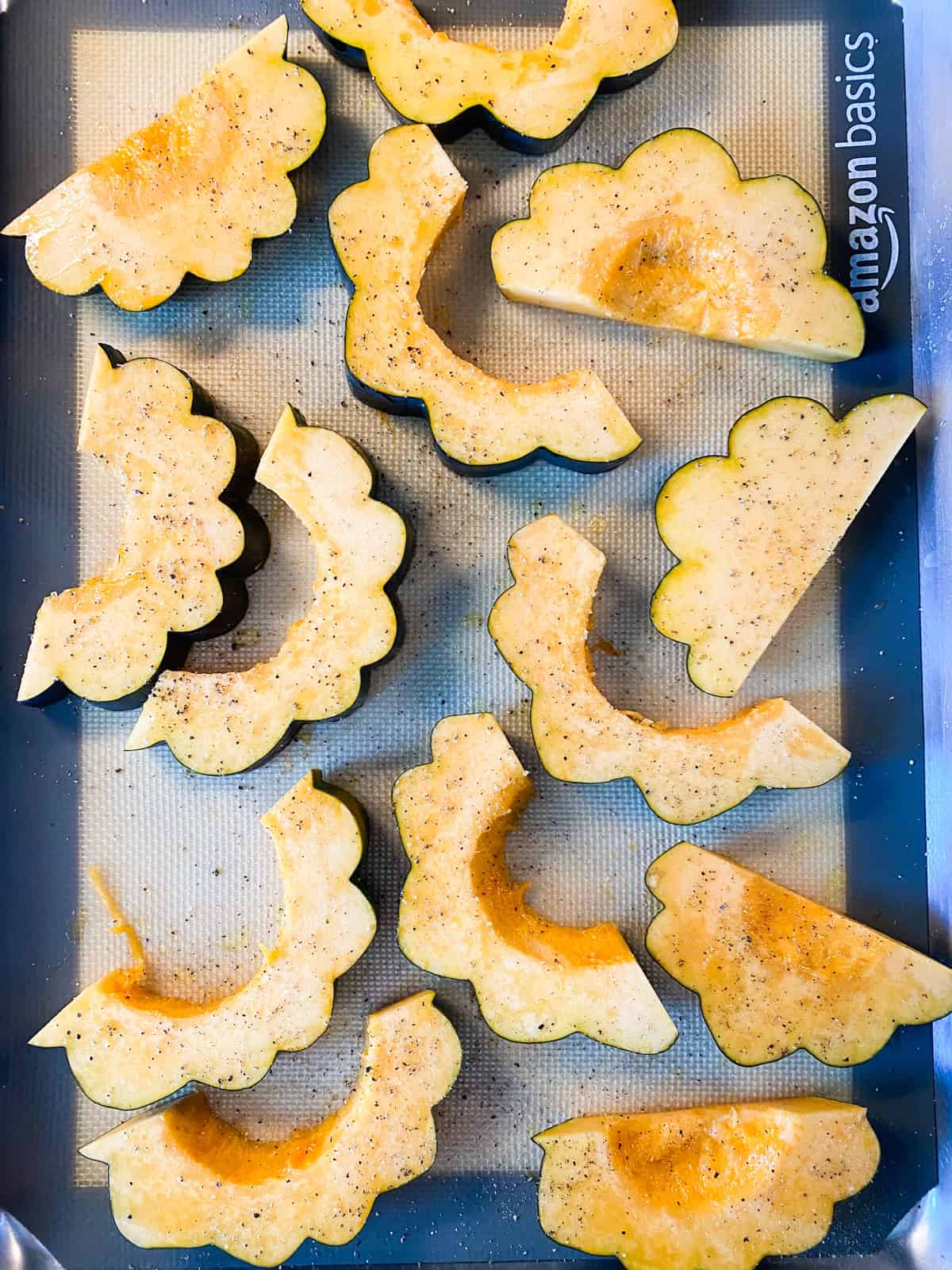 Toss or spray with olive oil, and sprinkle with ground pepper.
Bake until soft and starting to brown, about 35-45 minutes.
Meanwhile, combine all the pumpkin seed pesto ingredients into a food processor, except the olive oil.
Process on high, slowly drizzling the oil into the food processor until the ingredients are completely ground, and the consistency you like. You may not use all the oil.
Hint: While optional, toasting your pepitas adds a crunchier texture, and nuttier, toasty flavor to the finished sage pesto.
Variations
One of the beautiful aspects of this pepita pesto is its versatility. It may have been created with roasted acorn squash in mind, but its rich, complex flavor profile aligns perfectly with a myriad of dishes.
Baked Tofu - Marinade tofu in a mixture of soy sauce, garlic, ginger, and a tablespoon of sage pesto before baking it. Once baked, slice and drizzle additional pesto on top for a savory, protein-packed entrée.
Pasta - The classic use for pesto. Toss cooked penne or rotini pasta in the sage pesto, ensuring every piece is well coated. Add a handful of toasted pepitas for an extra crunch and serve with a sprinkle of parmesan or fried sage leaves.
Chicken: Marinate chicken breasts in sage pesto and bake them until they're tender and juicy. The bold flavors of the pesto soak into the chicken, leaving you with an impressively flavored dish.
The creativity doesn't stop there, though; be sure to explore and experiment. You'll be pleasantly surprised at how well this pesto can accentuate the flavors of different dishes.
Equipment
To create this unique sage pesto with pepitas, there are a few key tools you'll need on hand—all standard items for the adventurous home cook. I'm talking about the workhorse that is the food processor, a citrus squeezer for extracting all of that zesty lemon goodness, a versatile rubber spatula, and a sturdy cutting board with a sharp knife.
My top recommendation for a home food processor is the Hamilton Beach 12-Cup Stack & Snap Food Processor (affiliate link). It's relatively low cost, powerful, easy to clean, and perfect for making a smooth, well-integrated pesto. Plus, its large capacity means you can double or even triple the recipe if needed.
I really like this citrus squeezer (affiliate link), but you can use any juicer or press you have. If you don't have any of those, you can use a beater for a hand mixer, or even a simple fork to help you extract the lemon juice. And yep, bottled lemon juice will work great, too!
Storage
You can store the remaining pesto in an airtight container in the refrigerator for up to a week. For a longer storage period, you can distribute the pesto into an ice cube tray, freeze it, and use individual portions when needed.
Top tip
Always give your pesto a quick taste after you've made it. You can then add ingredients to your taste: add more lemon juice for a little more tang, more miso paste for extra saltiness and umami, or even some extra sage or parsley if you feel it needs it.
FAQ
Can I substitute other nuts for the pepitas in this recipe?
Absolutely! While pepitas contribute a unique flavor to the sage pesto, feel free to use other nuts like almonds, walnuts, or pine nuts based on your preference. Pecans would go fabulous with the sage, too!
Is it necessary to use a food processor for making the pesto?
Mostly yes. The food processor enables all the ingredients to blend smoothly creating the perfect texture for the pesto. A blender could work as an alternative, but it might not give you the coarse texture that a food processor would.
What other dishes can I use sage pesto with pepitas for?
Beyond the suggested roasted acorn squash, baked tofu, pasta, and chicken, you could also try it on a grilled cheese sandwich, stuffed into bell peppers, or mix with some hummus as a dip for a vegetable platter. The possibilities are only limited by your creativity!
Related
Looking for other recipes like this? Try these:
Pairing
These are my favorite dishes to serve with [this recipe]:
Want to say thank you?
📖 Recipe
Sage Pesto with Pepitas on Roasted Acorn Squash
Sage Pesto with Pepitas brings all the Fall flavors that compliment seasonal meals, and what could be more perfect than acorn squash, roasted to nutty, caramelly nirvana?!
Ingredients
2

medium sized Acorn Squash

Cooking Spray

Ground Pepper

to taste

1

cup

Fresh Sage

1

cup

Fresh Parsley

½

cup

Toasted Pepitas

1

Lemon

juiced

3

tablespoon

White Miso Paste

½

cup

Olive Oil
Instructions
Preheat oven to 400° F.

Prepare the squash by first rinsing them to remove any dirt. Then slice off a small bit of the stem end of each squash, creating a flat surface for safety when cutting.

Turn the squash with the flat side down on the cutting board, and cut in half.

Remove the seeds with a spoon, discarding them, or saving them to roast later.

Place the squash halves skin side up on the cutting board, and slice into about ½ inch slices.

Move to a lined baking sheet (you may need 2), and brush with olive oil, or spray with cooking spray, on both sides. Sprinkle with ground pepper.

Bake for 35-45 minutes, until the squash is very soft and beginning to brown.

Meanwhile, make the pesto by combining the sage, parsley, pepitas, lemon juice and miso paste in a food processor.

Turn the processor on high, and slowly drizzle in the olive oil, until you reach a consistency that you like. You may not use all the oil. You will need about ⅓ cup of the pesto for the squash.

When the squash is baked, remove from the oven, and serve immediately, with pesto on the side - about 1 Tablespoon per serving of squash.
Nutrition
Calories:
147
kcal
|
Carbohydrates:
17
g
|
Protein:
3
g
|
Fat:
9
g
|
Saturated Fat:
1
g
|
Polyunsaturated Fat:
2
g
|
Monounsaturated Fat:
6
g
|
Sodium:
109
mg
|
Potassium:
557
mg
|
Fiber:
3.2
g
|
Sugar:
0.7
g
|
Vitamin A:
142
IU
|
Vitamin C:
22
mg
|
Calcium:
60
mg
|
Iron:
1.9
mg
Food safety
Safety is our top priority in the kitchen! Always keep these tips in mind.
Cook to a minimum temperature of 165 °F (74 °C)
Do not use the same utensils on cooked food, that previously touched raw meat
Wash hands before touching food, and after touching raw meat, your hair, face, pets, etc.
Don't leave food sitting out at room temperature for longer than 2 hours (or 1 hour if the weather is hot)
Never leave cooking food unattended
Always have good ventilation when using a gas stove
See more guidelines at USDA.gov.
As an Amazon Associate I earn from qualifying purchases. Your purchase helps me keep the lights on, at no additional cost to you! I never recommend products that I don't personally use and love. Thanks for your support!