These strawberry muffins with yogurt are lightly, but perfectly sweet, allowing the strawberries really shine. We're leaving out oil and butter completely, too, thanks to a secret baking ingredient - yogurt! You'll never taste it, but it's a great substitute for oil and eggs here!
Pssst! Don't forget to stop by the end of this post and grab my free list of more heart health baking substitutions!
This post is sponsored by Forager Project Cashewmilk Yogurt. I have been provided free product in exchange for my honest opinions. All opinions expressed, as well as the recipe Strawberry Cardamom Muffins, are my own.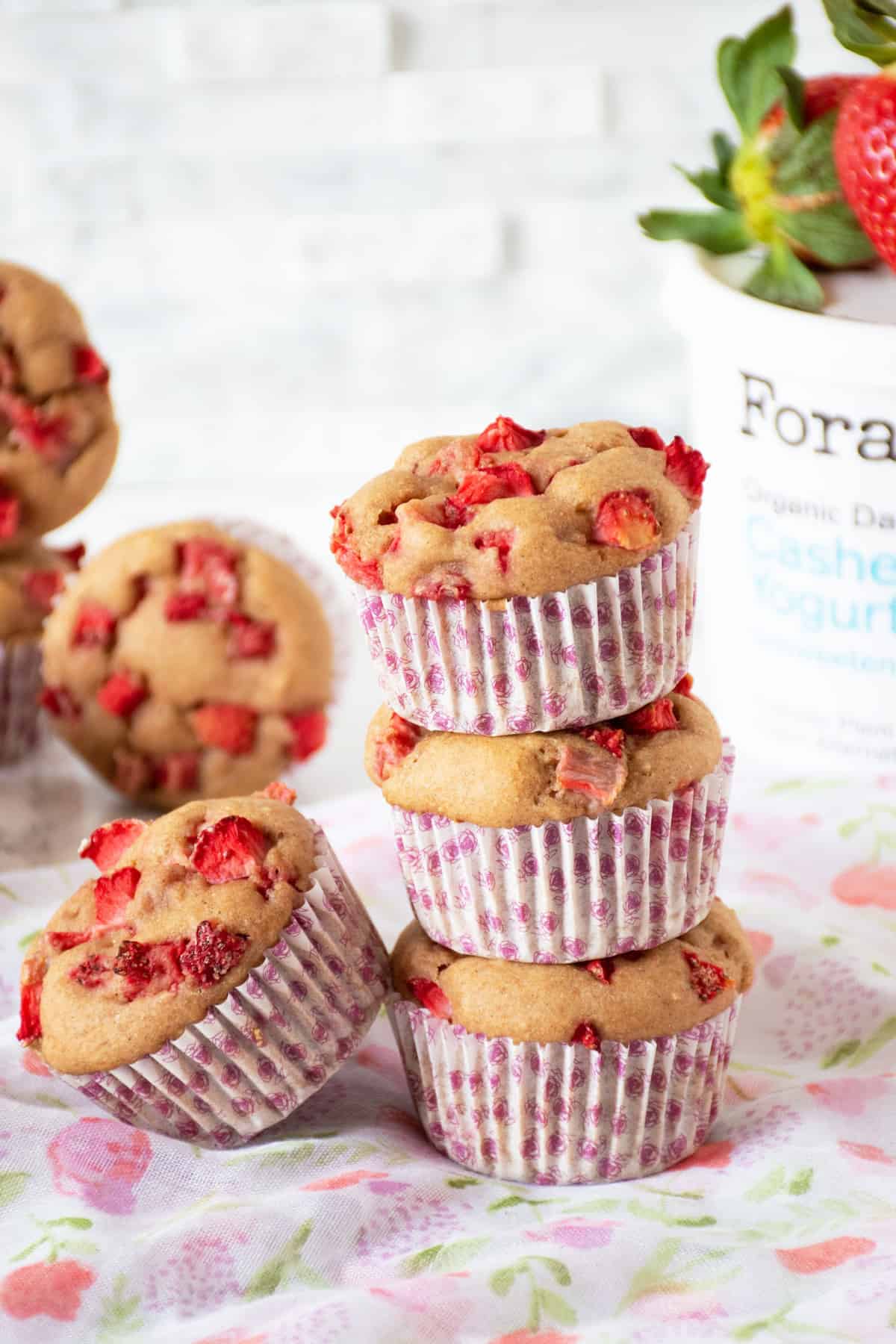 These strawberry whole wheat muffins are healthier then typical muffins, and certainly healthier than cupcakes. But let me say, right here and now, that these are still treats to be eaten sparingly. We all need a treat once in a while! And why not have one that isn't completely devoid of nutrition?
I made these muffins heart-healthier by first swapping out refined white flour for whole wheat pastry flour. Sometimes whole wheat flour baked good can be dry, but using whole wheat pastry flour keeps them light and fluffy!
As I mentioned, I used yogurt instead of eggs and oil. Not only was that a great oil and egg replacer, but it kept the end product moist and delicious! I used Forager Project Unsweetened Cashewmilk Yogurt. I highly recommend it! Forager Project is making it easier than ever to eat more plants! They know that diets rich in plants have been shown to reduce the risk of developing cardiovascular disease, and can help lower cholesterol, blood pressure, and reduce inflammation. Check out this store locator to find Forager Project products near you!
I opted to use honey in this recipe instead of plain sugar. Honestly, there's not a lot of nutritional difference between the two. Honey does have a bit more nutrition, but you shouldn't be eating enough of it to matter. It's still an added sugar. I chose honey because I like the taste. If you are vegan, or prefer not to use honey for whatever reason, you can use regular sugar or maple syrup. Maple syrup will change the taste of your muffins.
On the other hand, these muffins do have a good bit of vitamin C (because of the strawberries) and 12% of your daily fiber. Not bad for a treat, huh?
You might like to check out some other healthier muffin recipes, too, like Peanut Butter Banana Mini Muffins, and Whole Wheat Carrot Turmeric Muffins.
Jump to:
Ingredients
Baking from scratch doesn't have to be hard or include tons of different ingredients. We're using just a handful of ingredients, most of which are pantry ingredients, anyway.
Whole Wheat Pastry Flour
Baking Powder
Cardamom
Cashewmilk Yogurt
Honey
Unsweetened Almond Milk
Vanilla Extract
Fresh Strawberries
See recipe card for quantities.
Instructions
To make fresh strawberry muffins, start by finding the reddest, freshest strawberries you can. Prepare your muffin tin by lining it with muffin cups, or spraying with non-stick cooking spray.
Dice up your strawberries into small pieces - remember they are going into muffins, so you don't want huge chunks!
Toss the strawberries with a little flour, and set aside.
Combine all the dry ingredients in a large bowl.
In a smaller bowl, combine all the wet ingredients, and whisk.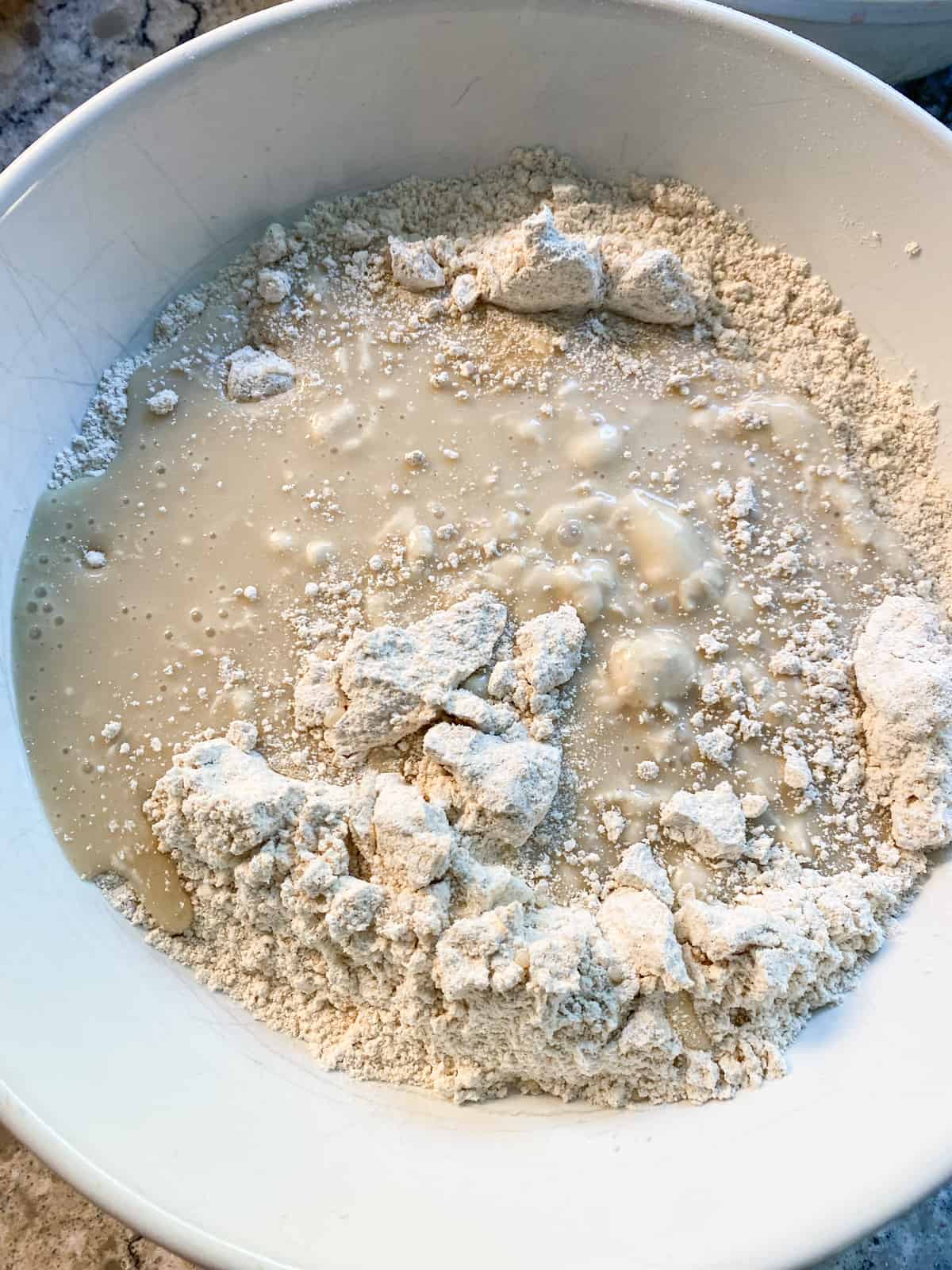 Pour the wet ingredients into the dry ingredients.
Stir into a batter, until just combined.
Dump the strawberries into the batter.
Gently fold the strawberries into the batter.
Scoop the batter into a prepared muffin pan, filling the cups about ¾ to ⅞ full.
Bake the muffins until a toothpick inserted into the center of a muffin comes out clean.
Hint: to fold something into a batter means to gently mix with big sweeping motions - we're not beating the batter here!
Substitutions
In baking you generally don't want to deviate wildly from the recipe unless you really know what you're doing. Here are some substitutions that do work here.
Yogurt - use any unsweetened yogurt you like, but you might want to avoid very thick varieties like Greek yogurt and Skyr.
Milk - use unsweetened soymilk, cashewmilk, cow's milk, or any other dairy or non-dairy beverage you prefer. They'll all work in this recipe!
Sweetener - other options are table sugar, maple syrup, coconut sugar, etc.
This recipe has not been tested with gluten free flour options, so I can't say how they would turn out if you decide to try it.
Variations
These fresh strawberry muffins are so delicious the way they are. But you might like these other variations as well!
Blueberry - use 2 cups of fresh or frozen blueberries instead of strawberries to make blueberry cardamom muffins
Floral - add a teaspoon or two of rose water to the batter for a light floral taste
Equipment
For these strawberry whole wheat muffins, you will need these items:
Measuring cups and measuring spoons
Mixing bowls and spoons
Whisk
Cutting board and knife
Muffin pan and muffin cups
Large spoon or scoop
Storage
Cool the the whole wheat strawberry muffins completely, then store in an airtight container on the counter for up for 4 days.
These muffins can be frozen for up to 6 months. Thaw overnight in the refrigerator.
Top tip
It's important to only bake these muffins until the toothpick comes out of the center clean, and no longer. The muffins will start to get tough if they are overbaked.
FAQ
Why are my muffins sticking to the paper cups?
Because these muffins are more delicate and very low fat, they have a tendency to stick more to the wrappers. If that bothers you, lightly spray the inside of the wrappers with nonstick cooking spray before filling them with batter.
Why do you coat the strawberries with flour?
Coating the strawberries with a little flour before adding them to the batter prevents them from sinking to the bottom of the muffin during baking. You can skip that step if you want, but your strawberries won't be evenly distributed through your muffins.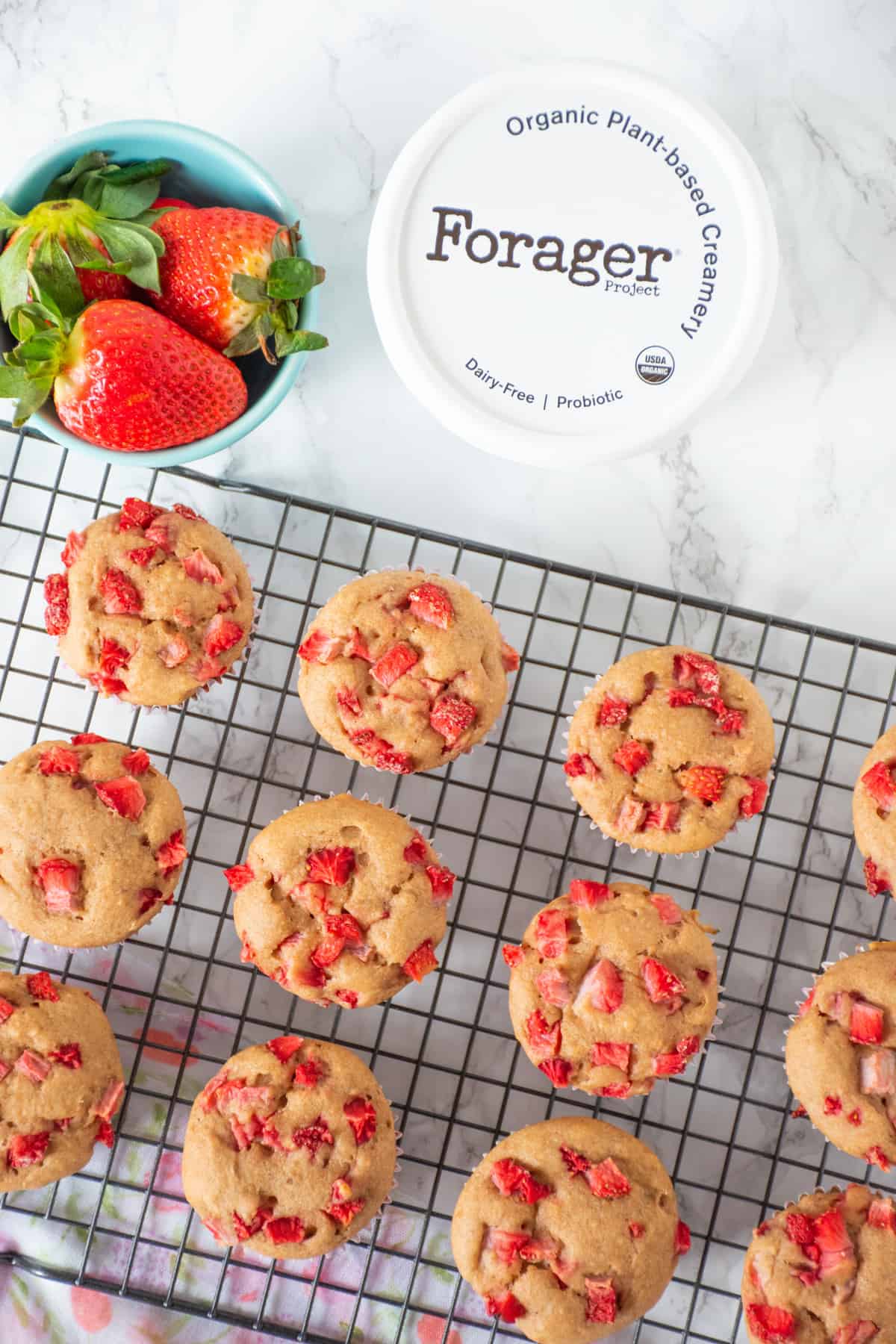 Heart Healthy Baking Substitutes
Baking can be tricky to make healthy! If you're looking for more tips, make sure to get my list of Heart Healthy Baking Substitutes:
Related
Looking for other healthier baked goods? Try these:
Pairing
These are my favorite dishes to serve with Strawberry Muffins with Yogurt (they're great with breakfast, lunch, dinner, or for snacks!):
📖 Recipe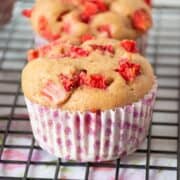 Strawberry Cardamom Muffins with Yogurt
These delicious muffins are made with whole grains, delicious spice, honey, and fresh strawberries for a healthier version of your favorite snack!
Ingredients
2

cups

+ 2 teaspoons Whole Wheat Pastry Flour

2

teaspoon

Baking Powder

2

teaspoon

Ground Cardamom

1

cup

Forager Project Unsweetened Cashewmilk Yogurt

½

cup

Honey

½

cup

Unsweetened Almond Milk

1 ½

teaspoon

Vanilla Extract

1

Pint

Fresh Strawberries

diced
Instructions
Preheat oven to 370 degrees F.

Prepare muffin tin by lining with muffin cups, or greasing.

In a large bowl, combine flour, baking powder, and cardamom.

In a separate bowl, mix yogurt, honey, vanilla, and almond milk.

Pour the yogurt mixture into the flour mixture, and mix until just combined.

Toss the diced strawberries with 2 teaspoons of flour.

Gently fold strawberries into the batter.

Spoon batter into the muffin cups, filling almost to the top.

Bake for 25-30 minutes, until a toothpick inserted into the center of a muffin comes out clean.

Allow the muffins to cool in the pan for about 10 minutes, then remove to a wire cooling rack.

Cool completely before eating, if you can wait that long!
Nutrition Facts
Strawberry Cardamom Muffins with Yogurt
Amount Per Serving (1 muffin)
Calories 140
Calories from Fat 14
% Daily Value*
Fat 1.6g2%
Sodium 11.2mg0%
Potassium 305.6mg9%
Carbohydrates 30.6g10%
Protein 3.4g7%
Vitamin A 5IU0%
Vitamin C 17.6mg21%
Calcium 110mg11%
Iron 1.1mg6%
* Percent Daily Values are based on a 2000 calorie diet.
Food safety
These are important safety tips for strawberry muffins with yogurt:
Wash hands before beginning, whenever they are soiled, and after touching face, hair, pets, etc.
Cook foods completely through
Do not taste the raw batter. Even without raw eggs in it, raw flour is not a ready-to-eat product and can harbor illness-causing bacteria.
Never leave cooking food unattended