These little roasted honeynut squash are so cute, perfectly portioned, and practically begging to be stuffed with this amazing Cranberry Wild Rice Pilaf. Honeynut squash is so sweet, and pairs wonderfully with nutty and aromatic cranberry rice pilaf. Or make either one on its own for simple side dishes for any Fall meal.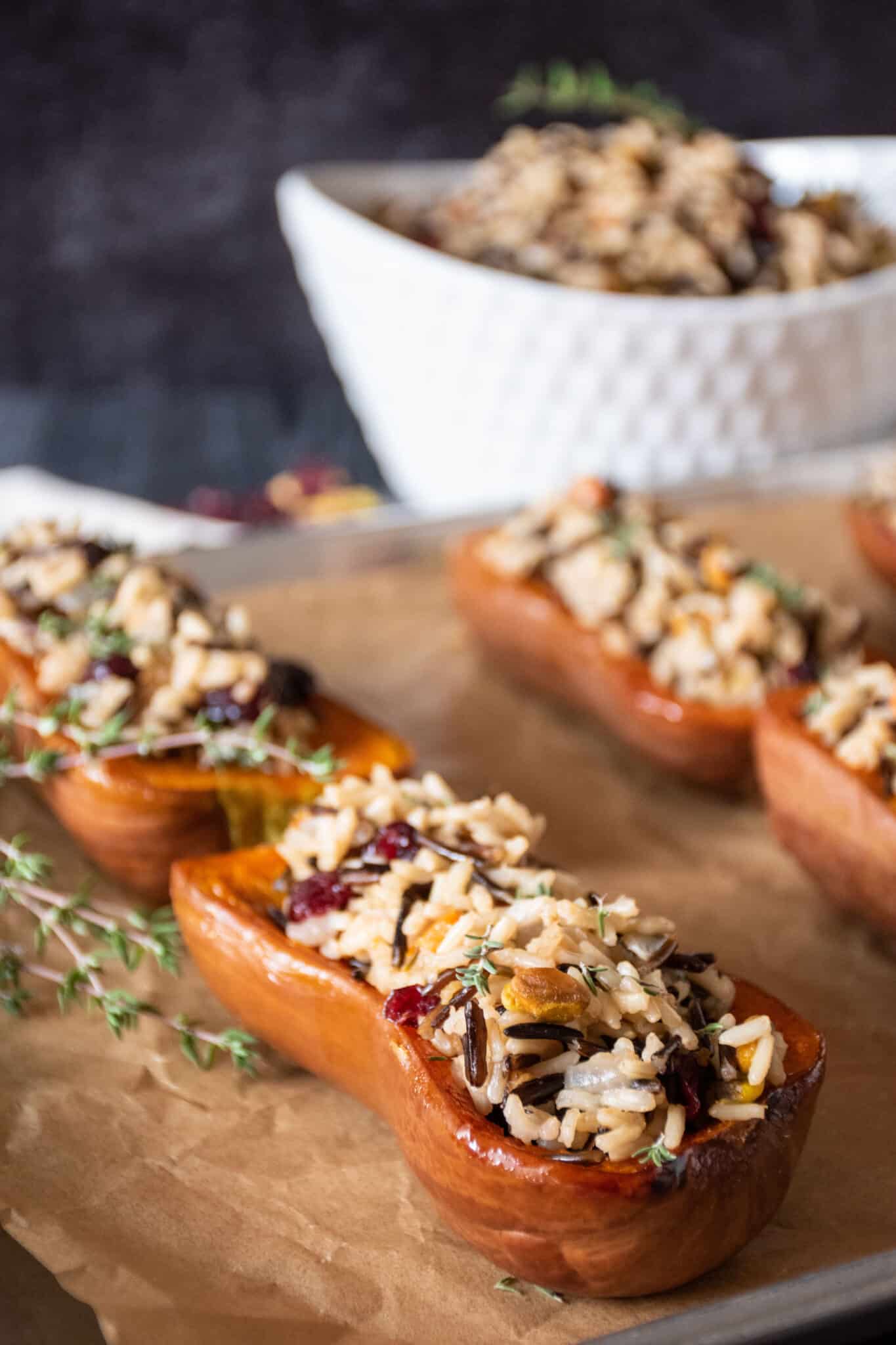 What does honeynut squash taste like and is it healthy?
Oh boy are you in for a treat with these babies! Honeynut squash may look like miniature butternut squash, but the flavor is amplified! The flesh is more orange - more like that of a sweet potato, and the honeynut squash is even sweeter.
I suppose that's why they named it HONEYnut. And when you roast it up, like in this recipe, it takes on a caramelly warmth that is practically irresistible!
In terms of healthfulness, it's along the lines of a butternut squash, but BETTER! The honeynut contains more beta carotene than butternut - about twice the amount. Plus, it's a good source of B vitamins, and fiber, and even has some calcium, iron, potassium, and zinc! Impressive for such a cutie, and an excellent addition to your heart healthy diet!
How to cook honeynut squash
Honeynut squash is easy to prepare. First, cut it in half lengthwise and remove the seeds. You can toss them, or save them and roast them like pumpkin seeds (just roast for less time because they are smaller)!
Then, just cook the honeynut squash just like you would any other squash. If you cook it whole, like in this stuffed honeynut squash recipe, it will take less time than, say, butternut squash, because it's much smaller.
And do you need to peel honeynut squash? Some people say the peel is perfectly edible, but I prefer not to eat it. And while you can peel it, I like to just cook it right in the peel, which makes a nice little "bowl" to eat it out of when it's done!
Of course stuffed honeynut squash is delicious! The variety of textures and flavors are amazing. The gluten free wild rice pilaf recipe is the perfect savory and nutty complement to the sweet squash. But honeynut squash is delicious all on it's own with a little sprinkle of salt and pepper! Or cinnamon!
Or try pureeing it up and using it instead of mashed potatoes. No butter or milk needed for that!
Here are the best cooking methods to use for honeynut squash:
Roasting whole at 400 degrees F for about 40 minutes
Roasting in cubes (peel, dice large, oil, roast) at 400 degrees F for about 25 minutes
Boiled (peel, dice large, cover with water, simmer until soft) for about 10 minutes
FAQs and Substitutions
Where can I get honeynut squash?
I get mine at Trader Joe's. I know they are also carried at Whole Foods, and many local farmer's markets also have them. They've become more popular in recent years.
Can I use another type of squash if I can't find honeynut?
Yes, any type of winter squash will do. Your roasting time may vary, and the amount of stuffing you use will of course be different, but other types of squash would be delicious with the stuffing too!
Should I use sweetened or unsweetened cranberries?
This is one of the very few times I'll honestly recommend using sweetened. Unless you really love unsweetened cranberries, pick what you're going to enjoy eating, and watch your added sugar intake elsewhere. 🙂
Here are some other Autumn inspired dishes that would go great with this recipe:
If you try Roasted Honeynut Squash Stuffed with Cranberry Wild Rice Pilaf, let me know how you like it in the comments!
📖 Recipe
Honeynut Squash Stuffed with Cranberry Wild Rice Pilaf
These little honeynut squash are so cute, perfectly portioned, and practically begging to be stuffed with this amazing Cranberry Wild Rice Pilaf. Whether for a holiday, or any day, your taste buds will sing for more.
Ingredients
4

Honeynut Squash

halved lengthwise, seeds removed

1

cup

Apple Cider

1

cup

Water

½

cup

Wild Rice

4

Sprigs of Thyme,

divided

2

teaspoon

Olive Oil

½

medium Onion,

chopped

1

small Carrot,

chopped

¾

cup

Brown Rice

1 ½

cup

Homemade Vegetable Broth

⅓

cup

Dried Cranberries

⅓

cup

Toasted Pistachios,

no salt added, roughly chopped

Salt and Pepper to taste
Instructions
Preheat oven to 400° F.

Place squash halves, cut side down, on a lined baking sheet, and bake for 40-45 minutes, until very soft.

Meanwhile, combine apple cider, water, wild rice, and 2 thyme sprigs in a pot, and bring to a boil. Reduce heat to medium-low, and continue to simmer for about 35 minutes, until the rice is soft. Drain, but don't rinse.

In another pot, heat oil over medium heat, and add the onion and carrot and 2 remaining thyme sprigs. Saute for about 5 minutes, until starting to soften.

Add the brown rice, stir, and saute another minute more.

Pour in the vegetable broth, bring to a boil, then reduce heat to low and simmer for 45 minutes, or until the rice is done (read the package instructions - mine cooks in just 20 minutes).

When both rices are done, combine the drained wild rice with the brown rice/vegetable mixture, and add the dried cranberries and pistachios. As you stir, find and remove the 4 sprigs of thyme (which will now have no leaves on them).

Taste the pilaf, and add freshly ground pepper to taste, and a little salt only if needed.
To serve:
Gently flip over the squash halves, using a pancake turner if needed.

Fill the hole in each squash with the pilaf, and continue to mound it over the top.

Serve hot, sprinkled with additional fresh thyme leaves, if desired.
Nutrition Facts
Honeynut Squash Stuffed with Cranberry Wild Rice Pilaf
Amount Per Serving
Calories 243
Calories from Fat 39
% Daily Value*
Fat 4.3g7%
Sodium 20.6mg1%
Potassium 687.7mg20%
Carbohydrates 49.4g16%
Protein 5.4g11%
Vitamin A 799IU16%
Vitamin C 31.3mg38%
Calcium 86.5mg9%
Iron 1.8mg10%
* Percent Daily Values are based on a 2000 calorie diet.