This. Is. It. The last cereal bar recipe you'll ever need! These Peanut Butter Cereal Bars are perfectly sweet without any added sugar, gooey and sticky and peanut buttery, and even a bit crunchy. Not to mention they're incredibly easy and use only pantry ingredients you almost definitely have - but can substitute if not!
Ingredients, Tips, & Substitutions
Raisins
This is where the natural sweetness comes from in this recipe. Raisins are high in fiber with tons of antioxidants, and even have a bit of iron and calcium.
If you don't have raisins, you can use almost any other dried fruit you have, provided it's sticky on the inside - dates, apricots, prunes, cranberries, etc. would all be great! Dried pineapple, for example, would probably not work as well.
Peanut Butter
I love peanut butter for a variety of reasons. In this recipe it not only is amazingly delicious, but acts like a glue (along with the raisins), to hold the bars together. Peanut butter is a good source of healthy fats and protein, so opt for regular peanut butter and never low fat (when the fat is removed it's often replaced with sugar for only a minimal calorie reduction!).
If you like another nut or seed butter, use that instead. Almond butter, cashew butter, soynut butter, sunflower butter... any and all will be phenomenal.
Cheerios
Who doesn't love Cheerios? Delicious, whole grain, mildly sweet, yet low in overall sugar, they are the perfect cereal to use. Any variety you have will work (I used Multigrain Cheerios because that's what I had)! Just know that if you use a variety other than regular, you may end up with more added sugar.
Other cereals will work too if you don't have Cheerios! Rice Krispies, Chex, and a wide variety of other cereals are good choices. Try to keep it on the lower end of added sugar if you can, but use what you have!
Mixed Nuts
Nuts are a fantastic choice for heart health! So many healthy fats, fiber, protein, and vitamins and minerals! I love mixed nuts because then I don't have to choose just one! Look for unsalted if you can find them - I get giant tubs at Costco! For this recipe, it doesn't matter if they're roasted or not. You choose!
If you don't have mixed nuts, use any nut you have. Walnuts, cashews, peanuts... they all work. If you are allergic to nuts, or just don't have any, seeds are good options, too. Sunflower seeds would be great. I'd just caution against using very small seeds like Chia or Flax. If you use those, you'll likely have to cut the amount you use. I've not tried it, though, so I can't recommend an amount. If you try it, let me know what proportions you use and how it works!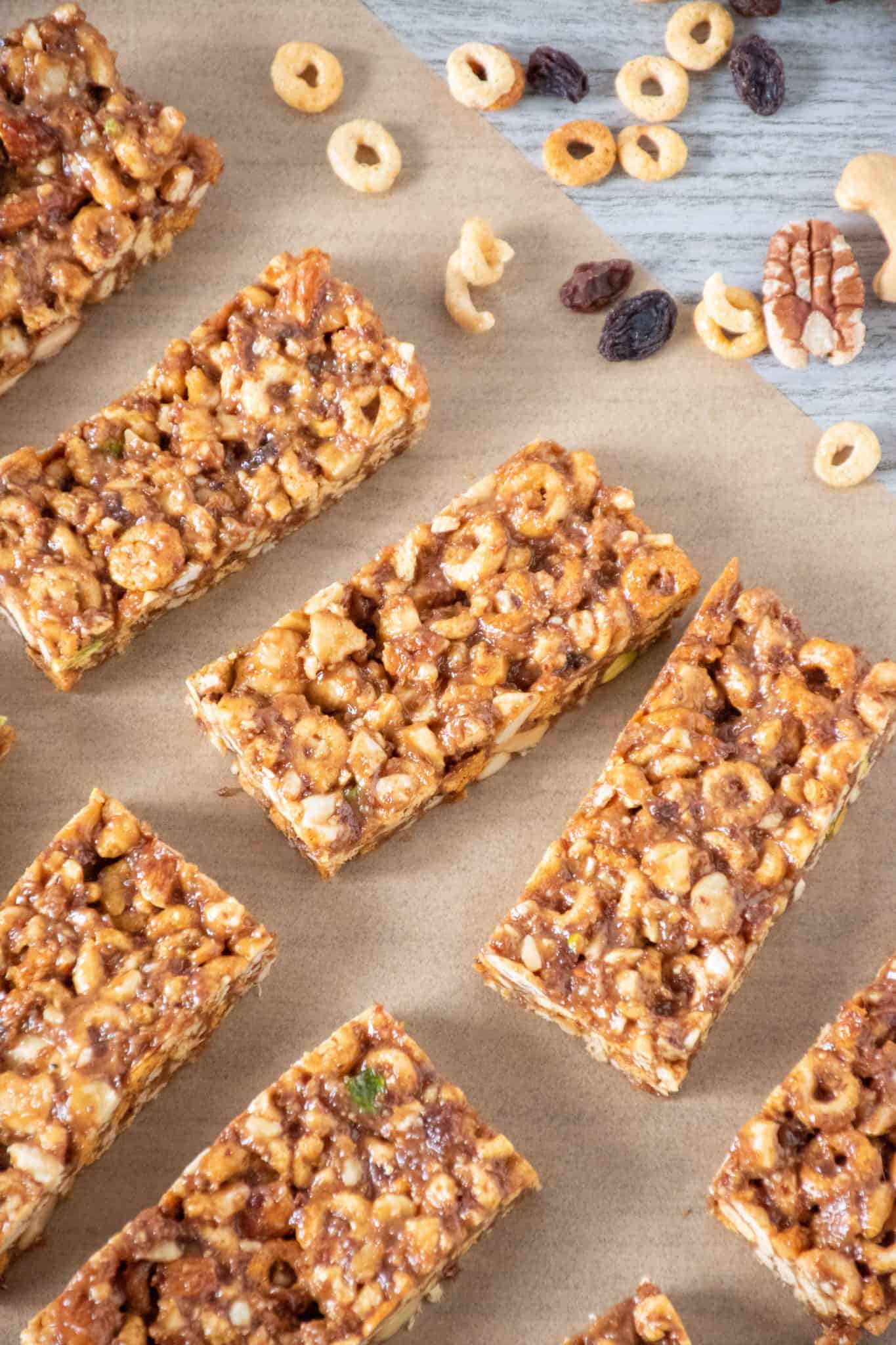 How to make these cereal bars
You will love how uncomplicated these are!
First, you'll want to soak your raisins in some warm water for at least 20 minutes. They will plump up and this will make them easier to blend into the peanut butter. When you drain them, save the liquid in case you need it during blending. Dump the drained raisins in your blender.
Now the peanut butter. This will work best if you warm your peanut butter in the microwave for a bit so it's more liquidy. Into the blender it goes with the raisins. Now blend on high until you get a thick paste. If you need to add some liquid, add the raisin water, a little at a time. You still want it to be really thick!
In a separate bowl, combine the Cheerios and nuts. Pour the raisin-peanut butter paste into the bowl, and mix everything really well.
Turn the mixture out into an 8x8 in pan, or similar size, lined with waxed paper. Press the whole mixture down firmly, using the back of a spoon or your hand, if necessary.
Pop the pan in the freezer for an hour before trying to slice into bars. This makes 14 bars. Once you cut them, you can store them in the refrigerator up to a few days.
My kids have been begging for these Peanut Butter Cereal Bars lately, and they want to eat them all the time! If you try this recipe, leave me a comment and let me know how you like them!
📖 Recipe
Peanut Butter Cereal Bars
These cereal bars use just four pantry ingredients, but are so sweet and gooey! Completely customizable to what you have in your cupboard, these are a must-make!
Total Time
1
hour
25
minutes
Ingredients
1

cup

Raisins

soaked in warm water for at least 20 minutes

½

cup

Peanut Butter

2

cups

Cheerios or other cereal of choice

1

cup

Mixed Nuts

unsalted, chopped
Instructions
Line an 8x8 inch, or similar sized pan, with waxed paper or parchment.

Drain the raisins, reserving the soaking liquid. Warm the peanut butter in the microwave for about 10-20 seconds, until pourable.

Add the raisins and peanut butter to a food processor, and process on high until you have a smooth paste. Add a little of the soaking liquid if your machine is having trouble. Be careful not to add too much.

Combine Cheerios and nuts in a large bowl, and pour the peanut butter mixture in. Stir to combine.

Pour the entire mixture into the prepared pan, and press down hard.

Freeze for 1 hour.

Remove from freezer and cut into about 14 bars. Refrigerate any leftovers.
Nutrition Facts
Peanut Butter Cereal Bars
Amount Per Serving (1 bar)
Calories 169
Calories from Fat 97
% Daily Value*
Fat 10.8g17%
Sodium 61.6mg3%
Potassium 221.3mg6%
Carbohydrates 16.6g6%
Protein 4.5g9%
Vitamin A 39.7IU1%
Vitamin C 1.2mg1%
Calcium 37.4mg4%
Iron 2mg11%
* Percent Daily Values are based on a 2000 calorie diet.