This Christmas Fruit Tray in the shape of a wreath is the perfect dish to bring to all your holiday parties. It's light and festive, and the cinnamon yogurt dip will have everyone raving. We're using easy to find, seasonal produce for our gorgeous Christmas fruit platter, so you won't even need to break the bank. Did we mention the dip goes together faster than you can put your shoes on to run out the door to your party?
How to make fruit dip with yogurt
Using plain nonfat Greek yogurt is one of my favorite healthy eating hacks. I have it in my refrigerator most of the time. It has a flavor and texture similar to sour cream, but in my opinion, it "feels" less oily in the mouth. That's just the sort of clean, tangy creaminess we want in our healthy fruit dip! You can also use skyr in this recipe if you prefer.
Any brand of Greek yogurt will work fine, but do be sure you're getting actual Greek yogurt vs Greek style yogurt.
Greek yogurt contains milk and active cultures. It's strained to make it thick, so it's higher in protein, but generally lower in calcium than regular yogurt. That's what makes it extra creamy.
On the other hand, Greek style yogurt often contains a variety of thickeners, stabilizers, and other ingredients. It is not usually strained, and is sometimes lower in protein than Greek yogurt. Greek style yogurt relies on the other ingredients to make it thicker and creamier.
While either type of yogurt will technically work for this recipe, some people may experience gastric issues with those extra ingredients. And while they all have been demonstrated safe to consume, I generally prefer fewer ingredients on things I use all the time, if I have the choice. Pick your battles, ya know?
Besides Greek yogurt, you will need only three other simple ingredients to make this fruit platter dip.
You will need maple syrup. Get the real stuff. Look for 100% pure maple syrup. It's sweeter than "pancake syrup" and actually made from the sap of maple trees. Is it that much healthier? Eh. Sugar is sugar, and your body treats it more or less the same. There are some trace minerals in pure maple syrup, but you won't be consuming enough of it to matter. Pure maple syrup, however, does show some significant antioxidant activity in recent in vitro studies (1). In vitro studies certainly aren't the same as human studies, but it's very encouraging, and worth the switch to me.
Lastly, cinnamon and nutmeg to complete our cinnamon yogurt dip. Mix it all together. Really it's that simple! I love that!
Best fruits for a Christmas wreath fruit platter
While you can use any fruit you like for your Christmas fruit tray, it's best to stick with more seasonal fruit if you can. It will be less expensive and more nutritious.
Start with something green. I like green grapes and kiwi for this. But some other options are chopped green apples (toss with lemon juice to prevent browning), or pears.
Add a punch of red. I use red grapes. Also consider pomegranate arils (seeds), dried cranberries, red raspberries, chopped red apples, or dried cherries.
Pull it together with a bright orange or yellow fruit. Clementines or mandarin oranges are perfect for this because they're small and easily found in stores this time of year. You might also use tangerines, persimmons, yellow kiwi, dried apricots, pineapple, or mango.
You can also add an assortment of nuts if you like: whole almonds, pecans, and walnuts would be an excellent accompaniment!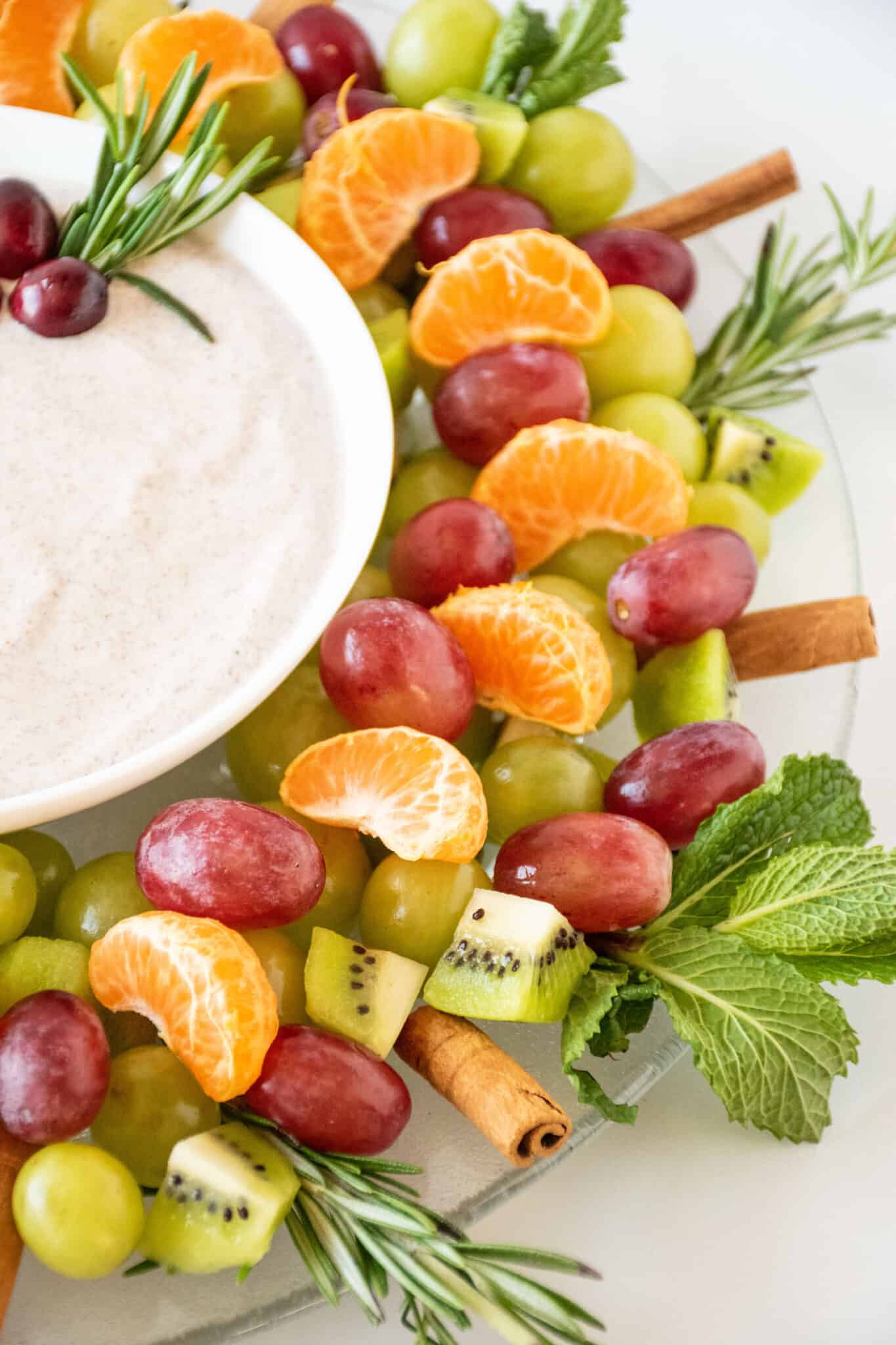 Be sure to check out all our Appetizers and Healthy Holidays content for more delicious recipes and simple heart healthy tips.
If you make this Christmas fruit tray with cinnamon yogurt dip, I'd love for you to tell me about it in the comments!
📖 Recipe
Christmas Fruit Tray with Cinnamon Yogurt Dip
This fruit snack board for the holidays uses seasonal produce for a light and festive appetizer. The cinnamon yogurt dip whips up fast and adds extra holiday flare!
Ingredients
For the Fruit Wreath:
3

cups

Green Grapes

1

cup

Red Grapes

4

Green Kiwi,

peeled, quartered, and sliced

2

Clementines or Mandarins,

peeled

Cinnamon Sticks and Fresh Mint and Rosemary for garnish
For the Dip:
1 ½

cup

Plain Nonfat Greek Yogurt

2

tablespoon

100% Pure Maple Syrup

2

teaspoon

Ground Cinnamon

¼

teaspoon

Nutmeg
Instructions
Mix all the ingredients for the dip together in a small serving bowl until well combined.

Place the bowl in the center of a large, round serving plate or board. A pizza pan will work, too. (The dip is garnished with a rosemary sprig and some fresh cranberries in the photo)

Alternate placing a mint sprig, cinnamon stick, and a rosemary sprig around the plate, allowing them to slightly overhang.

Spread the green grapes and kiwi around the plate.

Now add the red grapes, placing them evenly around the plate.

Lastly, arrange the clementine slices around the plate.

Serve immediately, or cover with plastic wrap and refrigerate until ready to serve.
Nutrition Facts
Christmas Fruit Tray with Cinnamon Yogurt Dip
Amount Per Serving
Calories 123
Calories from Fat 5
% Daily Value*
Fat 0.5g1%
Cholesterol 2mg1%
Sodium 19mg1%
Potassium 362mg10%
Carbohydrates 26g9%
Protein 6g12%
Vitamin A 400IU8%
Vitamin C 43mg52%
Calcium 80mg8%
Iron 3mg17%
* Percent Daily Values are based on a 2000 calorie diet.