Dried bananas are easy to make in the oven, and a great way to preserve extra bananas! Banana chips from the store are often fried, making them less than a healthy snack! But these are baked low and slow, allowing for either crispy or chewy options. Kids and adults alike love these delicious, homemade banana chips!
Are Banana Chips Healthy?
I think the fact that it has the word "chip" in the name is a giveaway. Store bought banana chips are certainly far from the "worst" snack you can get, but they also aren't the wonderfully healthy little crisps you imagine them to be. Take a look at the label on your banana chips. They typically include ingredients to the tune of: bananas, coconut oil, sugar, and salt (and often other things). Then, you end up with about 8 grams of saturated fat in a serving - close to half your daily limit! Or 5 grams of added sugar - almost the daily limit on added sugar! Sometimes I even see banana flavor. Because the bananas don't taste enough like... bananas? And the serving size is ¼ cup - what will fit in the palm of your hand. You're going to eat more than that, right?
Ladies and gentleman, most of use consume more than enough extra oils/fats, added sugars, and salt. And when you're watching your heart health, those are absolutely things to eat less of overall.
So, now to my oven dried bananas. First, no added sugar. I start by soaking the banana slices in 100% pineapple juice. This does two things. It helps reduce oxidation (that's what makes the bananas turn brown). Yes, they'll still be a tad brown, but without some sort of acid, they'll turn a very dark brown to black color (they'll still be fine to eat if you want to forgo the juice!). Also, it adds a bit of tropical sweetness to the chips. Yum!
Next, no added oils! I do use some cooking spray to prevent the chips from sticking to the wire rack. But we're not frying these chips. No other oils needed, and no added fat. We can achieve crispness without that.
Lastly, there is no added salt in these dehydrated banana chips. Bananas are high in potassium, which is sodium's kind-of arch nemesis. No need to make potassium work harder by adding more salt! Honestly though, you can add a pinch of salt to these before baking if you truly consume an otherwise low sodium diet.
How to Dehydrate Bananas
There are two main ways to dehydrate bananas: in the oven and in a dehydrator. Technically you can also do it in the microwave, but I don't recommend that method because it isn't a preservation method. The bananas can't be stored for any longer than a fresh banana could last.
Dehydrating bananas in the oven is the method I use for this recipe, and one that you can use without any special equipment. Simply slice the banana very thin, place on an oiled wire rack on a baking tray, and bake at the lowest temperature in your oven for up to 4 hours. I recommend tossing the slices of bananas with some sort of acid, like lemon juice, before baking so they don't turn black. But even if that happens, they're still perfectly edible! Let your dehydrated banana chips cool completely. They'll crisp up more when they're cool.
Making banana chips in a dehydrator is even easier, but takes longer (it's hands off time). Slice the bananas thin, just like above, and toss with an acidic juice if desired. Spray your dehydrator trays with oil, then place the bananas on the trays, and dehydrate at around 135° F for 8-24 hours. The length of time will depend on how crispy you want them, so start testing them around 8 hours, and every hour thereafter until they are how you like them.
FAQs and Substitutions
What to use in place of pineapple juice
You can use any acidic juice instead of pineapple juice to make dried bananas. Some great options are lemon juice, lime juice, or orange juice. You can also completely forgo the juice if you want, but know that your bananas will be - completely edible but - very dark brown or black in color.
How to make dehydrated banana chips crispy
Here's my proven method: slice your bananas really thin. I'm talking ⅛ inch thin. Use a mandolin slicer if you have one to achieve really uniform thicknesses. Now it's just a matter of leaving them to dry out for the right amount of time. Mine take almost 4 hours, because I soak them in the juice, so they absorb some of it. Here are some variables that will make this process longer: not using a wire rack and placing them directly on parchment, soaking in juice before baking, and having thicker slices. In fact, thicker slices may not crisp up at all before they start to burn.
How to store dehydrated bananas
Let the dried banana chips cool completely, then store them in an airtight container. I like to also pop a food grade silica gel packet in with them to absorb any moisture that gets in. They'll keep this way for months.
If you need more healthy snack ideas, head on over to our Heart Healthy Snacks Archive!
If you try this How To: Make Dried Bananas, tell me in the comments!
📖 Recipe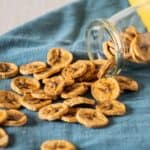 How to Make Dried Bananas
Dried bananas are easy to make, and a great way to preserve bananas! Banana chips are delicious, too. Crispy or chewy options.
Total Time
3
hours
20
minutes
Ingredients
2

ripe bananas

(not overripe)

¼

cup

100% pineapple juice

Cooking spray
Instructions
Peel the bananas and slice them into thin rounds, about ⅛ inch thick. A mandolin may be useful to get a consistent thickness.

Put the banana slices in a bowl, and toss with the pineapple juice. Allow the bananas to soak in the juice for about 20 minutes or more.

Preheat oven to 200° F.

Spray a wire rack with cooking spray to prevent the chips from sticking to it. Place the wire rack on a baking sheet, and arrange the banana slices on the wire rack so they are not touching each other.

Alternatively, you can put the banana slices directly on parchment paper on the baking sheet. You will need to flip them halfway through baking, and the baking process will take much longer - about double the time.

Bake for 2-4 hours, or until they are dried completely.

Test one by taking it out of the oven and letting it cool completely before eating it. The chips will crisp up when they cool. Thicker chips will dry but remain a bit chewy.

Store in an airtight container after cooling completely. I like to toss in a small bag of silica gel (desiccant) to keep the moisture out.
Nutrition Facts
How to Make Dried Bananas
Amount Per Serving
Calories 113
Calories from Fat 4
% Daily Value*
Fat 0.4g1%
Sodium 1.6mg0%
Potassium 443.1mg13%
Carbohydrates 28.9g10%
Protein 1.3g3%
Vitamin A 3.5IU0%
Vitamin C 15.2mg18%
Calcium 8.1mg1%
Iron 0.3mg2%
* Percent Daily Values are based on a 2000 calorie diet.