Boxed pancake mixes are not known for being healthy, so I set out to change all that! Full of delicious, wholesome ingredients, this Heart Healthy Pancake Mix recipe deserves a spot in your pantry. It's simple to make, and uses only 4 basic ingredients you surely have in your cupboard. Healthy pancakes are a breeze to make from it, too!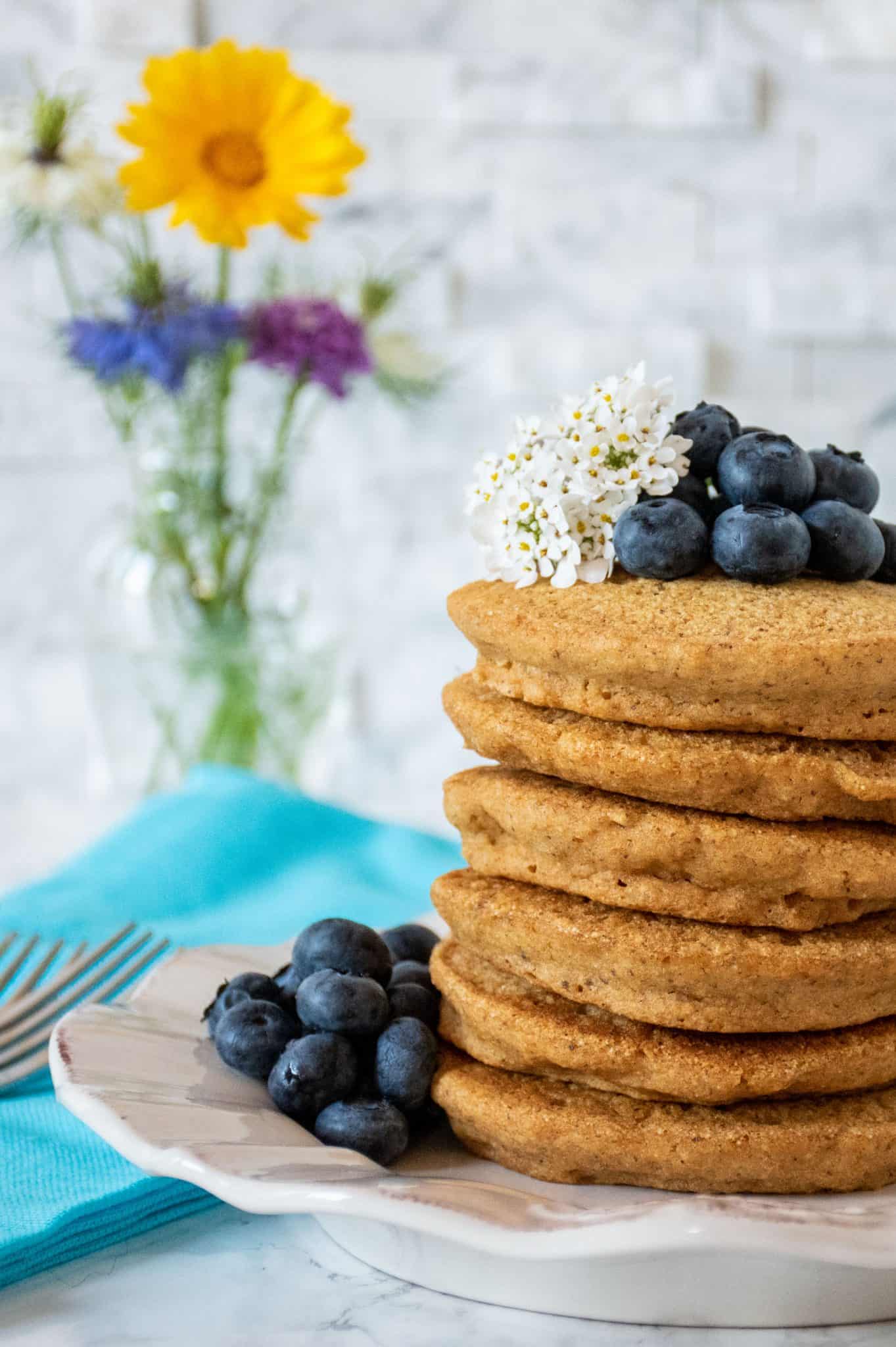 Are pancakes heart healthy?
Okay, no, not really. Traditional pancakes are made with refined white flour and sugar at the base. Then we add milk and eggs - not totally horrible - cook them on a griddle in butter, and then slather them in more butter and syrup. Even if the syrup is natural maple syrup, it's still a simple sugar, and adds a ton of calories we don't need. After all, who adds just a tablespoon or two of syrup? I know I don't! Traditional pancakes are mostly refined carbohydrates with a little saturated fat thrown in, and none of that is doing your heart any favors.
This healthy pancake mix recipe, on the other hand, makes the most delicious and fluffy heart healthy pancakes without all that stuff! We start with whole wheat flour, and add a handful of other pantry ingredients for a super easy mix that is shelf stable and ready to go when you want to make pancakes. When it's time, we add some ground flax or chia seeds to hold the pancakes together (instead of an egg), along with other pancake ingredients you'll recognize: almond milk (you could use soy or another milk you like), olive oil, vanilla, and a tiny bit of sweetener IF you need it.
So now our pancakes are a good source of fiber, calcium, magnesium, and heart healthy fats; mainly monounsaturated fat, with a good amount of protein to boot! Also notably, is what they lack - tons of saturated fat, added sugars, cholesterol, and refined carbohydrates!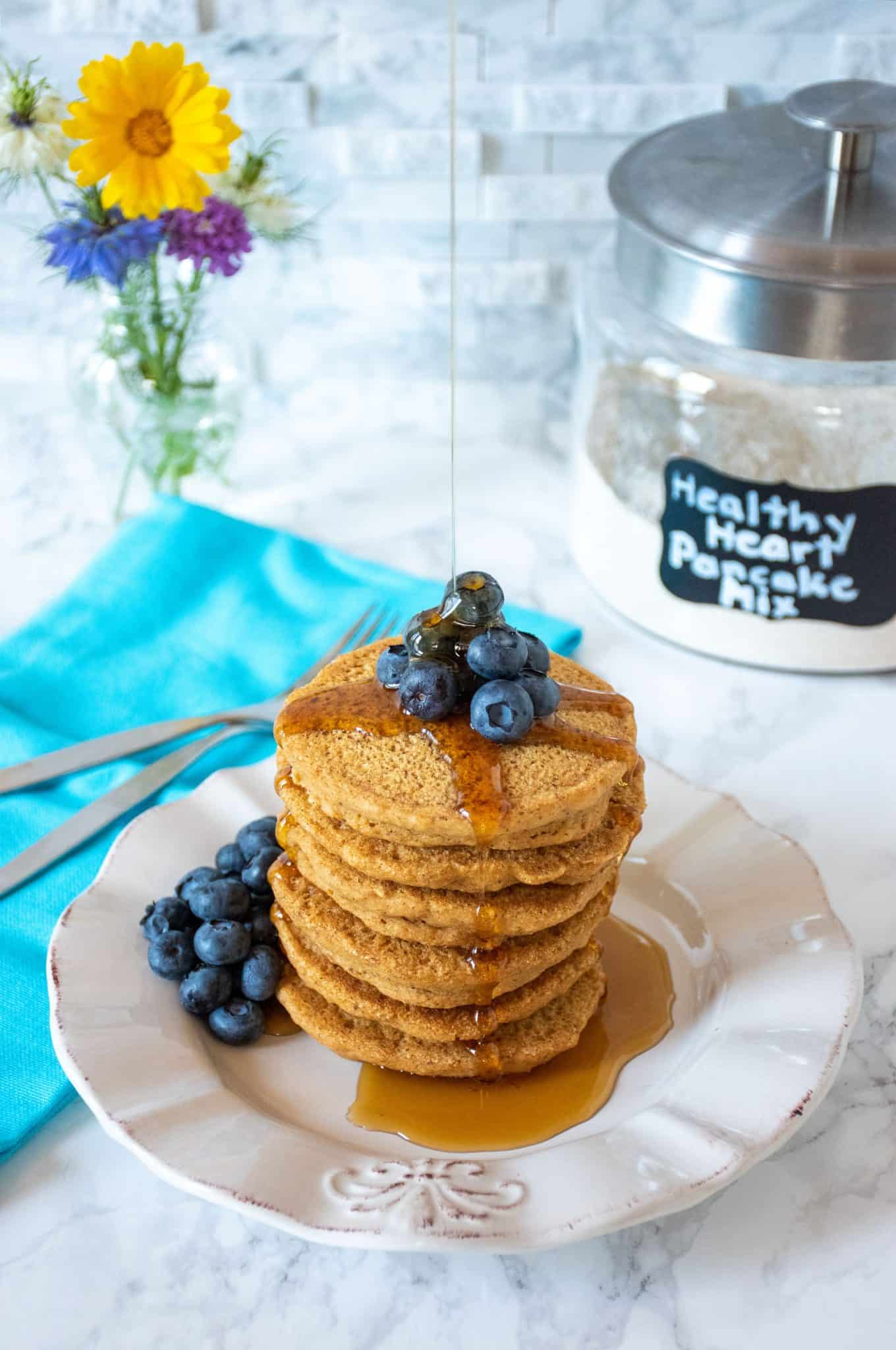 Healthy Pancake Toppings
If we're going to the effort to make heart healthy pancakes, we ought to make sure we don't undo it with unhealthy toppings! Butter and syrup may be traditional, but they're anything but heart healthy. High in saturated fat and sugar - even the most "natural" of brands! Here are some great healthy pancake toppings:
Berries smashed until they are juicy and "syrupy"
Grilled stone fruits, like peaches, nectarines, and apricots (sprinkle with ginger or cinnamon for something different)
Applesauce - plain or blended with other fruits
Peanut butter (or another nut butter) and (100% fruit) jelly
Fruit cocktail (canned in 100% juice) with a cinnamon sprinkle
Plain yogurt topped with fruit of your choice and a little honey if needed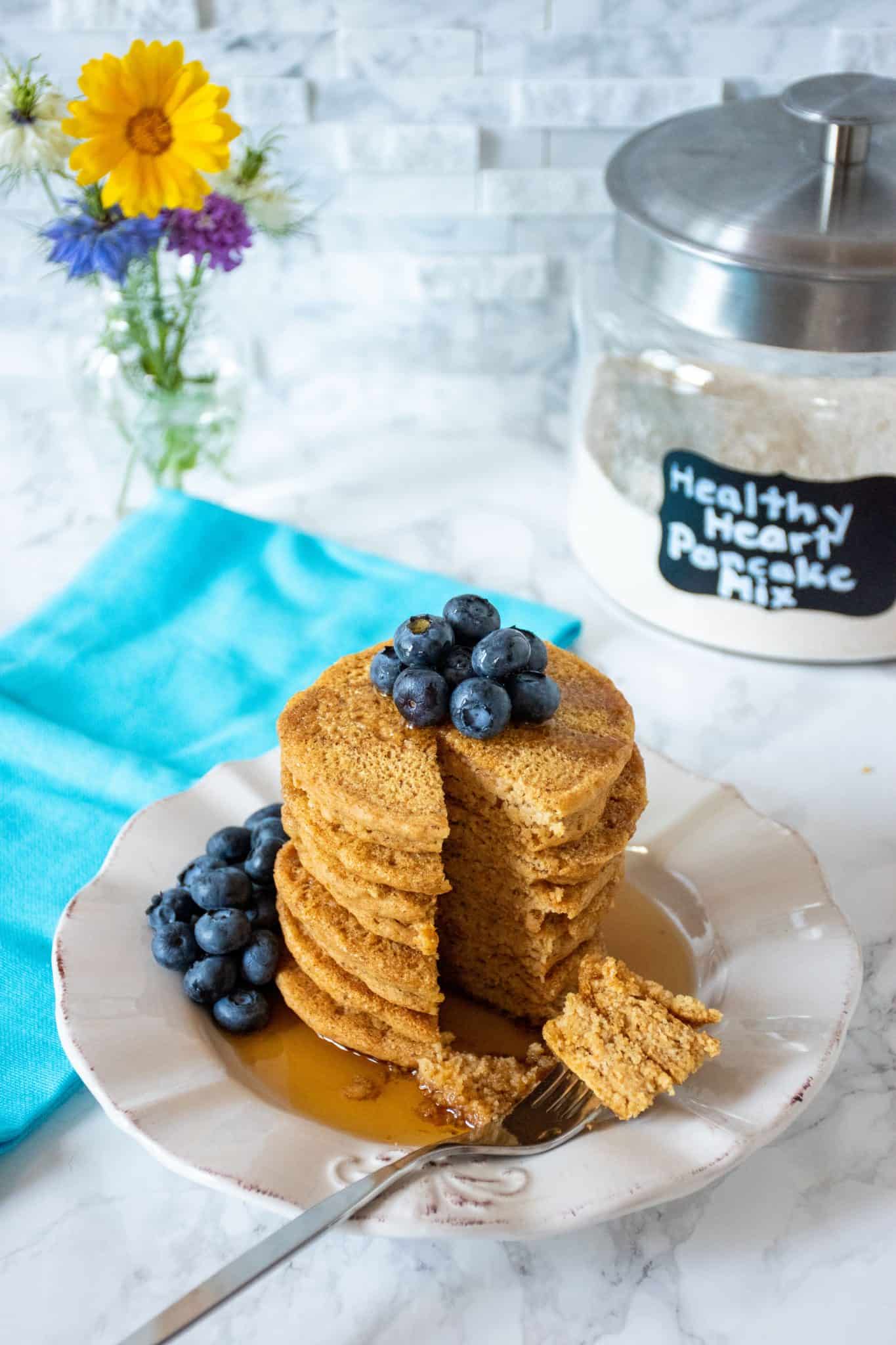 FAQs and Substitutions
How to make buttermilk pancakes
Stir one tablespoon of lemon juice into the almond milk - or whatever milk you're using - and let for a few minutes before adding it to the rest of the ingredients.
Can I use a gluten free flour for this pancake mix?
Yes! Use the same amount of gluten free flour as the recipe calls for. Your pancakes may be denser than pictured, but will be delicious just the same!
Substitute applesauce for oil
To do this, use unsweetened applesauce, and use the same amount of it as you would oil, and follow the recipe otherwise. This will result in an even lower fat pancake!
How to add fruit to the pancake batter
To make fruit filled pancakes, add 1 cup of fruit to the batter as written. If the fruit is large, chop it up first. If the fruit is frozen, no need to thaw it. It will thaw during cooking. Berries are great for this!
Can I freeze pancakes?
Yes! Allow the cooked pancakes to cool completely, then wrap them individually in plastic wrap or put them in a zipper bag. They can be frozen for about 3-6 months.
When you want to eat them, place the frozen pancakes in a single layer on a sheet pan, cover with foil, and bake in a 350 degree oven for about 10-15 minutes, until they're heated all the way through.
Can you reheat pancakes?
Yes! There are few ways you can reheat leftover pancakes:
In the microwave - I recommend this method the least, because they tend to get a bit rubbery. Heat the pancakes in the microwave just long enough for them to be warm - about 10-15 seconds per pancake.
In the toaster - Be careful with this method, since the pancakes can burn quickly. If you have gluten free pancakes, you may also want to avoid this method, since they may not hold together as well, and might fall apart in your toaster! A toaster oven would work great though.
In the oven - The best method in my opinion! Preheat the oven to 350 degrees and heat the leftover pancakes on a baking sheet covered with foil about 5-10 minutes, until they are warmed through but not crispy.
If you try this Heart Healthy Pancake Mix Recipe, let me know in the comments! You might also like to try these Green Banana Mint Pancakes, Healthy Crepes filled with Brownie Batter and Strawberries, or Chai Latte Waffles!
Learn more about heart healthy diets here!
📖 Recipe
Heart Healthy Pancake Mix
Whole wheat, heart healthy pancake mix is excellent to keep on hand for a quick breakfast or brunch! Mixes up in no time and keeps for months!
Servings
4
batches of 8 pancakes
Ingredients
For the Pancake Mix:
4

cups

Whole Wheat Flour

2

teaspoon

Baking Powder

1

teaspoon

Baking Soda

½

teaspoon

Salt
To make pancakes:
1

cup

Pancake Mix

1

cup

Unsweetened Almond Milk

2

tablespoon

Olive Oil

1

tablespoon

Ground Flax or Chia Seeds

(Optional) ½ tablespoon Maple Syrup or other sweetener

1

teaspoon

Vanilla Extract
Instructions
Combine all the ingredients for the Pancake Mix in an airtight container. Store in a cool place, away from sunlight for up to 2 months.
To make pancakes:
Combine 1 cup of the pancake mix with almond milk, oil, flax, vanilla, and sweetener, if using. Stir until just combined, and set aside while griddle preheats.

When griddle is hot, spray with cooking spray if not nonstick, and scoop pancake batter onto the griddle, ¼ cup at a time.

Cook a few minutes, until you see bubbles start to form on the top of the batter. Flip and cook another few minutes, until cooked through.

Serve immediately.
Nutrition Facts
Heart Healthy Pancake Mix
Amount Per Serving (2 pancakes)
Calories 196
Calories from Fat 86
% Daily Value*
Fat 9.6g15%
Sodium 200.7mg9%
Potassium 306.8mg9%
Carbohydrates 25.1g8%
Protein 4.8g10%
Vitamin A 28.2IU1%
Calcium 202.7mg20%
Iron 1.6mg9%
* Percent Daily Values are based on a 2000 calorie diet.