On St. Patrick's Day, everything is green. These Banana Mint Green Pancakes are no exception. They're fluffy, sweet, and minty - à la shamrock shake without the 20 teaspoons of sugar! Another thing: they don't have any artificial coloring in them! These are naturally green, using spinach.
That's right! You know how you can hide spinach in smoothies and not taste it? Well, you can do the same thing with pancakes and other baked goods! So I bring you these delightfully green pancakes for your St. Patrick's Day breakfast... or brinner!
Oh, and did I mention these are healthy? Read more below about the heart healthy ingredients that go into this recipe.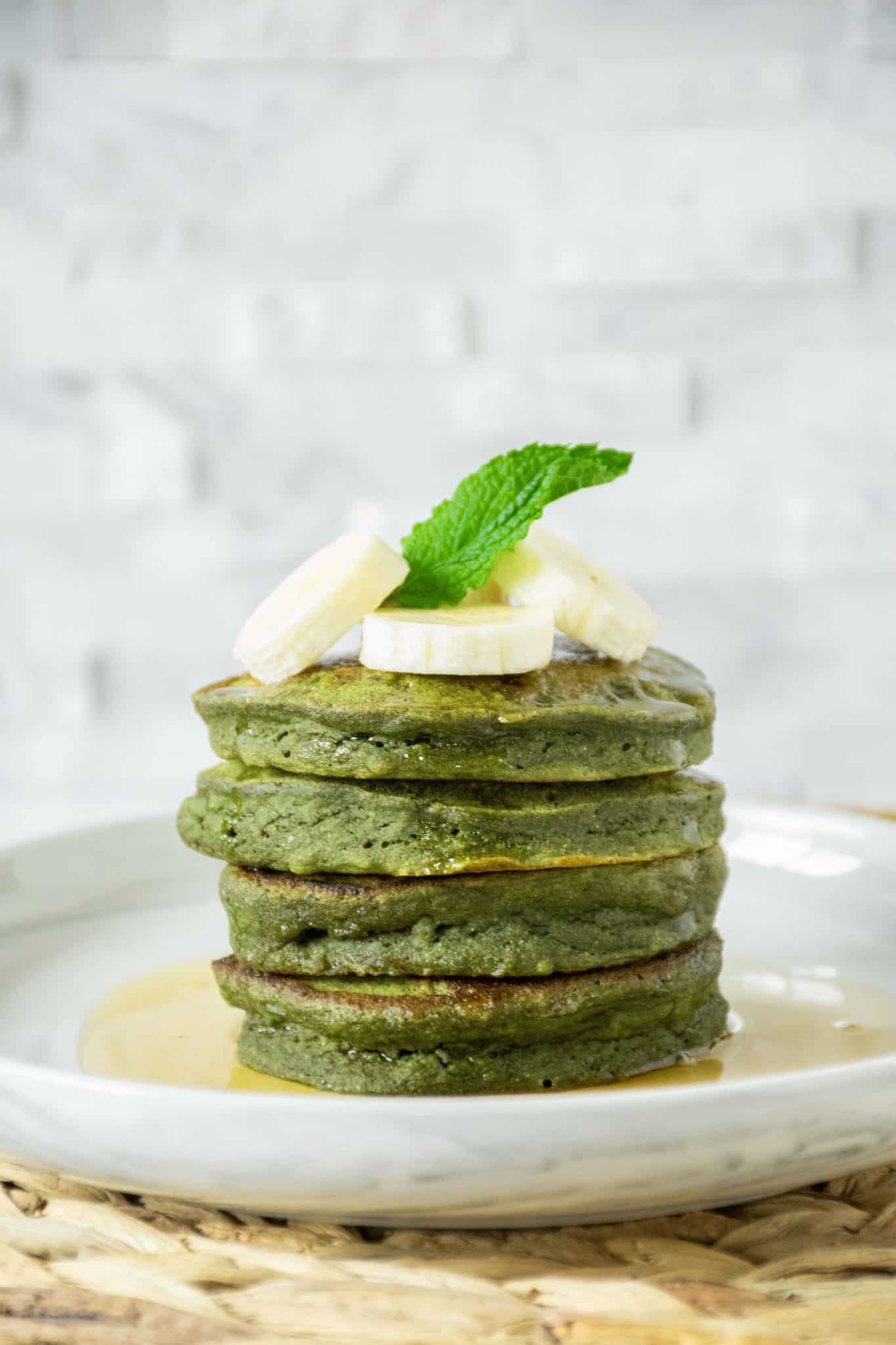 Ingredients
Whole Wheat Flour
I start with a whole grain so these pancakes are packed full of fiber! You can absolutely use whole wheat white flour (it's like albino wheat) or whole wheat pastry flour. Whole wheat pastry flour is more delicate, and generally yields softer baked goods that more closely resemble white flour. It's a bit harder to find though, so rest assured regular whole wheat flour will work great!
I have not tried this recipe with a gluten free flour, so I can't speak to how that might turn out.
Spinach
I love that spinach has such a mild flavor that I can sneak it into other foods without tasting it. In this recipe, I was able to get a lovely green hue by using 4 cups of it! What a fun way to get your greens!
Spinach is a great source of vitamin A and vitamin K, in addition to its fiber content. It's important to eat leafy greens daily, but they don't always have to be in salads!
Mint
Mint is widely known to have antioxidant and anti-inflammatory properties. In addition, mint may also be able to relax the arteries, thereby lowering blood pressure. While the properties vary by mint species, it remains a healthy addition to the diet.
Besides that, it's delicious! But if mint isn't your thing, it's okay to leave it out. These pancakes will still be delicious without it.
Soy Milk
Unsweetened soy milk is usually what's in my refrigerator, so I use that. Any milk or milk substitute you have will do. I guess unless it's chocolate milk - or maybe that would be even BETTER! If you try it, let me know!
Dates
It's no secret I love using dates to sweeten foods. Heck I love just eating them plain... and with peanut butter! If you want to know more about my date obsession, check out my post on Heart Healthy Chocolate Date Sauce.
I use deglet noor dates. That's because I can get them in giant bags at Costco. Plus, they come already pitted, and they are wonderfully soft and caramely. It's fine to use another kind of date, though. Just make sure they either come pitted, or you remove the pit. You don't want that flying around in your blender!
Banana
Bananas are like the quintessential healthy food, aren't they? They're delicious, portable, not messy, and you don't need silverware to eat them. They're a great source of potassium, too!
Here's another fun thing about bananas: if you mash one up, it's a great egg substitute! So not only does it help make the pancakes sweeter, it allowed me to eliminate an ingredient (a controversial one, at that! Read more about eggs here).
Baking Powder
Not much to say about baking powder. It makes our pancakes fluffy!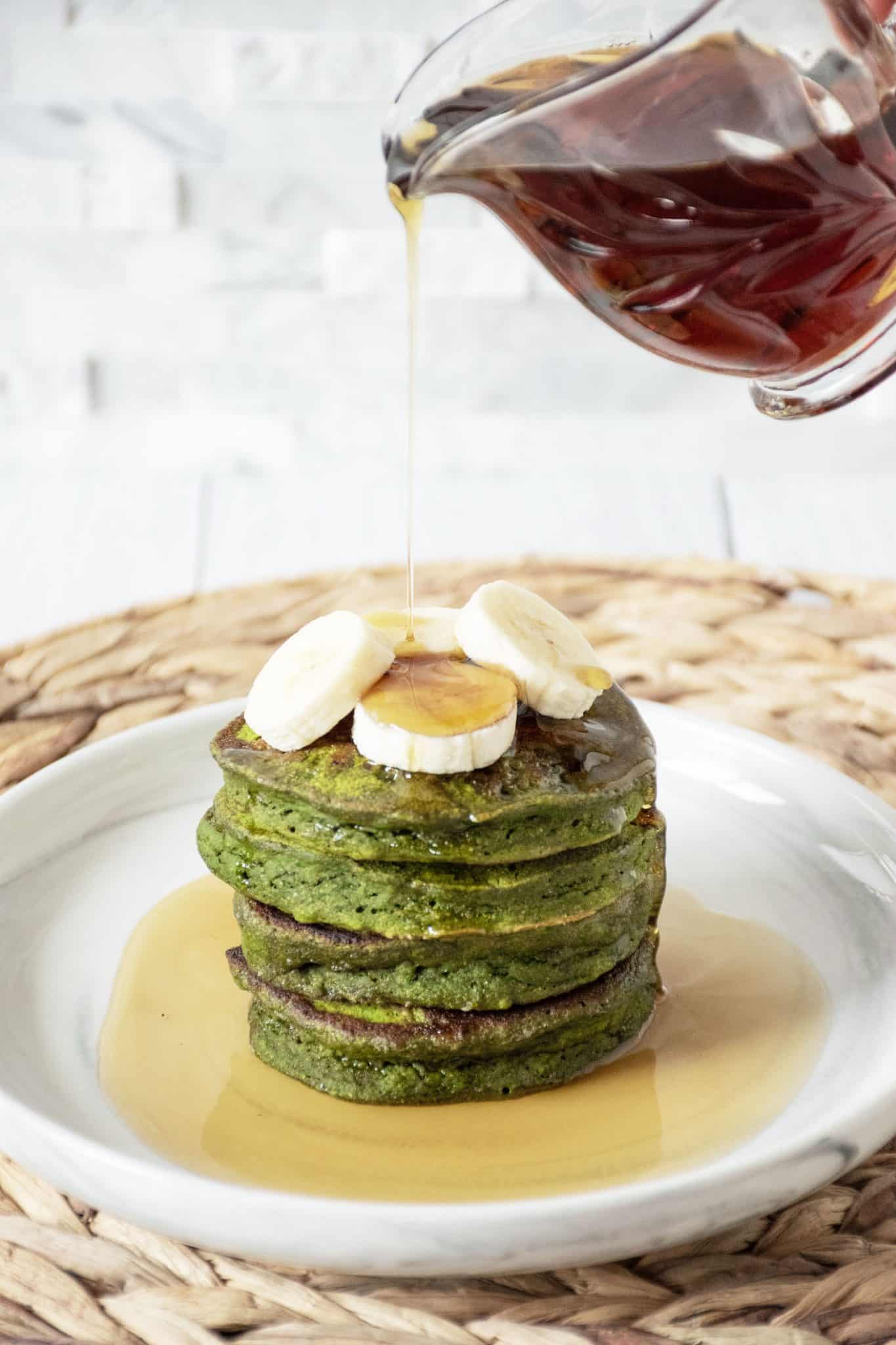 How to make green pancakes
Alright, so these don't take too long to pull together. You'll want a blender; preferably a high speed one to make quick work of the dates.
Start by adding the spinach, mint, milk, dates, and banana to your blender. Blend it on high until everything is very smooth. Taste it to see what you think. You can add more mint if you like. I like them really minty, so I add ½ cup of mint instead of ¼. You decide!
You'll probably want to get your griddle heating up while you do the next few steps so it's good and hot when you're ready.
Mix the flour with the baking powder in a large bowl. Add the spinach mixture, and mix it just until it's combined. Careful not to over mix! It will be thick, but if it seems too thick you can add some more milk.
Spray some cooking spray on your griddle, turn the heat to medium low or low, and drop about ¼ cup of the pancake mixture onto it for each pancake. Cook them about 3-5 minutes per side, until golden brown and cooked all the way through.
I always have a tendency to under cook my pancakes in the middle, and burn them on the outside. If that happens, it means your griddle is too hot. Maybe one day I'll learn! Ha! But if your pancakes are a little under cooked, no worries. Another benefit of not using eggs is that you don't have to worry if you under cook your batter!
If you try Green Banana Mint Pancakes, let me know in the comments!
📖 Recipe
Green Banana Mint Pancakes
Everyone will get into the spirit with these delightful green pancakes! No food coloring needed!
Ingredients
4

cups

Spinach

¼

cup

Fresh Mint

(stems and all)

1 ¼

cup

Soy milk

(or milk of choice)

¼

cup

Dates,

pitted

1

Banana

1 ½

cup

Whole Wheat Flour

1 ½

teaspoon

Baking Powder
Instructions
Combine spinach, mint, soy milk, dates, and banana in a high speed blender. Blend on high until mixture is very smooth.

In a large bowl, mix flour and baking powder together.

Pour spinach mixture into flour mixture, and stir until just combined.

Preheat griddle or large pan. Spray with cooking spray if not nonstick.

Pour about ¼ cup of the mixture onto the griddle for each pancake.

Cook until golden brown on the bottom. Flip, and cook a few minutes more, until golden brown. Work in batches if needed.
Nutrition Facts
Green Banana Mint Pancakes
Amount Per Serving (1 pancake)
Calories 81
Calories from Fat 8
% Daily Value*
Fat 0.9g1%
Sodium 18.6mg1%
Potassium 200mg6%
Carbohydrates 16.8g6%
Protein 3.2g6%
Vitamin A 45IU1%
Vitamin C 3mg4%
Calcium 80mg8%
Iron 1mg6%
* Percent Daily Values are based on a 2000 calorie diet.