Do you ever just want to grab a seasoning blend from the cupboard and not have to think about whether it's got too much salt or sugar added to it? ME TOO! That's why I created this Gingered Pear Seasoning blend. No added sugar. No added salt. Just all delicious!
I made this to sprinkle on popcorn (it's an excellent healthy popcorn seasoning!), but the possibilities are endless really. Gingered pear seasoning would be a perfect addition to oatmeal or cream of wheat, smoothies, ice cream, buttered toast, and pancakes. If you're so inclined, I bet it would make a great goat cheese dip (although that's taking healthy in a little bit of an opposite direction. Shh! 🤐)!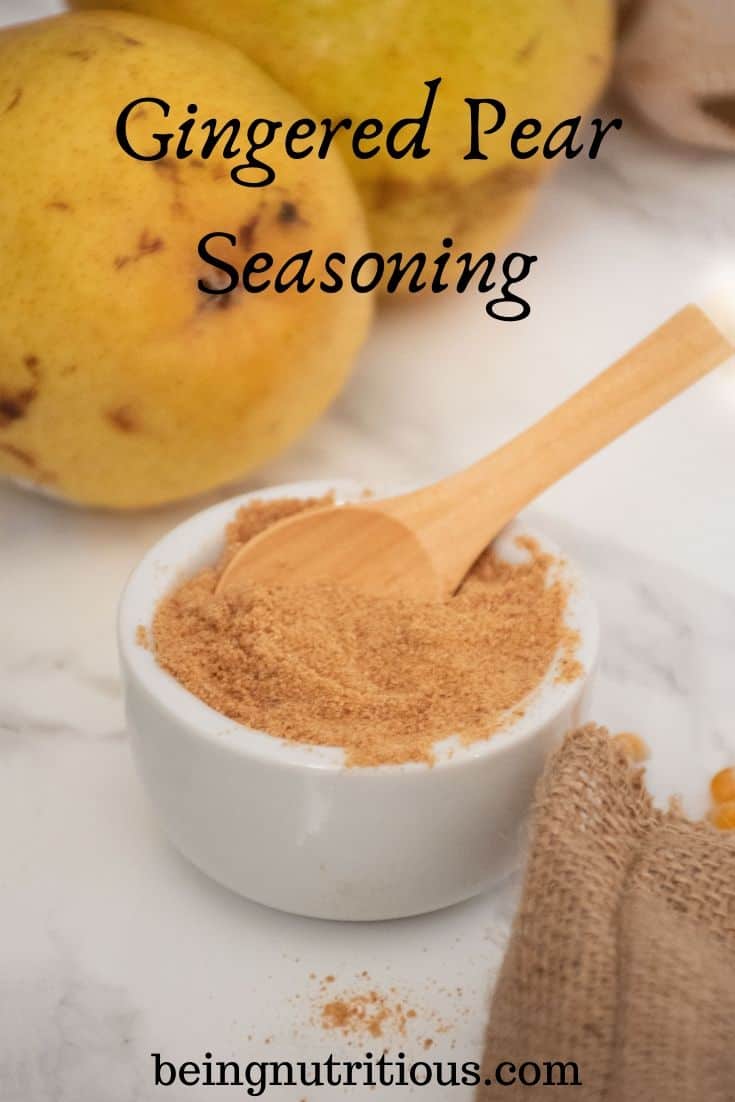 How to make this healthy seasoning
Making this seasoning is really easy, although, unless you have a dehydrator, it does require you to be home a majority of the day. A great rainy Saturday recipe!
First, you'll chop up the pears. Smaller is better! It wouldn't even be a bad thing if you ended up with something similar in texture to applesauce. The bigger the pieces, the longer they'll take to bake.
Spread the pears on a baking sheet lined with parchment paper. You'll definitely want a lined baking sheet. Otherwise the pears will become one with the baking sheet. The secret here is a low and slow bake.
Once the pears are completely dry - it takes a little over 6 hours for mine - allow them to cool completely and grind them up in a spice grinder or coffee grinder to a fine powder, along with the ground ginger. It may be a bit sticky because of the sugar in the pears, but should not be wet.
This will be best stored in an airtight container with some dry rice to keep out moisture. Just remember to remove the rice before you use it. 😉
What makes Gingered Pear Seasoning heart healthy?
This is a low calorie seasoning blend. At only 30 calories per tablespoon, you can sprinkle it on anything!
Using pears allowed for the blend to taste nice and sweet without going overboard on sugar. No added sugar needed here!
Because the serving size is so small, this recipe doesn't meet the definition for being a "good source of" or "high in" any nutrient. However, pears are an excellent source of fiber, and a good source of vitamin C. Since they've got so much water content, they are low in calories, too.
I can't wait to hear how you use gingered pear seasoning!
📖 Recipe
Gingered Pear Seasoning
Delicious blend of sweet pear and spicy ginger that's perfect to sprinkle on popcorn, oatmeal, smoothies, or anything you want!
Total Time
6
hours
15
minutes
Ingredients
2

Pears

1

teaspoon

Ground Ginger
Instructions
Preheat oven to 200 degrees F.

Remove the stems and cores from the pears. Chop them up as small as you have the patience to get them (the smaller the better).

Spread the pear pieces on a parchment lined baking sheet, and bake for about 6 hours, stirring every 30 minutes or so to prevent burning. Your bake time may be more or less depending on the juiciness and size of your pear pieces. You want the pears to be crispy and completely dry.

Once cool, add the pears and ginger to a spice grinder or coffee grinder, and grind until you achieve a fine powder. Note that it may still be a bit sticky because of the sugar content, but shouldn't be wet.

Dump into a small mesh strainer and shake to remove bigger pieces. You can toss those back into the spice grinder and grind again.

Store in an air tight container. Add a small handful of dry rice if you want to help keep the powder dry (remember to remove it before using!).
Nutrition Facts
Gingered Pear Seasoning
Amount Per Serving (1 Tbsp)
Calories 30
Calories from Fat 1
% Daily Value*
Fat 0.1g0%
Sodium 0.5mg0%
Potassium 48.5mg1%
Carbohydrates 7.1g2%
Protein 0.2g0%
Vitamin A 0.5IU0%
Vitamin C 2.1mg3%
Calcium 4.3mg0%
Iron 0.1mg1%
* Percent Daily Values are based on a 2000 calorie diet.