Buffalo Tempeh Bites are crispy and spicy, and you won't be able to stop eating them! We marinate tempeh in our own delicious Buffalo sauce recipe, then add a cornmeal coating and pan fry for extra crunch! They're healthy, but no one will ever know!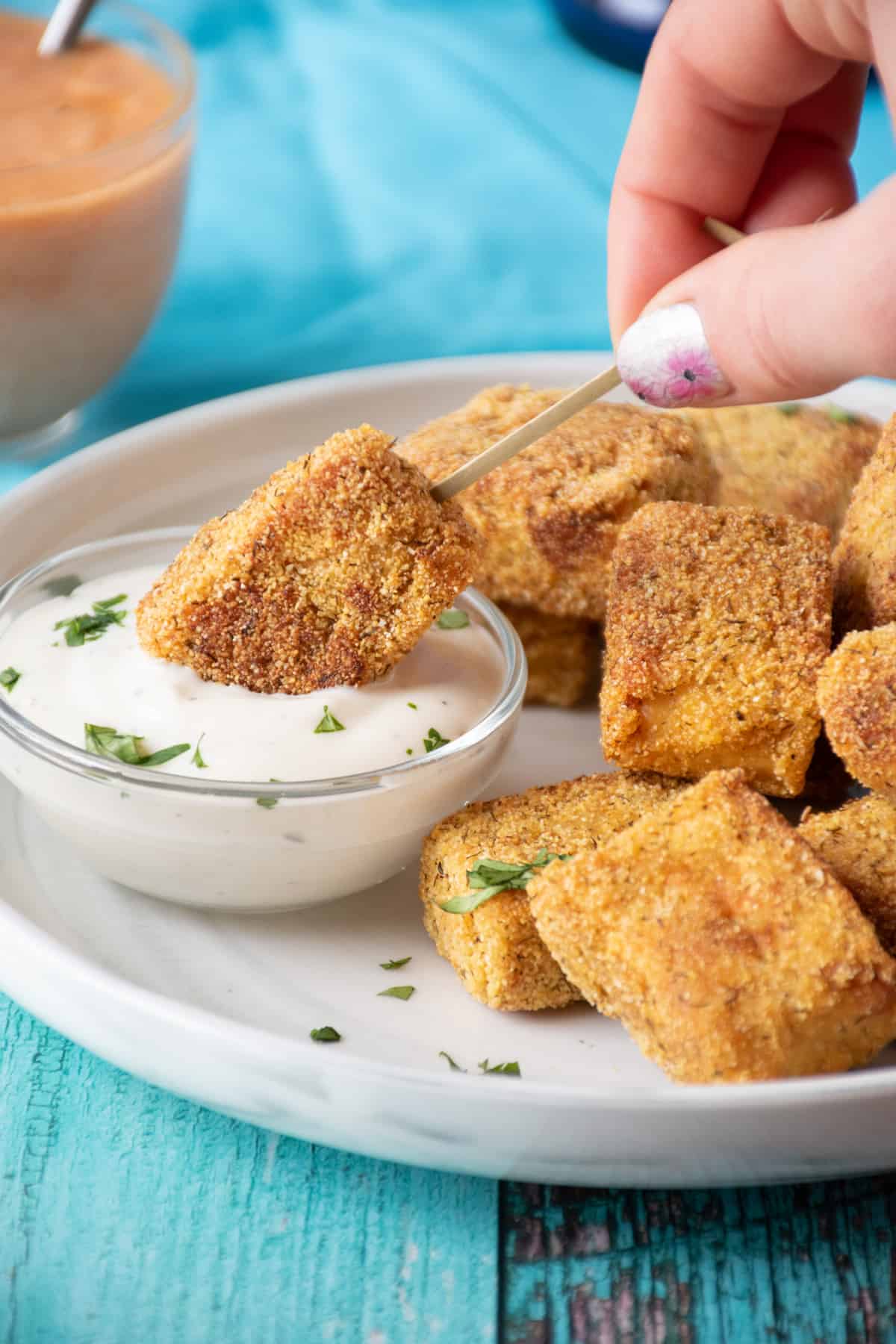 Buffalo wings and spicy appetizers in general are synonymous with football games and other sports gatherings. These Buffalo tempeh bites are a perfect addition!
But don't stop there! Because we took care to make these heart healthy, they're going to be great to make for all kinds of occasions, and just because, too! Start with making our Low Sodium Buffalo Sauce - it's simple, and takes less than 10 minutes!
This recipe is high in protein, and a good source of heart healthy fats. It's also low to moderate in sodium, depending on the hot sauce you use to make your Buffalo sauce (we used Tabasco brand, making the recipe moderate in sodium).
Jump to:
Ingredients
For our Buffalo tempeh recipe, we are going to make a simple cornmeal crust using only a few ingredients. Here's what you'll need!
Tempeh
Cornmeal
Garlic Powder
Dried Dill
Grapeseed oil (or other neutral, high smoke-point oil)
See recipe card for quantities.
Instructions
Here's how we make this crispy tempeh!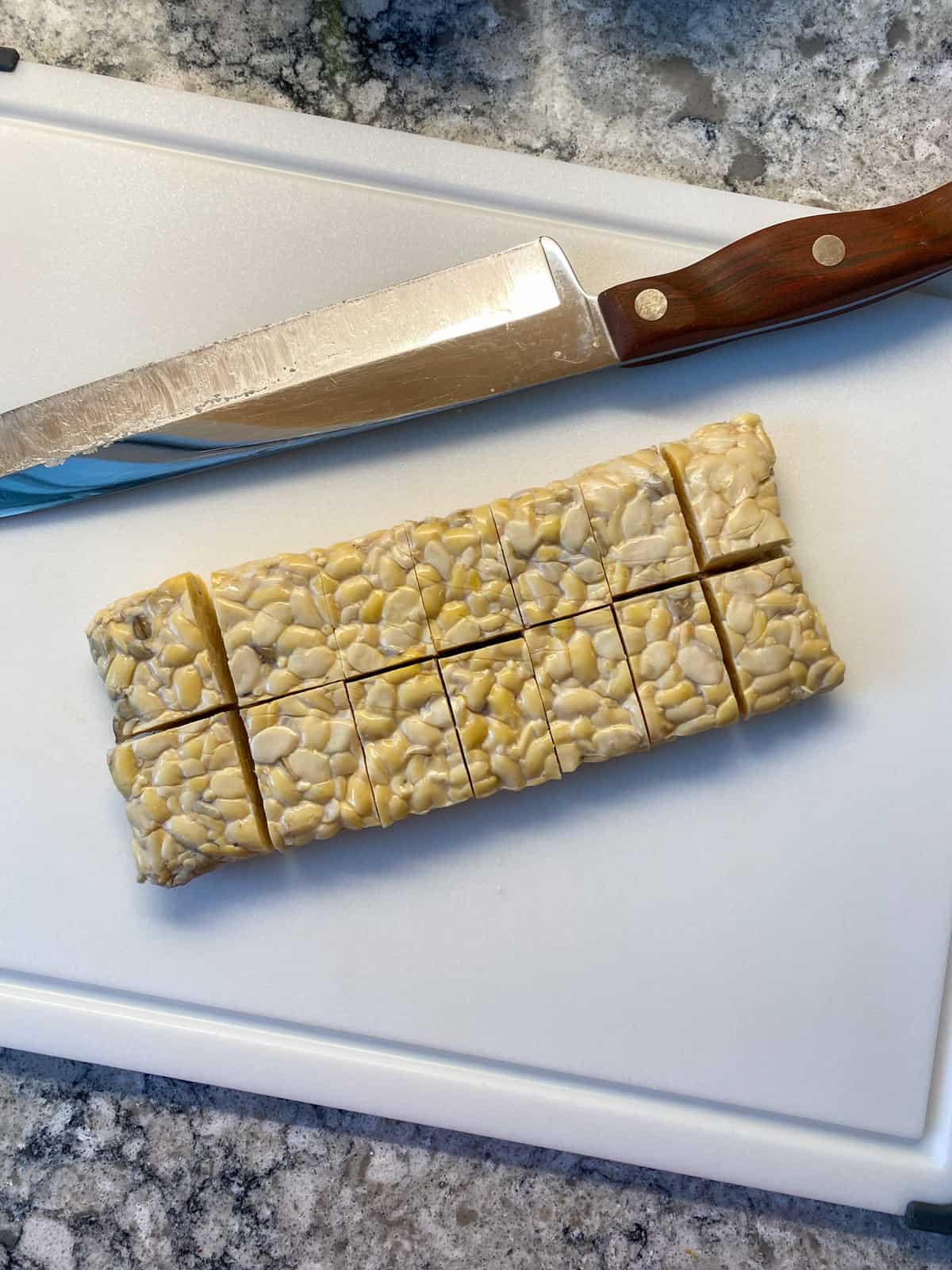 Cut your block of tempeh into bite sized pieces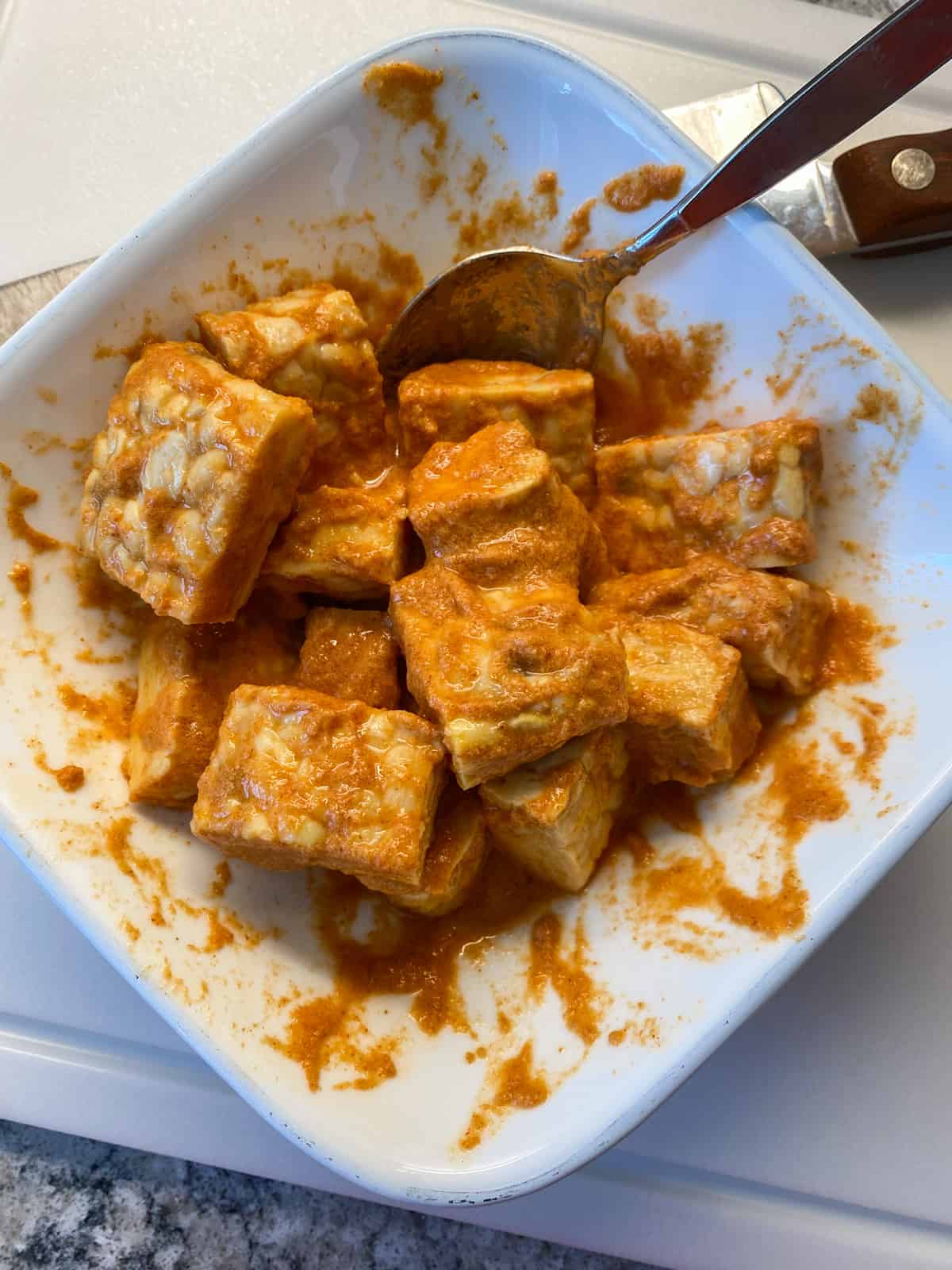 Coat all the tempeh pieces with Buffalo sauce and marinate.
Heat oil in a large, non-stick skillet, over medium heat.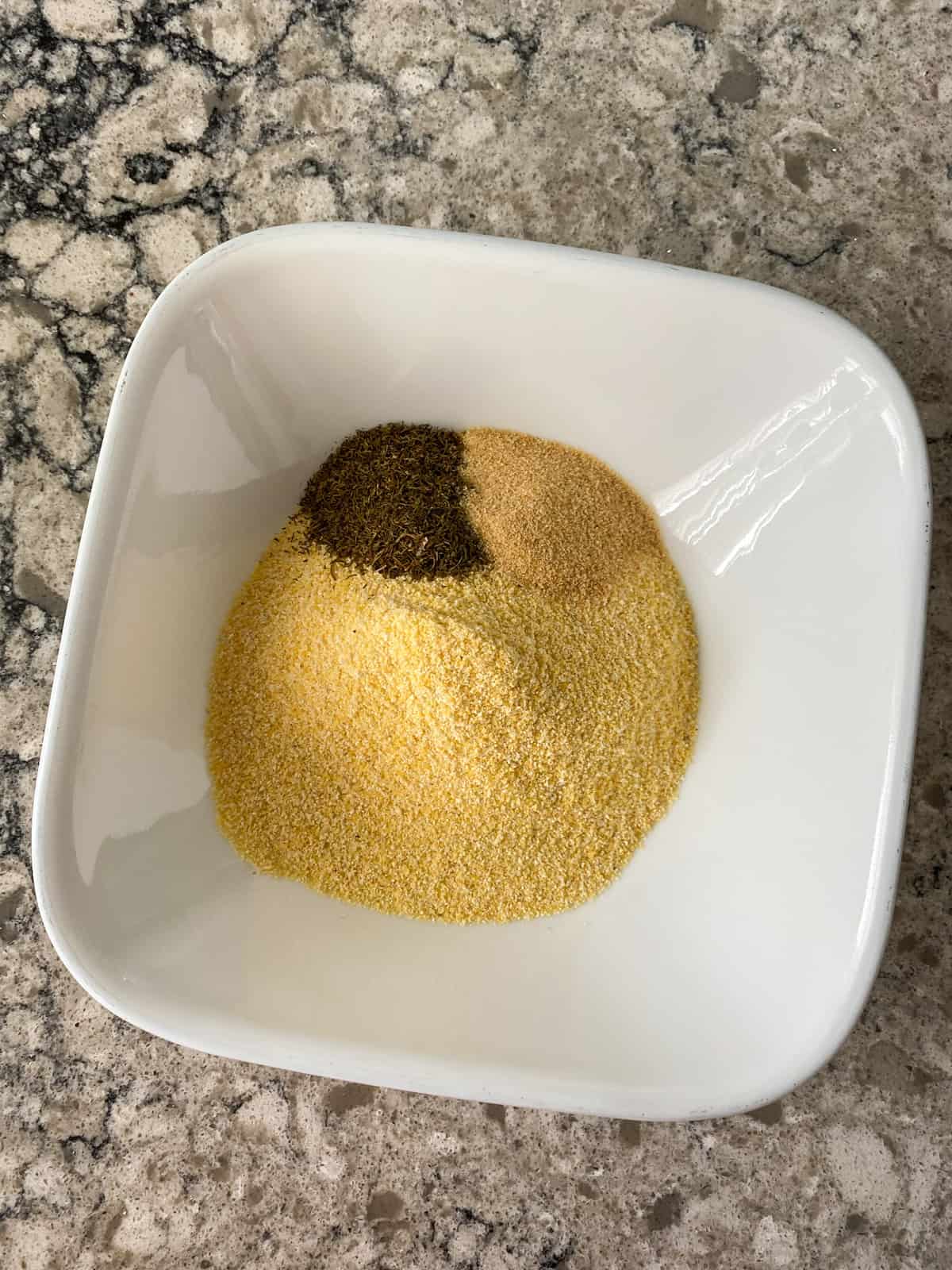 Mix the cornmeal coating ingredients.
Dredge each piece of tempeh in the cornmeal mixture to coat.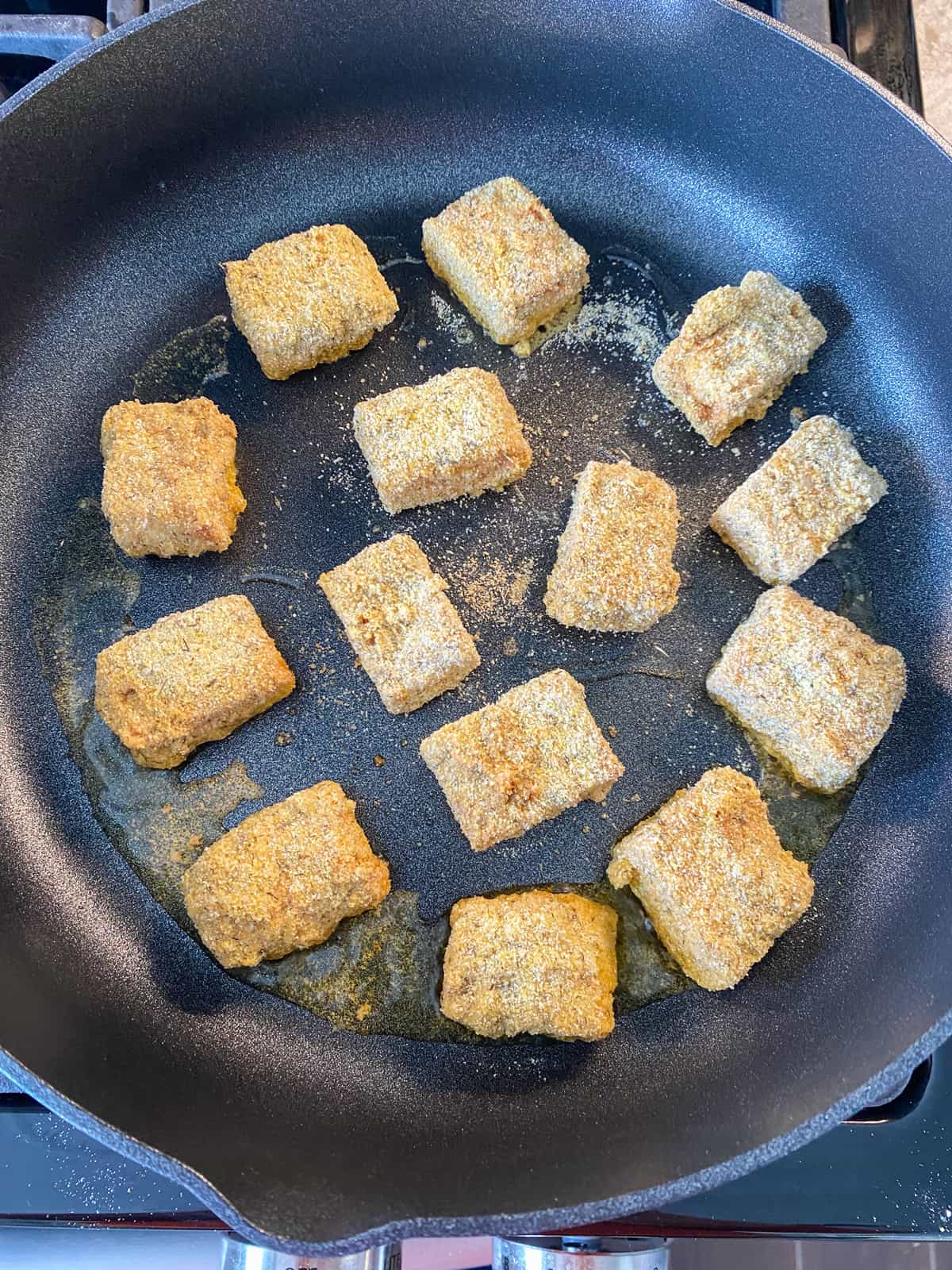 Add all the tempeh pieces to the heated skillet, and cook until brown and crispy.
Continue flipping and cooking until the tempeh is crispy on each side - about 2-5 minutes per side.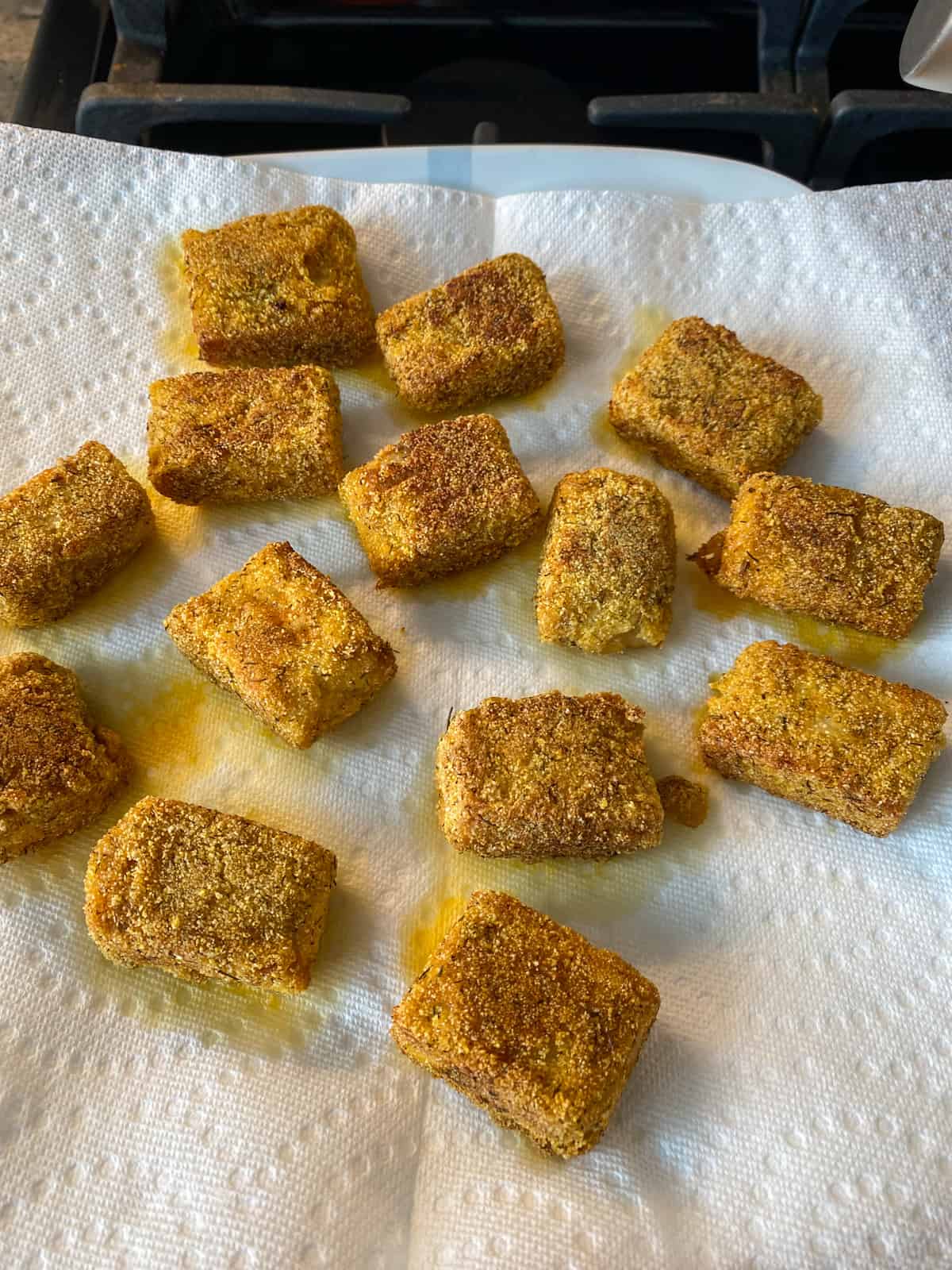 Remove the tempeh from the skillet, and drain on a paper towel.
Hint: dredge means to lightly coat a food with a dry ingredient, like flour, cornmeal, or breadcrumbs.
Substitutions
This recipe is vegetarian and gluten free (if your tempeh is gluten free). Here are some substitutions for other modifications.
Vegan - when you make your Buffalo sauce, use a vegan yogurt, like Forager Project, or Silk. Just make sure it's unsweetened.
Coating - use Panko or regular whole wheat breadcrumbs instead of cornmeal
Sauce - use your favorite Buffalo sauce (but watch the amount of sodium in it!)
You might want to check out my article on how to cook with less salt.
Variations
Crispy Buffalo tempeh bites are spicy, as the name suggests. Here are some variations, and other ways to serve Buffalo tempeh.
Sandwich - cut each tempeh block in thirds instead of bites, marinate, and proceed with the recipe as written. Then assemble a sandwich with a slice of tempeh, low fat ranch or blue cheese dressing, lots of greens, and celery sticks on the side.
Salad - use these to top a simple green salad, using either low fat ranch or blue cheese dressing
Note that neither ranch nor blue cheese dressing are particularly heart healthy, so use in moderation. Read the labels, looking specifically for saturated fat, sodium, and added sugar content.
Equipment
For these Buffalo tempeh bites, a non stick skillet is going to work best so that the cornmeal coating stays put, and gets nice and crispy without too much oil.
If you don't have a non stick skillet, a cast iron skillet would be the next best choice. Of course you can use a regular stainless steel skillet, but know that you may experience some sticking to the pan, or some of the breading may come off.
Storage
Foods with crispy coatings don't generally store well, and these are no exception. The coating will start to take on moisture and become soft.
This isn't a food safety issue, however, so if you do have leftovers, cool them completely before storing in a container in the refrigerator for up to 5 days. Cooling them completely first ensures the crispy coating will take up as little moisture as possible.
To reheat, use a toaster oven, or regular oven, preheated to 400 degrees F, and bake for 5-10 minutes, watching closely to avoid burning. A microwave is fine for reheating as long as you don't mind the tempeh bites no longer being crispy.
Top tip
You will want to make these as close to serving time as possible so they are nice and crispy. The tempeh can marinate in the Buffalo sauce for up to 24 hours, so use that to your advantage!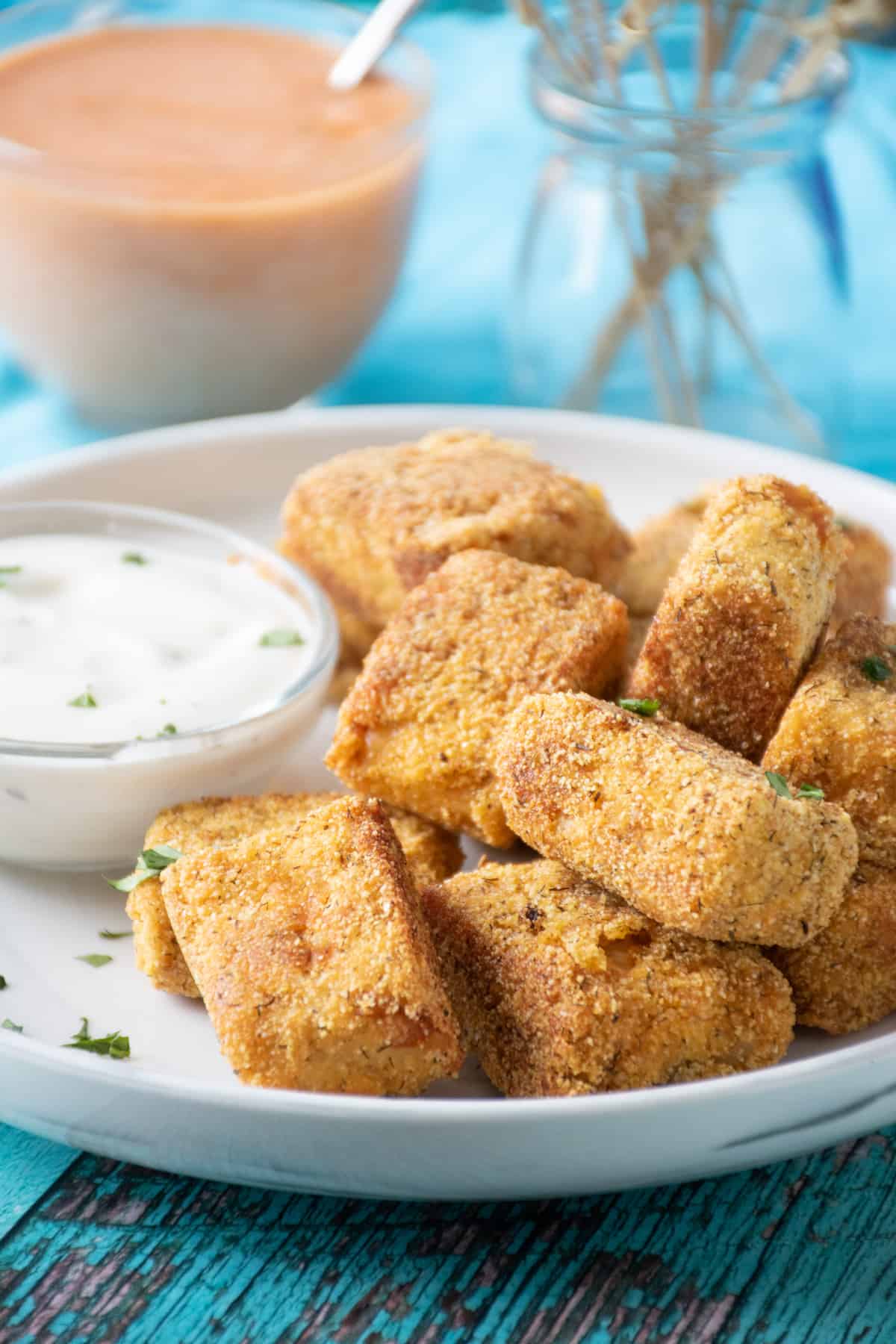 FAQ
Why is my cornmeal coating coming off the tempeh?
This can happen for a few reasons:
- The skillet isn't hot enough before adding the tempeh, leading to excessing oil absorption
- The coating may be sticking to the pan if it's not a non stick pan
- You may be accidentally too rough in flipping the tempeh, causing the breading to break off (use tongs, and gently turn the pieces)
- There is too much breading on the tempeh
Related
Looking for other high protein recipes like this? Try these:
Pairing
These are my favorite dishes to serve with Buffalo Tempeh Bites:
📖 Recipe
Buffalo Tempeh Bites
Buffalo Tempeh Bites are crispy and spicy, and you won't be able to stop eating them!
Ingredients
8

oz

Tempeh

1

recipe

Buffalo Sauce

½

cup

Cornmeal

1

teaspoon

Garlic Powder

1

teaspoon

Dried Dill

2-3

tablespoon

Grapeseed Oil
Instructions
Remove the tempeh from the packaging, and cut into bite size pieces; about 14-20 pieces total.

Toss the tempeh pieces with the Buffalo sauce, cover, and marinate in the refrigerator for at least 1 hour.

Combine the cornmeal, garlic, and dill in a small bowl.

Heat the oil in a medium to large skillet over medium heat.

Remove the tempeh from the sauce, and dredge each piece in the cornmeal mixture.

Place the tempeh pieces in the skillet, and cook until browned, about 5 minutes.

Gently flip the tempeh with tongs and continue cooking another 5 minutes.

Continue doing this until the tempeh is browned and crispy on all sides.

Remove the tempeh from the skillet and place on a paper towel to soak up extra oil.

Serve hot with extra Buffalo sauce, blue cheese or ranch dressing, as desired.
Nutrition
Serving:
0.25
recipe
|
Calories:
205
kcal
|
Carbohydrates:
10
g
|
Protein:
14
g
|
Fat:
13
g
|
Saturated Fat:
2
g
|
Polyunsaturated Fat:
7
g
|
Monounsaturated Fat:
3
g
|
Cholesterol:
0.7
mg
|
Sodium:
191
mg
|
Potassium:
315
mg
|
Fiber:
3
g
|
Sugar:
2
g
|
Vitamin A:
80
IU
|
Vitamin C:
1.3
mg
|
Calcium:
84
mg
|
Iron:
2.1
mg
Food safety
The last thing anyone wants is a bout with food poisoning! These are great tips to minimize the risk.
Cook foods to a minimum temperature of 165 °F (74 °C)
Do not use the same utensils on cooked food, that previously touched raw meat
Do not reuse marinade that raw meat was in
Wash hands before touching food, and after touching raw meat, your hair, face, etc.
Don't leave food sitting out at room temperature for longer than 2 hours (or 1 hour if the weather is hot)
Never leave cooking food unattended
Use oils with high smoke point to avoid harmful compounds
Always have good ventilation when using a gas stove