Who doesn't love an easy side dish for any dinner that packs a ton of flavor? Garlicky Roasted Broccoli and Mushrooms is that side dish! Loads of garlic with a pinch of salt transforms boring broccoli into a magnificent treat with little mushroom jewels. Fancy enough to serve for company, but simple enough for any weeknight. This is truly the best way to prepare heart healthy broccoli!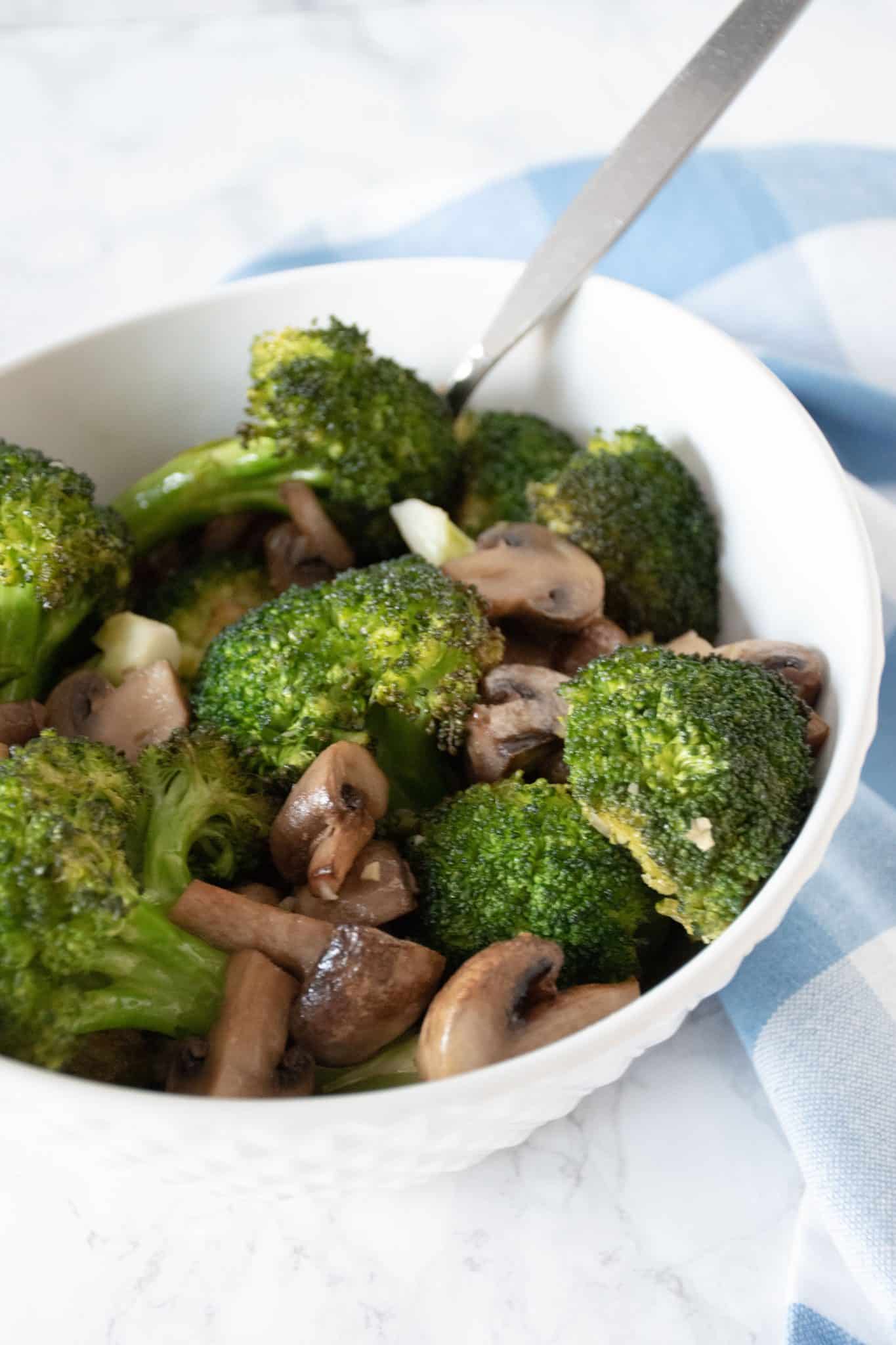 Is roasted broccoli still healthy?
Yes! While the cooking process does tend to destroy some nutrients (like vitamin C), it makes other nutrients more absorbable! Roasting also makes it more delicious, meaning you'll probably eat more of it, thereby getting more nutrition (1). 😉
To get the best of both worlds, roast the broccoli until it is still kind of crunchy (al dente), but toasty. This way, you'll preserve a good amount of the nutrition, but still enjoy the roasty goodness!
Methods of cooking that destroy the most nutrition are boiling (nutrition leaches into the water), and overcooking using any method. Steaming, microwaving, and roasting are among the best cooking method to preserve nutrition. Adding a bit of fat (in this case, the oil) can help make nutrients like vitamins A and K more absorbable.
What oil is best for roasting vegetables?
There's a lot of talk about the smoke point of oils, and what's best for cooking or using raw. This is an important thing to know when choosing an oil, because once an oil reaches its smoke point, it starts to break down, and the healthfulness of the oil degrades into sometimes harmful substances that have the opposite effect on heart health.
For roasting vegetables between 400-450 degrees F, choose canola, vegetable, sunflower, corn, peanut, soybean, refined olive, or safflower oils, These all have smoke points of at least 400 degrees F. If you're going above 450 degrees F, go for refined olive oil or safflower oil.
Extra virgin olive oil does have a relatively low smoke point, at around 350 degrees F, give or take depending on brand. That's why it's often said that extra virgin olive oil is best used for salad dressings and other recipes that don't require cooking. But as long as your cooking temp stays below 350 degrees F, you're fine to use it.
Keep in mind that refined olive oil (usually just called "olive oil") is generally lacking the polyphenols and other anti inflammatory compounds that heart healthy extra virgin olive oil has. So, while refined olive oil can be used as an all purpose oil, it's best to keep both on hand to use in appropriate applications.
Tips and substitutions for this recipe
A few tips to keep in mind, and the following substitutions can be made in this recipe:
Use cauliflower or Brussels sprouts instead of broccoli.
Use frozen broccoli instead of fresh - simply follow the recipe as written with frozen!
Use any kind of mushroom you like. Just watch smaller mushrooms to keep them from burning.
Instead of olive oil, use vegetable, canola, or peanut oil.
Instead of garlic, just throw it all in the trash! 😉 Just kidding haha. If garlic isn't your thing, leave it out!
If you like crispier, more charred roasted veggies, you might end up roasting for more than 25 minutes.
If you prefer softer veggies, steam your broccoli first (not the mushrooms, though), until it's soft, then proceed with roasting.
If you make Garlicky Roasted Broccoli and Mushrooms, leave me a comment and tell me how you liked it!
This dish will pair well with Balsamic Glazed Onions & Black Beans, Italian Lentil & Rice Pantry Casserole, and Easy Skillet Tempeh with Caramelized Onions & Grapes.
📖 Recipe
Garlicky Roasted Broccoli and Mushrooms
Garlicky Roasted Broccoli and Mushrooms is an easy side dish for any weeknight dinner, and packs a ton of flavor! Loads of garlic with a pinch of salt transforms boring broccoli into a magnificent gem!
Ingredients
1

lb

Broccoli,

cut into desired sized pieces

8

oz

Mushrooms

(white or baby bellas), washed, and halved/quartered depending on size

2-3

Garlic cloves,

minced

1

tablespoon

Olive oil

Pinch

of salt
Instructions
Preheat oven to 400 degrees F.

Once broccoli and mushrooms are chopped to the size you like, toss them with the minced garlic, oil, and salt.

Place on a lined baking sheet, and roast for 15-25 minutes, to desired level of doneness. Toss once or twice during the cooking process. Larger pieces will take longer to cook.

Serve immediately.
Nutrition
Calories:
83
kcal
|
Carbohydrates:
9.9
g
|
Protein:
5
g
|
Fat:
4.1
g
|
Saturated Fat:
0.6
g
|
Polyunsaturated Fat:
0.5
g
|
Monounsaturated Fat:
2.5
g
|
Sodium:
79.3
mg
|
Potassium:
544.7
mg
|
Fiber:
3.5
g
|
Sugar:
3.1
g
|
Vitamin A:
35.2
IU
|
Vitamin C:
102.8
mg
|
Calcium:
57.7
mg
|
Iron:
1.1
mg