Do you love mushrooms? Then this is just the warming bowl of chili you'll want to eat all winter long! Mushroom chili is heart healthy, hearty, high protein, vegan, and works for all your guests' dietary needs. So delicious, too! Make a big pot of this meal prep friendly, low sodium chili today!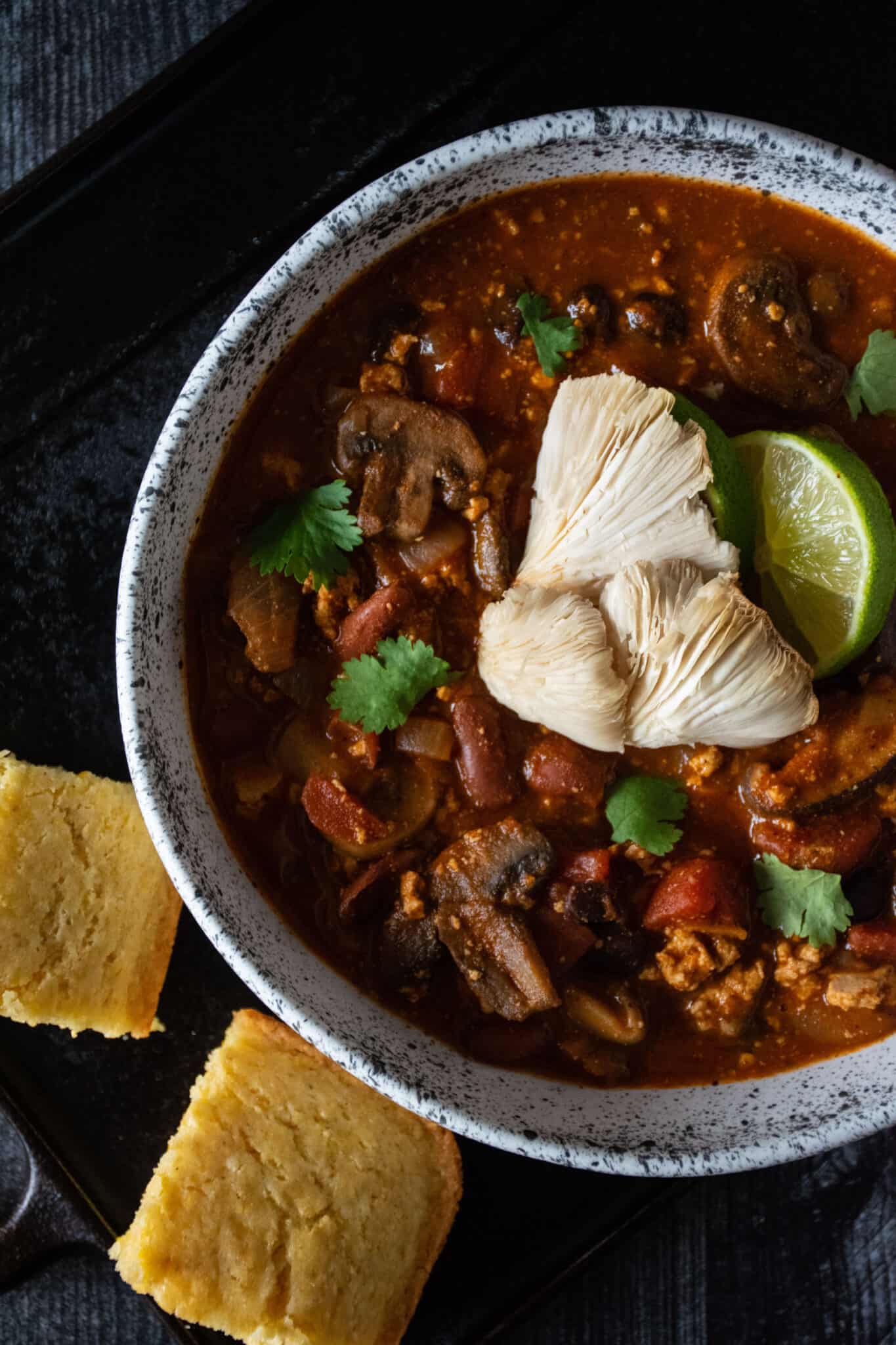 Is chili healthy?
Chili isn't horribly unhealthy in the first place, but there are multiple ingredients that are either iffy, or that we should definitely eat more moderate amounts of.
Let's start with the meat. If the chili is homemade, you can choose to use very lean ground beef, or turkey or chicken, which makes it a bit better, and lower in saturated fat. If you get restaurant chili, it's likely fattier meat is used, because it's easier to make that taste indulgent and keep you coming back!
Now, seasonings. Chili powder, cumin, oregano, etc. - all great! But what about that salt? Yea, there's often tons of salt in chili! It's in the canned beans, and canned tomatoes, and then usually added in straight. Sprinkling cheese on top? More salt (and saturated fat, to boot). Read more about sodium and heart health. Choosing no added salt canned ingredients helps tremendously.
And suffice it to say canned chili is something you want to look good and hard at the label of! Learn more about reading labels for heart health if you need.
How to make chili healthier
We make some modifications to traditional chili for an ultra heart healthy version that is meaty, filling, and packed with delicious nutrition.
This first thing we do is replace the meat with tofu. Chili is traditionally made with beef of course, which tends to be high calorie, and high in saturated fat and cholesterol. Even ground turkey or chicken can be higher in saturated fat than you think unless you get the ultra lean ones. Using the tofu instead cuts the saturated fat and cholesterol entirely, but maintains the high protein content of this heart healthy chili. Plus, soy foods are great for heart health! Research shows soy foods, like tofu, can help lower cholesterol and lower your risk of atherosclerosis, among many other benefits (1, 2, 3, 4).
Next, we add tons of mushrooms! Mushrooms are delicious, add a meaty texture, and a umami flavor to the chili. And are they heart healthy? Of course. Mushrooms are very low in calories, but high in protein and cholesterol free. Not only that, but they are known to have cholesterol lowering properties, and anti inflammatory effects (5). Also, unique to the plant world, mushrooms naturally contain some vitamin D. Not a lot really, but if mushrooms are exposed to UV radiation the amount of vitamin D in them increases significantly (6). They're a great addition to meals!
Vitamin D is known for its role in bone health. But it's also vital for proper immune function, cell growth regulation, and reducing inflammation (7). Humans can use the sun's rays to convert premetabolites into usable forms of vitamin D, but during this time of the year (in parts of the US like Pittsburgh, anyway), it's not a reliable way to obtain the vitamin. Plus, skin cancer is a real danger.
The rest of this low sodium chili is sort of "normal" chili ingredients, but heart healthy anyway! Black beans and kidney beans bring additional protein, fiber, and lots of nutrition like magnesium and iron. And the tomatoes add some much needed potassium to the dish.
We amp up the flavor with delicious herbs and spices so we didn't need any additional salt. But if you feel you need some, the mushroom chili is so low sodium that you have room for a sprinkle!
FAQs and Substitutions
Can I make this mushroom chili in a crock pot?
You can. You still need to cook the tofu in a skillet though, and I'd still recommend sautéing the onions, garlic, and mushrooms. After all that, it might just be more worthwhile to keep it on the stove. Flavor layering is important for this chili. However, you can absolutely use a slow cooker to keep it warm after it's done if you're having a party!
What are the best mushrooms to use for this chili?
Absolutely any mushrooms you like! I used a blend of white button mushrooms, criminis (baby bellas), shiitake, and oyster mushrooms. You could also use portabella mushroom caps (remove the stem and scrape out the gills before using), porcini, enoki, or chanterelle. If you're into foraging, you can use those mushrooms too (seriously don't forage mushrooms unless you REALLY know what you're doing!).

To keep the cost minimal, use all white buttons. It will still be great!

If you are including a smaller or more delicate mushroom, like enokis, add them at the same time you add the beans so they don't disintegrate to nothing.
How can I thicken up my chili?
If your chili is too thin, you can thicken it up by simply simmering it longer. Start with 5 or 10 minutes, and go longer if needed. Chili is uncomplicated like that!
How can I fix my chili if it's too thick?
Another way chili is uncomplicated! Just add a bit of vegetable broth or water until it's as thin as you like!
How can I use fresh tomatoes to make chili?
You can use 2 ½ pounds of fresh tomatoes in place of the 28 oz canned tomatoes. Chop the tomatoes up, removing the stems and cores. You can also blitz them in a food processor a bit to save some time. Then you're ready to go! You may find you'll need to simmer your chili a little longer to thicken it up, but that's the only difference.
What are the healthiest chili toppings?
While you probably know loads of cheese and sour cream aren't the healthiest chili toppings, there are a lot of great, heart healthy options. Consider some of these ideas: chopped cilantro, avocado or guacamole, chopped red or green onions, fat free Greek yogurt (tastes like sour cream!), or even a handful of sliced black olives.
If you like the tofu "meat treatment" in this recipe, you should also try Quick Plant Based Tacos, where we use the same method to achieve delicious taco bliss.
Make this low sodium chili a meal by adding Sweet Potato Cornbread.
If you make Low Sodium Mushroom Chili, tell me about it in the comments!
📖 Recipe
Low Sodium Chili (Mushroom Chili)
This is the warming bowl of chili you want to eat all winter long! Mushroom chili is high protein, low sodium, and works for all your guests' dietary needs! So delicious, too!
Ingredients
For the tofu "meat"
1

tablespoon

Olive Oil

½

Large Onion,

chopped

4

tablespoon

No Added Salt Tomato Paste

½

cup

Water

2 ½

tablespoon

No Salt Taco Seasoning

(see notes)

1 ½

tablespoon

Apple Cider Vinegar

1

block

Firm or Extra Firm Tofu, drained, pressed, and crumbled
For the Chili
2

tablespoon

Olive Oil

6

Garlic Cloves,

minced

1

medium to large Onion,

chopped

16

oz

Mushroom variety,

sliced (or chopped if large like a portabella cap)

3

tablespoon

No Added Salt Tomato Paste

3

cups

Homemade Vegetable Broth

(or no added salt Vegetable Stock or Broth)

28

oz

can No Added Salt Diced Tomatoes

1 15.5

oz

can Black Beans,

no added salt, drained and rinsed

1 15.5

oz

can Kidney Beans,

no added salt, drained and rinsed

1-2

tablespoon

Chili Powder

(to taste)

1

tablespoon

Smoked Paprika

1

teaspoon

Cumin

Salt and Pepper to taste,

only if needed
Instructions
Prepare the Tofu:
Heat oil in a large skillet, over medium heat.

Add the onion, and saute until translucent.

While the onion is cooking, crumble the drained and pressed tofu, if you haven't already. Use your hands to break it up and crumble it into a texture resembling cottage cheese.

Add the tomato paste, and cook for another minute or two, stirring continuously.

Pour water into the skillet, along with taco seasoning and apple cider vinegar. Stir to combine into a thick sauce.

Add the crumbled tofu to the skillet, and stir to combine with sauce. Cook for another few minutes, until hot throughout.

Set aside.
Make the Chili:
Heat the oil in a large pot or Dutch oven over medium heat.

Add the onions and garlic, and saute until softened and fragrant.

Add the mushrooms, and continue to cook until the mushrooms have released their liquid, and most of it is evaporated, about 10 minutes.

Add all the remaining ingredients, as well as the tofu "meat" to the pot.

Bring to a boil, reduce the heat to medium/low, and simmer for at least 15 minutes. If you go much longer than that, check the amount of liquid in the pot, and add more if needed. You can use either water or more vegetable broth for this.

Serve hot with toppings of your choice, like fresh cilantro, avocado, diced onion, sour cream (I recommend plain Greek yogurt instead), sliced lime, etc.
Nutrition Facts
Low Sodium Chili (Mushroom Chili)
Amount Per Serving
Calories 394
Calories from Fat 111
% Daily Value*
Fat 12.3g19%
Sodium 76mg3%
Potassium 1361.8mg39%
Carbohydrates 51.8g17%
Protein 24.6g49%
Vitamin A 93.6IU2%
Vitamin C 26.6mg32%
Calcium 167.6mg17%
Iron 7.3mg41%
* Percent Daily Values are based on a 2000 calorie diet.