The perfect complement to any Mexican entrée, or potluck, Charred Corn and Poblano Salad has all the flavors you crave: a little sweet, little spicy, tangy, salty, smoky - what more could you want? Oh and it's healthy, too!
Is corn unhealthy?
Isn't corn bad for you? I hear that a lot actually. The short answer is no, it's not unhealthy. But of course everything comes with caveats. Corn itself isn't unhealthy, but because it's so cheap, it tends to show up in many many processed products (I'm looking at you, high fructose corn syrup).
Corn contains a good variety of vitamins and minerals, along with being high in fiber. Most notably, corn is high in lutein and zeaxanthin (1). These are two important carotenoid pigments that contribute to the yellow or orange color in a variety of foods like cantaloupe, carrots, salmon, and eggs. These pigments also make up the yellow spots in the human retina, and help protect it from damage by blue light. They also help protect against age related macular degeneration and cataracts (2). I can tell you from years as a long term care dietitian, these two conditions affect a large percentage of older people, so any protection we can get is good!
What about GMO (genetically modified organism) corn? There are actually not as many GMO crops on the market as most people think. Corn is one, along with soybeans, cotton, potatoes, papaya, summer squash, canola, alfalfa, apples, and sugar beets (3). As of the writing of this article, no other GMO foods are available for consumer purchase, though a GMO salmon has been approved (not available). GMO foods are highly regulated by several government agencies, and are considered to be as safe and healthy as non-GMO foods (4). GMO foods are highly controversial, and for a variety of reasons. If you are looking to avoid GMO products for whatever reason, look for organic foods. By federal definition, organic foods cannot contain GMOs.
Tips and Substitutions
What can I substitute for red onions?
In this case, use any onion you have: white, yellow, green, or even shallots. I love the flavor red onions bring to this salad, but any will work.
Can I use jarred lime juice instead of fresh?
Yep! If you have lime juice that comes in those little plastic "limes" just use that instead of going out of your way for fresh limes.
What can I use instead of poblano peppers?
If you can't find poblano peppers, you can use a jalapeno, but they are spicier than poblanos. Start with only one jalapeno, and see how you like it. Alternatively, if you don't want spice, you can use green bell peppers.
If you make Charred Corn and Poblano Salad, tell me about it!
And if you need some ideas about what to serve this salad with, consider my Black Bean Sweet Potato Enchiladas, Quick Plant Based Tacos, or Brussels Sprouts, Sweet Potato & Black Bean Tostadas. Don't forget the guacamole!
📖 Recipe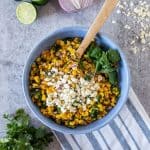 Charred Corn and Poblano Salad
The perfect complement to any Mexican entrée, or potluck, Charred Corn and Poblano Salad has all the flavors you crave: a little sweet, little spicy, tangy, salty, smoky - what more could you want? Oh and it's healthy, too!
Ingredients
4

cups

Frozen Corn, thawed (or 4 Fresh Corn on the Cob, corn cut off)

2

Poblano Peppers

½

cup

chopped Cilantro

¼

cup

finely chopped Red Onion

¼

cup

crumbled Cotija or Feta Cheese

1

Lime, juiced (about ¼ cup juice)

2

teaspoon

Olive Oil

Ground pepper to taste

Pinch

of salt,

if needed
Instructions
Heat a large, dry, cast iron skillet on the stove over medium heat.

Pat corn dry with paper towels, and deseed and chop the poblano peppers to roughly the size of the corn kernels. A little bigger is fine.

When the pan is very hot, add the corn and peppers, and let them sit for a few minutes without stirring.

After a minute or two, use a flipper to turn over the corn and peppers - you should start to see char marks on the vegetables.

Continue to do this for about 15 minutes, until the corn and peppers are nicely charred on all sides.

Remove from the heat, and place the corn and peppers in a bowl to cool slightly.

Add all the remaining ingredients to the bowl with the corn and toss.

Taste and add ground pepper, and a little salt, if needed.

Eat at room temperature, or chill to serve later.
Nutrition Facts
Charred Corn and Poblano Salad
Amount Per Serving
Calories 118
Calories from Fat 38
% Daily Value*
Fat 4.2g6%
Cholesterol 5.6mg2%
Sodium 73mg3%
Potassium 296.3mg8%
Carbohydrates 19.8g7%
Protein 4.2g8%
Vitamin A 22.1IU0%
Vitamin C 10.5mg13%
Calcium 36.4mg4%
Iron 0.6mg3%
* Percent Daily Values are based on a 2000 calorie diet.