A bounty of beans in the garden means you want to preserve them. It's so easy, and it means you can eat beans from your garden well into the frigid winter months! Here are step by step instructions, with pics, for how to freeze beans.
Step 1: Clean and cut the beans
Thoroughly wash your beans to remove any dirt and debris. Then remove the stems, and cut or snap your beans into the size you want. You can leave them whole, too, if you like. Save the stems and any other parts you trim off for your Vegetable Broth from Scraps!
Step 2: Boil a Large Pot of Water and Blanch the Beans
I use a large stock pot, but use what you have. If you are using a smaller pot, you can work in batches if you need. Once you have the water at a rolling boil, add the beans. Cook the beans for 2 minutes only. This is called blanching. While the beans are blanching, fill another large stock pot or large bowl with ice and water. You will need it immediately after the beans blanch. Sadly, my gorgeous purple beans lose their pretty color when cooked, but still taste amazing!
Step 3: Drain the Beans
Remove the beans from the boiling water immediately after 2 minutes is up, and drain them.
Step 4: Shock the Beans
Once the beans are drained, plunge them into the ice bath you have prepared. Submerge them completely until they are cold. This is called shocking the beans, and it immediately stops the cooking process so the beans will stay crisper.
Step 5: Drain the Beans and Arrange on Lined Cookie Sheets
Completely drain the shocked beans in a colander. Once drained, arrange them on a lined cookie sheet, spaced out as much as possible. I use a silicone baking mat, or parchment or waxed paper would work, too. Otherwise, the beans will stick to the cookie sheet, and will be difficult to remove.
Once the beans are frozen, you'll transfer them to bags. The reason they don't go directly in the bags to freeze is that they will freeze together in a giant ball that way. Freezing them on a cookie sheet first will prevent that.
Step 6: Freeze for at least 2 hours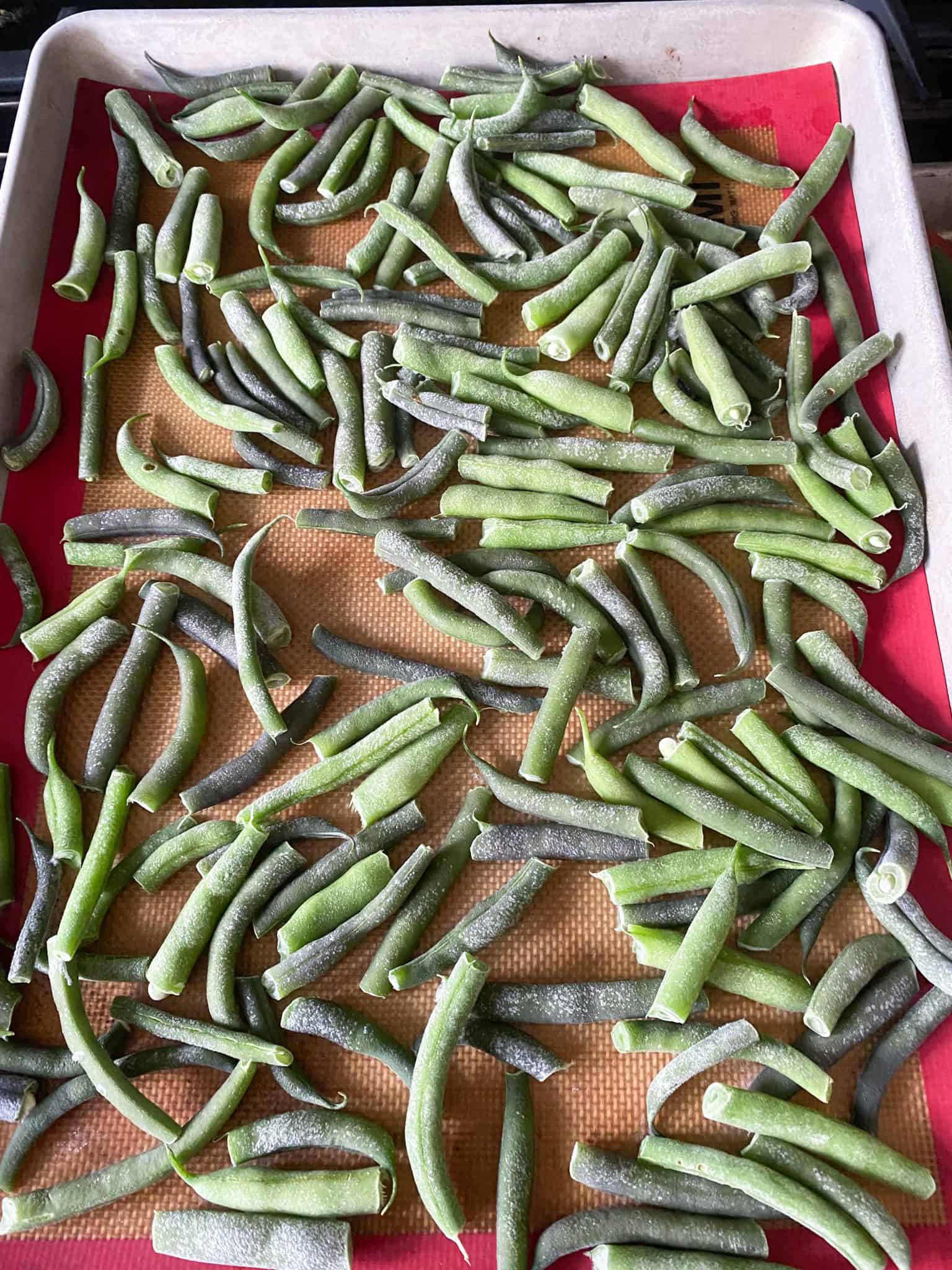 Pop the cookie sheet(s) in the freezer, and freeze for at least 2 hours or overnight.
Step 7: Measure into Zipper Bags and Store in the Freezer
Once the beans are frozen, measure them into zipper bags or another container of your choosing. I like 2 or 3 cup volumes, but use whatever works best for you and your family. Store your harvest in the freezer for 6 months to 1 year! Use them just like any other frozen green beans from the store.
Looking for recipes for frozen green beans? Try my Garlic Roasted Green Beans! It uses either fresh or frozen beans!
For more tips on eating healthy, you might like to read The Three Best Diets for Heart Health, How to Cook with Less Salt, and Foods to Avoid if You Have High Blood Pressure.
And if you have a special dietary need, you'll want to see our Special Dietary Needs page, which sorts all our recipes by what you need!