Wheat berries are delicious little whole grain gems, that sort of explode in your mouth when you bite them. They have a slightly nutty flavor, but are mostly neutral, so are like a blank canvas for whatever flavors you like! One of my least favorite things about wheat berries, though, is how looooooong they take to cook. They typically require a vigorous boil in water for over an hour. But using your Instant Pot, or another similar pressure cooker, is a game changer! Just 27 minutes of cook time and you don't have to worry about it boiling dry. Instant Pot wheat berries! Who knew?!
What is a Wheat Berry?
Wheat berries are simply the whole wheat grain. If you grind up wheat berries, you have whole wheat flour.
There are several varieties of wheat berry on the market, and are classified in different ways. Spring wheat is planted in the spring for harvest in the fall, and winter wheat is planted in the fall for harvest in the spring. Further, red wheat has a slightly reddish color, and is a little higher in protein, while white wheat is lighter in color, with a slightly lower protein content. And to take it one step further, hard wheat is (shockingly) harder and thinner in shape, and soft wheat is softer and rounder.
White wheat is good for delicate baked goods, like cookies and rolls. Red wheat is better for denser, heavier baked goods, like rustic bread and crackers. The hardness/softness matters a little less once the grain is ground, but soft wheat will generally produce a bit lighter of a product.
If you're buying the wheat berries to eat as they are, any variety will do!
Are Wheat Berries Healthy?
Yes! When you're eating for heart health (and really, your health in general), whole grain matters. And wheat berries are a whole grain. They are high in fiber, are a good source of iron, and are surprisingly a good protein source as well. A serving has as much protein as an egg! And making pressure cooker wheat berries is a great way to get more into your heart healthy diet.
A note: wheat berries are not gluten-free. If you have celiac disease or are otherwise gluten intolerant, you should not eat wheat berries.
What To Do With Wheat Berries
Wheat berries are incredibly versatile! Here are just some ideas for your pressure cooker wheat berries:
If you try making Instant Pot Wheat Berries, let me know how they come out in the comments below!
📖 Recipe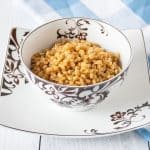 Instant Pot Wheat Berries
No more boiling for over an hour on the stovetop! Wheat berries are fast and easy to make using your pressure cooker!
Natural pressure release
10
minutes
Ingredients
3

cups

Water

1

cup

Wheat Berries
Instructions
Add ingredients to the pot of your pressure cooker.

Set the manual timer for 27 minutes on high pressure. (It will take about 10 minutes to come to pressure.)

When cooking is done, allow the pressure to natural release for 10 minutes before quick-releasing the remaining pressure.

Drain the water from the wheat berries, and enjoy as is or use in recipes!
Nutrition Facts
Instant Pot Wheat Berries
Amount Per Serving
Calories 170
Calories from Fat 9
% Daily Value*
Fat 1g2%
Sodium 7.1mg0%
Potassium 188mg5%
Carbohydrates 34g11%
Protein 7g14%
Calcium 31.3mg3%
Iron 1.8mg10%
* Percent Daily Values are based on a 2000 calorie diet.