Beans and Greens Breakfast Hash uses whatever vegetables you have, so you can make it any morning! This is the perfect way to start your day, too. No sugar overload to leave you ravenous in half an hour like those boxed cereals, pastries, and pancakes. This breakfast is filling, high in fiber and protein, easy to make, and super yummy!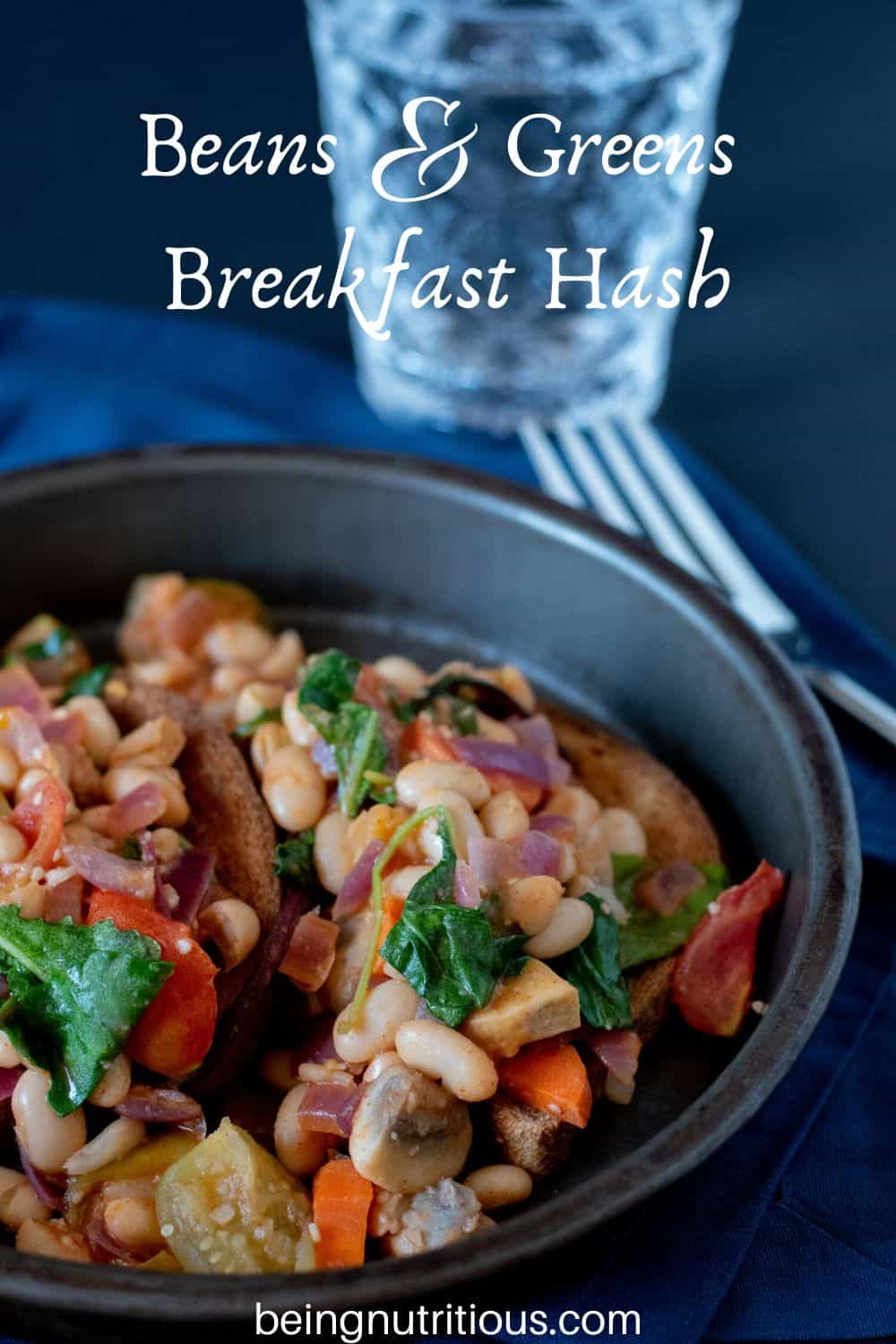 Ingredients
Red Onion
I used a red onion mostly because it's what I had. But look how beautiful it is in this dish! It's okay to use what you have: yellow onions, white onions, green onions, and even shallots would work great!
I sing the praises of onions and garlic a lot - because they're amazing and yummy, and I use them in much of my cooking. 🙂 These little roots may be useful specifically against colorectal cancer, high cholesterol, stroke, and high blood pressure.
Garlic
Garlic is one of my very favorite flavors! If you hate it, I won't judge, though. Just leave it out. See the links under the onions section to learn more about the health benefits of this group of vegetables!
Chopped Vegetables
This part of the recipe is totally customizable! Use any vegetables you have that might be starting to get a little wilty in your fridge. Tomatoes, peppers, carrots, celery, mushrooms... The sky is the limit! Be mindful of the cooking time of the vegetables, though. For example, sweet potatoes will take longer to cook than broccoli, which will take longer to cook than peppers. You may need to add the vegetables in phases.
A fantastic way to eat vegetables for breakfast!
White Beans
I love white beans for their mild flavor and creamy texture. They really allow the flavors of the sauteed vegetables to come through in this recipe. Any white bean is fine to use; big or small!
Beans are high in fiber, protein, magnesium, phytochemicals, and other nutrients. Eating at least a serving of beans daily can help lower cholesterol, blood pressure, and inflammation (1). Beans are also budget friendly! That's something we can all appreciate!
Greens
Ahhh, delicious, herbaceous, greens! Another food most of us don't eat enough. This completes the classic beans and greens combo. Adding the greens at the end softens them and allows them to jive with the other ingredients perfectly. Any green you like can be used here: spinach, kale, collards, arugula, or even dandelion or radish greens. I used arugula in my version.
Greens are generally high in vitamin K, so if you're on blood thinners, you may want to leave them out. Greens are also very low in calories and fat, but high in fiber, vitamin A, and potassium, to name a few. Cooked or raw, greens deserve a spot on your plate. Why not start with breakfast?
Smoked Paprika
One of my favorite spices for meatless dishes! It's smokey and reminds me of BBQ. If you don't have any, you can leave it out. Or use a few drops of liquid smoke.
How to Make Breakfast Hash
This delicious, savory breakfast comes together easily!
Start by sauteing the garlic and onion until they're soft. Then add the other chopped vegetables. If you have a really soft vegetable like tomatoes, you may want to leave them out until you add the greens - but maybe not!
Once the veggies are cooked through, add the rest of the ingredients, and continue to cook just long enough to warm through and wilt the greens.
This is yummy served over toast!
If you try Beans and Greens Breakfast Hash, let me know!
📖 Recipe
Beans and Greens Breakfast Hash
Give sugary breakfasts the boot with this delicious, savory breakfast hash! Use whatever vegetables you have for a customized, never-the-same meal experience!
Ingredients
2

teaspoon

Olive Oil

½

Medium Red Onion,

chopped

1

garlic clove,

minced

1 ½

cup

chopped vegetables of choice

(carrots, mushrooms, tomatoes, peppers, etc.)

1 ½

cup

1 can White Beans with no added salt, drained and rinsed

Handful of greens

(spinach, kale, etc.)

½

teaspoon

Smoked Paprika
Instructions
Heat oil in a pan over medium heat. Add onion and garlic, and saute until softened.

Add chopped vegetables (if you are using a soft vegetable, like tomatoes, hold them until you add the greens to maintain their integrity), and continue to saute about 5-10 minutes until softened.

Add beans, greens, and smoked paprika, and heat through until greens are wilted.

Serve immediately over toast.
Nutrition
Calories:
238
kcal
|
Carbohydrates:
35.8
g
|
Protein:
11.3
g
|
Fat:
6.6
g
|
Saturated Fat:
0.7
g
|
Polyunsaturated Fat:
0.7
g
|
Monounsaturated Fat:
3.4
g
|
Sodium:
98.3
mg
|
Potassium:
421.1
mg
|
Fiber:
10.3
g
|
Sugar:
6.3
g
|
Vitamin A:
358.1
IU
|
Vitamin C:
16
mg
|
Calcium:
103.2
mg
|
Iron:
3.6
mg