These roasted beets and carrots might just steal the show from your main dish! Sweet, creamy, and garlicky, there's something for everyone - even your pickiest eater!
I look forward to beet season every year! I know beets are kind of a divisive veggie. You either love the sweet earthiness of them, or you think they taste like dirt. 😉 But did you know roasting beets plays up their sweet flavor while muting that "dirt" taste? My Roasted Beets and Carrots will prove it!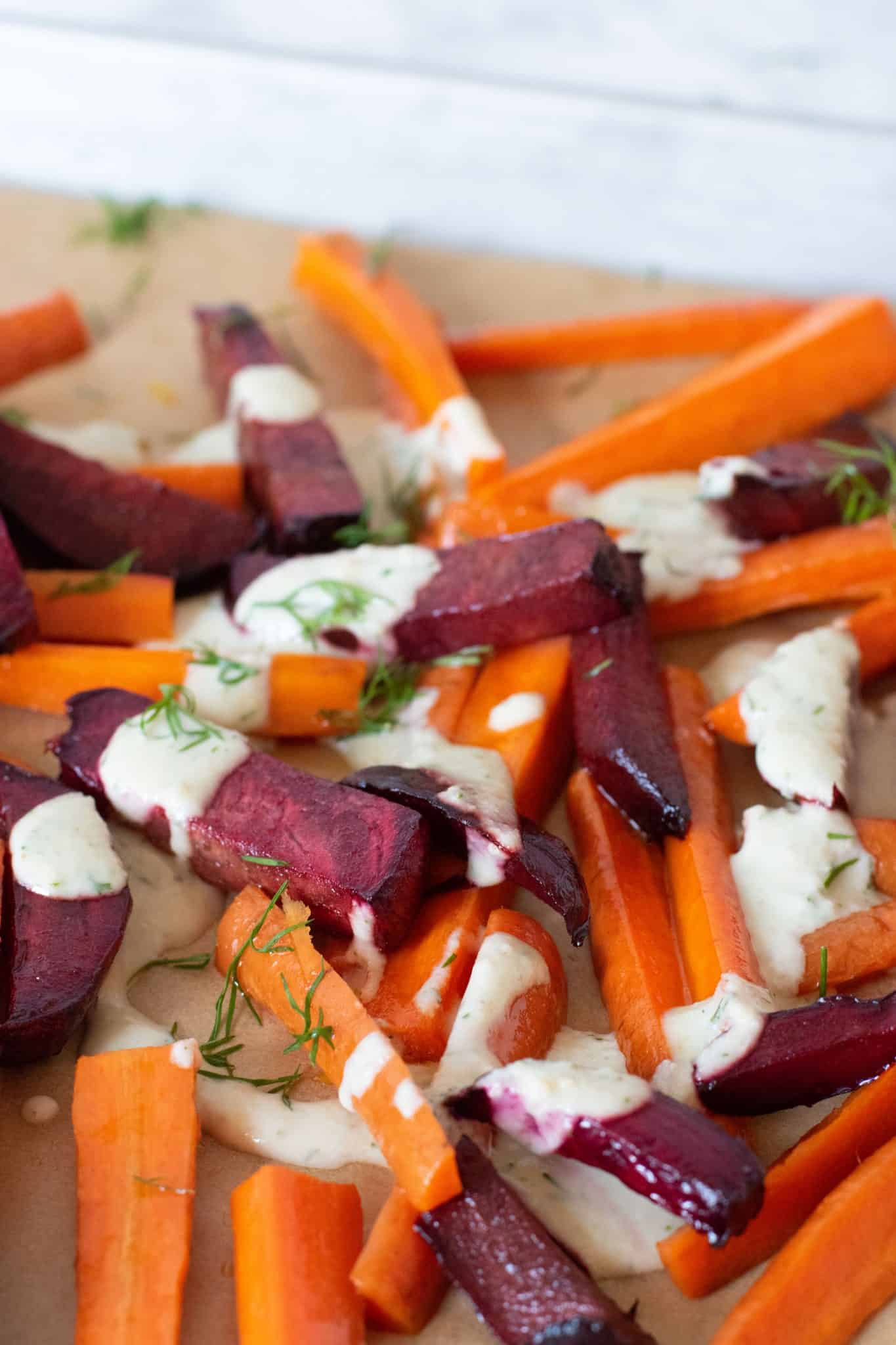 Did you also know beets are super nutritious? It's true. People sometimes associate beets with sugar, and there is a variety of beet from which we derive sugar, but those aren't the ones you buy in the store. A whole beet is low in calories and fat, while being high in fiber, vitamin C, folate, potassium, and iron. Pretty good for a little root, huh?
Before we jump into the recipe, let's talk a bit about beets and how to cook them.
How To Choose Beets at the Store
If you're not growing beets yourself, you're buying them at the store. At the grocery store, beets don't usually have the tops still attached. That's because the beet root will stay fresh for weeks, but the tops will last only a few days. The tops are edible, and can be eaten just like spinach!
If the tops are still attached, they should be dark green in color (stems are red), and should not look wilted.
Look for beet roots that seem heavy for their size and are very firm. They should never be squishy or spongy. The skin should be smooth, though there may be some wrinkling around the top where the green grew from.
How to Cook Beets
There are lots of ways to cook beets! They can also be eaten raw. If you do that, I recommend slicing them very thin, or shredding them for use in a cole slaw type dish. They are too hard to just bite into.
How to Cook Beets on the Stove
This is probably the most popular way to cook beets, and requires the least amount of prep.
If there are tops on your beets, cut them off.
Scrub the roots so there is no dirt or debris on them.
Place your whole beets in a large pot, and submerge in water.
Bring the pot to a rolling boil. Reduce heat and simmer until a fork can easily pierce the beet flesh. Time will depend on the size of your beets. Small beets may be done in 20 or 30 minutes, while large beets may take an hour.
Turn off the heat, move the pot to the sink, and run cold water into the pot until the water is cool.
Once the beets are cool enough to handle, you can easily remove the skins and use the beets in your recipe - or eat them right over the sink!
How to Cook Beets in the Microwave
This is probably the quickest way to cook beets! It's also relatively easy.
Trim the tops from the beets, and wash the roots.
Place the beets in a microwave safe bowl, and add 2 tablespoon of water.
Cover, and microwave in high for 10-15 minutes, turning halfway through. Test the beets by piercing with a fork. If the flesh is easily pierced, they're done!
Remove CAREFULLY, avoiding the steam.
Place the beets in cold water until they're cool enough to handle to remove the skins.
How to Grill Beets
While this method is a little more labor-intensive, grilling adds a whole extra flavor element to beets! Plus, this is really versatile. Since you're cooking in foil packets, you can add anything you like!
Remove the tops and scrub the beets.
Coat aluminum foil with cooking spray, and place beets in the center. Add any other ingredients now, like onions, garlic, etc.
Add a splash of oil or butter, and close the packet. Grill on high for about 20-45 minutes.
Keep an eye on it toward the end so they don't burn.
How to Roast Beets
I'm saving the best for last here! At least in my opinion. Roasting beets is probably my favorite way to prepare them. And, unless the skin seems unusually tough, there's no need to remove it!
Preheat oven to 400 degrees.
Remove tops of beets and scrub the roots.
Chop the beets to desired shape and size. The smaller the pieces, the more quickly they'll cook.
Drizzle with oil and any other seasonings you like.
Roast for 20 minutes or more, until tender.
These Roasted Beets and Carrots!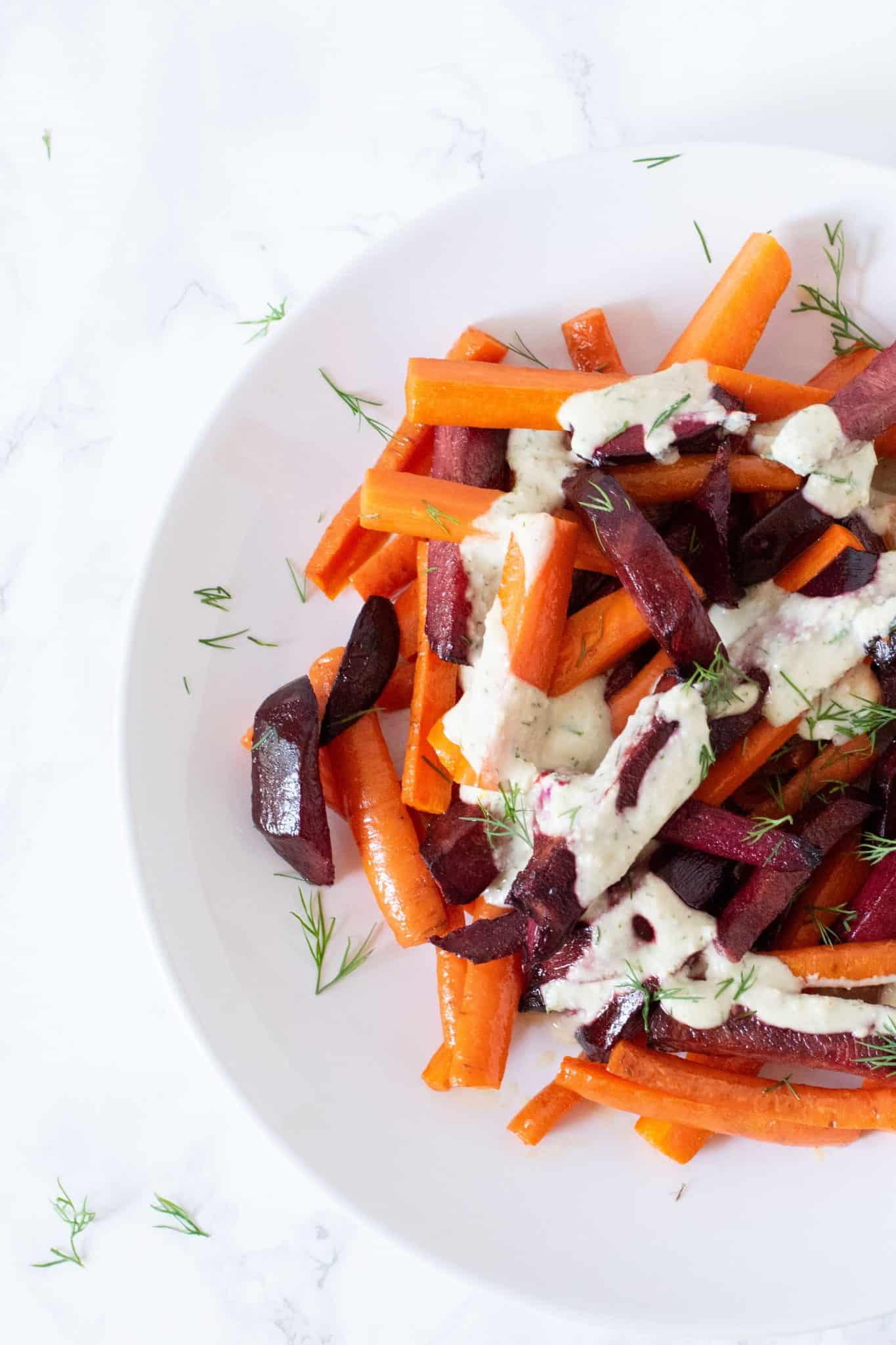 Root vegetables of all kinds go great together. But I chose to use carrots because of their beautiful color contrast to the beets, and their subtle sweetness. Dill is the perfect complementary herb to both, and garlic, well.... GARLIC!
You don't need to peel either the carrots or the beets for this recipe. But if you choose to, and you save the scraps to make Vegetable Broth, I advise against using beet peels for that. Unless you don't mind your broth being bright purple! You could use them, however, to make Vegetable Skin Crisps!
For the sauce, I used cashews as the base. Cashews lend an incredible creaminess when they are blended up, without all the saturated fat and cholesterol of actual cream. Pick unsalted varieties, and unroasted if you can find them. Roasted cashews will work in a pinch, they just won't blend up as completely.
If you make Roasted Beets and Carrots with Creamy Garlic Dill Sauce, let me know in the comments!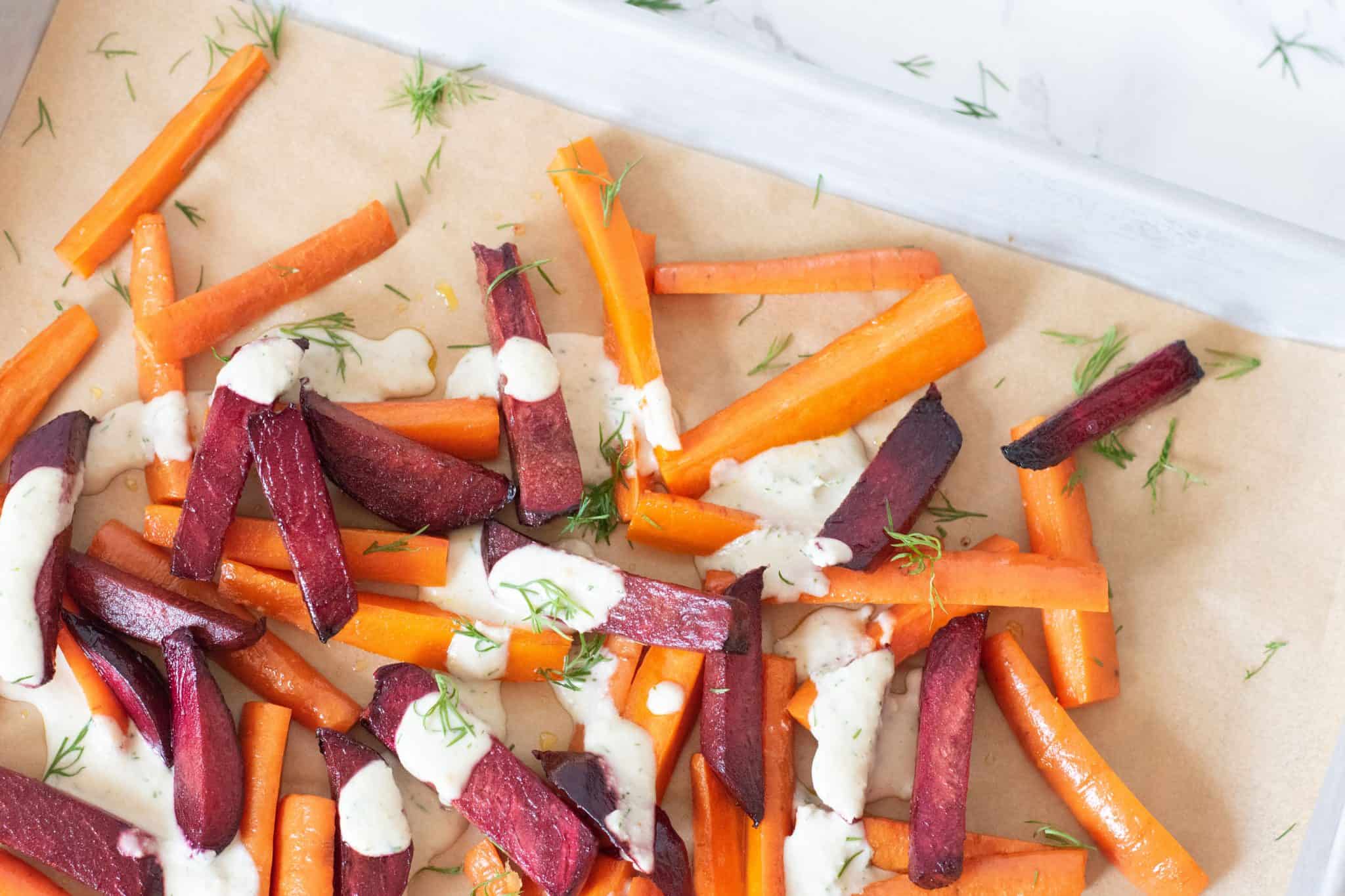 📖 Recipe
Roasted Beets and Carrots with Creamy Garlic Dill Sauce
Roasted beets and carrots will steal the show from your main dish! Sweet, creamy, and garlicky, there's something for everyone - even your pickiest eater!
Ingredients
For the Vegetables
1

lb

Beets

1

lb

Carrots

2

tablespoon

Olive Oil

Sprinkle

of salt
For the Garlic Dill Sauce
½

cup

unsalted, raw cashews

½

cup

water

1

garlic clove

2

teaspoon

packed fresh dill

½

teaspoon

lemon juice
Instructions
Preheat oven to 400 degrees.

Clean the beets and carrots, and cut into large match sticks - or whatever shape you want.

Toss with oil and sprinkle with salt.

Roast at 400 degrees for about 20-30 minutes, until beets and carrots are tender.

Meanwhile, make the sauce. Combine all sauce ingredients in a blender, and blend on high until smooth.

Transfer beets and carrots to serving dish. Drizzle with sauce, and sprinkle with chopped dill, if desired. Serve immediately.
Nutrition Facts
Roasted Beets and Carrots with Creamy Garlic Dill Sauce
Amount Per Serving
Calories 199
Calories from Fat 125
% Daily Value*
Fat 13.9g21%
Sodium 112.5mg5%
Potassium 551.1mg16%
Carbohydrates 17.4g6%
Protein 3.6g7%
Vitamin A 633IU13%
Vitamin C 8.4mg10%
Calcium 40.8mg4%
Iron 1.5mg8%
* Percent Daily Values are based on a 2000 calorie diet.