These healthy slow cooker collard greens are a great way to add greens to your diet without undoing it. We borrow the technique from traditional Southern collards, but season with a Mediterranean/Middle Eastern flair for collard greens that are tender, delicious, AND healthy!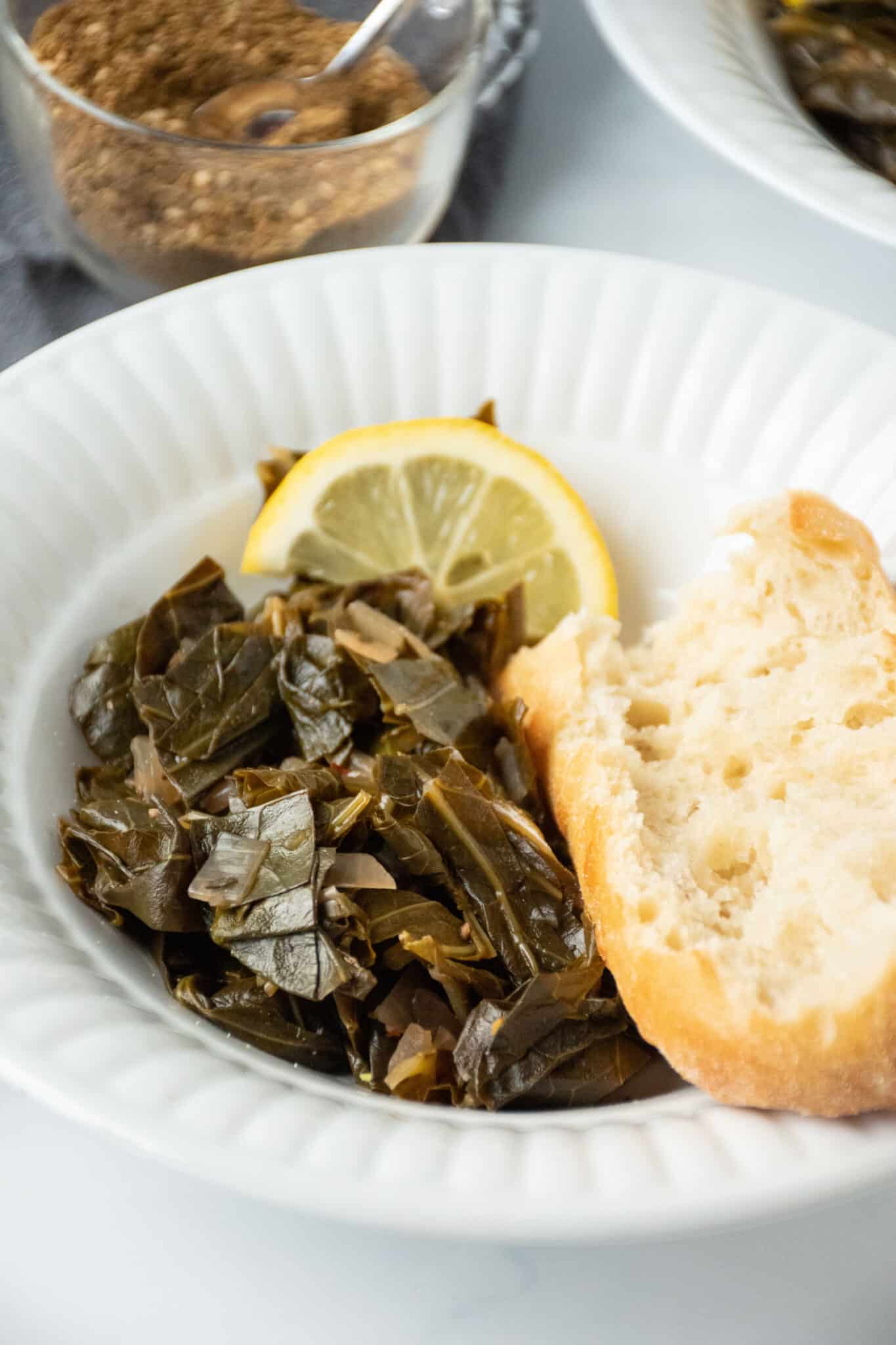 How to get the bitterness out of collard greens
Collard greens, kale, chard, etc. are all considered "bitter greens." While they can absolutely be eaten raw, many people prefer them to be cooked to make them less bitter. Low and slow is the name of the game for cooking the bitter out of collards. That's what makes the slow cooker perfect for making this heart healthy collard greens recipe. Other ways to help with bitterness in greens are:
Blanching. A quick dip in boiling water can leach out some of the bitter compounds in these greens.
Add acid. We use lemon juice in our slow cooker collard greens, but any type of vinegar or even lime juice will work great. Tip: Add citrus acids after you take the dish off the heat. Otherwise the acid itself can turn bitter.
Make it spicy. Hot spice stands up to that bitterness fabulously! That's why we add a little crushed red pepper in ours. Options are pretty limitless here: cayenne, chipotle, adobo, fresh chili peppers, hot sauce, etc.
Braising. That's the low and slow method we're using. In a slow cooker, or on the stove - you can even braise in the oven. Cooking the greens in slow simmering liquid for a long time helps temper the bitterness, as well as creates a delicious sauce for your greens.
How to cut collard greens
Cutting collard greens isn't too difficult with a little strategy.
First, you'll probably want to remove the thick stem running through the middle. It's totally edible, but it's tough and fibrous, so most people remove them.
Then you can roll up the leaf like a burrito, and cut it into slices as thin or thick as you want.
Check out my video for a demonstration on how to cut collard greens:
How to make slow cooker collard greens on the stove
This recipe for crock pot collard greens can easily be made on the stove! To do that, simply add all the ingredients, except lemon juice, to your pot, and simmer on low for about 2 hours, or until the collards are soft and silky. Then add the lemon juice and serve.
Don't you love easy adaptations?!
Can you freeze collard greens?
Yes! If you have leftovers, you can certainly freeze them. Don't freeze raw collard greens. That won't end well.
To freeze slow cooker collards, it's best to portion out either individual portions, or amounts that you would use at one time. Because you can't RE-freeze them once they've been frozen and thawed.
Put the portions into a freezer zipper bag, or another freezer safe container. Freeze solid for up to 6 months.
To thaw, remove from the freezer, and thaw under refrigeration for 12-24 hours. Or pop the frozen greens into the microwave to thaw quicker.
Where to buy za'atar spice
This may be something you've never heard of before, but you've probably eaten it if you've ever eaten at a Middle Eastern/Lebanese/Mediterranean restaurant. It's a spice blend used extensively throughout those regions. It's earthy, herby, nutty, tangy, and sometimes a bit spicy.
Za'atar spice blends are widely available at many regular grocery stores. Online retailers like Amazon also carry it.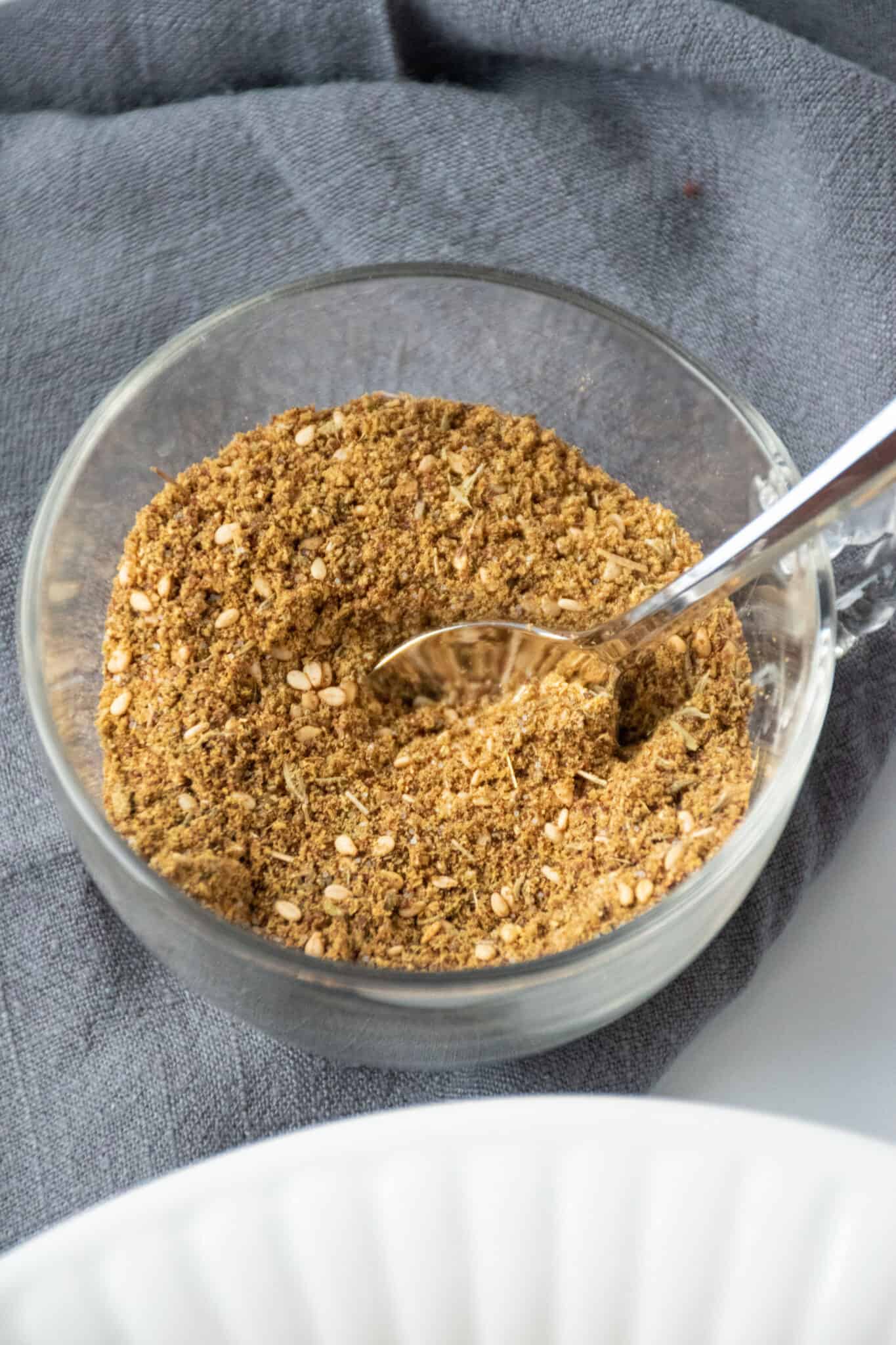 Za'atar is also super simple to make yourself - which is what I opted to do. I had all the ingredients already, and (let's be honest) everything is SO expensive these days, so I didn't want to buy an extra bottle of spices that I could easily throw together myself! I used this Za'atar Spice Recipe from Feasting At Home, and left out the chili flakes. It worked so great in the slow cooker collard greens without meat!
What to serve with collard greens
Black eyed peas are a very traditional dish to serve with collard greens! Here are some more ideas:
If you try Slow Cooker Collard Greens, let me know in the comments!
📖 Recipe
Slow Cooker Collard Greens
These healthy slow cooker collard greens are a great way to add greens to your diet without undoing it. We borrow the technique from traditional Southern greens, but season with Mediterranean flair for collard greens that are tender, delicious, AND healthy!
Ingredients
1

lb

Collard Greens

cleaned (thick stems removed), and sliced

2

cups

No Sodium Vegetable Broth

½

Onion

chopped

6

cloves

Garlic

minced

2

teaspoon

Za'atar Seasoning

½

teaspoon

Crushed Red Pepper (optional)

½

teaspoon

Salt

(omit if your vegetable broth is salted)

½

teaspoon

Ground Black Pepper plus more for serving

Juice of 1 lemon
Instructions
Add all the ingredients except lemon juice to your slow cooker, and stir to combine.

Put the lid on the slow cooker, and cook on high for 4 hours, or low for 8 hours.

Just before serving, remove the lid and stir in the lemon juice.
Nutrition
Calories:
50
kcal
|
Carbohydrates:
11
g
|
Protein:
5
g
|
Fat:
1
g
|
Polyunsaturated Fat:
0.5
g
|
Monounsaturated Fat:
0.5
g
|
Sodium:
316
mg
|
Potassium:
298
mg
|
Fiber:
6
g
|
Sugar:
1
g
|
Vitamin A:
5770
IU
|
Vitamin C:
49
mg
|
Calcium:
279
mg
|
Iron:
0.66
mg