We all need a hearty, chunky, warming soup right now, don't we? This low sodium lentil soup is the easiest you can imagine! We use regular ingredients that you probably have hanging out in your fridge and pantry, and toss them all in a pot to cook in only 30 minutes. Doesn't get much easier! This recipe is plant based, happily vegan, and easily customizable. The delicious soup goes perfectly with some crusty bread.
Do you need to soak lentils?
In this recipe, we're using dry lentils. You may have heard somewhere along the line that dry beans should be soaked in water for a while before cooking. What about lentils? This is one of the things I love about them. Lentils don't require soaking before cooking!
Soaking beans is recommended for a couple reasons. First, it helps cut down on cooking time. Because the beans have already absorbed some water, we can cook them for less time (which uses less energy, but requires more planning). Second, some source say soaking makes the starches in the beans more digestible, causing less gastric distress. The jury is still out on that, but it's worth a try if beans cause you... um... distress. 😉
But lentils only require 30 minutes of cooking time from their dry state, so no soaking needed! Lentils for the win!
What is the healthiest vegetable broth?
Vegetable broth is sneaky. It sounds healthy - and for the most part it is - but it sure can be high in sodium! This is a double edged sword if you have high blood pressure. Finding unsalted vegetable broth in the store is tricky, too. Many stores just don't carry it. So what are we to do?
There are a few options here. The ultimate healthiest option is to make your own. That's because you have complete and total control over everything that goes into it! Check out my post to see how easy it is to make Homemade Vegetable Broth for FREE (!) using scraps from veggies you already use! I like to freeze it in smaller amounts to use as I need.
The next healthiest option is to buy the unsalted vegetable broth if you can find in your local store, or use an online retailer. The only unsalted brand I've found is called Kitchen Basics (doesn't mean there aren't others; I've just never seen them).
Finally, there are low sodium options, that would be your third best best. These can still be higher in sodium that you might like, though. Make sure to read labels and pick the lowest one, paying particular attention to the serving size. Remember you can always use half broth, half water to cut the sodium more. There are many low sodium vegetable broth brands, and they say "low sodium" right on the front of the packaging. Learn more about reading labels for heart health.
Are canned lentils healthy?
Canned lentils can be an excellent and convenient healthy food! And also perfect for using in lentil vegetable soups because they are all ready to go. Just like canned beans, you'll want to look at the label and be sure there are no unexpected ingredients, and that there is minimal or no salt added. Make sure to drain and rinse them in a strainer before using them. This can remove up to 41% of the sodium in them!
To use canned lentils in this low sodium lentil soup recipe, cut the water from the recipe all together. Use only the vegetable broth in the recipe, and simmer the vegetables in it until they're soft. Then add the lentils. You'll need about 2 ½ cups of drained and rinsed canned lentils. This will be about 2 cans. Bring the soup back to a simmer, and continue until the lentils are heated through. Remove from the heat, and add the spinach as written in the recipe.
Tips and substitutions
One of the things I just love about soup is how versatile it is, and how you can really add just about anything to it. So don't feel bound to the ingredients list. Use what you have! Here are some ideas if you need them:
Use split peas instead of lentils. They also require about 30 minutes to cook, and no soaking! Don't use red lentils for this particular lentil soup, though. Red lentils (split red lentils) cook quick, and break down as they do, which will alter the consistency of this recipe significantly.
Use canned lentils to make this soup even faster! See above for instructions for this.
Use any green in place of spinach; kale, collard greens, or mustard greens would all be great.
Use a fresh tomato in place of the canned. One to two large tomatoes should do. You'll want 1 ½ cups total when you chop them up.
If you don't have Italian seasoning, use any blend you like.
Add a chopped potato or sweet potato to make the soup even heartier!
Don't forget to make your own Homemade Vegetable Broth!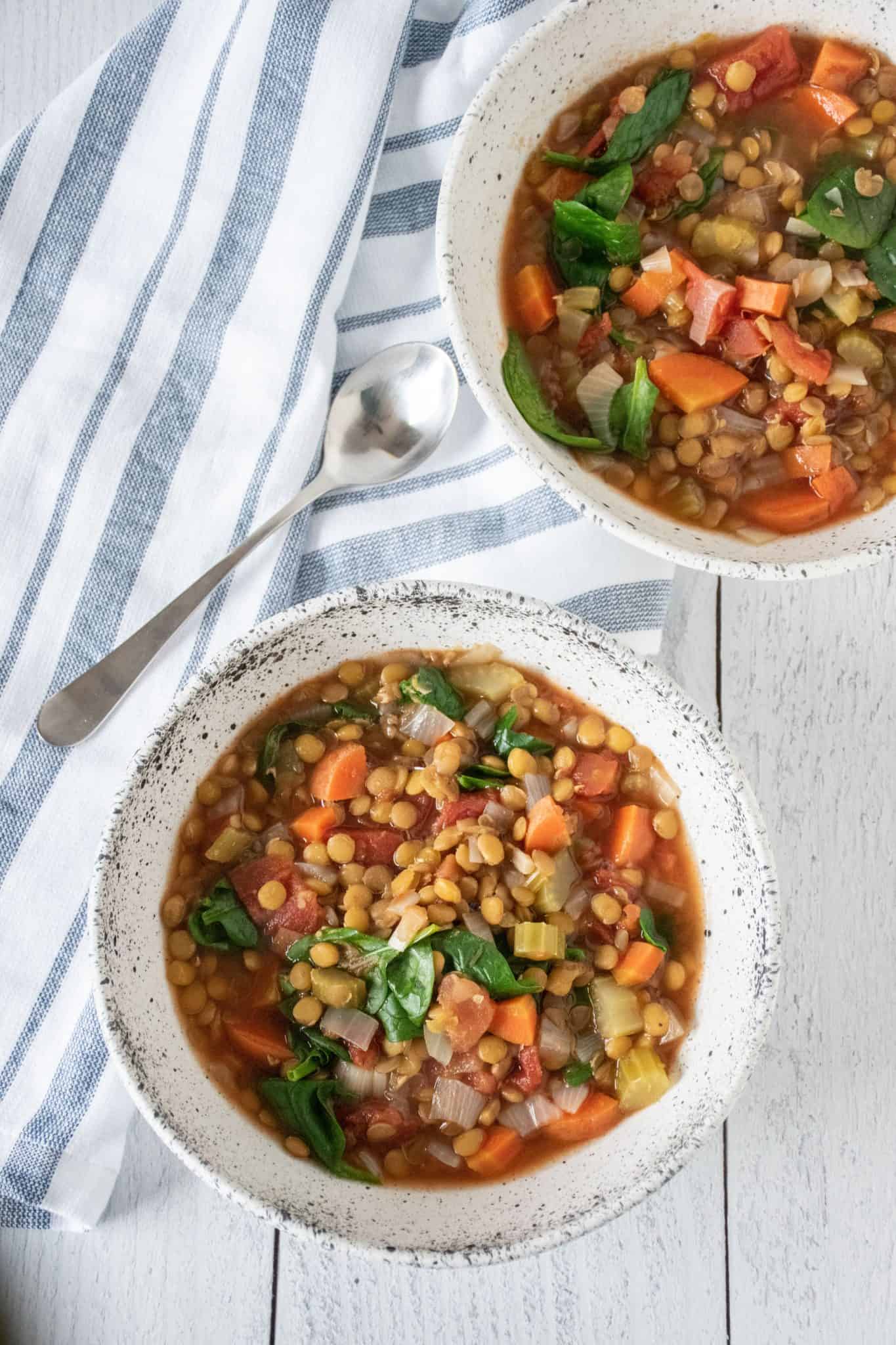 If you love lentils, you might like to try some of our other lentil recipes: Italian Lentil & Rice Casserole, Quicker Lentil Baked Beans, and Vegetarian Stuffed Peppers.
If you make Low Sodium Lentil Soup, tell me in the comments!
📖 Recipe
Low Sodium Lentil Soup with Spinach
This soup will warm you from the inside out, and stick to your ribs! Made with common vegetables you probably already have and cooks in 30 minutes, this is the easiest vegetable lentil soup ever!
Ingredients
3

cups

Homemade Vegetable Broth

2

cups

Water

1

can

(14 oz) Diced Tomatoes; no added salt or low sodium

1

cup

dry Green/Brown Lentils

1

large Carrot,

chopped

2

Celery Stalks,

chopped

½

medium Onion,

chopped

1

teaspoon

Italian Seasoning

1

teaspoon

Crushed Red Pepper Flakes

(optional)

1

large handful Fresh Spinach
Instructions
Add all ingredients, except spinach, to a large pot, and bring to a boil over high heat.

Reduce heat to medium-low, and simmer for at least 30 minutes, stirring occasionally, until lentils are tender.

Turn off the heat, and add spinach. Stir until the spinach is wilted.

Salt and pepper to taste. Serve hot with crusty bread.
Nutrition Facts
Low Sodium Lentil Soup with Spinach
Amount Per Serving
Calories 198
Calories from Fat 7
% Daily Value*
Fat 0.8g1%
Sodium 52.3mg2%
Potassium 624.2mg18%
Carbohydrates 36.6g12%
Protein 13g26%
Vitamin A 218.9IU4%
Vitamin C 13.5mg16%
Calcium 67.1mg7%
Iron 4mg22%
* Percent Daily Values are based on a 2000 calorie diet.