Dive into a creamy, dairy-free Mashed Chickpea Salad seasoned with everything bagel spice for a delectable sandwich filling, using simple ingredients like chickpeas, red onion, and cashew milk yogurt. It's not only a flavorful meal prep option but also serves as a heart-healthy choice that's perfect in a sandwich, pita, or wrap.
Tired of the same uninspired sandwiches for lunch? Discover the unexpectedly creamy and flavorful twist to revitalize your midday meal without the heaviness of mayo.
This delicious and hearty sandwich pairs well with a simple side salad or a light soup, such as Simple Vegetable Barley Soup, or Lentil Spinach Soup.
Jump to:
Heart Health Benefits of Mashed Chickpea Salad
Chickpeas, also known as garbanzo beans, are a great source of essential nutrients that are beneficial for your cardiovascular system. They are rich in dietary fiber which helps in managing cholesterol levels by binding with cholesterol particles and removing them from the body. This helps maintain healthy arteries and blood flow.
Chickpeas are also an excellent source of plant-based protein and contain essential vitamins and minerals such as potassium, which helps in regulating blood pressure. Consuming foods like chickpeas that are high in fiber and protein can also lead to satiety, contributing to weight maintenance or loss. Maintaining a healthy weight is crucial for heart health as it reduces the strain on your heart and may prevent a variety of heart-related issues.
Moreover, the ingredients in this salad, such as lemon juice and cashew milk yogurt, add to the heart-healthy benefits. Lemon juice provides vitamin C and antioxidants, while cashew milk yogurt is a great dairy-free way to get a creamy texture without the saturated fats typically found in dairy products. Opting for plant-based ingredients can be associated with a lower risk of heart disease. Wondering what the best diet is for a healthy heart? This article names 3 best diets for heart health!
Ingredients
To craft this exquisite mashed chickpea salad, you'll require simple, accessible ingredients that contribute to its surprisingly complex flavors.
Chickpeas
Red Onion
Celery
Cashew Yogurt
Lemon Juice
Everything Bagel Seasoning
Whole Grain Bread
Other sandwich fillings like lettuce, tomato, onion, etc.
See recipe card for quantities.
Instructions
Creating mashed chickpea salad at home is straightforward. Here's how to whip up this dairy-free delight:
Put the chickpeas in a bowl, and lightly mash them. You want some of them to remain whole.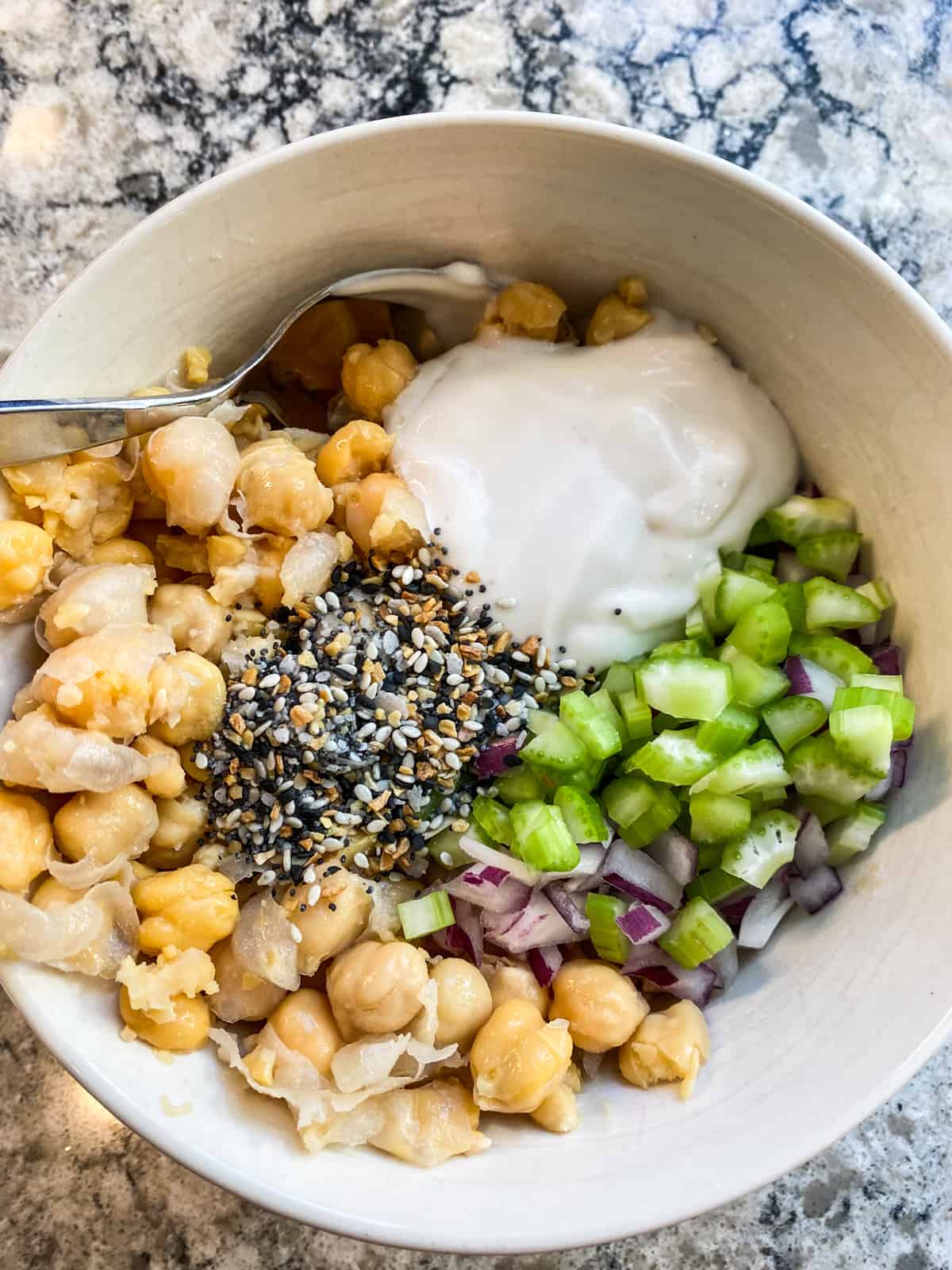 Add the rest of the ingredients to the bowl.
Mix well, so all the ingredients are completely combined. Assemble your sandwich!
Hint: if you don't have access to purchase Everything Bagel Seasoning, you can make your own at home with a blend of sesame seeds, poppy seeds, dried garlic, dried onion, and a pinch of salt.
Variations
Try some of these variations for something different.
Vegetables - try diced bell peppers, carrots, or even pepitas or sunflower seeds. instead of celery
Beans - while this is a chickpea salad, you can try using black beans, lentils, or any other dry bean you like
Lower Sodium - most of the sodium in this recipe comes from the everything bagel seasoning. To make it lower sodium, try this Salt Free Everything Bagel Seasoning from Wishful Seasoning (affiliate link), or make your own with a blend of sesame seeds, poppy seeds, dried garlic, and dried onion.
Read more about Foods to Avoid with High Blood Pressure to learn about other sources of sodium.
Equipment
You won't need anything too special to make this recipe. Of course you'll need your measuring cups and spoons, a bowl, mixing spoon, cutting board, and knife.
You'll also want a potato masher or something similar. Sadly, the one I use and love doesn't seem to be available any longer, but this potato masher (affiliate link) will do the trick for you! You can even use a fork in a pinch. You just want something that doesn't have widely set prongs, because it will be very hard to mash the chickpeas with it.
Storage
Store the finished mashed chickpea salad covered, in the refrigerator for up to 5 days.
This recipe should not be frozen.
Top tip
Make sure to dice your onion and celery small for the best texture in your mashed chickpea salad sandwiches.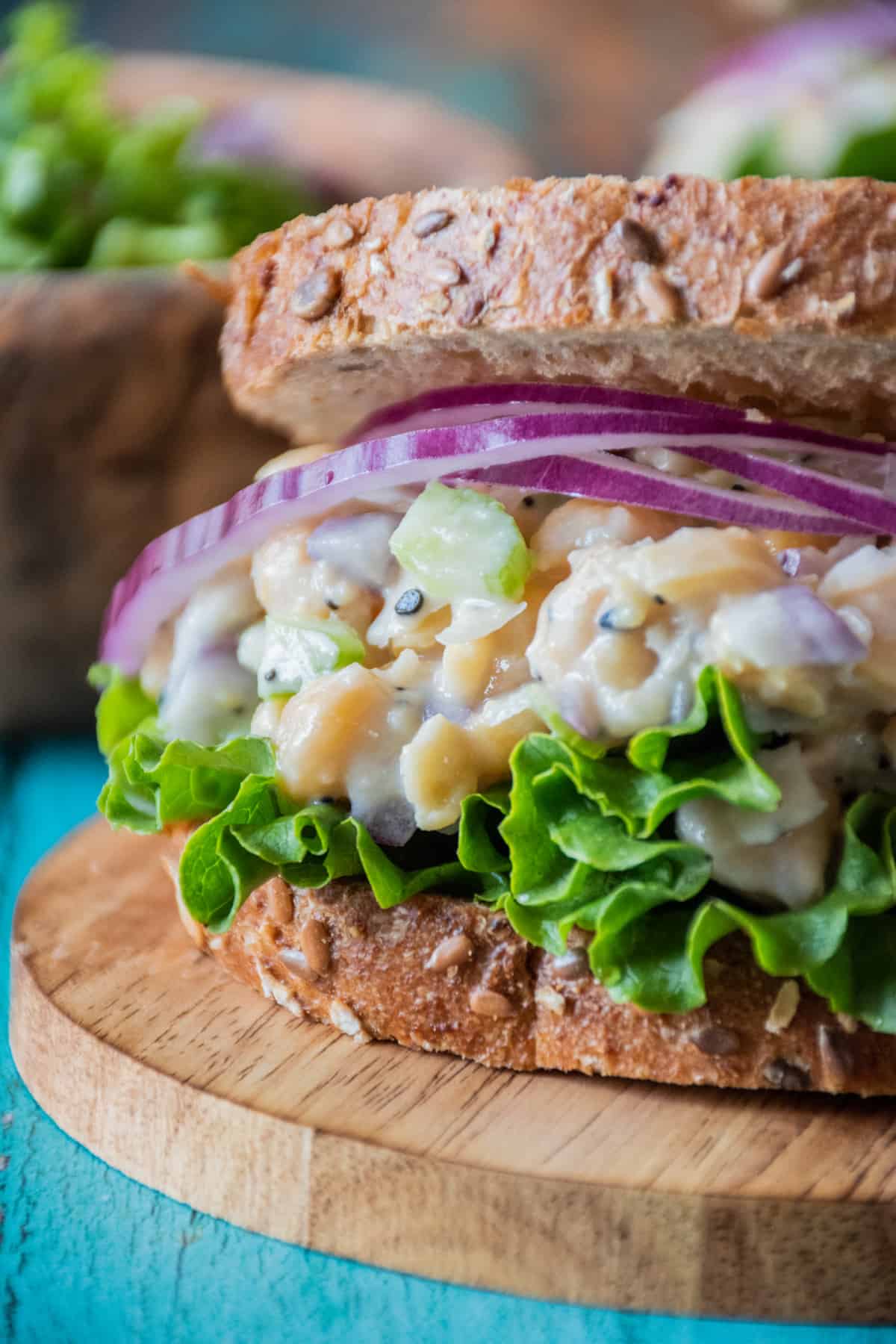 FAQ
What makes this mashed chickpea salad healthier than traditional salads?
This mashed chickpea salad is a healthier option because it contains no mayo and instead uses cashew milk yogurt for a creamy texture. Chickpeas are a great source of protein and fiber, contributing to heart health, and the overall recipe is lower in saturated fats, commonly found in traditional mayonnaise-based salads.
Can I use dairy yogurt in this recipe?
Yep! If you can't find cashew yogurt, and you aren't dairy free, you can use plain, nonfat dairy yogurt. Probably not Greek yogurt for this, but in a pinch you could use it and thin it down with some water.
Related
Looking for other lunch recipes? Try these:
Pairing
These are my favorite dishes to serve with mashed chickpea salad:
Want to say thank you?
📖 Recipe
Mashed Chickpea Salad Sandwiches with Everything Bagel Seasoning
These sandwiches are so easy! The chickpea salad is a perfect make-ahead option and will keep for several days in the fridge. An excellent, healthy, packable lunch for school or work!
Ingredients
1 ½

cups

Chickpeas

(1 can low or no sodium added chickpeas, drained and rinsed)

¼

cup

diced Red Onion

¼

cup

diced Celery

¼

cup

Unsweetened Cashew Yogurt

(or plain nonfat dairy yogurt)

1

tablespoon

Lemon Juice

2

teaspoon

Everything Bagel Seasoning

8

Slices

Low Sodium Whole Grain Bread

Lettuce, Tomato slices, Onion slices, as desired
Instructions
In a large bowl, lightly smash chickpeas, leaving some whole.

Add diced onion and celery, yogurt, lemon juice, and everything bagel seasoning. Stir to combine.

Assemble sandwiches as you wish, 2 slices of bread per sandwich, with lettuce, onion, and tomatoes.
Nutrition
Serving:
1
sandwich
Calories:
310
kcal
(16%)
Carbohydrates:
50
g
(17%)
Protein:
15
g
(30%)
Fat:
5
g
(8%)
Saturated Fat:
1
g
(6%)
Polyunsaturated Fat:
1.9
g
Monounsaturated Fat:
0.8
g
Sodium:
270
mg
(12%)
Potassium:
400
mg
(11%)
Fiber:
9.4
g
(39%)
Sugar:
6.8
g
(8%)
Vitamin C:
2.4
mg
(3%)
Vitamin K:
10
µg
(10%)
Calcium:
153
mg
(15%)
Iron:
3.6
mg
(20%)
Magnesium:
86
mg
(22%)
Food safety
Safety is our top priority in the kitchen! Always keep these tips in mind.
Do not use the same utensils on cooked food, that previously touched raw meat
Wash hands before touching food, and after touching raw meat, your hair, face, pets, etc.
Don't leave food sitting out at room temperature for longer than 2 hours (or 1 hour if the weather is hot)