Wonder no more about what to do with carrot greens from the market! This Carrot Top Tabbouleh Salad uses the whole carrot for a delicious, out-of-the-box Lebanese-inspired side dish! We start with traditional bulgur wheat, and combine it with some traditional and untraditional ingredients for a fun, delicious, and lower food waste take on the Mediterranean favorite!
What is tabbouleh?
Tabbouleh is a traditional Lebanese dish that is made from finely chopped parsley tossed with chopped tomatoes, onions, bulgur, and mint, with a simple dressing of olive oil and lemon. Also sometimes spelled tabouli, it is a healthy and delightfully herby and lemony dish that goes wonderfully with falafel, inside a pita with hummus, or on top of a tossed green salad.
While my carrot top tabbouleh is certainly not traditional, it does borrow most of its flavor combinations from it!
Is tabbouleh healthy?
Yes, tabbouleh is a very healthy side dish. The dish features a whole grain, full of fiber and antioxidants, along with raw veggies for more fiber and antioxidants, and tons of fresh herbs, with even more antioxidants! Triple threat to heart disease! Remember that antioxidants help to remove heart-damaging free radicals from your body.
Even the dressing for tabbouleh is good for your heart! Mainly olive oil and lemon juice, it's full of heart healthy fats and vitamin C. Sometimes tabbouleh that you buy at the store or in restaurants may have excess salt, so that is one thing to watch, but otherwise, enjoy tabbouleh whole-heartedly!
What is bulgur and where can I get it?
Bulgur is a whole grain product made from wheat groats that are cracked and then parboiled. It originates in Middle Eastern cuisine. Bulgur is not a gluten free product. It is sometimes also called bulgur wheat, cracked wheat, or bulgur rice. It is usually found in the store next to other whole grains and dry beans.
Because bulgur is parboiled, it can be cooked quicker than other grains. It is made similar to other whole grains, with a ratio of 2 to 1, water to bulgur. It cooks in about 15 minutes. Fine bulgur can simply be soaked in water before use, often without cooking at all (this is usually how traditional tabbouleh is made).
You can use bulgur in any recipe that calls for brown rice, quinoa, or couscous, with adjusted cooking times as needed.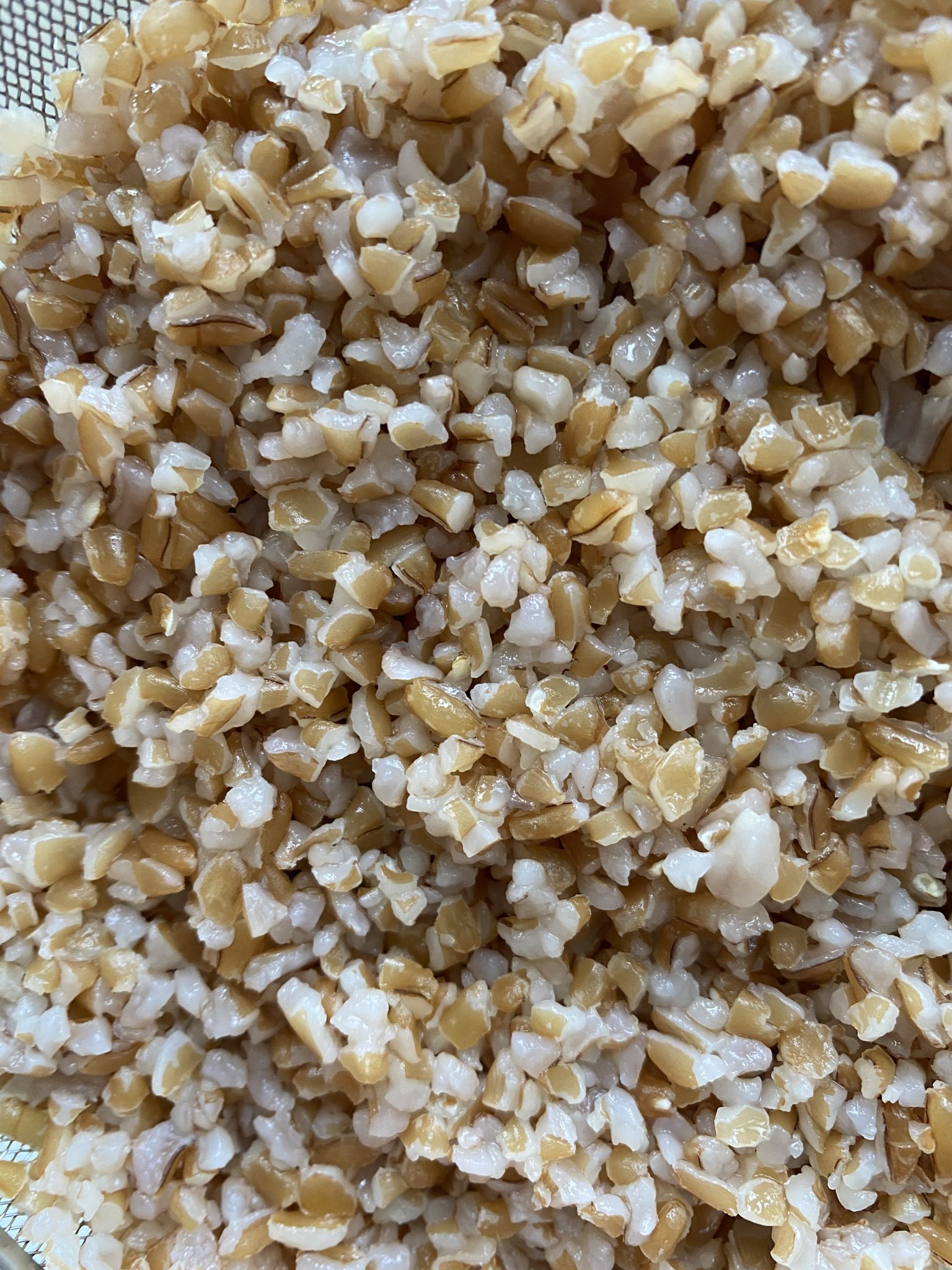 Health benefits of carrot leaves
Carrot leaves are sometimes, wrongly, assumed to be toxic. That's probably because they are in the same family as the very toxic poison hemlock. Plus, they contain alkaloids, which can be harmful at high levels. The humble carrot leaf, however, doesn't contain enough of the chemical to be toxic unless you're eating an entire truckload at a time. PSA: don't eat carrot greens by the truckload.
So, now that we know carrot tops are indeed edible, are they healthy? Yep! Like other leafy greens, carrot leaves are high in vitamin K, a nutrient vital for blood clotting (as always, if you're on a blood thinner, talk to your doctor before eating more or less vitamin k containing foods).
Carrot tops are a good source of potassium, and are high in antioxidants (1), specifically carotenoids like lutein and zeaxanthin (2, 3), making them a great addition to the diet to help maintain normal heart rhythm and a healthy heart muscle. While the role of vitamin A precursors in heart health aren't as well known popularly as their ability to protect vision, carotenoids possess properties that can lower blood pressure, reduce inflammation, and improve insulin sensitivity (4).
Lastly, carrot tops, like all leafy greens, are high in fiber, which we ALL know is important for a healthy heart!
What to do with carrot greens
Carrot greens have an herbaceous flavor, somewhere between carrots and parsley, with a little arugula thrown in. That flavor is what inspired me to use them in tabbouleh. But carrot tops can be used in many other types of dishes! Here are some of my favorite ideas and carrot greens recipes!
Use carrot tops chopped in salads. The greens are a bit more chewy than most greens, and they really add to tossed salads. Chop them small for a huge burst of flavor, and think of them like herbs - a little goes a long way!
Carrot tops can be used to make a variety of sauces, too! Try Carrot Top Pesto, from Chrissy Carroll at Snacking in Sneakers, or Carrot Top and Pumpkin Seed Pesto from Erica Julson at Happily From Scratch.
Be it pesto, chimichurri, salad dressing, or salsa, carrot tops elevate your condiments with an unexpected punch. Use carrot tops in place of parsley in most any recipe.
Carrot tops can also be dehydrated, crushed, and used as an herby seasoning for salad dressings and marinades, soups, baked chicken or fish, and just about any other time you'd use something like dried parsley.
How to store carrot tops
You don't want wilted carrot tops, so it's important to store them properly. When you get them home, separate them from the carrot. Cut them about an inch or so above the root, and give them a thorough rinse. It can be helpful to fill the sink with water and let them soak a minute. Carrots are usually grown in sandy soil, so the greens are often a bit sandy.
Place the greens on a towel so most of the water can drip off, or give them a spin in a salad spinner. Then carefully wrap the greens in a paper towel and seal them in an airtight container or zipper bag until you need them. They'll last a couple days this way.
Leaving the greens attached to the carrots will lead to wilted greens that won't last as long.
Can you freeze carrot tops?
Yes, you can freeze carrot tops. But here's the caveat: not to use fresh, in recipes like this carrot top salad.
You can freeze carrot tops to use in soup, sauces, and smoothies, though, and it works great!
To freeze carrot tops, first wash and dry them thoroughly. Remove the leaves from the thicker stems. Then you can either chop them up and freeze in a zipper bag or freezer container, or freeze them whole in a zipper bag to use as needed.
What to eat with tabbouleh
Here are some great ideas for what to eat carrot top tabbouleh with:
Pile it on top of a tossed salad
Falafel Hummus Pita Wraps or just the Falafel!
Baked or grilled salmon
Pita chips and hummus
Toss a can of chickpeas into the tabbouleh to make it an entrée!
Chicken Shawarma
Dolmas (stuffed grape leaves)
FAQs and Substitutions
What can I use instead of bulgur wheat?
You can use most whole grains in place of bulgur in this recipe. Adjust the cooking time per the package instructions, and try quinoa, couscous, or rice. Read more about bulgur.
Can I make this without carrot tops?
Absolutely! The carrot tops aren't traditional in tabbouleh to begin with. If you don't have whole carrots, simply use parsley instead of the carrot tops. In regular grocery stores, the greens usually aren't included since they are highly perishable. You'll need two large bunches of either flat leaf or curly parsley.
Can I leave the carrot out?
Yes. If you're not a fan of carrots, a cucumber will do the trick, and is what you'll find more often in tabbouleh salad. After you chop it, put it in a strainer, along with the tomatoes, and allow them to drain while you prepare the rest of the dish to avoid a soupy tabbouleh!
How to chop the carrot greens
You want a very fine mince on the greens, and a food processor can do the job quickly and efficiently. It's also fine to use it for the tomatoes and/or carrots, but be careful of over processing. It's easy to turn tomatoes into soup quickly with a food processor!
If you make this Carrot Top Tabbouleh, let me know in the comments! Consider making my Falafel Hummus Pita Wraps, Falafel Spiced Roasted Chickpeas or Basic Pantry Hummus to go with it!
📖 Recipe
Carrot Top Tabbouleh
Wonder no more about how to use those carrot tops from the market! This tabbouleh salad uses the whole carrot for a delicious, out-of-the-box Lebanese-inspired side dish!
Ingredients
½

cup

Dry Bulgur

1

cup

Water

2

cups

Chopped Carrot Tops

(from about 3-4 carrots)

1

cup

Chopped Tomatoes

1

cup

Chopped Carrots

(about 3 carrots)

¼

cup

Fresh Mint,

minced

3

tablespoon

Minced Onion

(or 2 Green Onions)

Salt to taste,

sparingly
For the Dressing
¼

cup

Olive Oil

3

tablespoon

Lemon Juice

1

Clove

Garlic,

minced
Instructions
Combine bulgur and water in a small saucepan, and bring to a boil. Reduce heat to medium-low, and simmer until tender; about 15 minutes (read package instructions to be sure).

Meanwhile, chop all the vegetables, and place them in a large bowl.

Make the dressing by combining olive oil, lemon juice, and garlic. Whisk. Set aside.

When the bulgur is cooked, transfer to a fine mesh strainer, and rinse with cold water until cool to the touch.

Pour the cooked bulgur in the vegetables. Pour the dressing in, and mix the salad together.

Refrigerate for at least an hour for flavors to combine. Taste and add salt sparingly, if needed.
Nutrition Facts
Carrot Top Tabbouleh
Amount Per Serving
Calories 145
Calories from Fat 88
% Daily Value*
Fat 9.8g15%
Sodium 31.1mg1%
Potassium 302.9mg9%
Carbohydrates 14.3g5%
Protein 2.6g5%
Vitamin A 272.8IU5%
Vitamin C 34.7mg42%
Calcium 44.9mg4%
Iron 1.7mg9%
* Percent Daily Values are based on a 2000 calorie diet.