Falafel Hummus Pita Wraps are a delicious and portable lunch or easy dinner that never disappoints! Healthy baked falafel is the star of the show, but the lemon tahini sauce brings everything together with crunchy vegetables and soft, chewy flatbread. The falafel can be made ahead so this can be assembled lightening quick!
Is baked falafel healthy?
So healthy! Baking falafel is the healthiest way to prepare it, in fact. Traditionally, falafel is deep fried, making it delicious, but high calorie and high fat. In this recipe, we make it friendlier to home preparation, and bake it in a little oil to make it crispy, yet a lower calorie falafel.
Other than the deep frying, traditional falafel is quite healthy, so there wasn't much to modify for us in this falafel wrap recipe. Falafel starts with chickpeas (also called garbanzo beans). In many more traditional recipes, dry chickpeas are soaked in water overnight, and then drained and blended with the other falafel ingredients before deep frying.
We use canned chickpeas, which allows us to use them straight out of the can, without the overnight soak. We like the texture of these chickpea patties, even if they're slightly different than traditional.
Dry beans, like chickpeas, are some of the healthiest foods on the planet, and are high in both fiber and protein! Add them to a variety of herbs and spices, and you up the ante even more with tons of antioxidants and flavor! Remember, those antioxidants are going to help protect your heart from free radical damage, and the fiber helps maintain healthy cholesterol levels.
We use a bit of whole wheat flour, a higher fiber option - to hold it all together. I think you could easily use a gluten free flour, too, if you wanted.
What's the best bread for Falafel Hummus Pita Wraps?
Your bread is really going to be the wild card in this recipe in terms of healthfulness. Bread is really sneaky with the amount of sodium it can contain, and an average pita can contain 300mg sodium or more. Other flatbreads can be even higher. This falafel pita recipe calls for a lower sodium flatbread. You want to look for a flatbread or pita with less than 200mg sodium per serving, and a lower calorie count. Look for one that's whole grain, too. Here are some good brands to check out: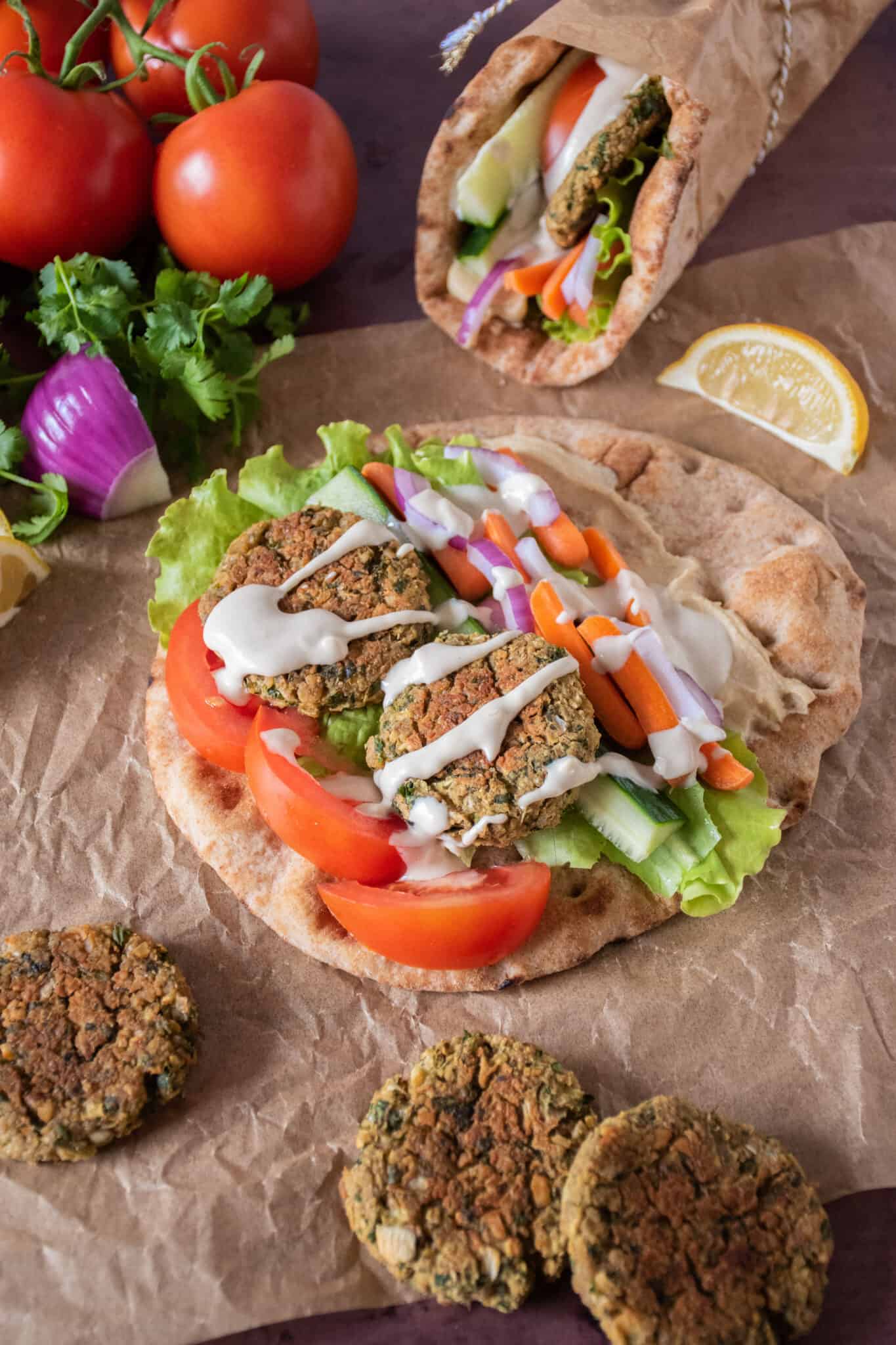 FAQs and Substitutions
What to serve with falafel
Falafel is traditionally a dish from the Mediterranean region, so most Mediterranean inspired dishes will go well with falafel. Consider some of these:
* Carrot Top Tabbouleh Salad (use parsley if you don't have carrot tops!)
* Hummus - like Pantry Basics Hummus or Radish Greens Hummus
* Baba Ganoush - a dip or spread make from eggplant
* Marinated Vegetable Skewers
* Raw veggie sticks
* Side salad
* Dolmas (stuffed grape leaves) - one of my favorites!
Can you freeze falafel?
Freezing falafel is easy, and a great way to make sure you always have a delicious meal on hand!

To freeze:
1. Place the baked falafel on a baking sheet, single layer, not touching. Freeze until solid.
2. Transfer the frozen falafel to a freezer zipper bag, or other freezer safe, airtight container. Store in the freezer until ready to use.

To prepare:
1. Preheat oven to 350 degrees F.
2. Place frozen falafel on a lined baking sheet, and bake for 10-15 minutes, flipping halfway through.

OR

Thaw completely in the refrigerator and eat them cold!
Try using another cooked dry bean
Even though falafel is traditionally made from chickpeas, you can absolutely use any type of dry bean for this. You might like black beans, cannellini beans, lentils, or kidney beans.
Use peanut butter or almond butter instead of tahini!
For a slightly different flavor than the tahini (which is made from sesame seeds), try using a natural peanut butter or almond butter. (Learn how to choose the healthiest peanut butter)
Looking for more recipes for chickpeas? Here are 45 delicious chickpea recipes!
If you try Falafel Hummus Pita Wraps, tell me in the comments!
📖 Recipe
Falafel Hummus Pita Wraps
Falafel Hummus Pita Wraps are a delicious and portable lunch or easy dinner that never disappoints! Baked falafel is the star of the show, but the lemon tahini sauce brings everything together. The falafel can be made ahead so this can be assembled lightening quick!
Ingredients
For the Falafel:
½

Large Onion,

roughly chopped

½

cup

packed Parsley,

thick stems removed

½

cup

packed Cilantro,

thick stems removed

6

Garlic cloves,

roughly minced

1

can

(1 ½ cup) No Added Salt Chickpeas, drained and rinsed

¼

cup

Whole Wheat Flour

1

tablespoon

Olive Oil

2

teaspoon

Baking Powder

1

teaspoon

Cumin

1

teaspoon

Coriander

¼

teaspoon

Cinnamon

(Optional) Pinch Cayenne Pepper or to taste
For the Tahini Sauce:
¼

cup

Tahini

3

tablespoon

Water,

more or less to thin

2

tablespoon

Lemon Juice

1

Garlic clove, minced and crushed

(or garlic paste)

Pinch

Salt
For the Wraps:
4

Whole Grain Flatbreads or Pita Breads

(Low Sodium if possible)

1

cup

Leafy Greens, like Romaine, spinach, etc.

4

small Tomatoes

halved and sliced

1

medium Cucumber

sliced or julienne as desired

1

Carrot

julienne

½

small Red Onion

halved and thinly sliced
Instructions
Make the Falafel:
Combine the onion, parsley, cilantro, and garlic in a food processor, and process until everything is chopped small and combined.

Add all the remaining falafel ingredients, and process until finely chopped or smooth. Set aside and allow to rest while you preheat the oven.

Preheat the oven to 375° F.

Once the oven is preheated, spread a few tablespoons of oil on a baking sheet, and form small patties with the falafel mixture - 2 tablespoon per patty.

Bake for 30 minutes, flipping halfway through.
Make the Tahini Sauce:
Meanwhile, make the tahini sauce by combining all the ingredients, and whisking until smooth and pourable. You may find you need more or less water, so add a tablespoon at a time.
Assemble the wraps:
On each flatbread, smear 2 Tablespoons of hummus.

Divide the lettuce, tomatoes, cucumbers, carrots, and onion among the 4 flatbreads.

Place 2 or 3 falafel patties on each flatbread, and top with a few tablespoons of tahini sauce.

Serve immediately.
Recipe Notes
Make ahead option: Prepare the falafel up to 5 days in advance, and store in an airtight container in the refrigerator. Reheat prior to using, or use them cold - they're great either way!
Nutrition Facts
Falafel Hummus Pita Wraps
Amount Per Serving
Calories 489
Calories from Fat 173
% Daily Value*
Fat 19.2g30%
Sodium 149.4mg6%
Potassium 1310mg37%
Carbohydrates 68.6g23%
Protein 18.7g37%
Vitamin A 383.8IU8%
Vitamin C 24.8mg30%
Calcium 341.2mg34%
Iron 8.3mg46%
* Percent Daily Values are based on a 2000 calorie diet.