Do you love homemade from-scratch pizza, but hate waiting around for the dough to rise? This Heart Healthy Pizza topped with delicious but simple salad is for you! In this recipe, we quickly mix up our own self-rising whole wheat flour, combine it with Greek yogurt, and knead, for the quickest dough ever. Five minutes until you're rolling out and topping your pizza! Delicious AND healthy, there's no room for disappointment here!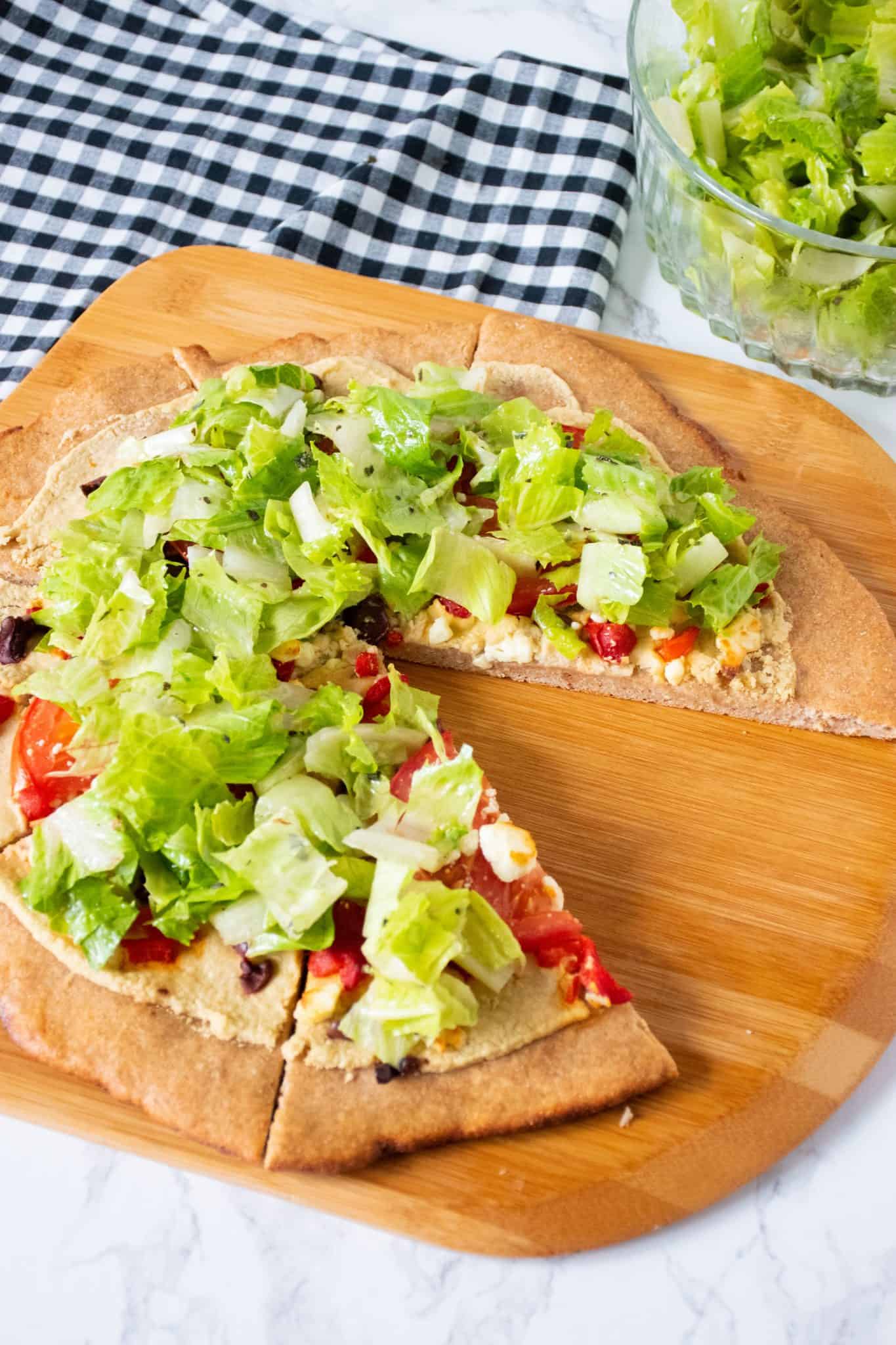 Pizza is not known for being healthy. In fact, most pizza isn't even a little bit healthy. High in calories, sodium, saturated fat, and made with refined grains, full fat cheese, and typically highly processed meats that all have a hand in contributing to chronic diseases like heart disease. But it doesn't have to be that way! My Salad Pizza version is healthy enough to be on your weekly menu. And with the quick from-scratch crust it can even be a weeknight meal. Just 30 minutes from basic pantry ingredients to a complete pizza!
How to make Greek yogurt pizza crust
Making this yeast free pizza crust is really simple. It's one really cool discovery!
Most recipes use self rising flour. That's not something I keep on hand, so I made my own by mixing some baking powder and salt with the flour. Now simply mix in Greek yogurt until the mixture is quite flaky. At this point, you can start kneading it. If it's too wet, add some more flour, and if it's too dry add a little more yogurt.
Once the dough is the right consistency to hold together, you can roll it out into a 12 inch circle and put whatever toppings on it you like! I used a Mediterranean inspired combination of hummus, Kalamata olives, roasted red peppers, tomatoes, and feta cheese. I loaded the pizza with romaine lettuce, dressed simply with a homemade Greek-style dressing. Wow! Perfection.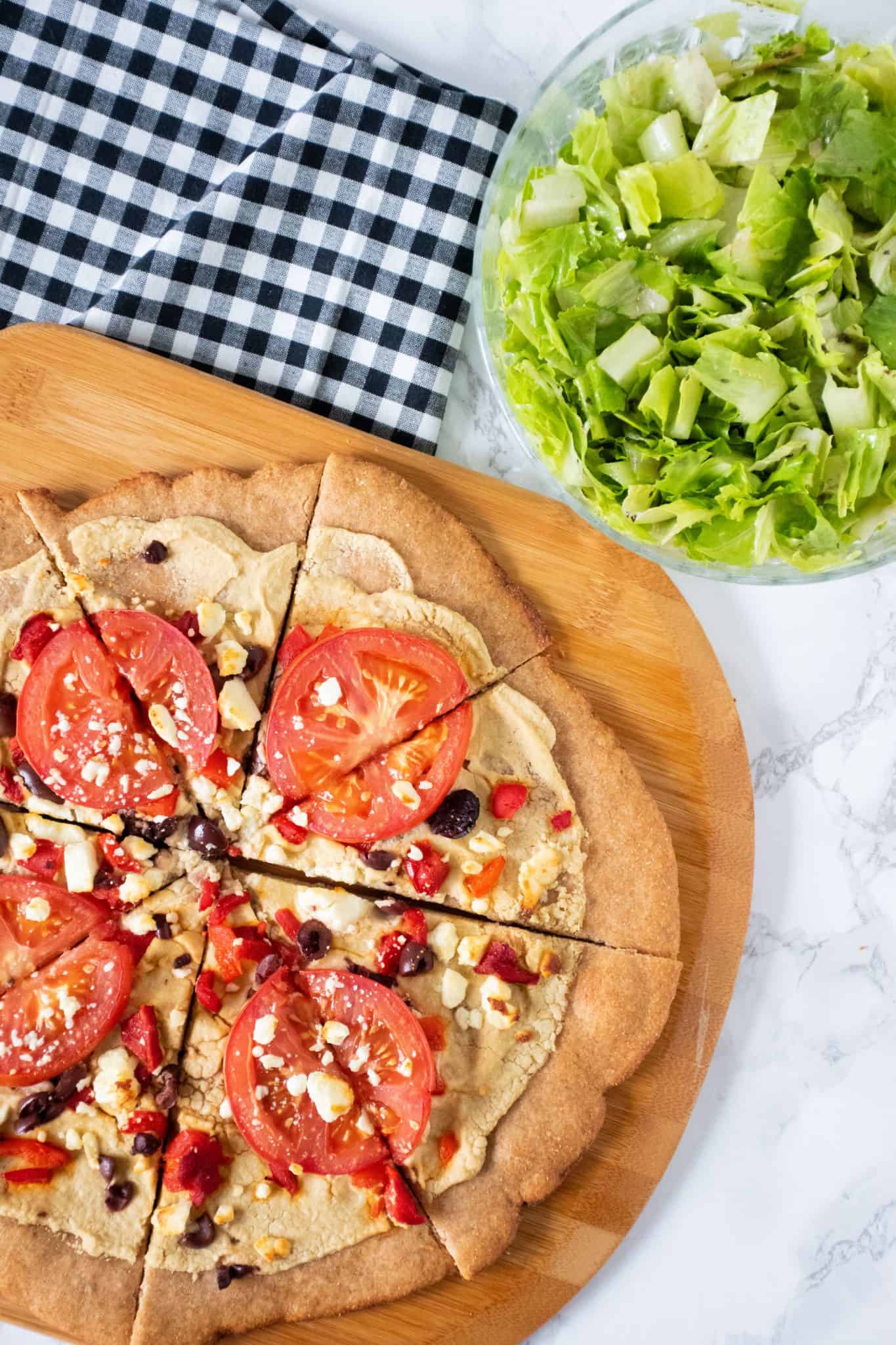 Tips and Substitutions for this Recipe
This pizza is very customizable. Use what you like! Here are some helpful tips and substitutions for this pizza:
Use self-rising flour. If you have it, use that instead of the flour, baking powder, salt mixture. Note that if your flour isn't whole wheat, your fiber content will be lower in your finished pizza.
Do not use regular yogurt. Regular yogurt just doesn't work as well to make the crust. Stick to Greek yogurt for this one.
Use pizza sauce of your choice instead of hummus. If you prefer, using pizza sauce is fine. If you do this, I suggest adding some roasted chickpeas or grilled chicken to maintain protein content.
Use different flavor combinations of hummus. I love roasted garlic hummus, but get creative and enjoy!
Use fresh red bell peppers instead of roasted red peppers.
Use sun dried tomatoes instead of fresh tomatoes.
Use black olives, green olives, or capers instead of Kalamata olives.
Use any fresh green you like instead of romaine lettuce. Examples are spinach, arugula, and kale.
Keep the salad and pizza separate if you prefer.
Make it vegan. Use a vegan Greek-style yogurt instead of Greek yogurt, and leave out the feta (or use another vegan sub).
If you make this Heart Healthy Pizza, tell me about it in the comments!
📖 Recipe
Heart Healthy Pizza topped with Simple Salad
This pizza is easy, healthy, AND delicious! The crust can be made in 5 minutes, with no rise time, and the toppings give the whole dish a Mediterranean flair.
Ingredients
For the Dough:
1 ½

cup

Whole Wheat Flour

2 ¼

teaspoon

Baking Powder

½

teaspoon

Salt

1 - 1 ¼

cup

Plain Nonfat Greek Yogurt
Toppings:
½

cup

Hummus

¼

cup

Roasted Red Peppers,

diced

¼

cup

Feta Cheese

(optional)

2

tablespoon

Kalamata Olives,

chopped

1

small Tomato,

sliced
For the Salad:
3

cups

Chopped Romaine Lettuce

2

tablespoon

Olive Oil

2

tablespoon

Red Wine Vinegar

1

tablespoon

Lemon Juice

1

Garlic clove,

minced

⅔

teaspoon

Dijon Mustard

⅔

teaspoon

Oregano

⅔

teaspoon

Basil
Instructions
Preheat oven to 400 degrees Fahrenheit.

Make the dough: Combine whole wheat flour, baking powder, and salt. Stir in the yogurt until the mixture becomes crumbly.

Sprinkle a little flour on a flat work surface, and turn out the dough.

Knead the dough for a few minutes until it comes together and becomes uniform. If it seems too sticky, add a little more flour. If the dough won't hold together add a little more yogurt.

Roll out the dough into a 12 inch round, and place on the back of a large baking sheet, cookie sheet, or pizza stone.

Brush the dough with a little olive oil.

Spread the hummus on the dough, coming about an inch from the edge.

Add the rest of the toppings as desired.

Bake for 18-25 minutes, until the crust is evenly browned, and cooked through.

While the pizza bakes, make the salad: Place the chopped romaine in a large bowl.

In a small bowl, whisk the remaining ingredients, and pour over the lettuce. Use tongs to mix the dressing with the lettuce.

Remove the pizza when baked. Allow to rest for about 5 minutes.

Slice into 8 slices, and top with the salad. Serve immediately.
Nutrition
Calories:
341
kcal
|
Carbohydrates:
45.3
g
|
Protein:
14.1
g
|
Fat:
13.8
g
|
Saturated Fat:
3.1
g
|
Polyunsaturated Fat:
1.9
g
|
Monounsaturated Fat:
7.7
g
|
Cholesterol:
10.5
mg
|
Sodium:
456.1
mg
|
Potassium:
985
mg
|
Fiber:
7.7
g
|
Sugar:
3.9
g
|
Vitamin A:
183.4
IU
|
Vitamin C:
15.9
mg
|
Calcium:
383.4
mg
|
Iron:
3.4
mg