Here we are, sliding into the end of the year already! Are you looking for a fun beverage to celebrate with that won't leave you feeling horrible the next day? Ring in the New Year feeling amazing with my new recipe for non-alcoholic Pomegranate Mocktail!
This beverage has a lovely deep red color, perfect for any celebration. The pomegranate juice brings a mellow sweetness, and the lime's tanginess complements it perfectly. Top it all with some fun bubbly from the sparkling white grape juice, and you've got a simple, crowd-pleasing punch that everyone can enjoy!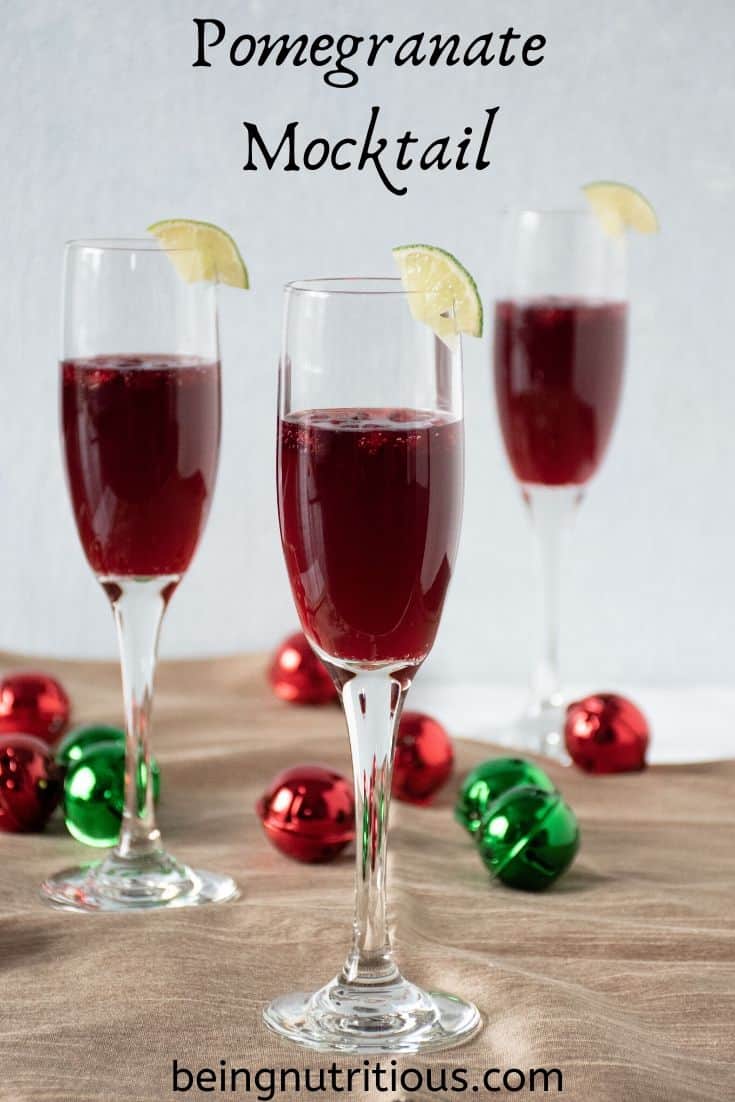 How to Make a Pomegranate Mocktail
You have two options for this. Pour everything into a punch bowl, so guests can serve themselves, or make it ahead and preportion it into glasses. If you're having a crowd, scale the recipe up - as written, the recipe will serve four people.
Look for 100% pomegranate juice. I found it in the refrigerated produce section in my grocery store.
Sparkling white grape juice is easy to come by this time of the year. I found it in the juice aisle. It's not 100% juice; it's labeled "juice cocktail." Sparkling apple juice would also work in this recipe. If you can't find either, you can try using regular white grape juice and sparkling water. I haven't tested out the proportions of that yet, though.
For the pomegranate seeds, you can either get a whole pomegranate and cut it up, or just buy a little container of pomegranate arils (seeds). They are usually found in the produce section near the whole pomegranates or pomegranate juice. They're more expensive that way, just MUCH less messy to deal with!
Don't forgo the lime juice! It's important to balance the sweetness of the beverage.
Is Pomegranate Juice Good For My Heart?
Let me start off by saying eating fruit is the preferred method for getting nutrition from fruit. Fruit juice, while generally nutritious, is easy to go overboard on. Consider how much juice you would get from an orange. Maybe ¼ cup depending on the size of the orange? When was the last time you drank ¼ cup of orange juice? Haha me either. Now if you drink a whole cup of orange juice, you are consuming around 4 oranges worth! Most of our cups hold way more than that, too. In addition, fruit juice - even 100% juice - doesn't have any fiber that the fruit once had. That means the sugar in the juice is free to spike your blood sugar without the blunting effect of fiber. To be clear, drinking 100% fruit juice is healthier than drinking Kool Aid, but eating whole fruit is best. Keep fruit juice to around a serving or less a day.
Now what about pomegranate juice specifically? Pomegranates are high in antioxidants - those beneficial chemicals that scavenge your body for the free radicals that can lead to many inflammatory conditions (like heart disease, diabetes, cancer, etc.). In general, darker fruits and vegetables are higher in antioxidants. Score! Pomegranate juice is also a good source of potassium, making it a great choice to support heart health!
Whether you're concerned about your health now or not, this Pomegranate Mocktail will help you ring in the New Year with style!
You may also be interested in Gingerbread Hot Cocoa, and Rosemary Peppermint Tea!
📖 Recipe
Pomegranate Mocktail
Celebrate with this delightfully bubbly Pomegranate Mocktail! Simple to make and an instant crowd pleaser!
Ingredients
1

cup

100% Pomegranate Juice

1

cup

Sparkling White Grape Juice

Juice from ¼ of a Lime

Pomegranate Seeds for garnish

Lime wedges for garnish
Instructions
Combine pomegranate juice, sparkling white grape juice, and lime juice.

Add a small handful of pomegranate seeds to each glass.

Divide juice mixture among 4 glasses.

Garnish with lime wedges if desired.
Nutrition Facts
Pomegranate Mocktail
Amount Per Serving (0.5 cup)
Calories 73
Calories from Fat 3
% Daily Value*
Fat 0.3g0%
Sodium 8.9mg0%
Potassium 208mg6%
Carbohydrates 18.2g6%
Protein 0.4g1%
Vitamin A 0.2IU0%
Vitamin C 2.4mg3%
Calcium 14.9mg1%
Iron 0.2mg1%
* Percent Daily Values are based on a 2000 calorie diet.