This berry smoothie with peanut butter is exactly the simple breakfast to get you moving in the morning. Just 4 simple ingredients to get you out the door. And no added sugar, so forget that mid-morning slump! We use a premixed frozen fruit blend of strawberries, blueberries, cherries, and kale for a simple way to add some veggies to our smoothie. From there, we just blend it with a banana, some peanut butter, and your favorite unsweetened dairy or non dairy beverage for a delicious, nourishing breakfast that goes where you do!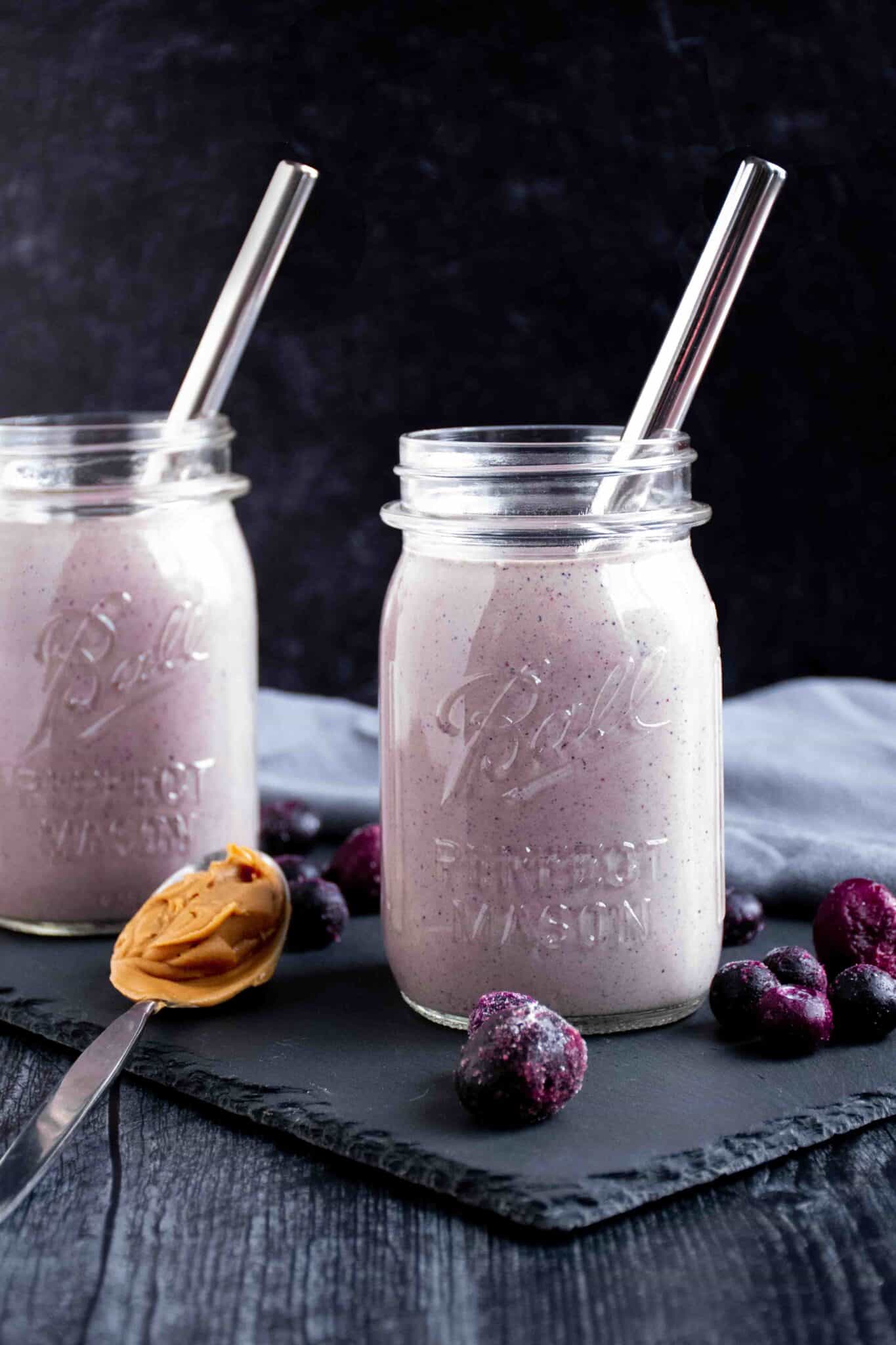 Should I drink smoothies for heart health?
Smoothies can be great for your heart! And they can also be not-so-great. Why do humans have to make everything so complicated?!
Smoothie stands are convenient, and make such delicious smoothies! But beware. Those "smoothies" are often just milkshakes in disguise! Sometimes you can find them with wholesome ingredients, and without added sugar, but they're rare. These should really be consumed infrequently.
Do-it-yourself smoothies are definitely the way to go for the healthiest smoothies that fit your specific needs. They're also WAY cheaper than the smoothie stands! Luckily, smoothies like this berry peanut butter smoothie, are easy, and require only a few ingredients and a blender.
This, and the other smoothies here at Being Nutritious, are good for you and your heart! Using heart healthy ingredients like fruits and veggies, fat free yogurt, and soy milk, and omitting things like sugar and other sweeteners, and full fat dairy is our failsafe recipe for success.
So, yes, you can drink smoothies that you make yourself for heart health!
More Heart Healthy Smoothie Recipes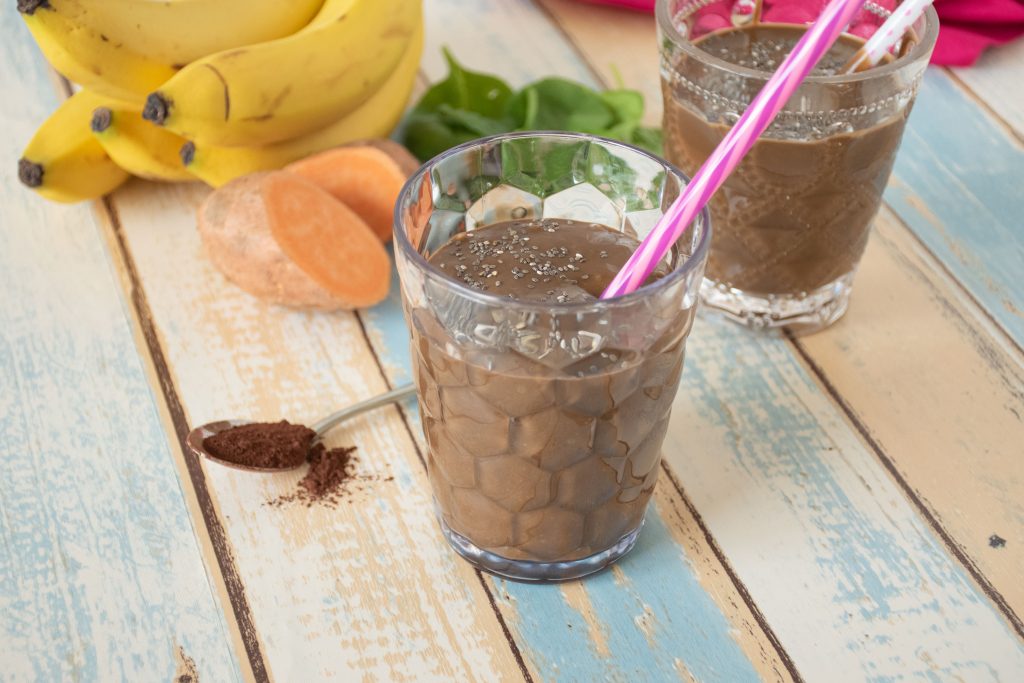 If you try this berry smoothie with peanut butter, tell me in the comments below!
📖 Recipe
Berry Smoothie with Peanut Butter
This berry smoothie with peanut butter is exactly the simple breakfast to get you moving in the morning. Just 4 simple ingredients to get you out the door, and no added sugar, so forget that mid-morning slump!
Instructions
Add all ingredients to a blender, and blend on high until smooth.

Pour and serve!
Nutrition
Calories:
307
kcal
|
Carbohydrates:
30
g
|
Protein:
13
g
|
Fat:
18
g
|
Saturated Fat:
3
g
|
Polyunsaturated Fat:
4
g
|
Monounsaturated Fat:
9
g
|
Sodium:
145
mg
|
Potassium:
695
mg
|
Fiber:
8
g
|
Sugar:
14
g
|
Vitamin A:
253
IU
|
Vitamin C:
21
mg
|
Calcium:
200
mg
|
Iron:
1.6
mg
How to make this Berry Kale Smoothie
Simple ingredients are always the way to go for a quick morning meal. For this healthy smoothie, we're starting with a pre-frozen mix of berries and kale. I found Wyman's Cherry Berry & Kale mix at my local BJ's. Use the link to find it in your area, or use another frozen mixed berry blend you like. If you can't find one with kale, you can add your own greens, or just omit them. I promise, you can taste it in there.
Next is unsweetened soy milk. That's my go-to, and what I always have on hand. It's a great, heart healthy option, and also makes this a vegan smoothie. You can use your fat free dairy or unsweetened non dairy beverage preference, though.
A banana comes next. Nothing special; just a medium sized, peeled banana. Doesn't even need to be frozen, although it can be if you've already got it in the freezer. Yes, you can taste the banana in there. Yes, you can leave it out if you hate bananas, and add about a half cup more berries.
Finally, the peanut butter. That's the reason you're really making this, right? Make sure you get a natural peanut butter, with as few added ingredients as you can afford. Learn more about choosing a heart healthy peanut butter here.
Now we just toss all those ingredients into the blender, and blend it on high until everything is smooth. If you don't have a high speed blender, your blueberry peanut butter smoothie may end up with perceptible kale pieces in it, but you still won't taste them.
This berry and kale smoothie with peanut butter ends up being high in protein, fiber, potassium, magnesium, calcium, vitamin C, and healthy fats, while being low in sodium and saturated fat, with no cholesterol.
Check out how pretty it is!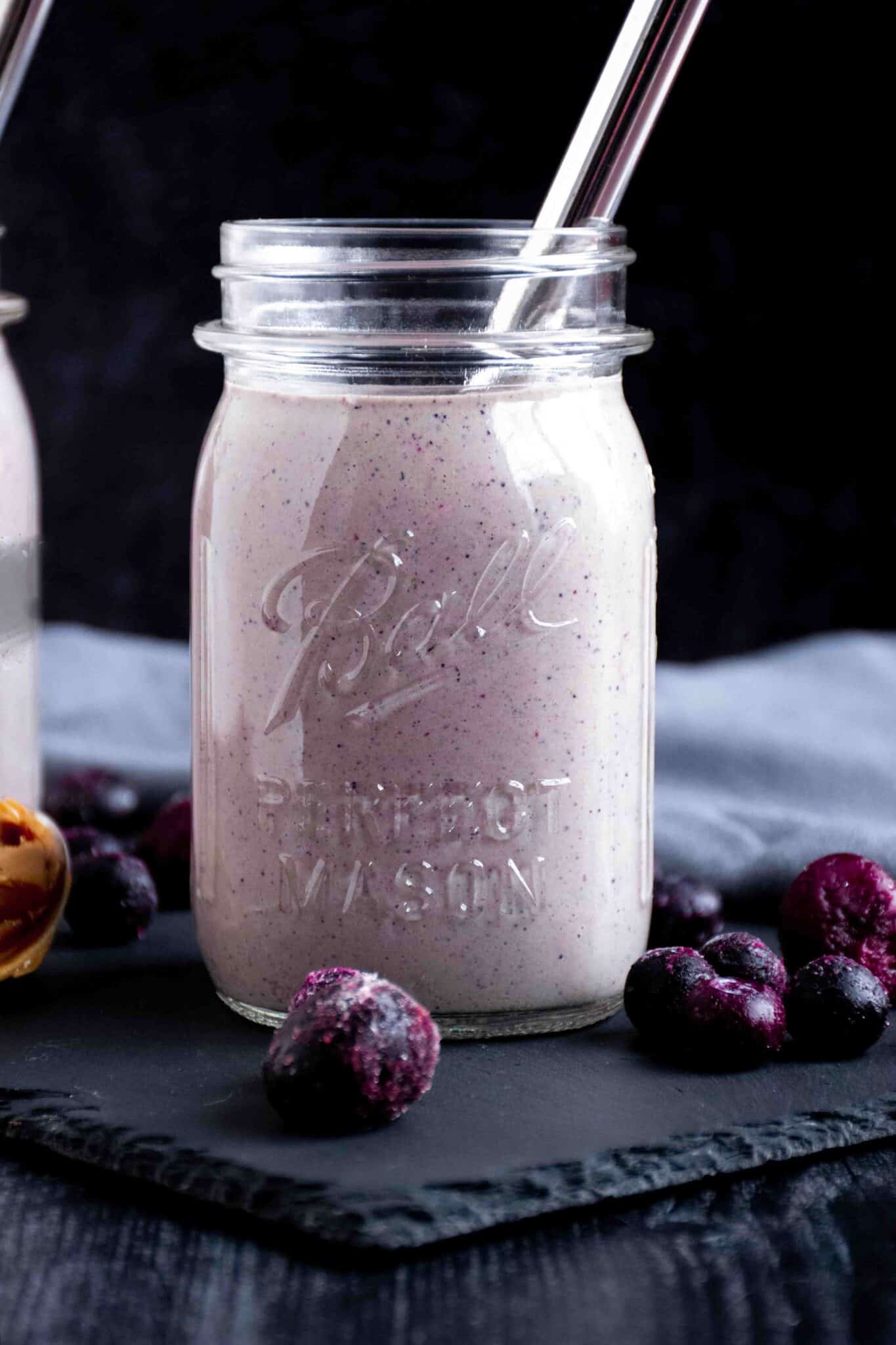 Be forewarned, if you let this kale and berries smoothie sit for a while, it will start to oxidize, and turn a greenish-brown color. It is still perfectly fine to drink, and will still be delicious! This just happens because of the interaction of the fruit (mainly the banana) with the air. Just the way a peeled banana starts to turn brown quickly.
Did you make this heart healthy smoothie? Make sure to tell me about it below!