Are you looking for a healthy zucchini dessert recipe that's not your run-of-the-mill zucchini bread? Here it is! Cinnamon Cardamom Zucchini Pudding is both healthy and delicious. Plus it's so unique! No one will believe it's made with zucchini!
I found this no-sugar, no-egg, zucchini pudding to be a little reminiscent of pumpkin pudding, which surprised (and delighted) me. It's light and creamy, and the spices complement each other perfectly. Cardamom is one of my favorite spices! This is just perfect for summer zucchini season, and transitions nicely to fall - just like the month of August!
If you need more convincing, here are my kids' reviews:
5 year old: "I love it!"
3 year old: "YUMMY!"
I probably don't have to tell you they won't touch zucchini normally. 😉
I started by simmering the zucchini and some dates until they were all soft, and then blending them in my Vitamix. By leaving the skin on, the pudding ended up a beautiful mint green color. If you don't have a high speed blender, you may want to peel the zucchini first. Just know your pudding color will be lighter.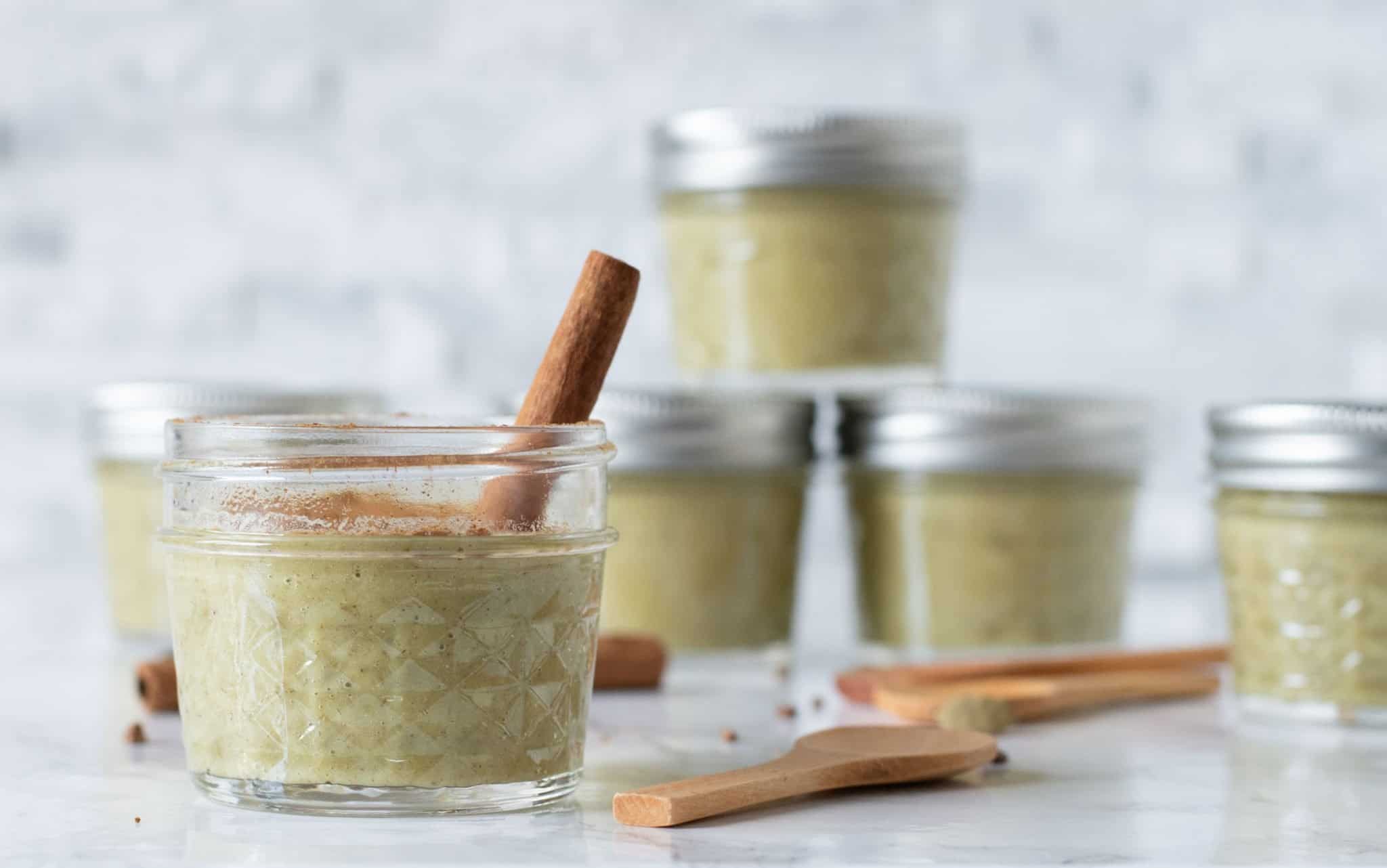 Zucchini is low in calories, which, along with its relatively neutral flavor, makes it awesome to add to desserts. I've sometimes seen it substituted for apples. Zucchini isn't over the top in terms of the nutrients it contains, though it does have some vitamin C. Check out the rest of the nutrition profile for zucchini if you're interested. I love zucchini for its high water content/low calories, and for how easy it is to grow - or if you don't garden, for how widely available it is at grocers.
The dates are important; don't leave them out. This is where the sweetness is coming from. I love using whole dates instead of sugar, because they are so nutritious, have a good amount of fiber, and they are a whole food. They are perfect for healthier dessert recipes! My favorite brand is Made In Nature dates. I buy huge bags at Costco so I always have them on hand. What I really like about them is that 1) the dates are already pitted so I don't need to worry about that, and 2) they are so soft and "caramely" and perfect for snacking on plain! My favorite way to snack on them is just dipped in peanut butter! They have other great snacks, too, so check them out. (I have not been compensated for this opinion. It is my own because I love Made In Nature!)
If you're interested in using dates in desserts, I also used them in my Heart Healthy Chocolate Date Sauce.
I chose to use reduced fat coconut milk to help make the zucchini pudding creamy, and to add a little tropical flavor. For best results, you want to get the kind in a can, not the carton.
The spices are a warmly complementary. And they play really nicely with the zucchini. If you don't like one or the other, feel free to leave it out. It will work just as well!
To get the pudding to set up, I chose to use chia seeds. This added a little extra fiber and omega-3 fats. Something we can all use more of! I ground them into the pudding, but if you want to leave them whole you can. You just might need a little more of them. If you love chia pudding, check out my Chocolate Covered Strawberry Chia Pudding! Or if you want to use chia in other foods, Blueberry Thyme Chia Jam is excellent!
If you make this healthy zucchini dessert recipe, let me know in the comments!
📖 Recipe
Cinnamon Cardamom Zucchini Pudding
If you're looking for a unique, healthy zucchini dessert recipe, then your search is over! Light, creamy, and so delicious, no one will guess it's zucchini!
Total Time
2
hours
15
minutes
Ingredients
2

medium

Zucchini,

cubed

½

cup

Dates,

pitted (I like Made In Nature brand!)

1

cup

Water

1

can

Reduced Fat Coconut Milk

2

teaspoon

Ground Cinnamon

1

teaspoon

Ground Cardamom

1.5

tablespoon

Chia Seeds
Instructions
Put zucchini, dates, and water in a saucepan, and bring to boil.

Reduce heat, and simmer until the zucchini is soft; about 10-15 minutes.

Pour zucchini, dates, and water into a high speed blender with the coconut milk, cinnamon, and cardamom. Blend on high until smooth. Taste and adjust spices if needed.

Add the chia seeds to the blender, and blend on high until smooth.

Divide among 6 bowls (or pour into one big bowl). Cover and refrigerate at least 2 hours.
Nutrition Facts
Cinnamon Cardamom Zucchini Pudding
Amount Per Serving
Calories 170
Calories from Fat 69
% Daily Value*
Fat 7.7g12%
Sodium 20.8mg1%
Potassium 248.4mg7%
Carbohydrates 28g9%
Protein 1g2%
Vitamin A 3.2IU0%
Vitamin C 1.3mg2%
Calcium 34.9mg3%
Iron 0.5mg3%
* Percent Daily Values are based on a 2000 calorie diet.