Stuffing is just as iconic as turkey is for Thanksgiving in the US. And everyone's got their own version that they think is the BEST. Let me tell you, no one's wrong about that! But let's be honest, stuffing isn't the healthiest thing on your plate. I will be the first to agree that Thanksgiving isn't (and shouldn't necessarily be) all about healthy food - I mean PUMPKIN PIE!!!! But I do think we can do a little better in some areas. Besides, if food can be both healthy AND delicious, I'm in! So today I want to share with you my Apple Sage Stuffing!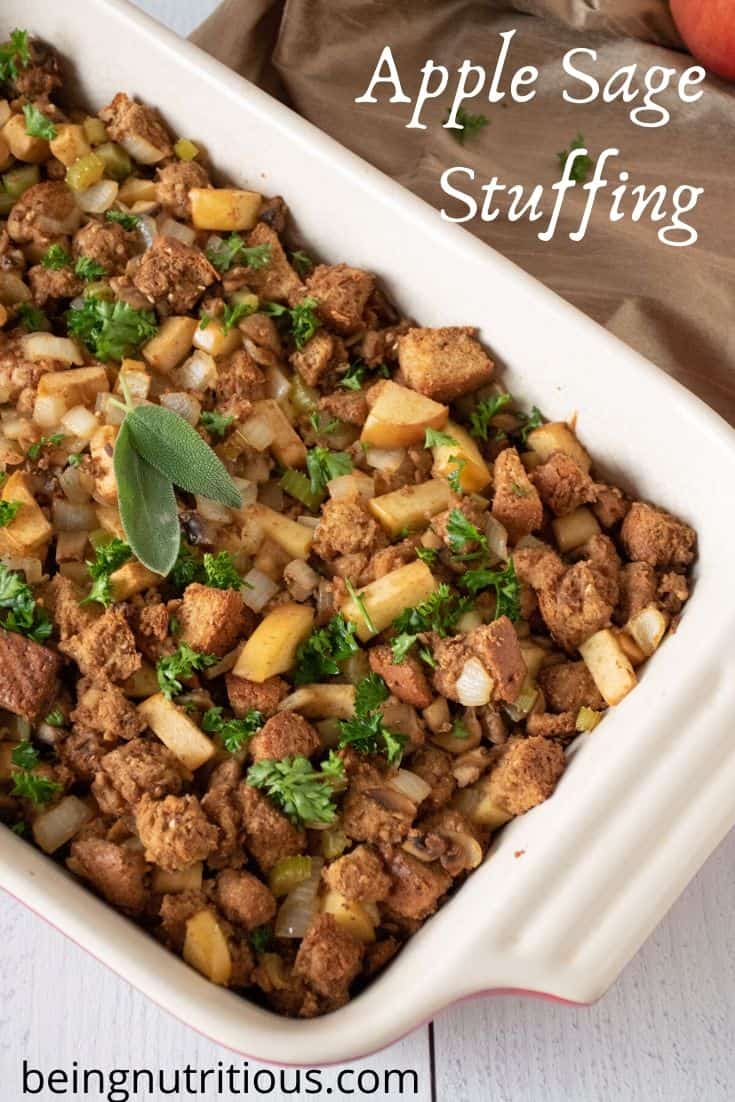 This recipe is a modification of my grandmother's famous stuffing - you know, the type of recipes that were never written down, and were passed from mother to daughter through the centuries. Now, I was very young when she died, so I don't remember it, but my mom now makes her own version of it, and if hers is anything close, it was truly the best stuffing ever (see above)!!
How to Make Apple Sage Stuffing
In the original recipe, there was a lot of sausage. Sausage is yummy, but high in saturated fat and sodium, plus it's a highly processed red meat - the type that's on the carcinogenic-to-humans list. So instead, I use mushrooms, which add a meaty, umami quality to the stuffing. Then I saute them up with spices that are in sausage. Now the mushrooms taste reminiscent of sausage! While the mushrooms cook is a good time to cube up your bread.
Speaking of bread, I like soft bread in my stuffing. If you like it drier, be sure to allow time to toast the bread cubes up. Toss them on a large baking sheet and toast them in the oven for a bit until they are to your liking. I leave the crust on the bread, but cut it off if you like.
Now mix everything together in a giant bowl. I used my stock pot and it was a good size for it. Pour a little melted spread along with the vegetable broth over everything and mix well. I like Earth Balance Sunflower Oil Spread - or just use unsalted butter. On the regular, I like to eat less butter, but if you have it, this is a great place to use it. Don't forget the spices!
Next the whole mixture goes in the oven. Get ready for delicious apple sage stuffing coming at your mouth in only 45 minutes!
Is Apple Sage Stuffing Healthy?
Remember what I said about Thanksgiving not being all about healthy food? It's not. But that being said, this version of stuffing is healthier than your typical stuffing in a number of ways.
Calorie-wise, these are about the same. I kept the portions large, because let's be honest, we all like a big stuffing portion! But that's where the comparison ends. A similar sized portion of regular stuffing comes in at almost 1000 mg of sodium! I've kept mine low at only 308 mg. This is important because most everything at your Thanksgiving table is high in sodium these days! Regular stuffing has no fiber. Mine has 8 grams!
So if you're looking to go a little healthier on something this Thanksgiving, Apple Sage Stuffing will help you get there so you can feel a little better about that pumpkin pie later!
If you're looking for other ways to manage Thanksgiving a little better this year, Twelve Realistic Tips for a Healthy Thanksgiving might help!
📖 Recipe
Apple Sage Stuffing
This delicious, plant-based stuffing is made with whole grain bread, apples, and plenty of traditional Thanksgiving flavor!
Equipment
8x12 casserole dish or similar size
Ingredients
1

tablespoon

Olive Oil

12

oz

Mushrooms,

roughly chopped

2

teaspoon

Paprika

½

teaspoon

Garlic powder

½

teaspoon

Fennel seeds

½

teaspoon

ground Black pepper

1

Onion,

chopped

3

Celery stalks,

chopped

2

Fuji apples,

cored, chopped

1

(14 oz)

loaf Whole wheat bread,

cubed (12 cups cubed bread)

3

tablespoon

melted Sunflower oil spread

1-2

cups

Vegetable broth

1

tablespoon

ground Sage

2

teaspoon

Poultry seasoning
Instructions
Preheat oven to 350 F, and oil a large casserole dish.

In a large pan, heat oil over medium heat. Add mushrooms, paprika, garlic powder, fennel seeds, and black pepper, and saute until all liquid is absorbed and mushrooms are starting to stick to the pan; about 10 minutes.

Add onion, celery, and apples to the pan. Cook for a few minutes and turn off heat.

Pour bread cubes into a large bowl or stock pot. Add mushroom mixture, and the rest of the ingredients. Mix well. Start with one cup of broth. Add a little more if the stuffing seems dry, being careful that it doesn't get soggy. Transfer to greased casserole dish.

Bake, covered, for 30 minutes. Remove cover, and bake uncovered for 15 minutes.

Garnish with chopped parsley or sage leaves if desired.
Nutrition
Calories:
300
kcal
|
Carbohydrates:
45.8
g
|
Protein:
2
g
|
Fat:
9.5
g
|
Saturated Fat:
2.6
g
|
Polyunsaturated Fat:
2.5
g
|
Monounsaturated Fat:
3.9
g
|
Sodium:
308.5
mg
|
Potassium:
297.5
mg
|
Fiber:
8.4
g
|
Sugar:
12.2
g
|
Vitamin A:
21.3
IU
|
Vitamin C:
6
mg
|
Calcium:
94
mg
|
Iron:
2.6
mg