Essential Tools For A Heart Healthy Kitchen
This post may contain affiliate links. Should you decide to purchase from my links, I will receive a small commission, at no extra cost to you! All opinions and recommendations are my own. Thank you for supporting Being Nutritious!
Have you ever wondered what the best kitchen tools are for heart healthy cooking? Maybe you or a loved one has just been diagnosed with high blood pressure or high cholesterol; or maybe you've just had a heart attack. Or maybe heart problems run in your family and you want to prevent it in the future. Now you're diving head first into a heart healthy lifestyle! Good for you! You're absolutely in the right place! 🎉
While developing heart healthy eating habits is one of the most important things to do to mitigate your risk, it's difficult, if not impossible, without the right tools! So in this post, I've rounded up the 12 kitchen tools that are most important to my daily cooking exploits, that I believe are also indispensable in any heart healthy kitchen! You'll find many of these tools referenced in my recipes, too.
Chef Knife
A chef knife is one of the first kitchen tools you should make sure to have in your heart healthy kitchen! Sure you can chop up food with a paring knife, but a good chef knife will make quick work of bigger, tougher vegetables, and you'll have better control. No need to break the bank on a fancy high-end knife. But do get a knife sharpener and use it regularly! Dull knives can be dangerous because you have to work harder to cut with them, increasing the risk of a slip and slice.
Tip: to make your knife last longer, always hand wash it, even if it says it's dishwasher safe. Consider this knife:
Cutting Board
It goes with the knife. Cutting boards get worn down over time, and big gouges can be a breeding ground for harmful bacteria. Yuck! I like either bamboo or plastic cutting boards. Never cut on a glass cutting board! They make a great display board, but can dull your knives quickly. Bamboo makes for a robust cutting board and is a quickly renewable resource. They do need oiled once in a while. Plastic boards are great because you can toss them in the dishwasher! Get one large enough so what you're cutting stays on the board. Teeny tiny boards are okay for slicing limes, but not much else. No matter which you choose, replace them when they get worn or have large nicks or gouges in them.
Measuring Cups & Spoons
Measuring cups and spoons are essential for following recipes and getting the expected result. I love stainless steel cups and spoons because they don't break or melt (okay SOMETIMES I might get things too close to the stove…), and they're overall stronger than plastic. That comes in handy when I'm trying to scoop something solid out of a jar. I'm looking at you, Coconut Oil In The Winter!
Liquid Measuring Cup
Think you can just use those metal measuring cups to measure out liquids? Wrong. While they're close, the measurements of the two aren't always the same, and that can be a problem in some recipes. Stick to a liquid measuring cup for liquids. I like these angled cups because you can view the measurement lines when you're standing above it. Otherwise, you have to squat down to view the measurement lines from the side to ensure an accurate measure.
Microplane Fine Grater
I love my Microplane! This little baby comes in handy for certain things that would just take more time than I'd honestly be willing to spend otherwise. I use mine to grate ginger into stir fry, grate fresh garlic instead of mincing it, remove citrus zest without all the pith (the bitter white part), and even to grate whole spices like nutmeg or cinnamon. I swear they aren't paying me, I just love this thing so much! 😂
Large Baking Sheet with Parchment Paper
You want to make sure you have enough room on your baking sheet to spread out food to get good air flow around it. I recommend a baking sheet with sides in case you're baking something juicy. I also typically recommend something without a nonstick coating. Nonstick coatings are easily scratched, rendering them unsafe to use. Plus, many nonstick coatings aren't safe to use in very high temperatures, like that of a broiler. I like to use parchment paper in my pans. It's particularly great when you're cooking something smelly or hard to remove – like salmon. Just crumple and toss! Easy cleanup! And if you're baking something that's less messy, like cookies, you can reuse the paper over and over. I like the precut parchment. Call me lazy, but sometimes I just want convenience!
Mesh Strainers
I use these almost daily. I use them to strain pasta, to drain and rinse beans or other canned foods, to rinse rice before cooking, and even when I'm making vegetable broth to strain out the solid bits. These are a heart healthy kitchen necessity, in my opinion!
Stock Pot
Again, no need to break the bank here, but a big stock pot is great for making big pots of soup or even whole meals in some cases. I use my 8 quart stock pot often, and it's what I use to make my vegetable broth from scraps. I like tools that have dual purpose, so I like pots that have all metal handles. That way they can go from stove top to oven with no issues!
Food Processor
Another tool I use very regularly! Probably at least 2 or 3 times a week. Sometimes more. It's great for making Cherry Almond Nice Cream, Fudgy Mocha Black Bean Brownies, Radish Green Hummus, Black (Bean) and Gold Dip, and so much more! The one below is the one I have. If you don't want to splurge on that, a lower end one is fine for now. I had a lower end model for years before it finally gave out on me and I upgraded!
Salad Spinner
I don't use my salad spinner everyday, but it certainly comes in handy in the spring and summer when I'm growing my own produce! It can also double as a strainer if you need it to. This may be something you ultimately decide you don't need in your kitchen. But if you, too, grow your own produce, this is invaluable! I like that this one is large, and it has a push button instead of a crank. It also has a little brake on it to stop the basket, which is kind of nice.
Kitchen Scale
A basic scale is completely fine. These come in handy for certain recipes that call for weighted ingredients. For example, my Salsa Verde recipe calls for 1 1/2 pounds of tomatillos. No matter which one you decide to get, make sure it has a tare button. That allows you to put any empty bowl you want on the scale, and the scale will subtract the weight of the bowl so you can then add the ingredient to get an accurate weight.
Vitamix
Here's your splurge item! A regular blender will get you through, but it won't be able to blend your recipe as smoothly as Vitamix. I use mine way more than I ever thought I would! I had inherited one of the very first models of Vitamix ever made, I think. But I never really used it. Then my regular blender overheated and died. So I pulled out the old Vitamix. I was hooked! It actually didn't last long before the motor died it in, too (it was very old and had been used a lot!). But I lucked out and found a new one on sale at Costco at that same time. I've never looked back. I don't even own a regular blender anymore. This is what I use to make Chocolate Date Sauce, Cinnamon Cardamom Zucchini Pudding, and most anything else that needs to be ultra smooth! I've even made almond milk in it before. There are certainly other comparable brands on the market, but I haven't used them, so I can't speak to them. I bet they're great too, though. Maybe something for the Christmas list?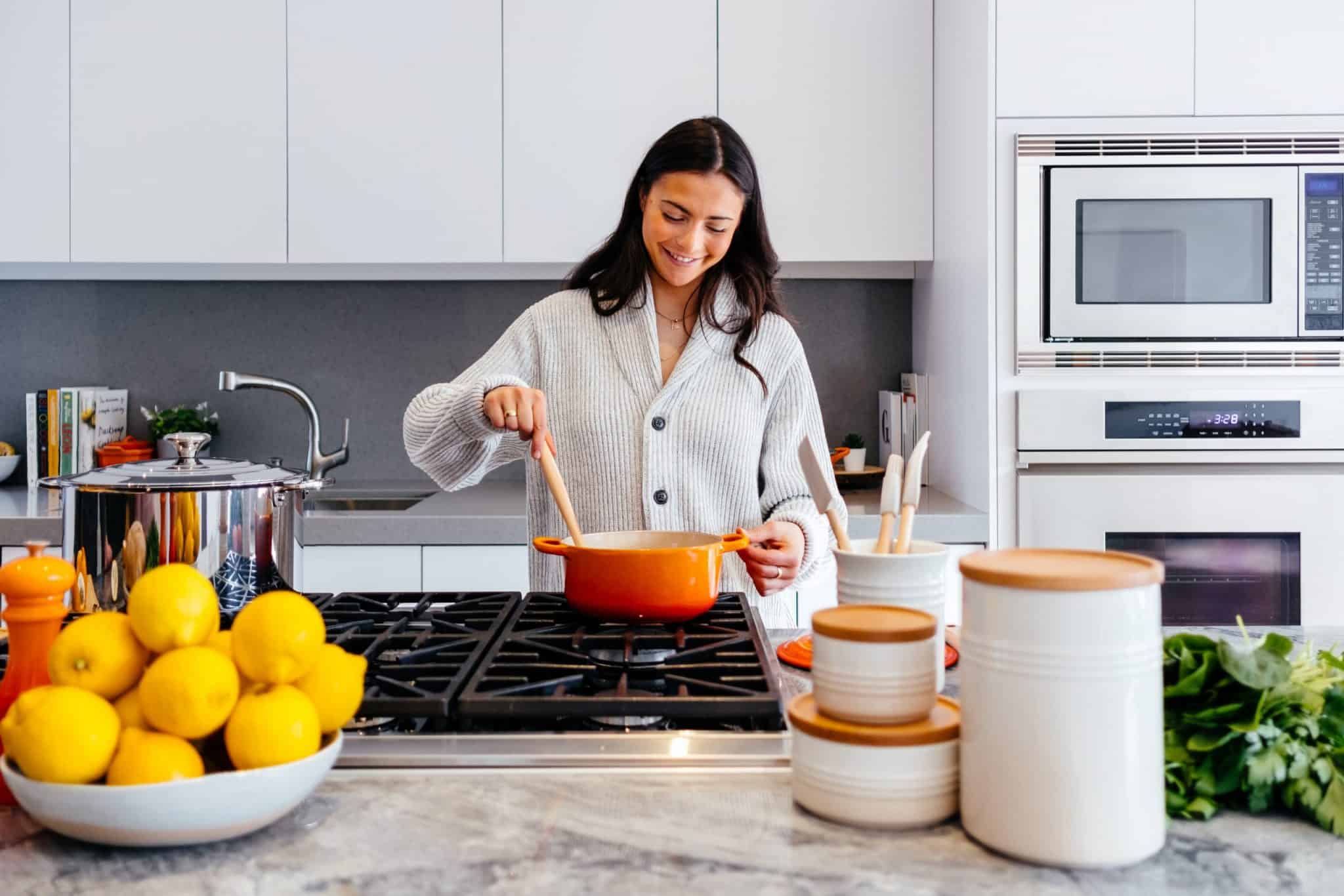 Do you have a favorite heart healthy kitchen tool you love that made the list? Or maybe it didn't! Let me know in the comments!
Happy Heart Healthy Cooking! ❤